Nvidia will soon be releasing their GeForce GTX 950 graphics card if the latest slew of rumors are accurate, aimed squarely at the sub $150 US dollar price bracket.
The release of the GTX 950 hardly comes as a surprise; gamers have always known Nvidia would release the GTX 750's successor at one point or another.
Currently the lowest end card in Nvidia's Maxwell lineup is the GTX 960 (see our review here), with SKU's in this price range hitting about the $200 US dollar mark (about £160 pounds), but with the release of the GTX 950, Nvidia will be hitting the rather lucrative $150 dollar market – a section of the market popular with pre-build system vendors, those looking for streaming / low power cards and gamers on a small budget.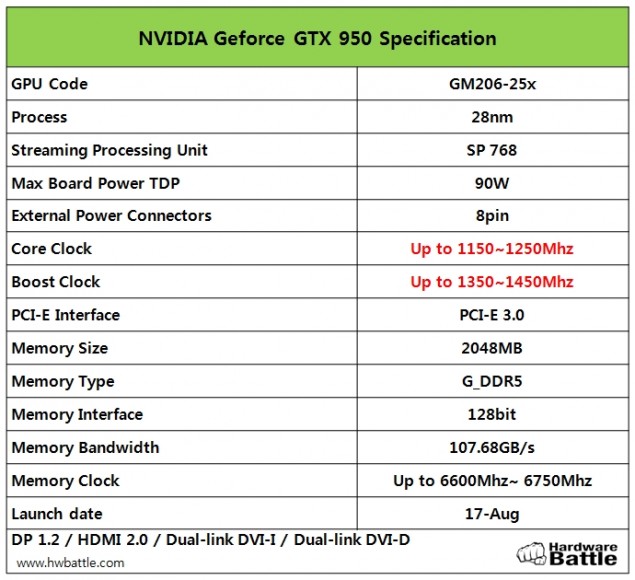 From what we know about the specifications so far, the GTX 950 will be based on the GM206-250-A1 GPU, with six SMM's enabled, meaning a grand total of 768 CUDA cores, 48 Texture Units and 32 ROPS. For point of comparison, the GTX 960 contains 1024 Cuda Cores, 64 TMU's and still 32 ROPS. Clock speeds of the GTX 950 will fall between 1150 to 1250 MHz, but boosting up to 1450 MHz.
Just like the GTX 960, the card will sport a 128-bit memory bus, with its GDDR5 running up to 6.75 GHz effective. Memory bandwidth will be a little behind that of the GTX 960, at only 107GB/s ish (the GeForce 960 operates at around 112.2 GHz). As for RAM, the GPU will feature 2GB – the same amount found in the 960; 2GB should be sufficient considering the card won't be capable of playing games at the highest detail or resolution.
Nvidia will supposedly launch the card on 17th of August, 2015, and because of the 90W TDP, HDMI 2.0 and multitude of display connectors it'll likely be a very popular card for those investing in a media center to play 4K content.
Thanks HWBattle
Other Articles You Might Like