Just a few days prior to the official unveiling of the GeForce GTX 980 and GTX 970, the supposed final specs have finally been unveiled and contain more than a few surprises on board. As suspected, numerous improvements in the architecture make up for the lower memory bus, and a few additional pieces of technology have been implemented that gamer's are sure to love.
The Maxwell GM204 is based on the second generation Maxwell technology, and like we'd expected is still stuck on the 28nm process. The GeForce GTX 980 contains the GM204-400, this is the fully fledged Maxwell part containing 16 SMM (Streaming MultiProcessor Maxwell's). We already knew that from other leaks, but what's new here is that we're not seeing just 32 ROPS. Instead of such a frankly lackluster number the GTX 980 sports 64 Raster Operator Units. Considerably more than the GK110, and more on the level of AMD's GPU's, the R9 290X for example.
128 TMU's adorn the card, which is the same number as Kepler, but fear not – supposedly we'll be seeing the GPU running at higher clock speed. This means texture fill rate obtains a nice healthy boost in comparison. Not bad for a 5.2 billion transistor part. Oh, speaking of the higher clock speed the boost clock runs at 1216 MHZ, while the base clock is 1126 MHZ.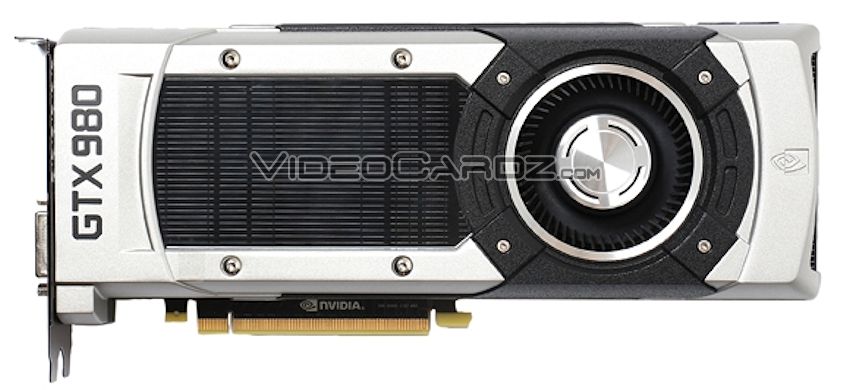 There was substantial discussion for the reasons Nvidia were happy to reduce the bus width of the memory for Maxwell. A leading theory was simple – additional cache. This isn't accurate however, like the GK107 the part shares a total of 2MB level 2 cache. So just how are Nvidia making up the gap? It's down to Third Generation Delta Color Compression. Much like AMD's Tonga GPU architecture, which despite suffering from lower bandwidth didn't really feel the ill effects thanks to lossless compression. It's arguable if it truly makes up for a wider bus in all situations, but it does make sense – and frankly something we'd theorized several times at RGT.
It's a bird, it's a plane – well, yes the GPU can render all of those things using Dynamic Super Resolution. '4K Quality on a 1080P display' is what Nvidia are supposedly calling this. It's a fancy new way of saying upscaling technology. We'll have to see just how effective it is. If it's half as good as they say it'll be quite the feather in Maxwell's cap.
As we'd already detailed the card will feature 2048 CUDA cores, and a 256 memory bus, pumping out 224 GB/s of memory bandwidth. A TDP of only 165W is pretty damn impressive to say the least.
So there we have it – hopefully these specs are accurate. If they are, we have ourselves one hell of a card. The rumors still stand regarding the GPU's performance, meaning the GeForce GTX 980 shall be between the 780 and 780 TI. Of course in certain situations this could change – particularly with higher levels of AA or higher resolutions are in play and the additional RAM and ROP power of the 980 comes into its own.
GeForce GTX 980 Maxwell
GTX 980 Maxwell final specs of nvidia's next GeForce part, containing new technology and higher ROP count.
Model:
GeForce GTX 980 Maxwell
Other Articles You Might Like