Despite the GPU market being rather quiet during 2015, there was always the anticipation and excitement of both Nvidia's Pascal lineup and AMD's Polaris lineup.
The latter of the two has certainly seen a lot more limelight when it comes to leaks, and earlier today we learned the number of Stream Processors in certain Polaris 11 SKU's, and a few days prior to that specs of the Polaris 10 SKU's.
But finally we've some good, solid leaks on the GP104 based GPU, the core I've a feeling most Nvidia fans will be interested in, as it will be featured in the sucessor for both Nvidia's GeForce GTX 970 and GTX 980 Maxwell lineup of cards.
In the following image, Nvidia's GP104 is pictured along with Samsung's GDDR5 8Gb 8Gbps chips – a first for any graphics card that I'm aware of.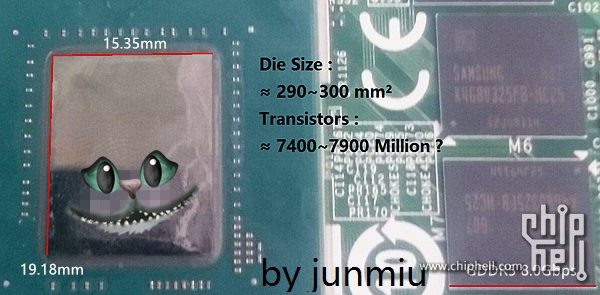 The image is certainly distorted, but according to the leaker the size of the die is smaller than we'd even anticipated, measuring between 290-300 mm2. Despite this pretty tichy size, 16nm FinFet process allows about 8 billion transistors to be squeezed into this space, which is a massive upgrade of the GM204's 5.2 billion.
What does this mean in terms of specifications? Well, just so we're all on the same page, the GP104 is the same core that we'll find in the upcoming GTX 1080 / GTX 1070 range of cards (the same core will be used in both, simply with shaders / parts of the chip disabled for the lower range GTX 1070).
Estimates therefore are placing the number of processors at around 2560, though we'll have to wait until there's some type of official confirmation or leak showing say a GPU-Z screenshot for any real evidence.
From what we understand, Nvidia are planning the launch of Pascal around the time of this year's Computex; so as usual stick with RedGamingTech for more information!
Other Articles You Might Like