The Nvidia GeForce RTX 3080 Ti is finally here, and this new entry into Nvidia's Ampere lineup cranks up the expected performance dials, but the questions are – how well does it perform, what are the final specs and is did Nvidia limit the mining performance on the FE cards? Well, that's just what you're about to find out.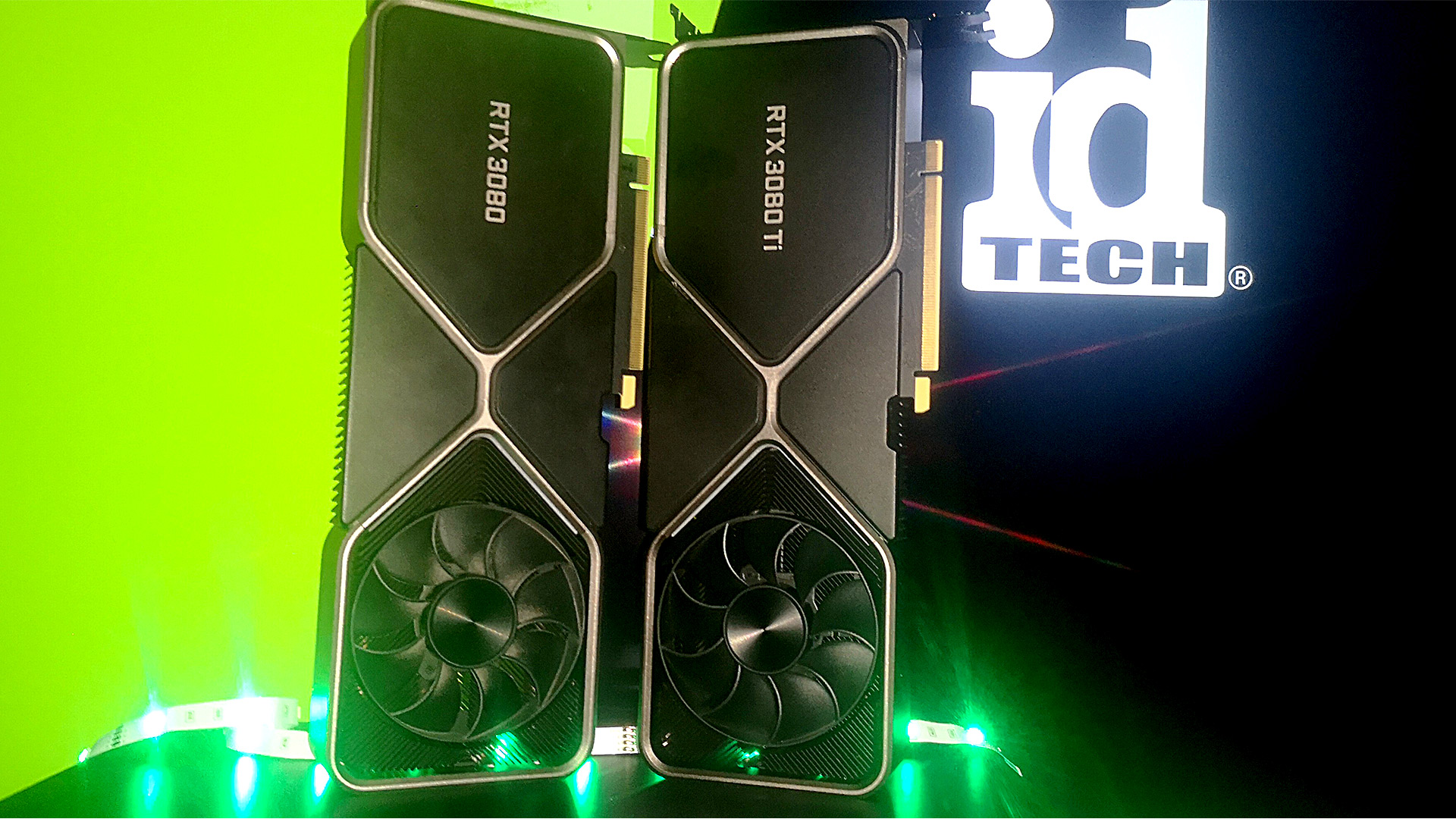 Starting with the looks of the card, and layout of the card and really, there's not a whole lot new here, which makes sense. The Founders Edition cooler has been a great strength of the GeForce RTX 30 series, and so the same dual fan design is found here. The rear of the card has 3 display ports and a single HDMI 2.0 port – once again, the same as say, the RTX 3080, and yet again, even the included power connector is the same as the RTX 3080.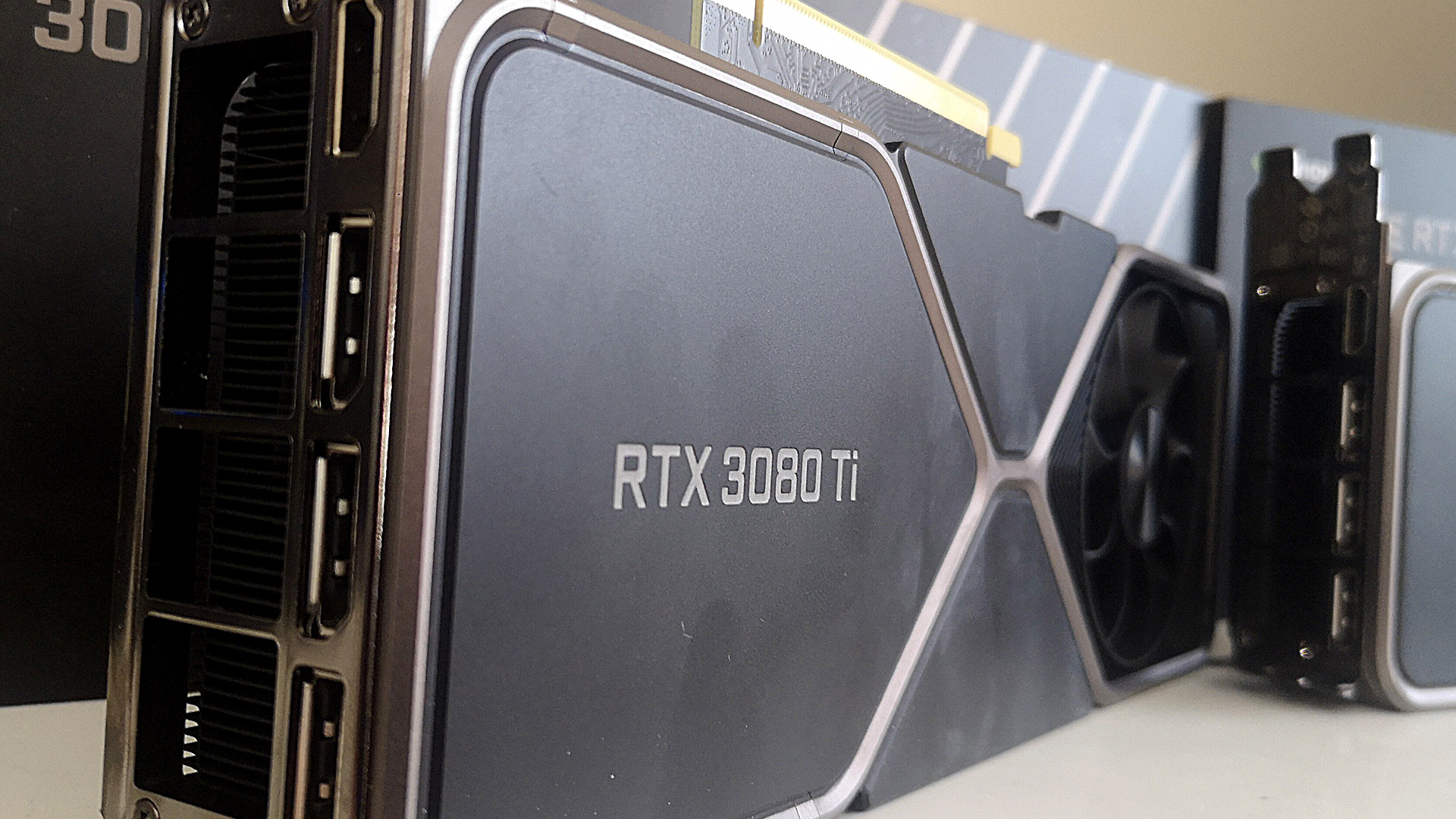 The big changes of course are the specifications of the RTX 3080 Ti, with this GeForce still sporting the GA102 silicon, albeit with more 'stuff' enabled. The TDP of the card has been nudged up to 350W, which is 30W more than the RTX 3080. We also see 10240 CUDA cores, the well-leaked 12GB of VRAM on a 384-bit bus.
Combine the wider bus with 9500 MHZ RAM and you have a peak bandwidth of 912GB/s. The boost clock for the Founders Edition card (which was supplied by Nvidia for review purposes) is 1665MHz, though frequently sits at higher speeds than this (we'll discuss that more later in the overclocking section).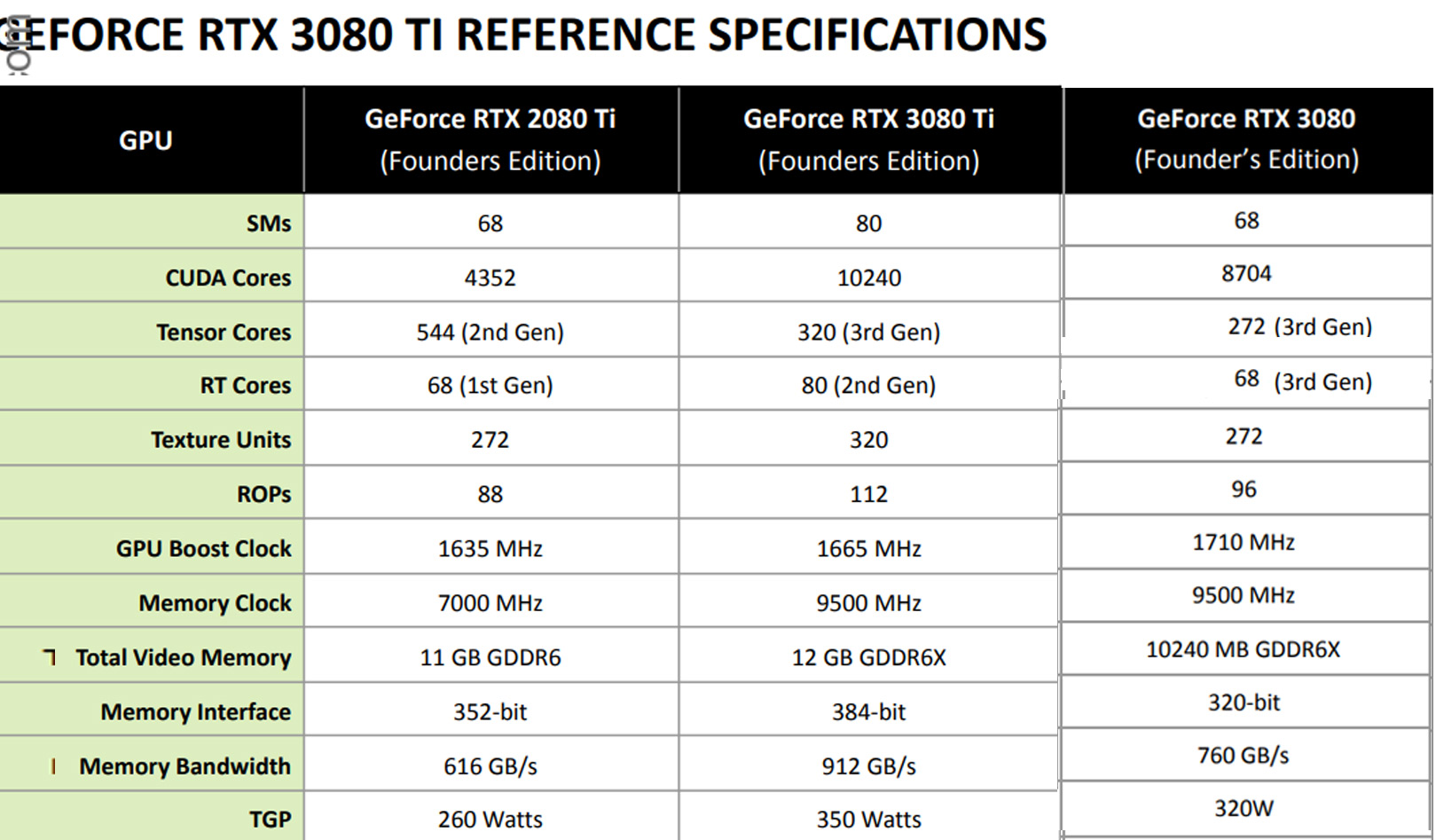 Finally, because there's 80SM enabled in the RTX 3080 Ti's configuration of the GA102 silicon, we also have 80 Ray Tracing cores, and the RTX 3080 Ti also sports 320 Tensor Cores (important for that tasty DLSS goodness). Overall, it's a noticeable spec bump over the RTX 3080 vanilla, but not quite enough to completely render the RTX 3090 without purpose. The real difference between the RTX 3080 Ti and 3090 though, of course, is only having 12GB of RAM.
All in all, the card of course isn't really something you'd want to couple with a lower resolution monitor, as quite simply you'll hit CPU bottlenecks at 1080P – and as you'll see in our benchmarks in a moment, the difference between 1080P and 1440P in a few of our tests wasn't too much.
We were running a PBO enabled Ryzen 9 5950X, with 4000mhz RAM for our review, so we redid the numbers for the GeForce RTX 3080, RTX 2080 Ti and also the RX 6800 XT.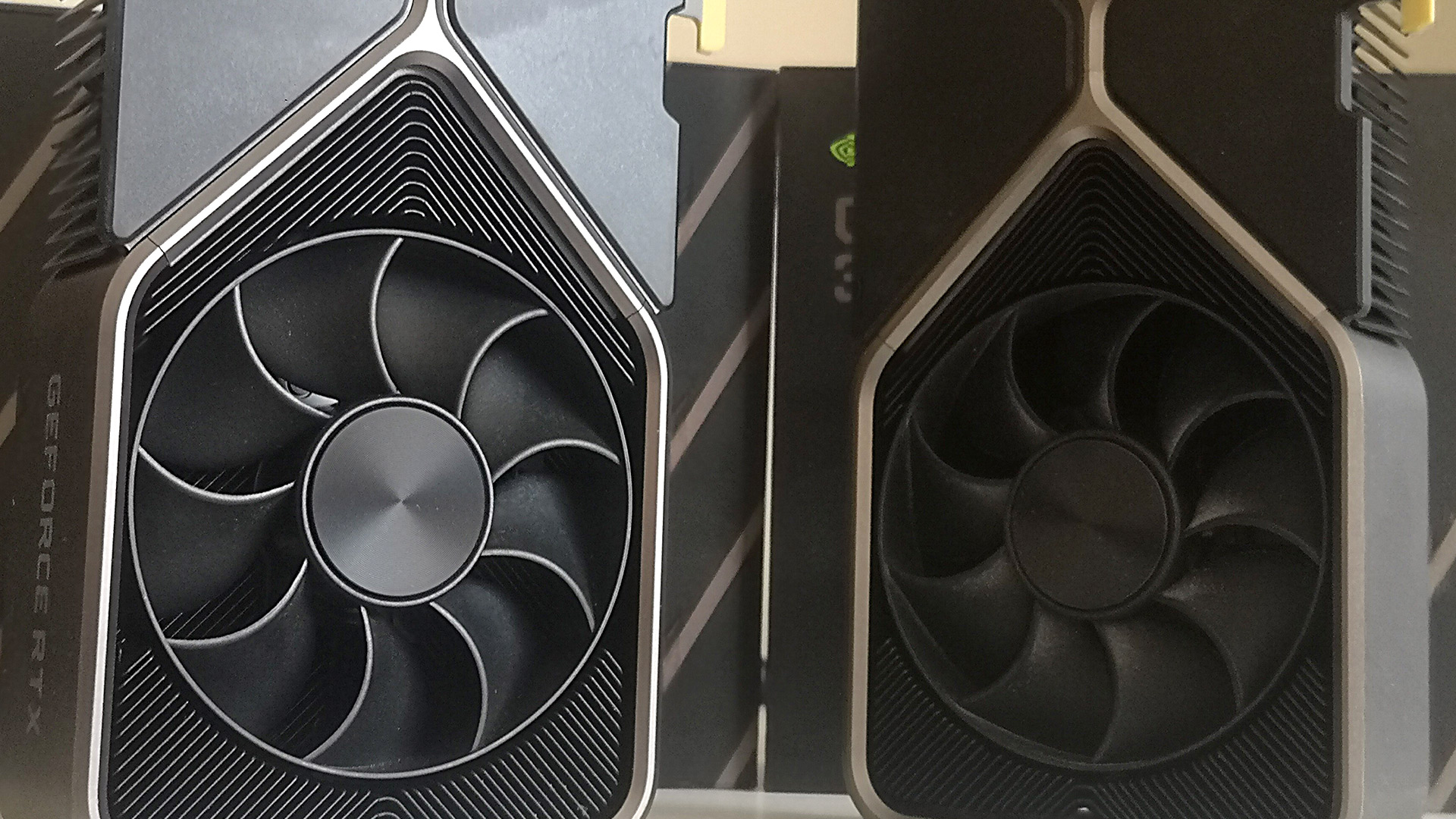 To this end, what about mining performance – is it nerfed? Well, the answer for the Founders Edition card, yes, with caveats. Doing a quick test by signing up to nicehash (which I literally did for this review BTW), I found that the hash rate for the GeForce RTX 3080 Ti in a stock configuration hit about 57MHs, compared to an RTX 3080 stock which is just a bit over 90.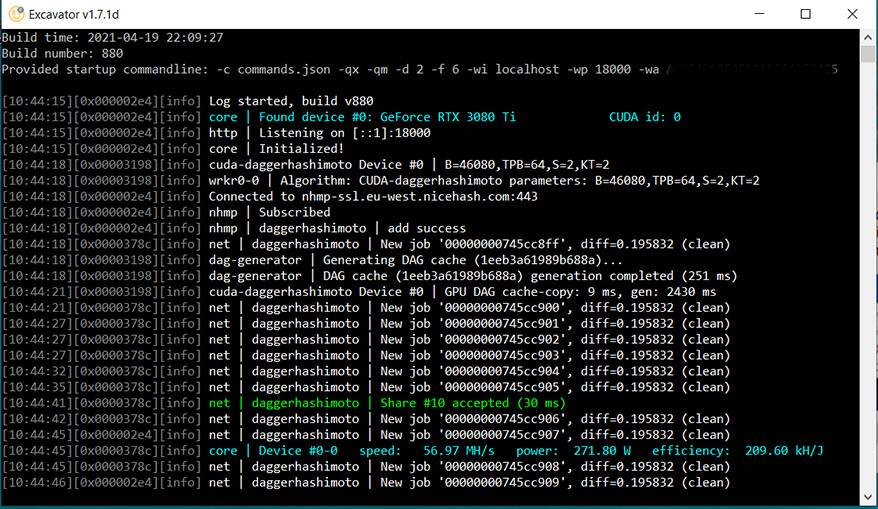 So yes, the mining limits for the RTX 3080 Ti were was right around what you expect from an LHR. So for the rumor of the FE cards being non-hash rated limited, well it isn't true. From what I can gather (though this isn't direct from Nvidia) it had been considered for the RTX 3080 Ti, but Nvidia didn't do it.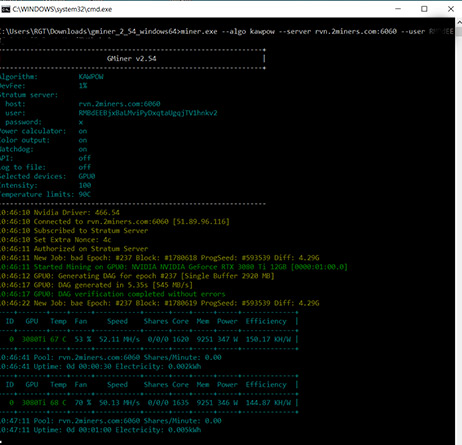 BUT, this isn't the same for all currencies. I found another currency to mine (RavenCoin) and figured out how to set up the miner. Low and behold, the RTX 3080 TI behaves itself here, falling in line with how you would imagine the card to perform compared to an GeForce RTX 3080. 
Overclocking the Founders Edition GeForce RTX 3080 Ti and Its TDP
As we alluded to moments ago, Nvidia's official core clock numbers for the RTX 3080 Ti have the card boosting to 1665MHz, which like any modern GeForce card is pretty conservative. Depending on conditions such as heat, the card would generally boost for us from mid 1800mhz to 1920mhz, with a default fan profile.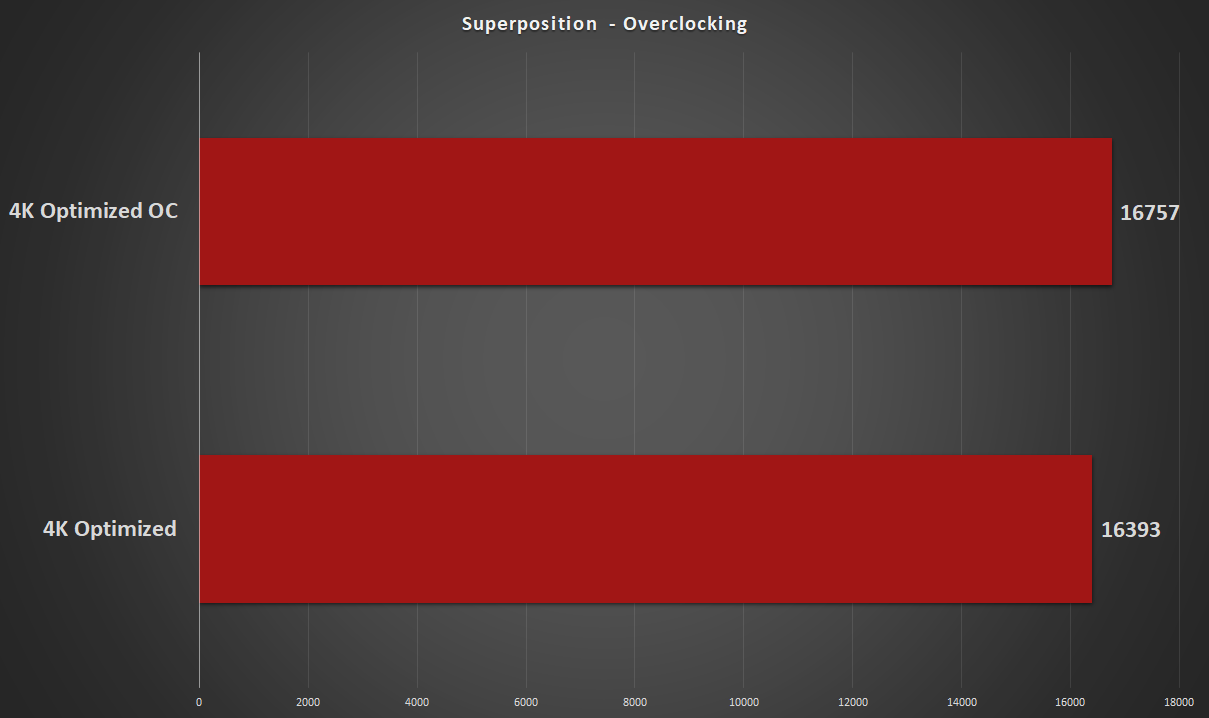 The card would nudge to its 330W TDP limit fairly frequently, but the power limit slider for our Nvidia Founders Edition RTX 3080 Ti card allows you to bump this up by 14 percent, giving us some leeway to increase frequencies.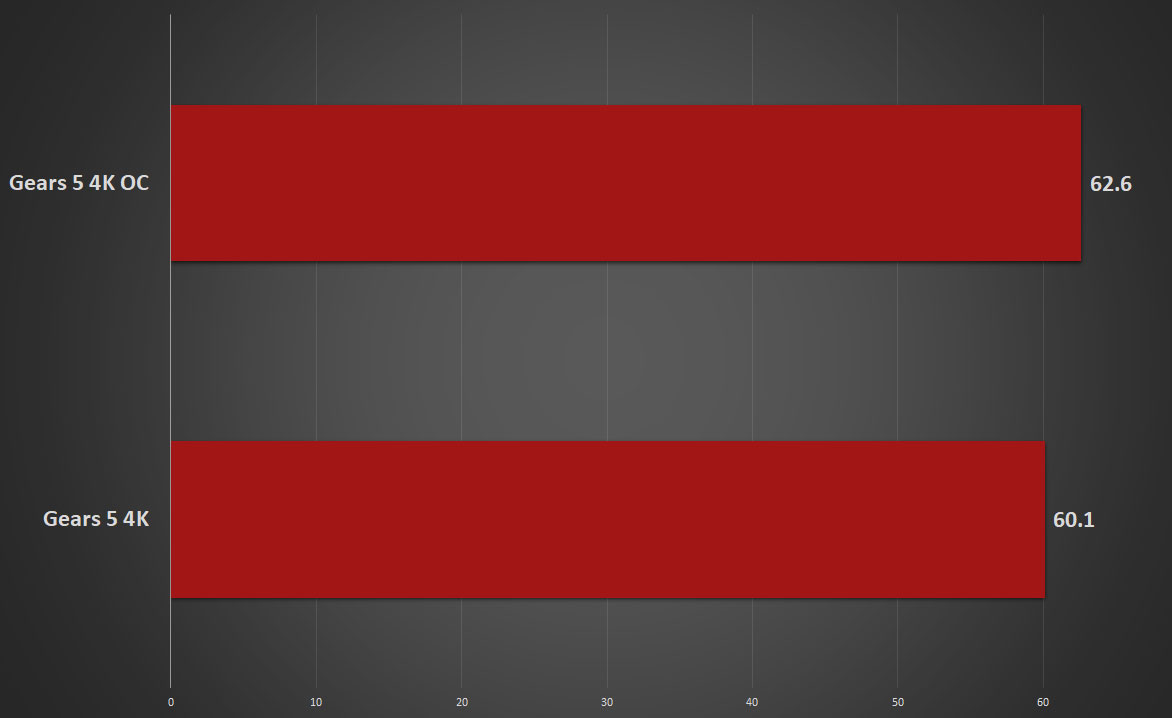 With a bit of tweaking, I managed to add 200MHz to the core and 822MHz to the RAM. I am fairly sure the core in particular had a bit more left in it, should additional power be shoved into it. My tweaking threw the TDP into the 380W region though. Clocks went up to match, and now the core would sit around 2000 to 2050MHz during our gears 5 benchmarks.

RTX 3080 Ti Founders Edition Benchmarks 
What about games then? How does Nvidia's card perform against both the RTX 3080 and the RTX 2080 Ti (which Nvidia is very keen to compare it against in the review guides and press documentation?) and perhaps just as critically – AMD's Radeon RX 6800 XT,
Without further ado let's look at the results – I'm focusing on a mixture of games with some productivity thrown in. There'll be additional coverage soon focused more on RTX games and lots of other testing!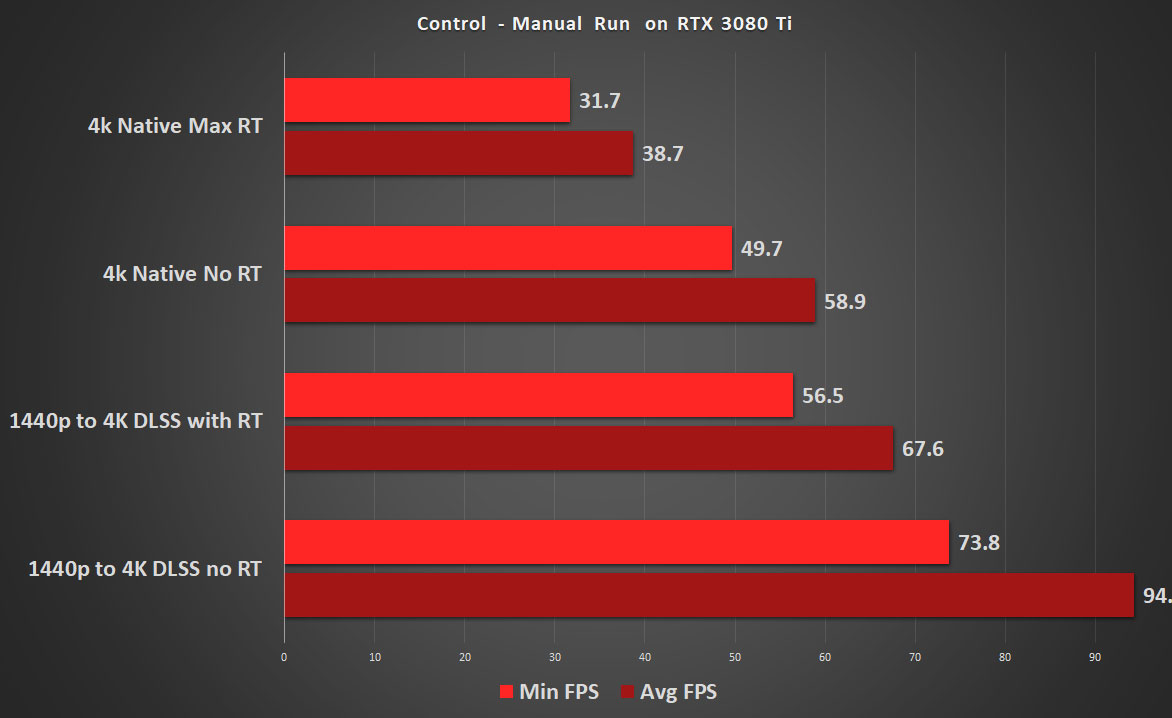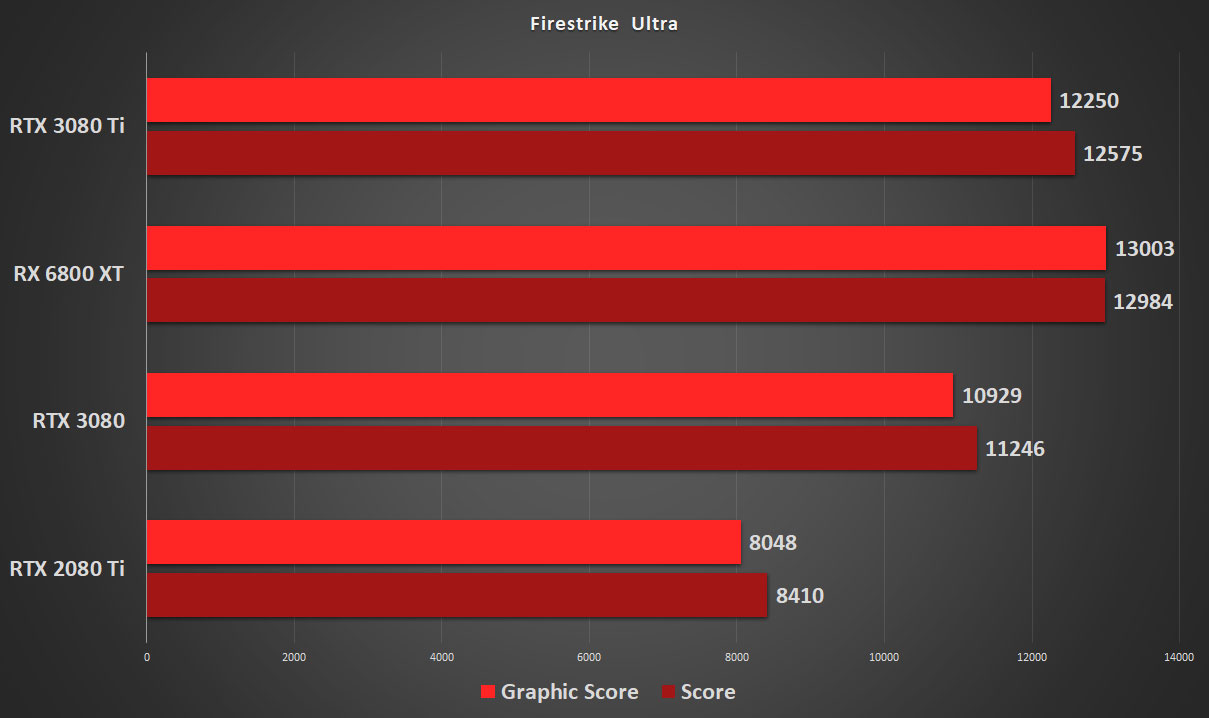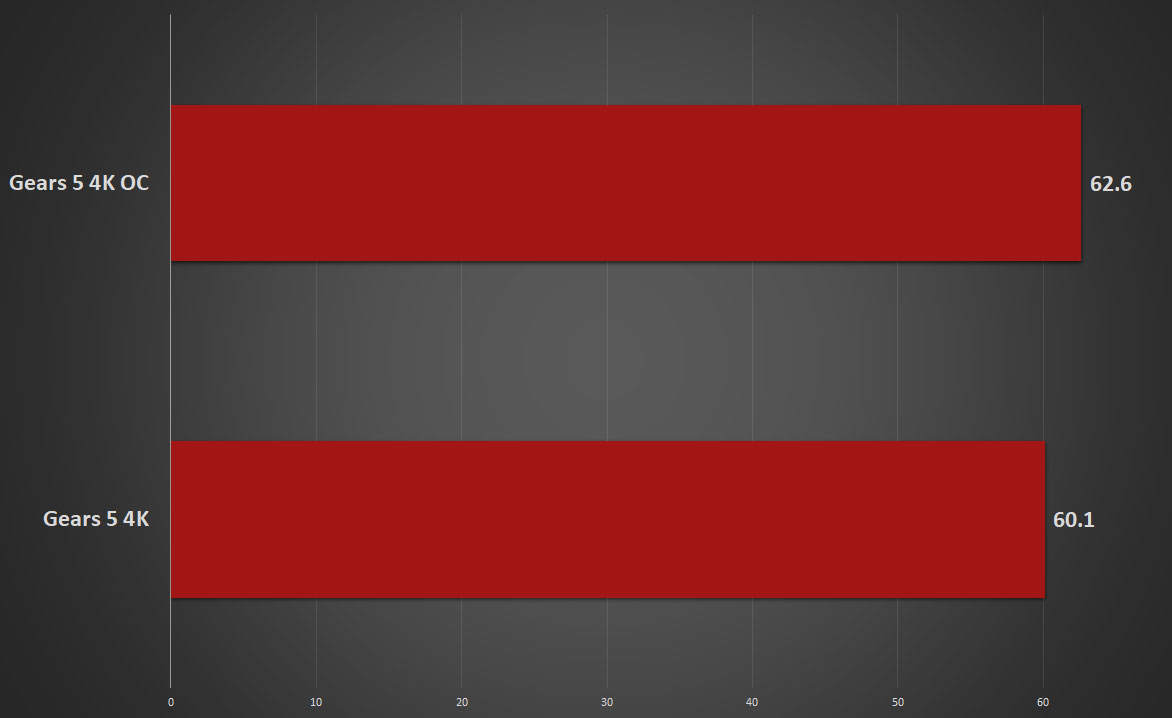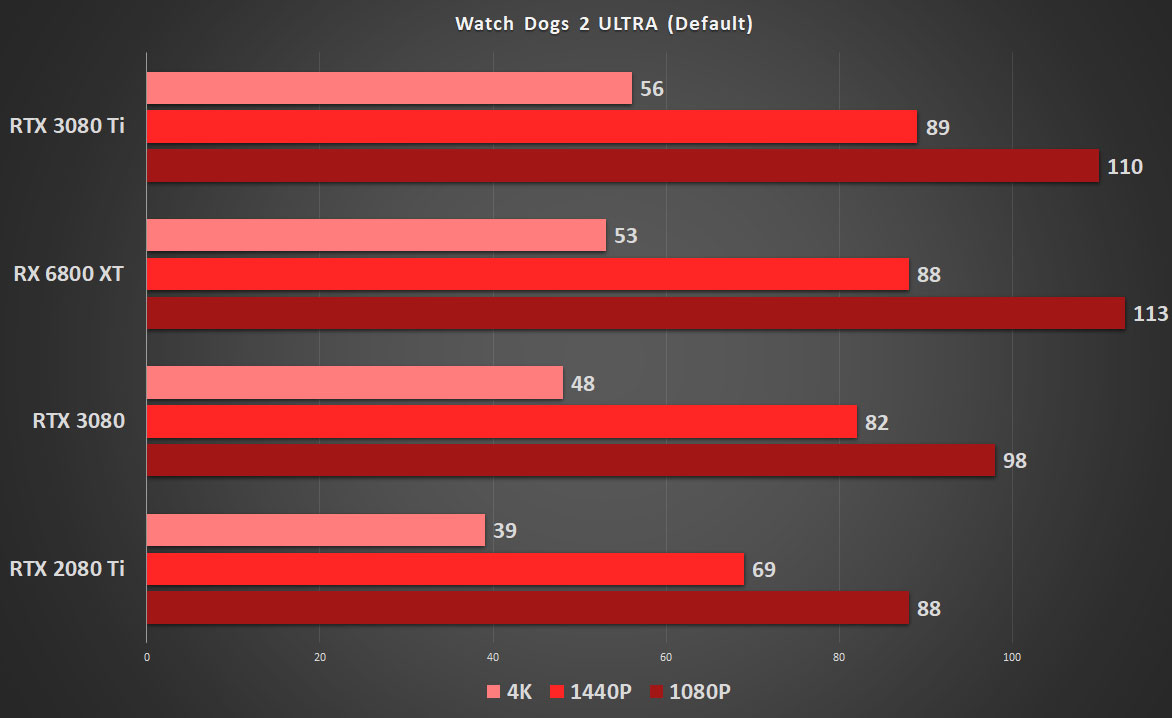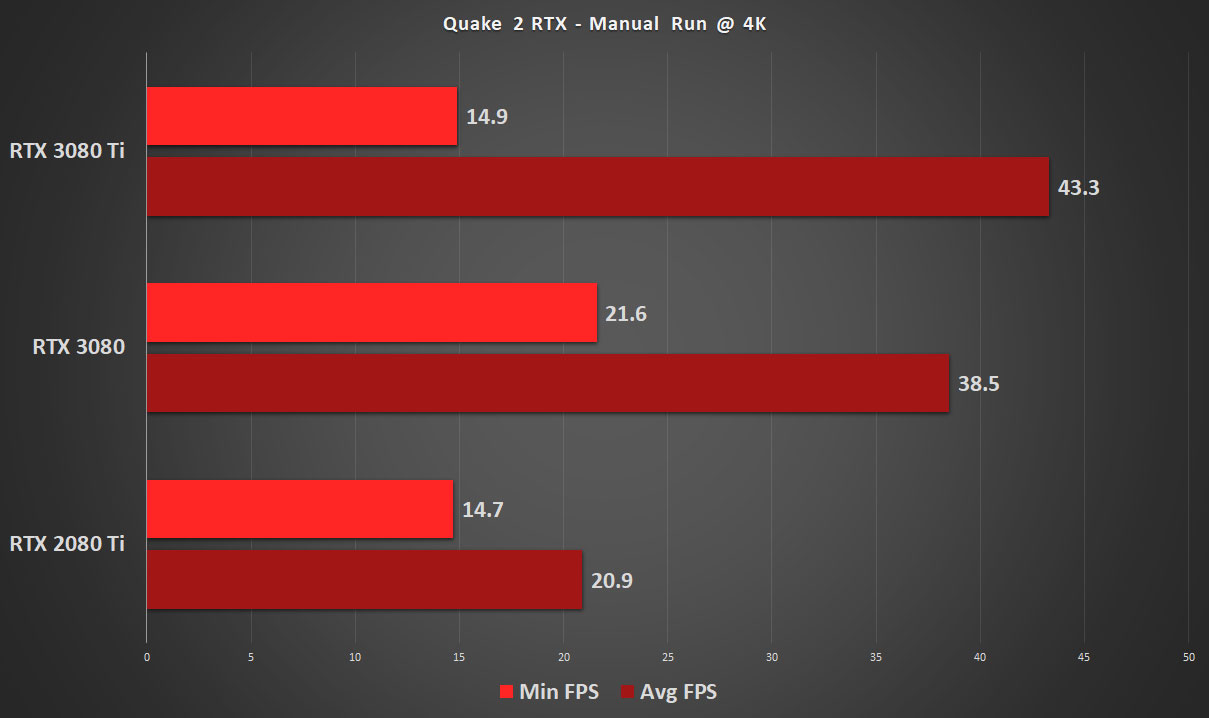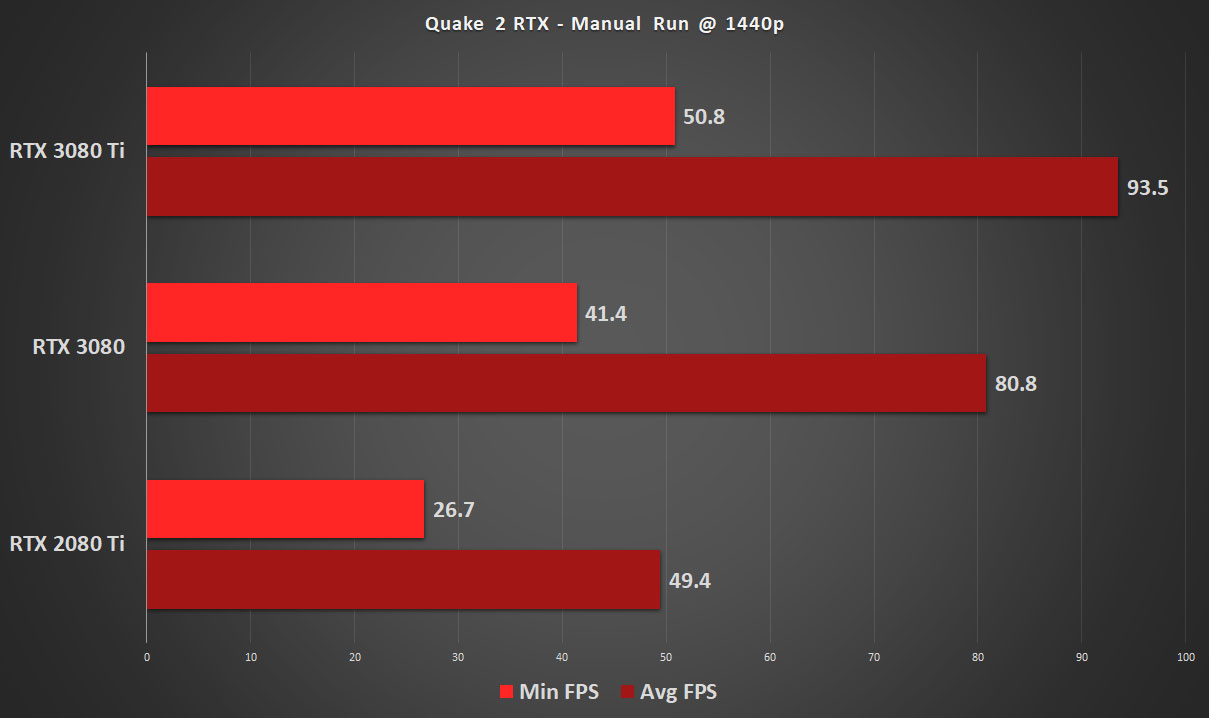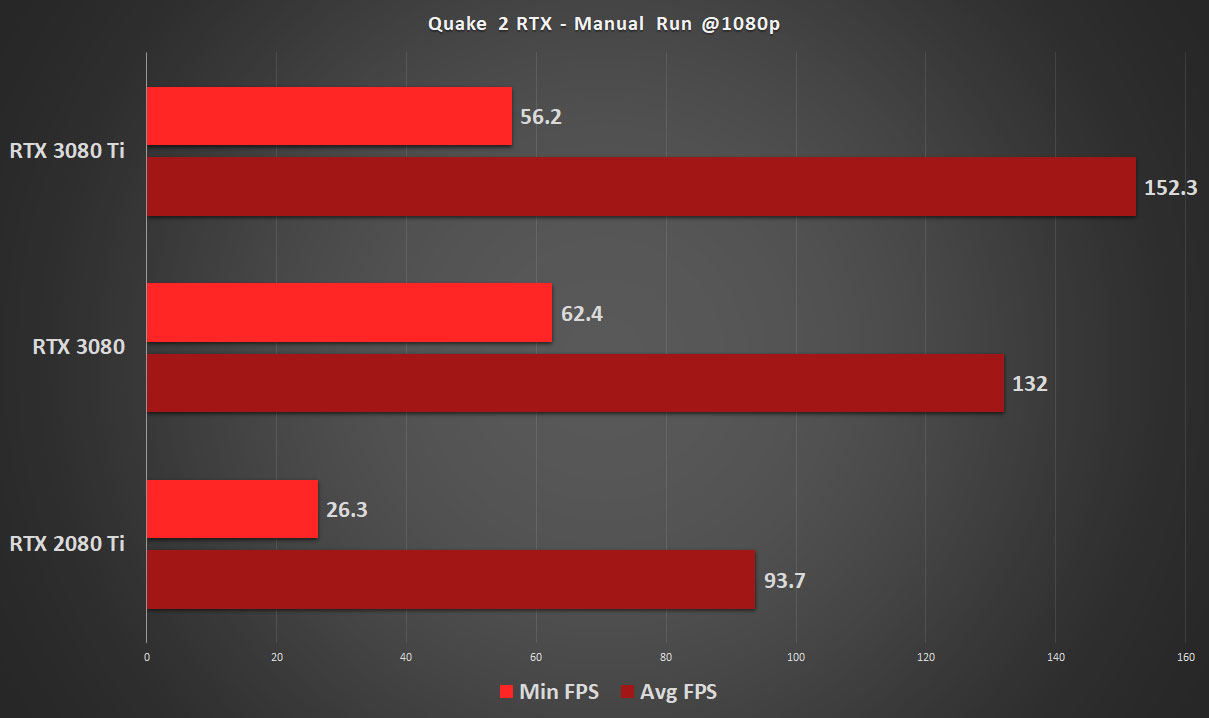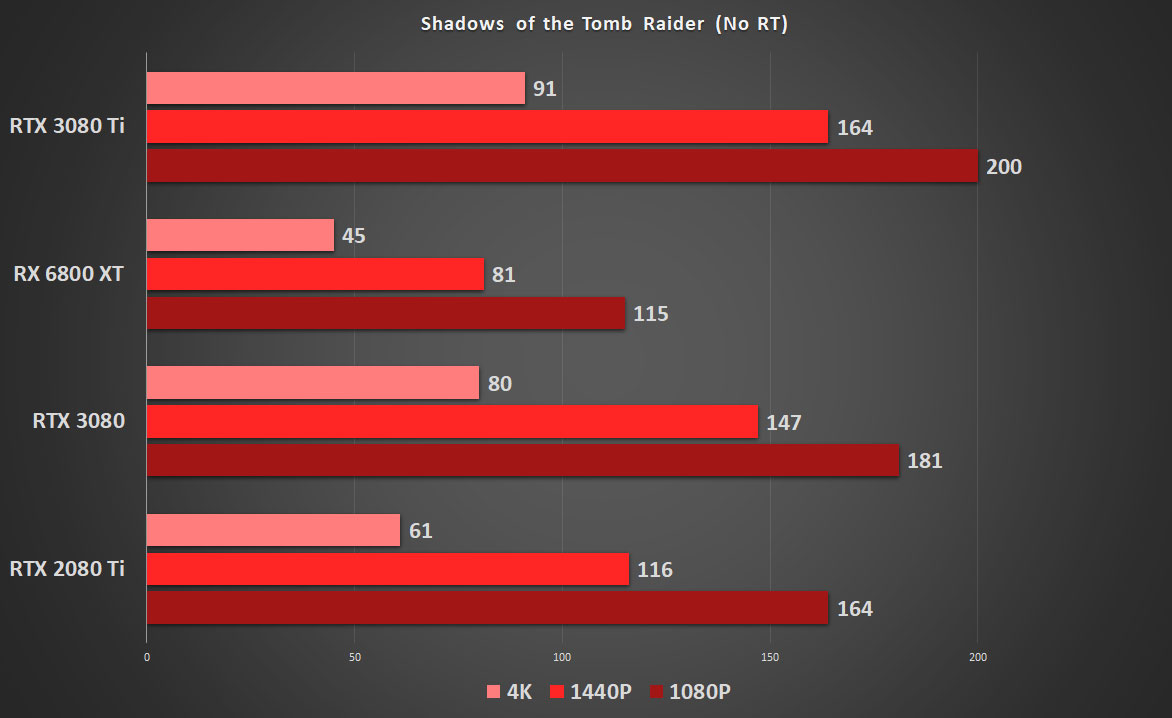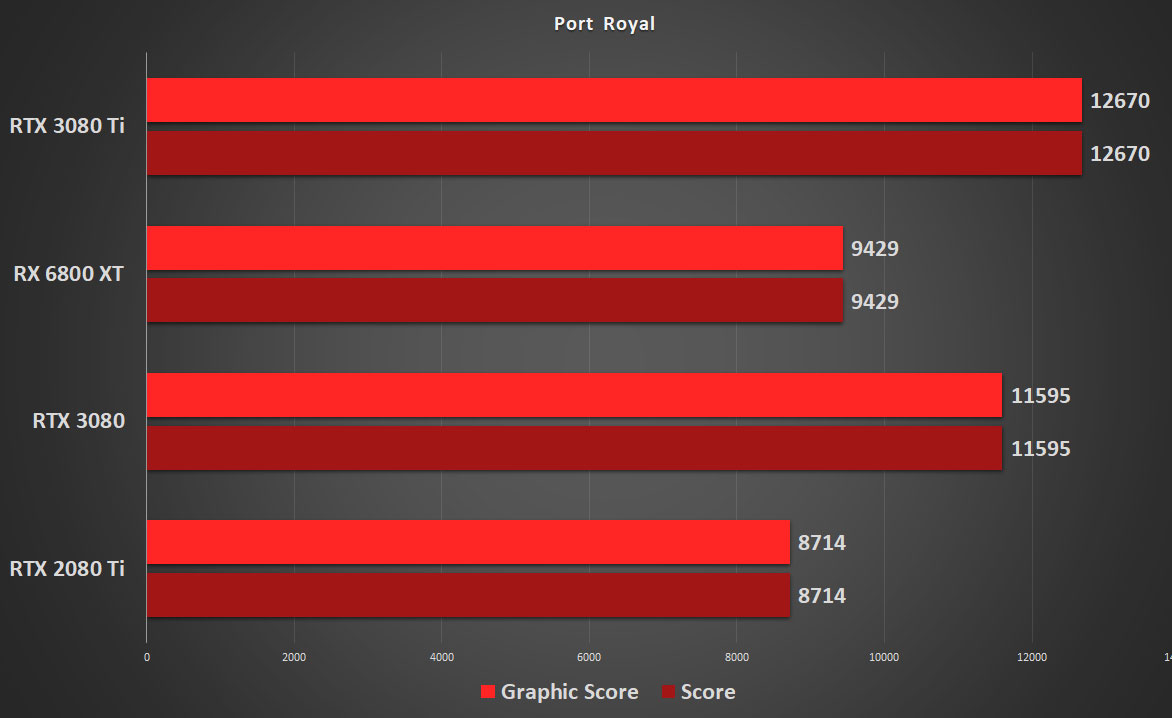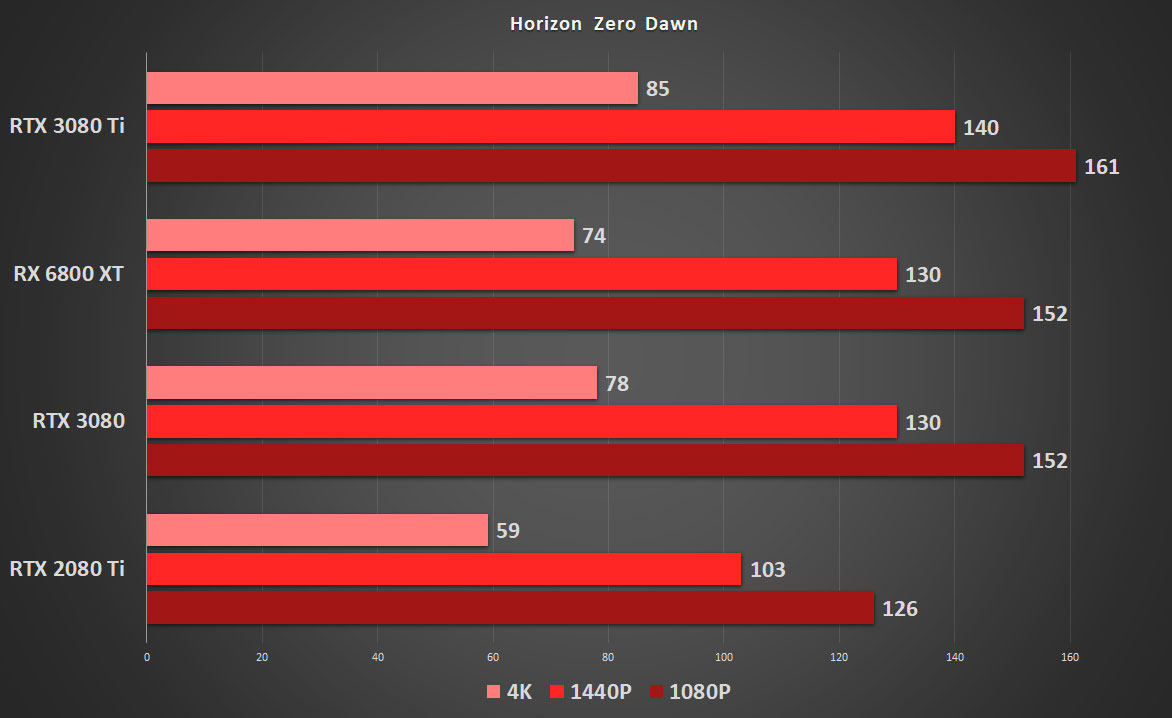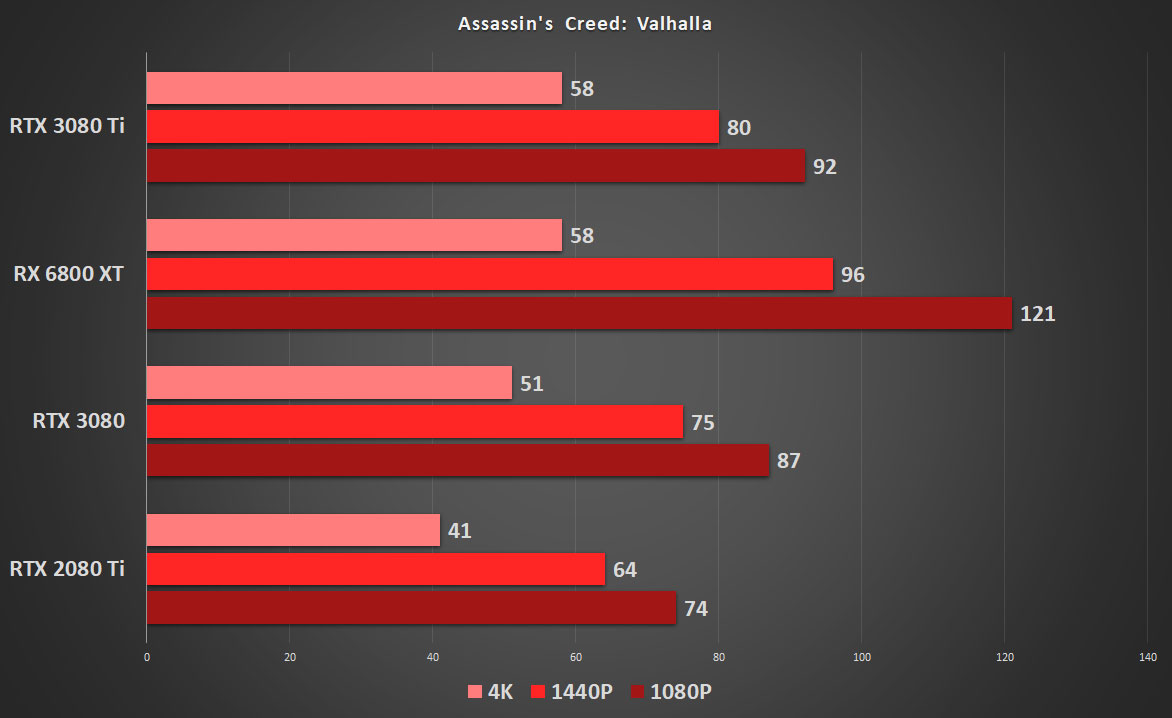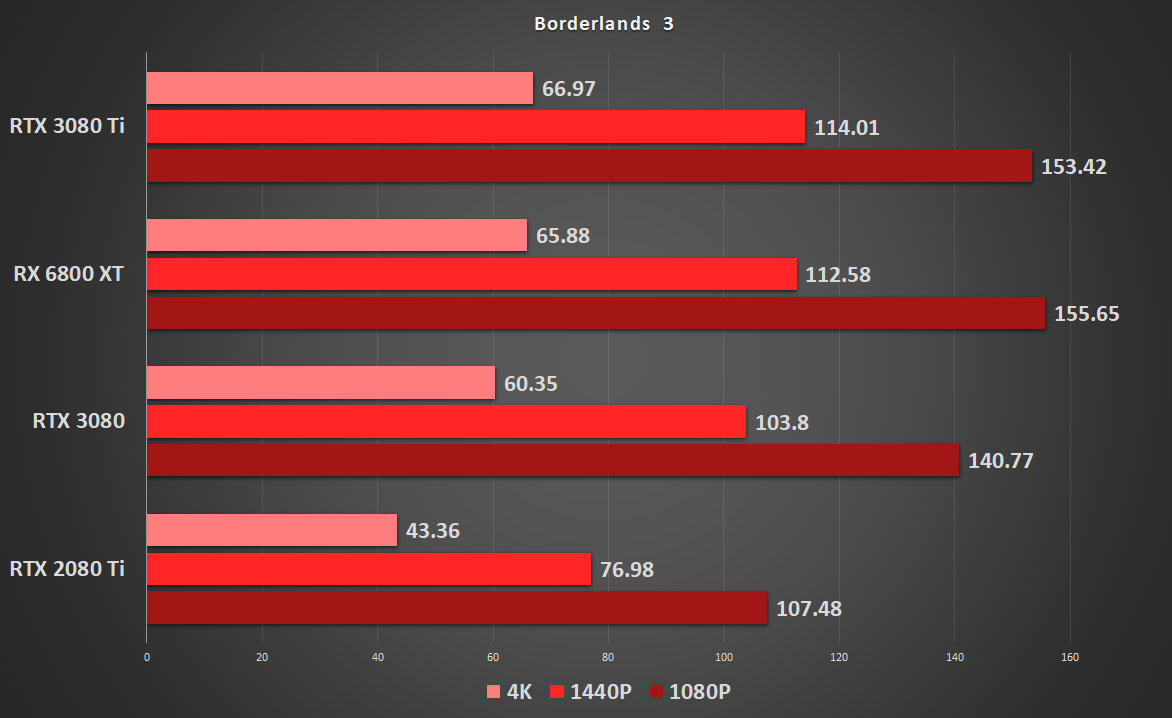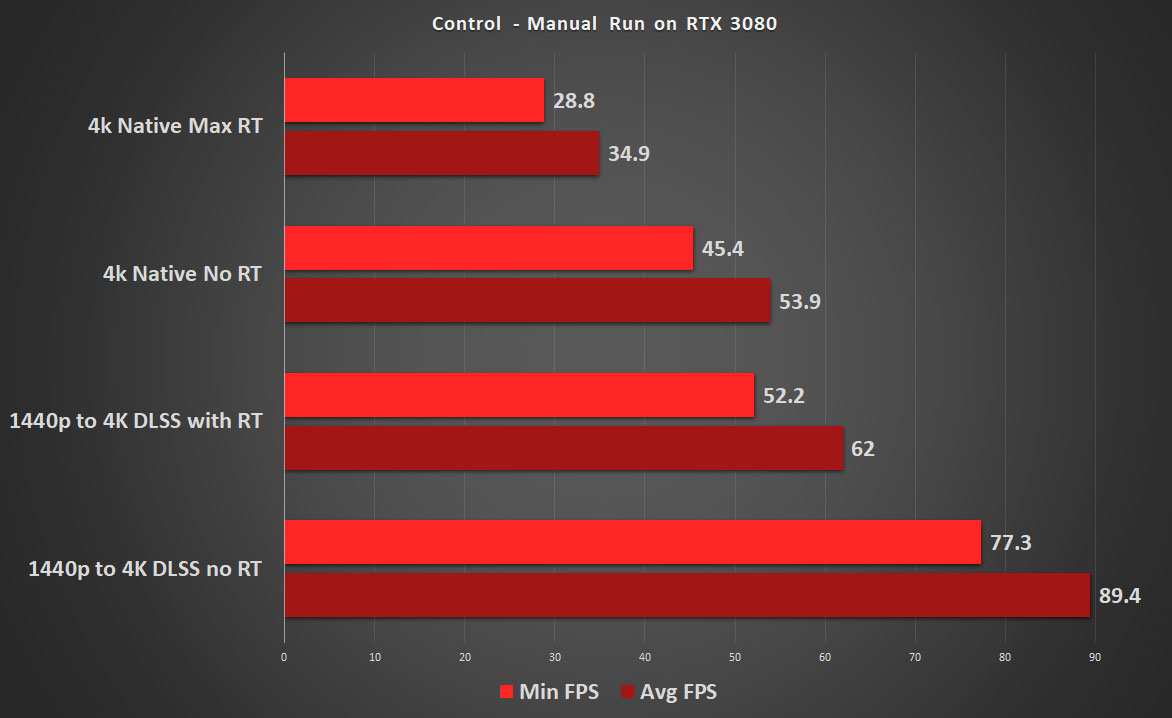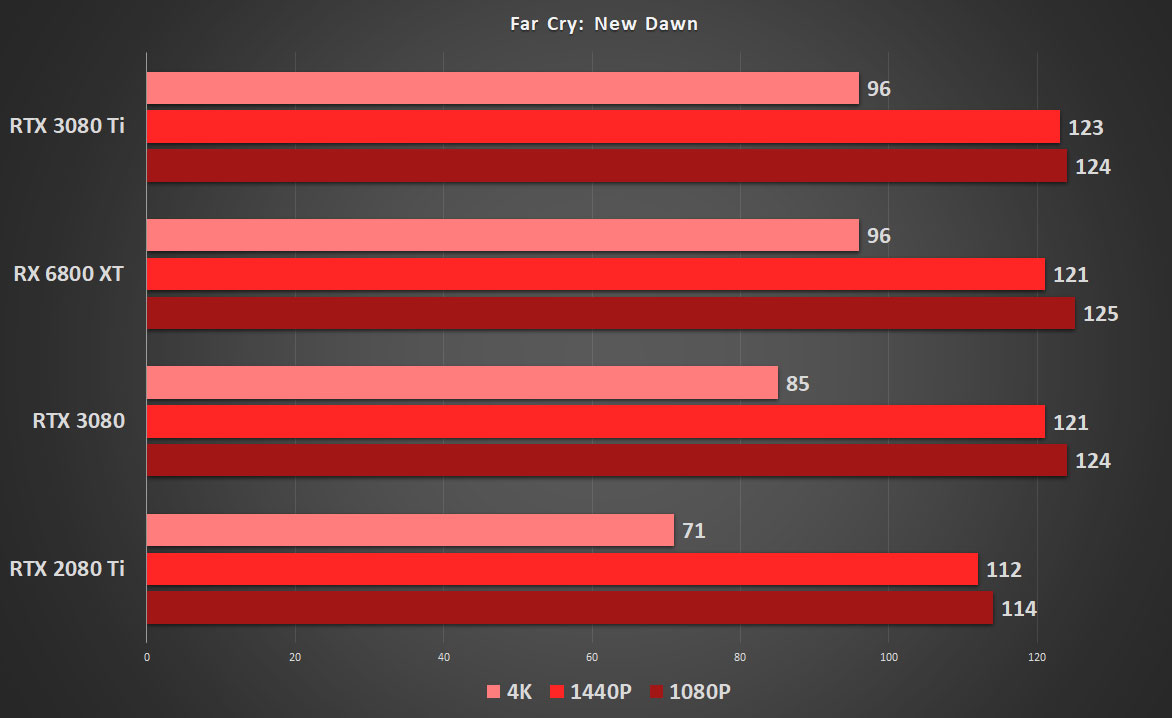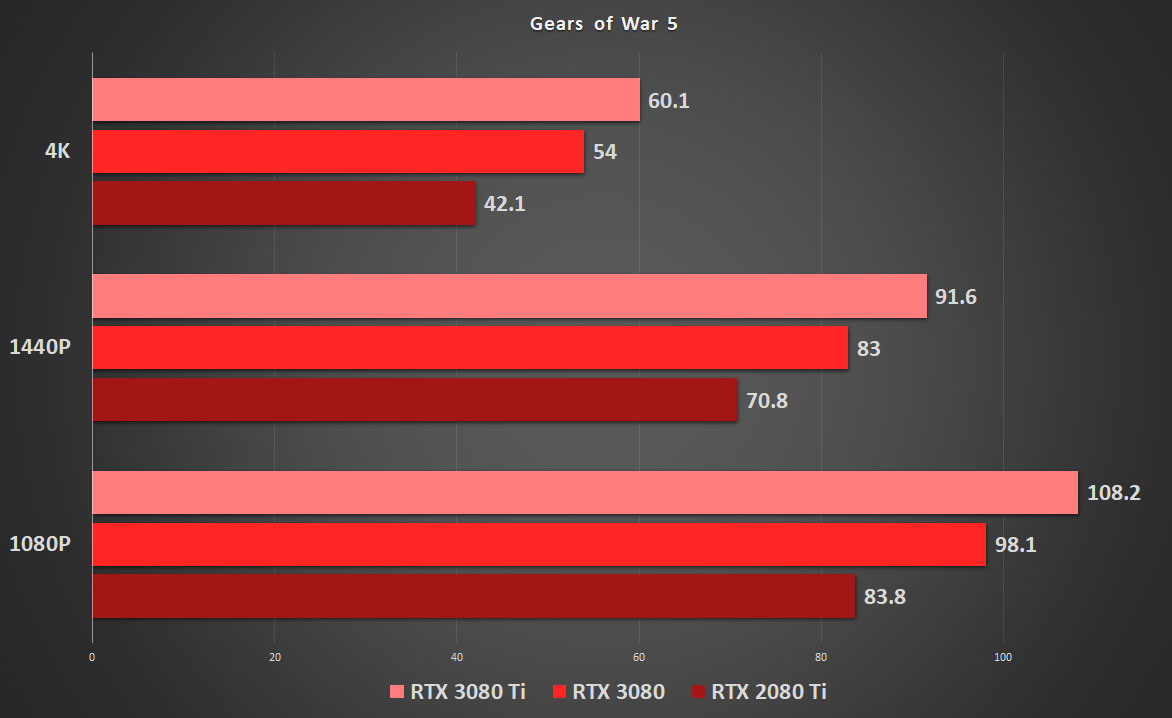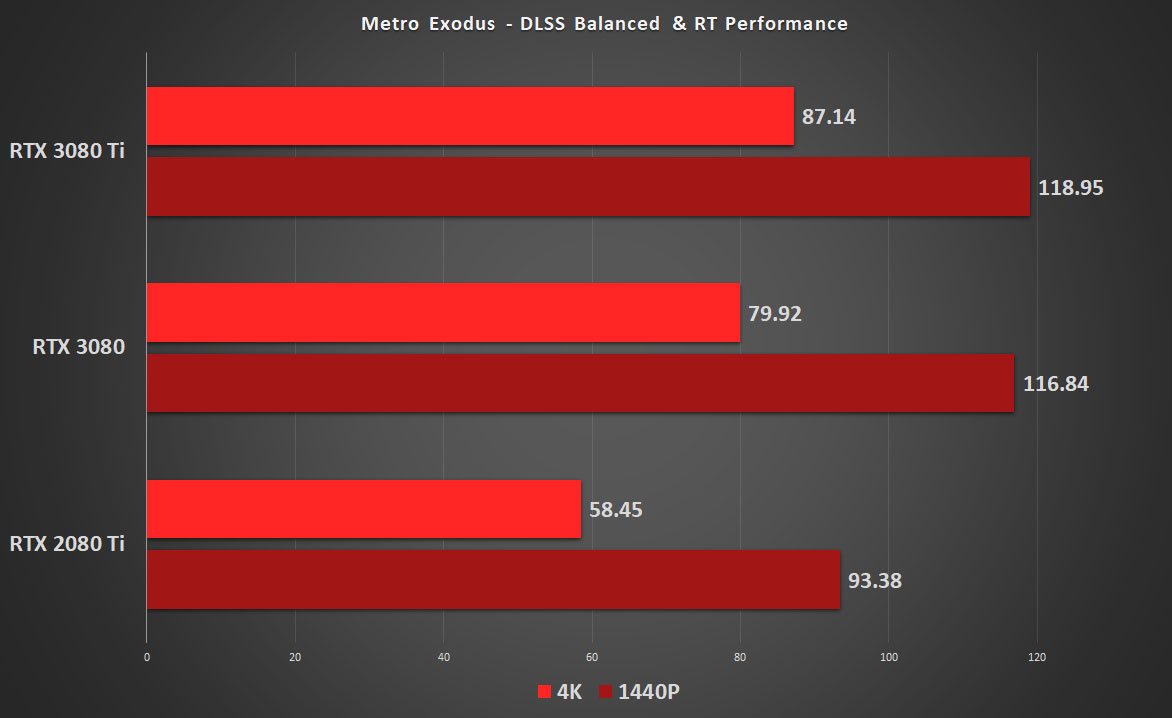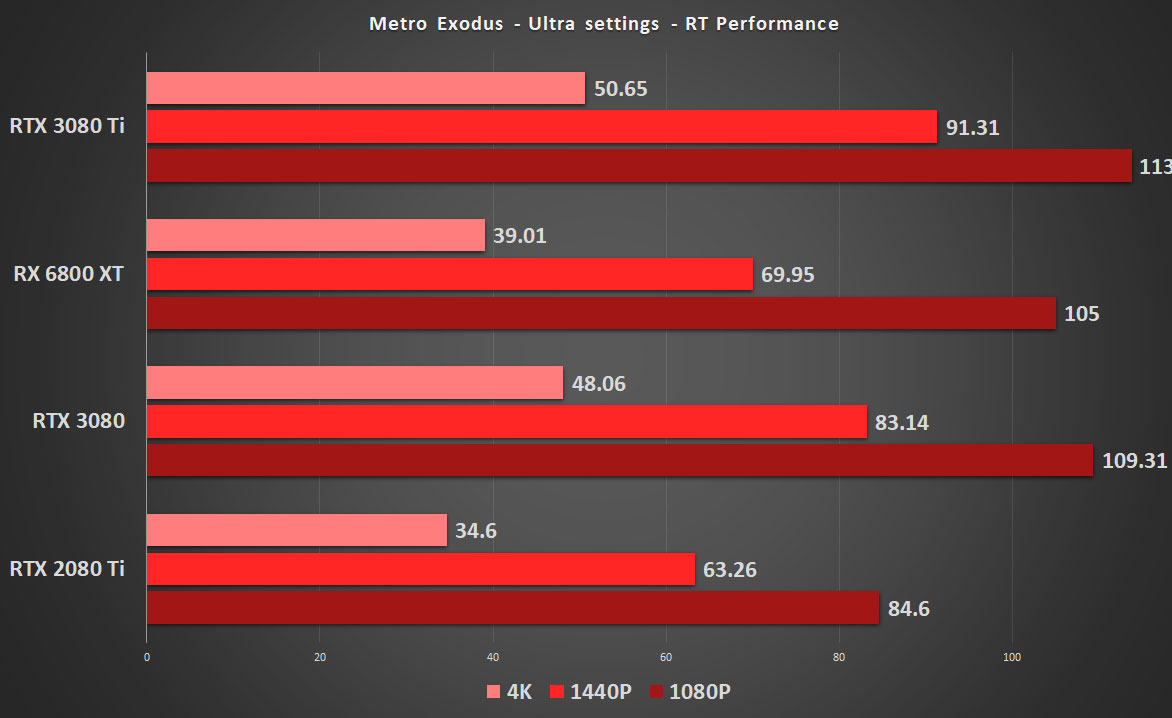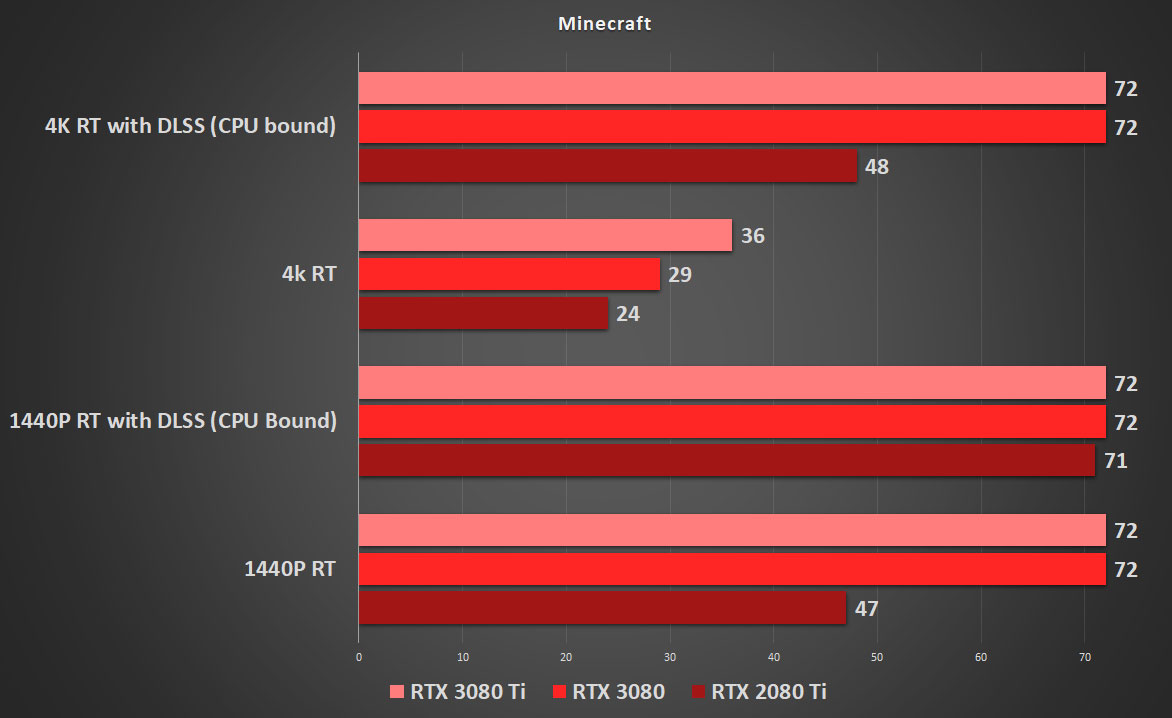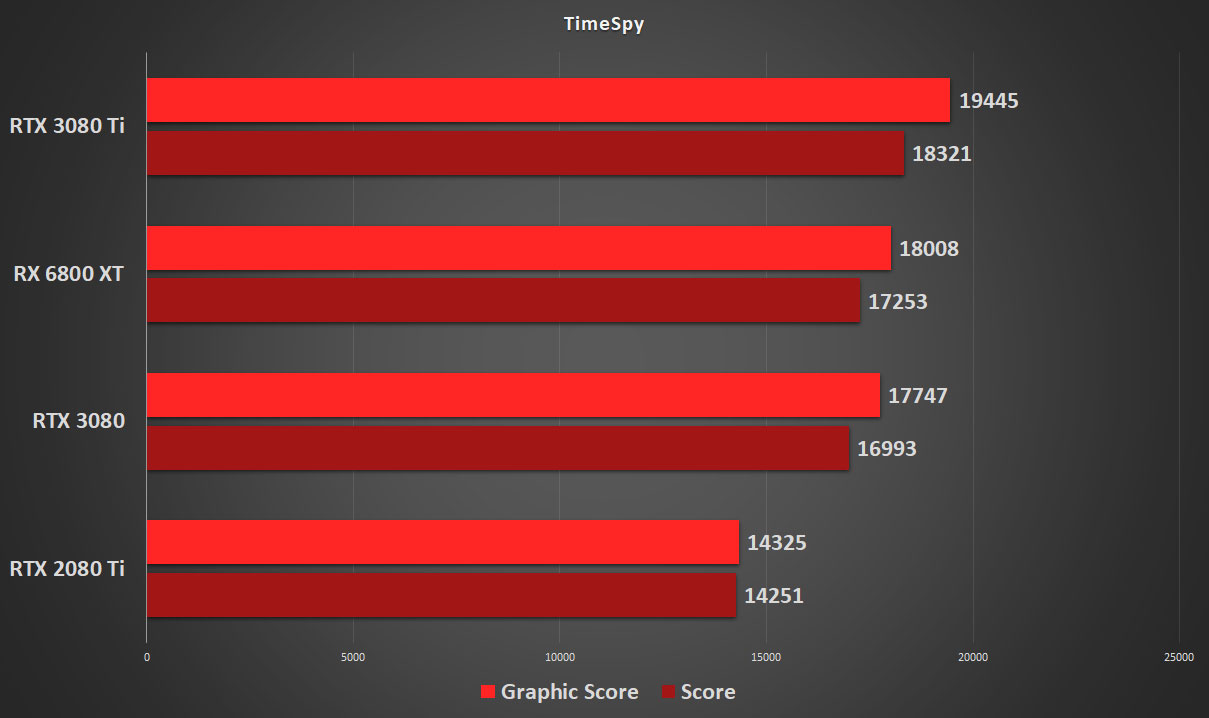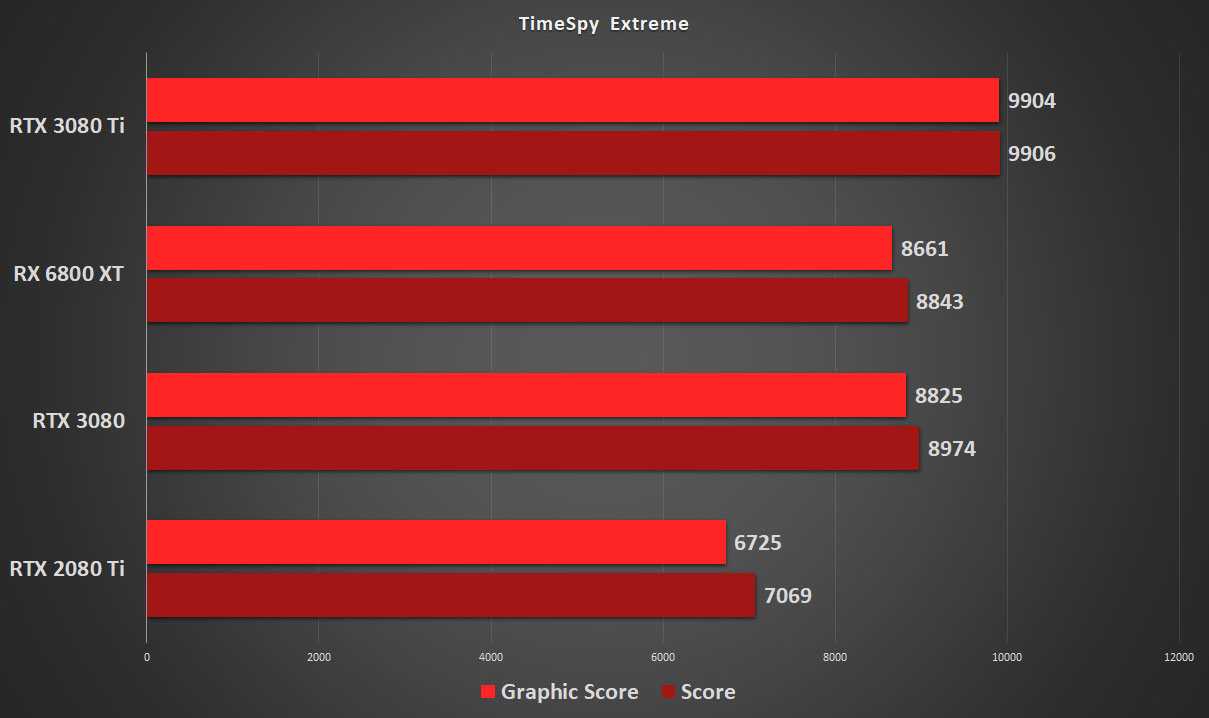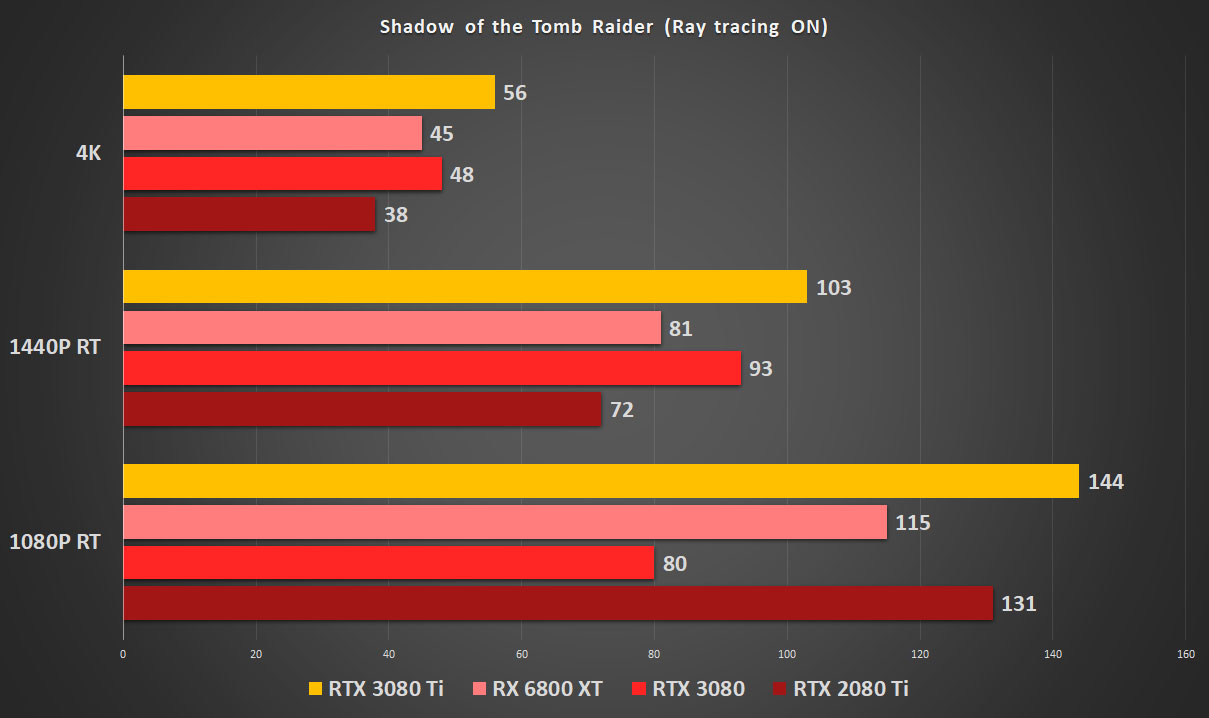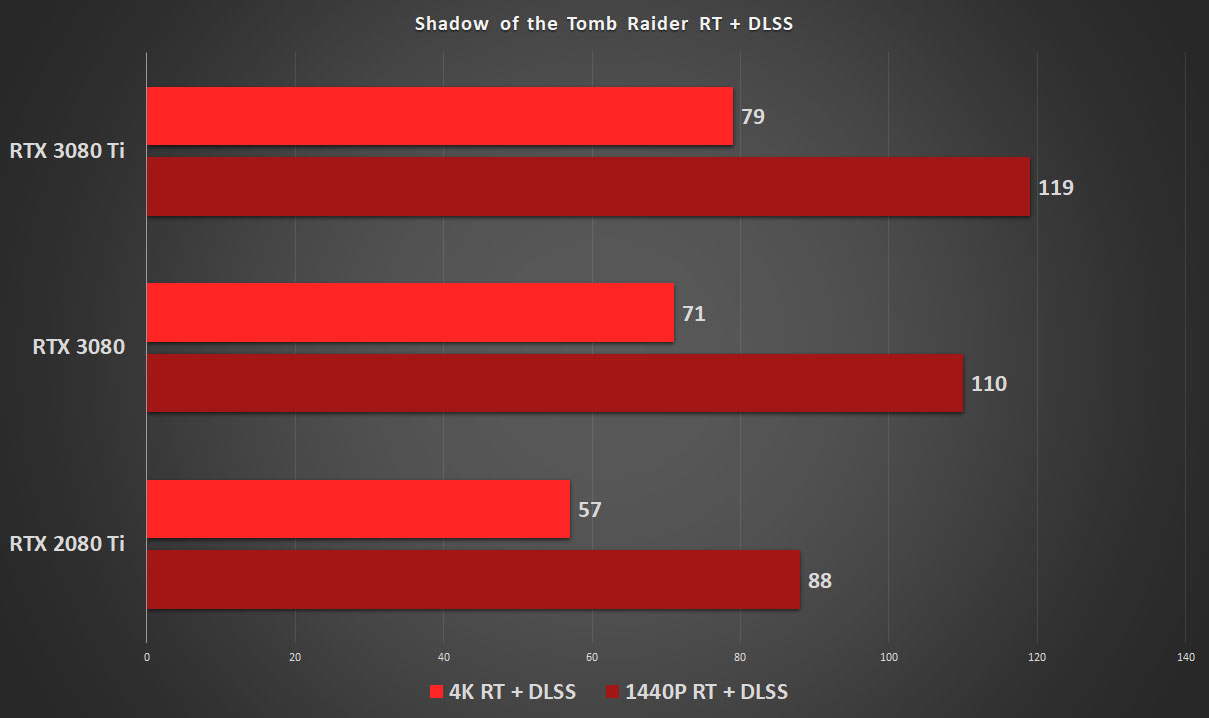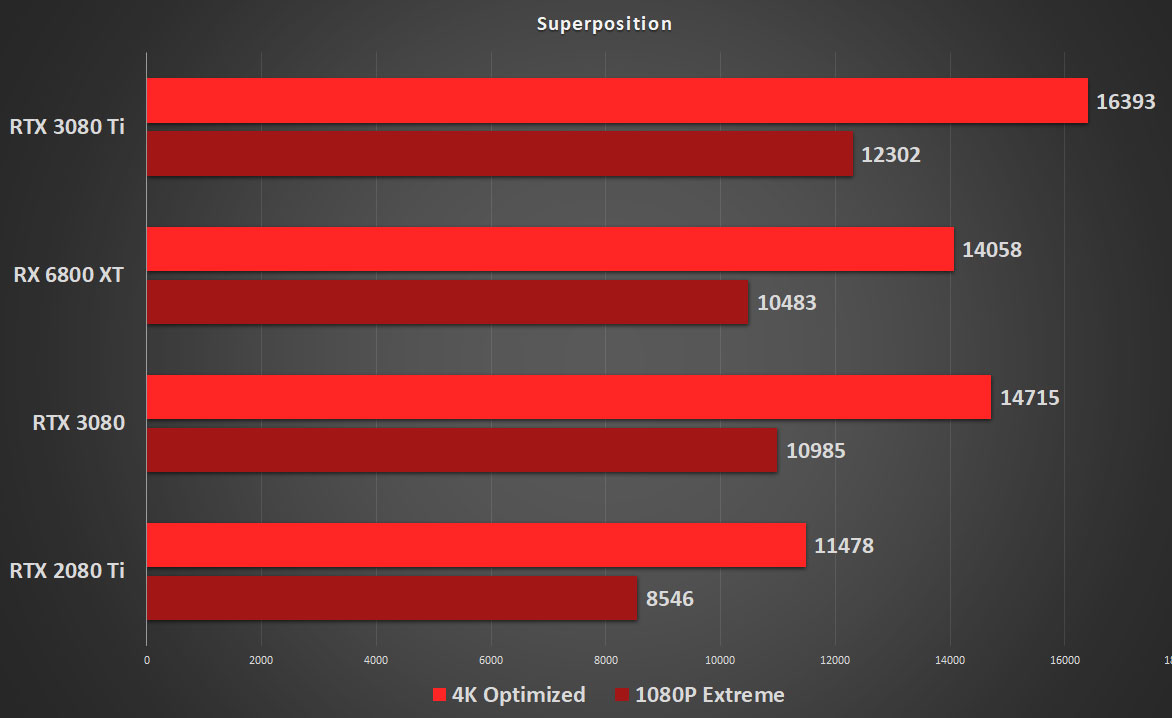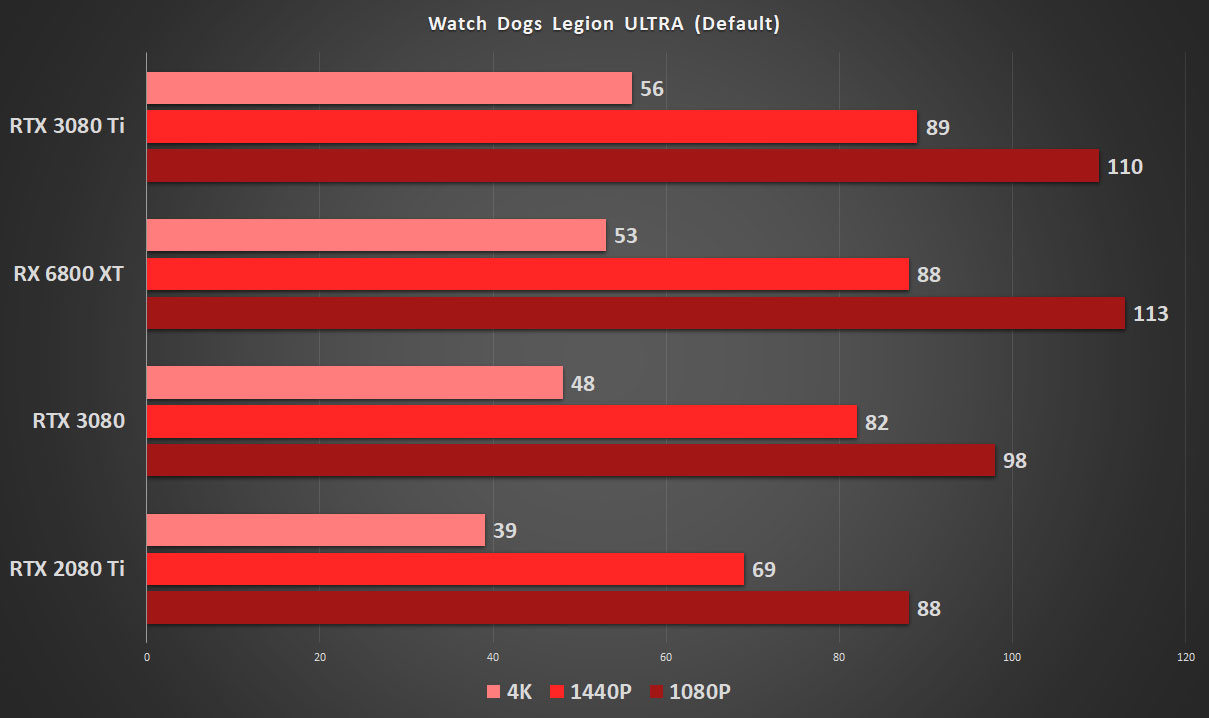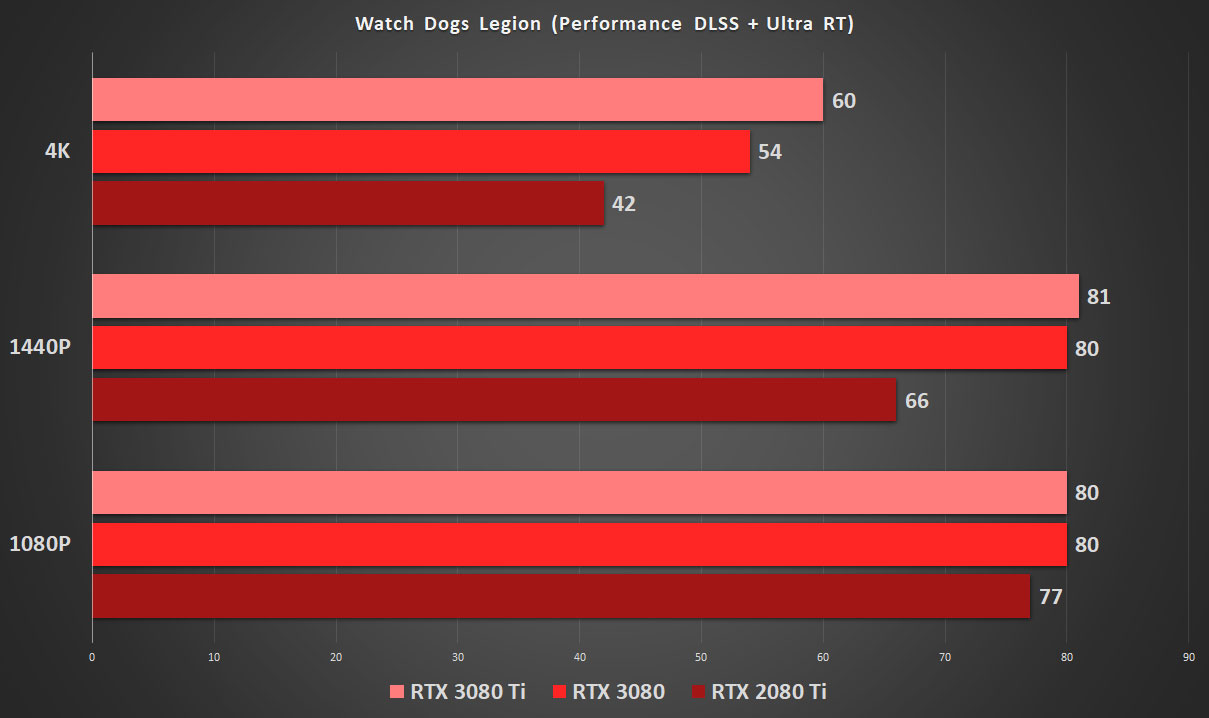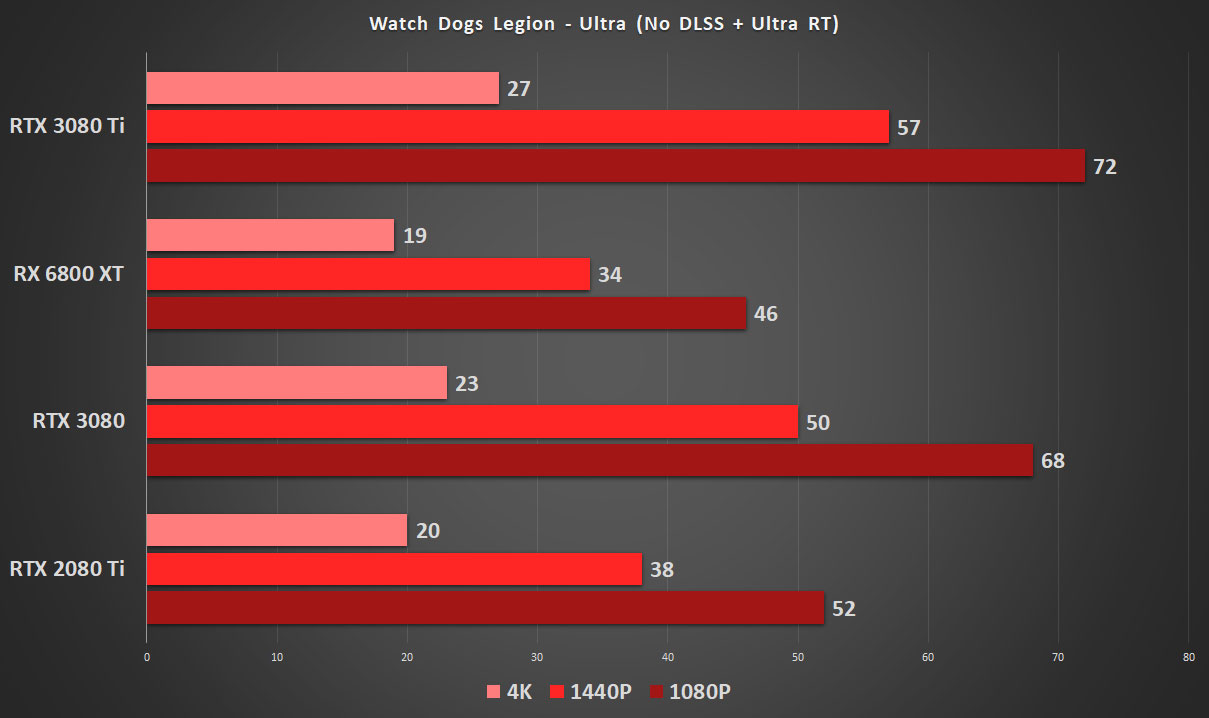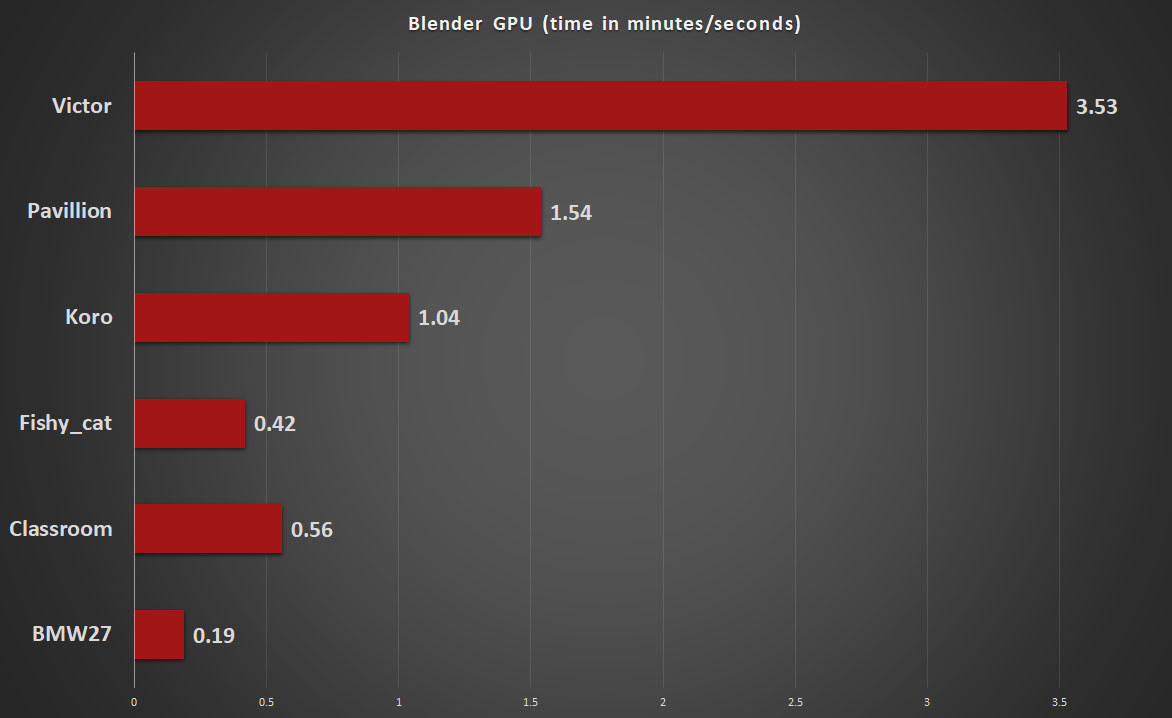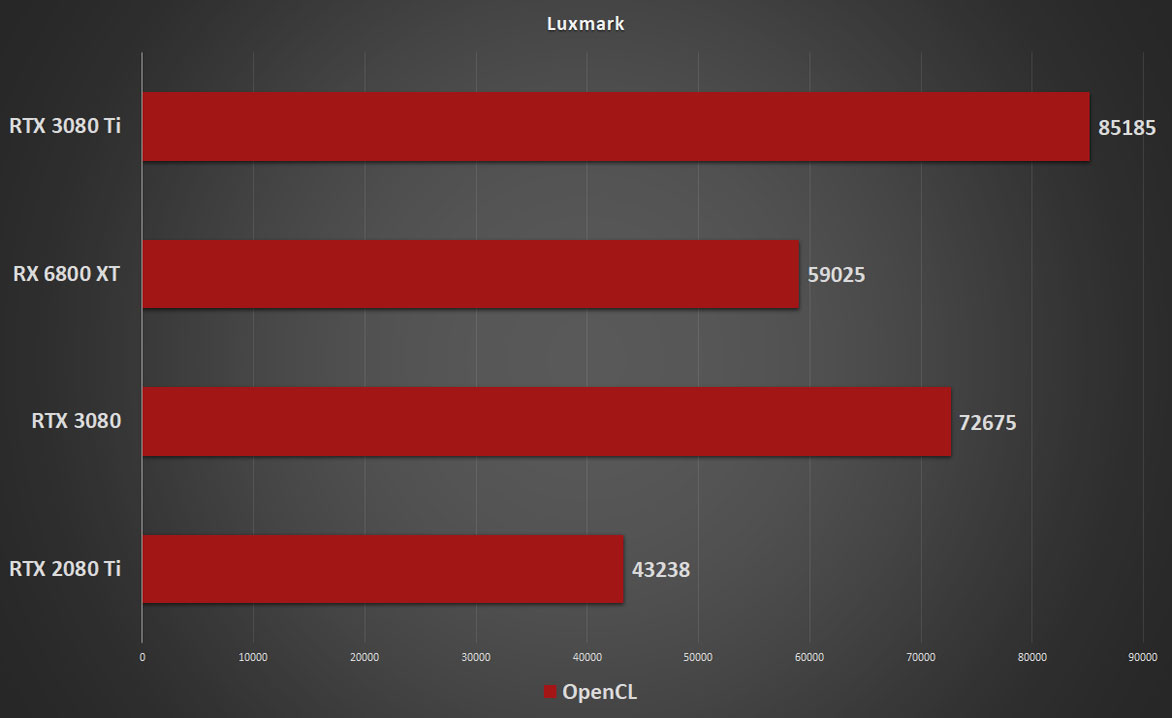 Well, that's a lot of data to go through – but to give you the TL;DR here – the RTX 3080 Ti is essentially an RTX 3090 – give or take a percent in performance, and half the VRAM. From asking around, Nvidia's stance of the RTX 3090 is that it's seen as the halo product, especially for 3d animators and content creators, and generally boosts higher and for longer (depending on the model).
For gamers though, the RTX 3080 Ti is the real flagship product – but the question is, does the card make a good argument for itself with both the RTX 3080 and AMD RX 6800 XT being a 'thing' too?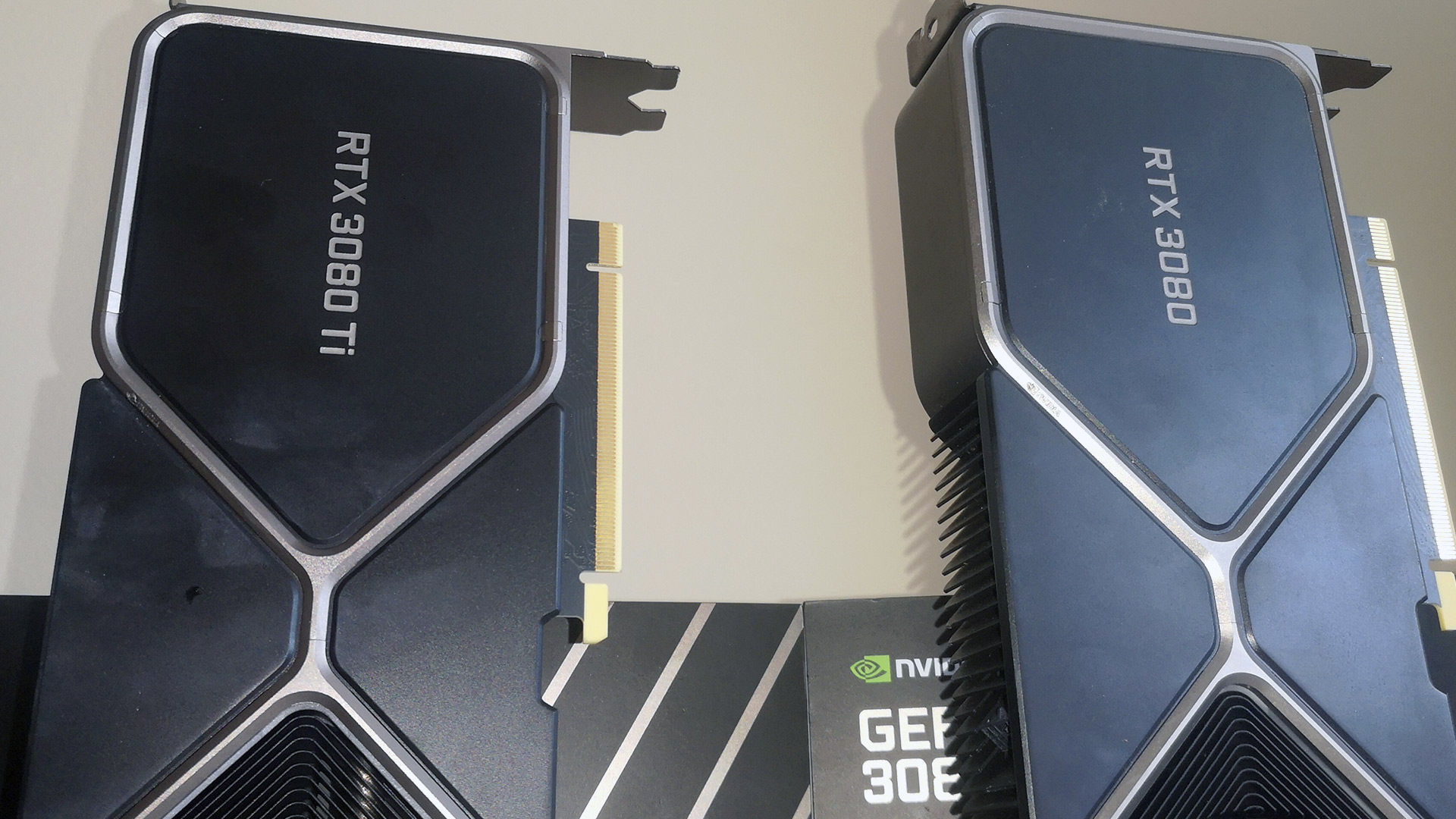 Well, as always that's a choice only you can make. I won't BS you guys, I am the kinda person to buy the RTX 3080 ti because, well, I just would want it. For most gamers though, IF you can pick up an MSRP RTX 3080 I suspect it is the better value for many, and cuts through 1440P games like butter (as you would expect, really). 
There's a real sense that the RTX 3080 Ti is the product Nvidia should have released as the RTX 3080, and the extra VRAM to me is quite comforting (what an odd statement, VRAM being comforting).
From Nvidia's own marketing, this latest GeForce does what Nvidia set out to do, by and large, outperforms the RTX 2080 Ti by a great margin and really, games such as Control and Watch Dogs legion are now definitely very much playable with RTX enabled, even at higher resolutions thanks to DLSS.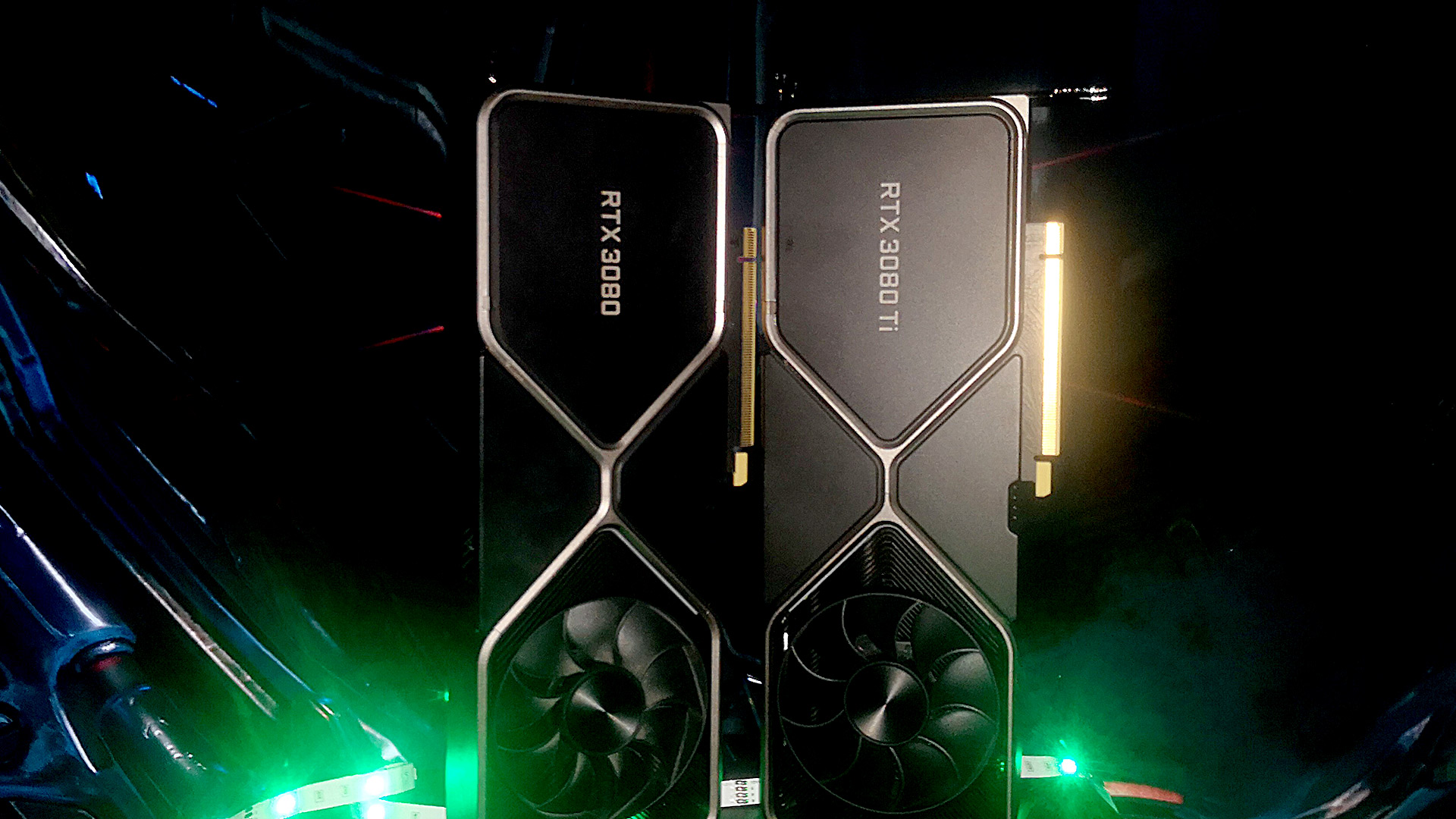 Indeed, I believe that the GeForce 20 series could be seen as a necessary architecture for Ray Tracing and DLSS adoption by Nvidia, and only now in mid-2021 are we really seeing game studios crank out RTX supported titles at a decent pace. For gamers with an RTX 2080 Ti though, your card is still very capable, and this is particularly true if you're running with either DLSS or a target resolution of 1440P.
The RTX 3080 Ti will doubtlessly be the card Nvidia fans will no doubt want in their rig if they have the cash to afford it. Perhaps the most interesting upcoming product in Nvidia's Ampere lineup is the RTX 3070 Ti, and we'll hopefully have a review for you guys soon – so you know the drill, subscribe for that.

I also feel it's worth throwing out that soon AMD's FSR will be released (the 23rd) and I very much look forward to testing this in a wide range of applications and tests too. 
Other Articles You Might Like