Looks like the most loaded of gaming enthusiasts aren't going to be able to purchase a third graphics card any more, that's if you want to upgrade to NVIDIA's new GTX 1080 or 1070 graphics card's that is.
NVIDIA unveiled the new GTX 1080 and 1070 recently and a lot of questions have still seemed to go unanswered. One being a new SLI bridge connector that was being showing off, which at first glance, looks like a flashy standard SLI bridge.
Here's what NIVIDA has to say on its newly designed High-Bandwidth SLI bridge:
"NVIDIA's new SLI HB bridge doubles the available transfer bandwidth compared to the NVIDIA Maxwell™ architecture. Delivering silky-smooth gameplay, it's the best way to experience surround gaming—and it's only compatible with the GeForce GTX 1080."
Wow, doubling the bandwidth on only one SLI lane? This must improve performance futher when using triple SLI configurations, right? Well, upon further inspection it seems this isnt the case. Something seemed odd about even the promotional pictures/renders for the card. If you search for any of them you can see that the "finger's" used for SLI doesn't seem to  shown (that I can find). The closest thing I got was the 3D rendering found of NVIDIA's website that I have brightened up, that does have the 8-pin power connector but no SIL connectors, see pictured below:


Now you could say that is normal because normal PCB's aren't usually put into 3DS renderings, but the fact they even put the power connector is weird.
Then we see the SLI bridge in three different sizes, pictured below: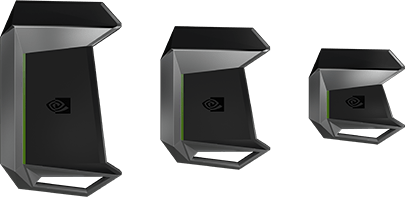 In appearance they look normal, but they actually cover both lanes, as seen below: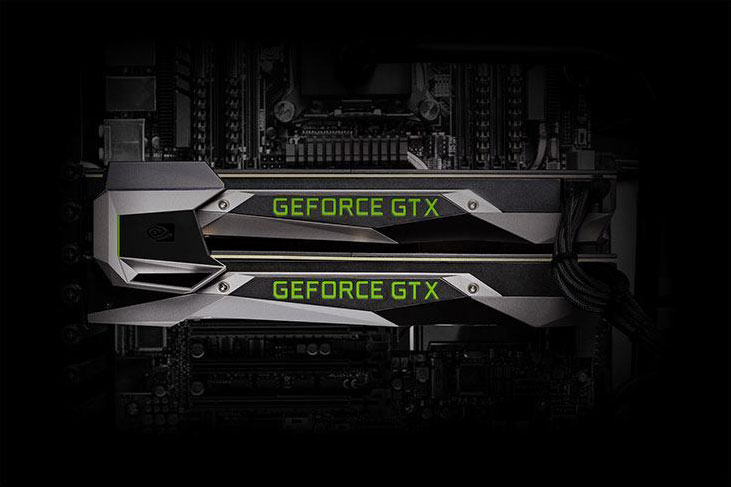 …So in reality, from NVIDIA's quote, plus evidence pictured above, basically they doubled bandwidth by using two connectors at the same time, thus limiting to two cards only.
Now it seems VideoCardz have shown an image of the new GeForce GTX SLI HB bridge that shows the tallest connector has 4 fingers, which confirms it'll work with only two GTX 1080's in SLI.

But now the very strange news, an EVGA employee has confirmed that the new GeForce GTX 1080 AND GTX 1070 video cards only work in 2-way SLI, not three or more.
So it looks like regarding the SLI operation of both cards, both are limited to two, BUT only the new SLI bridge works with the GTX 1080?
So, maybe for a cheaper solution for the GTX 1070 was to not make the card compatible with the new HB SLI bridge, but that seems a little pointless due to the two cards in all generations always being of very similar design. So would this more likely be a feature not enabled in 1070 because NVIDIA want a reason to sell the 900 series cards? or was it due to either cost or performance? Unfortunately, we don't quite know yet.
Here are some additional specifications comparing the GTX 1080 to the GTX 980:
Card                                                   GeForce GTX 1080            GeForce GTX 980
GPU Architecture                            Pascal                                    Maxwell
Frame Buffer                                    8 GB GDDR5X                     4 GB GDDR5
Memory Type- Speed                     10 Gbps                                   7 Gbps
Boost Clock                                       Relative 1.4x                          1x
Actual                                                 1733 MHz                               1216 MHz
The GTX 1080 will be released 27th May, 2016 and will be priced at $599 MSRP (estimated £450 with tax) and $699 (around £500 with tax) for the "Founders Edition", whereas the GTX 1070 will be released 10th June, 2016 and will be priced at $379 MSRP (estimated £300 with tax) and $699 (around £350 with tax) for the "Founders Edition".
The Founders Edition of both cards are being reported as the new replacement for the Reference design and which will include the blower style cooler and design similar to the older reference coolers.
Other Articles You Might Like
Tagged with
1070
,
bandwidth
,
Gaming News
,
gpu
,
graphics card
,
gtx
,
gtx 1080
,
hb
,
maxwell
,
nvidia
,
pascal
,
performance
,
price
,
release date
,
sli
,
sli bridge
.