There's no argument that there has been a ton of leaks from Nvidia lately. If you missed our latest video, give it a watch as we had leaks for an RTX 3080 12GB and RTX 3060 ULTRA. But today, we have yet more leaks for their mobile GPUs.
We are expecting an official reveal on the mobile graphics cards in the RTX 30 line up next week, and we are also expecting to see mobile variants of the RTX 3080, 3070 and 3060. Naturally, the RTX 3080 mobile is going to be the flagship card out of these GPUs, and will feature 6144 CUDA cores. Obviously it's to be expected to see a cut in CUDA cores vs the desktop part, but it's a significant cut compared to the 8704 CUDA cores of the full fat desktop graphics card from Nvidia.
But – lets get down into the nitty gritty. Max-Q is a name you should be familiar with if you've been following Nvidia for a file, but we will see two variants of the flagship RTX 3080 Mobile. The variants are the Max-P model at 150W , and the Max-Q model which is expected to have a limit of 90W or so. Of course, they also have some differences in terms of specs, too.
The Max-P model will have a base clock of 1110 Mhz and a boost clock of 1545, while the Max-Q model should be offering a 780 Mhz base clock and a 1245 Mhz boost clock by default. Naturally, however, you can expect various different flavours than just the default to be available on the market, as notebook manufacturers will do their own in-house tweaking with the power draw.
Thanks to a TechPowerUp GPU-Z validation database, we can see that Gigabyte will opt for the RTX 3080 Max-Q, which memory speed locked at 12Gbps.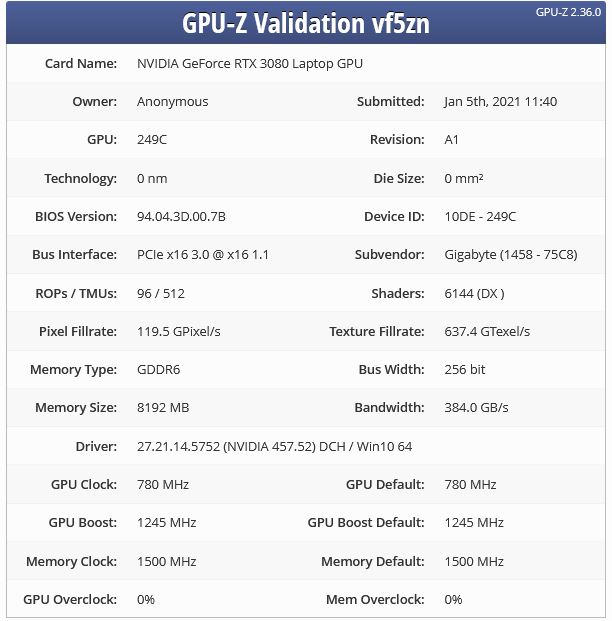 So, overall we can learn from all of this that the RTX 3080 Mobile will feature 6144 CUDA cores, 192 texture units and 96 ROPs ( GPU-Z incorrectly reports on 512 TMUs). But, as I mentioned earlier on in the article, this is not the first leak we've had for the RTX 30 Mobile graphics cards. Previously, the leaks we've had for the mobile variants have caused some raised eyebrows, so if you missed it be sure to watch our video below.
Other Articles You Might Like
Tagged with
leak
,
nvidia
,
nvidia mobile gpu
,
nvidia vs amd
,
rtx 30 laptop
,
rtx 30 mobile
,
rtx 3080 laptop
,
rtx 3080 max q
,
rtx 3080 mobile
,
Specifications
,
specs
.