The RTX 2080 Ti is a monser of a chip, sporting over 18 billion transistors, a die size of 754mm2 and with a full 4352 CUDA Cores. It is based on the TU102 chip, and now thanks to a leak we learn the exact specs of the full chip and how it compares against the RTX 2080 Ti, plus performance and clock speed information.
So starting things out with the TU102 chip, we have 4608 CUDA cores, split across 72 SM (Streaming Multiprocessor), so each SM is compriseed of 64 CUDA cores. There's a total of 575 Tensor cores, 72 RT cores, 36 geometry units, 288 Texture Mapping Units (TMU) and finally 96 ROPS. There's also the 384-bit memory bus, with 12 GB GDDR6 RAM running at 7 GHz (14gbps).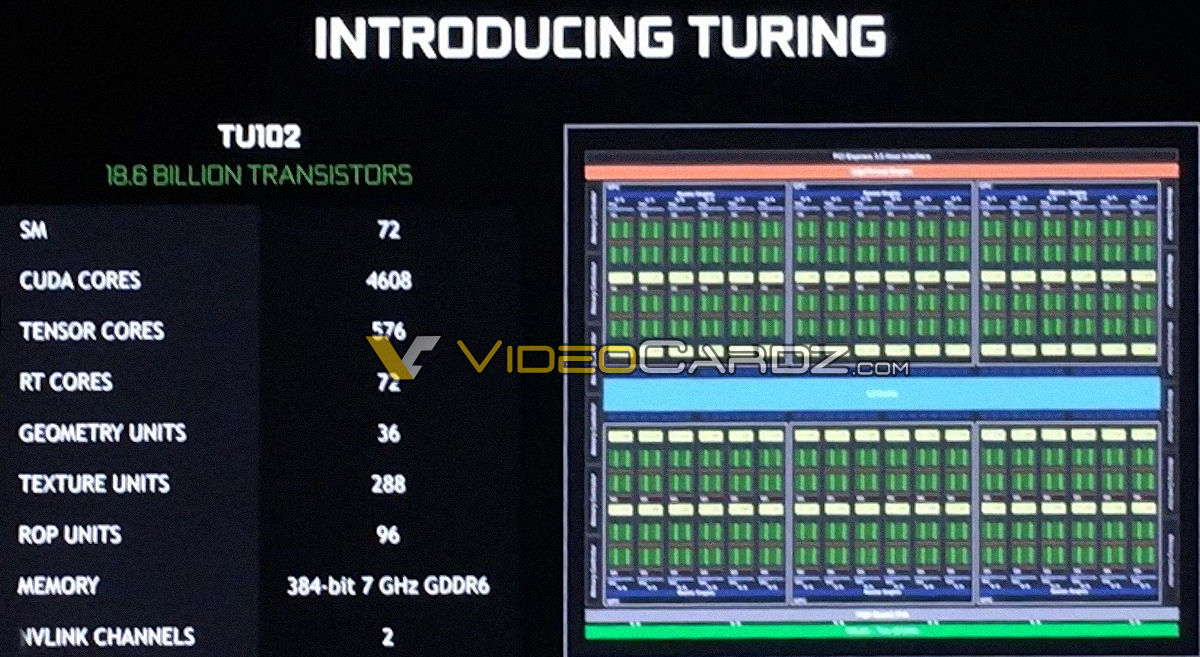 But, that's the full GP102 core – and this is found in the Quadro RTX 6000 and RTX 8000 GPUs. Nvidia have cut things slightly for the RTX 2080 Ti. We see only 68 SMs providing a total of 4352 CUDA cores (we already knew that part). But we now learn that there's 34 Geometry Units, 272 TMU and finally 88 ROPS. There's 1 memory chip removed, providing a total of 11GB GDDR6 memory, still at the same 14gbps clock speed; albeit at a slightly narrower 352-bit memory bus.
There are reports we're seeing fewer Tensor Cores and RT Cores too – 544 Tensor Cores and 68 Ray Tracing Cores for the RTX 2080 Ti graphics card, which is a slight cut. It does make sense, because the RTX 2080 Ti has 440 Ops (Int 4) versus the Quadro RTX 8000 featuring 500 Ops (Int4).
The folks over at Video Cardz also managed to snag a second interesting slide, which delves into the shading performance of GeForce RTX 20 series against the older GTX 10 series (so Turing vs Pascal). There's several games listed, with Aots of the Singularity being the worst performer (they don't have data labels above the various data points) but it looks like Turing's result of AoS hits about 1.57x the performance over Pascal.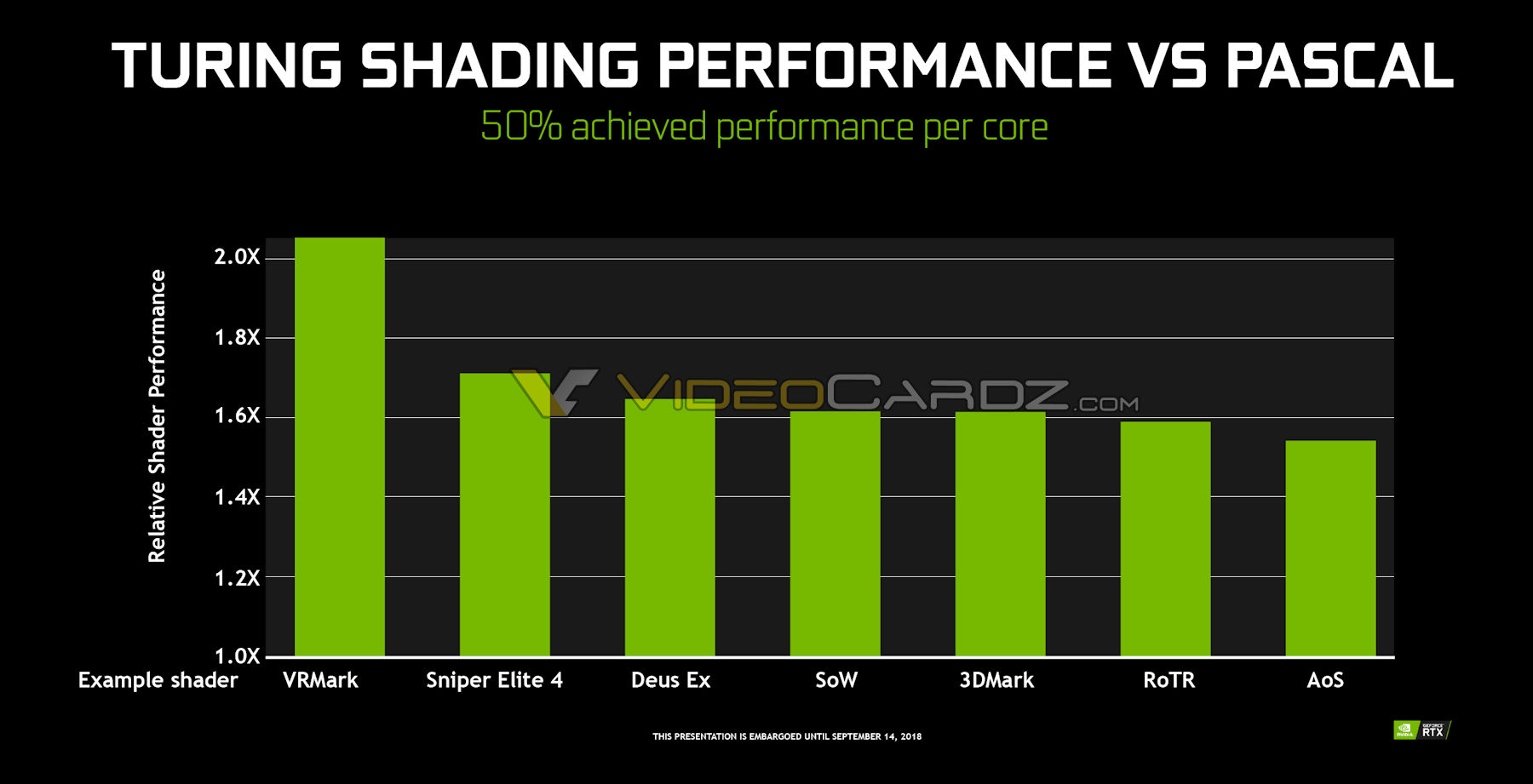 Shadow of War, Deus Ex, Rise of the Tomb Raider, 3dMark all hover at around the 1.6x performance level (give or take a few percent), while Sniper Elite 4 is closer to 1.7x the shading performance improvement. VRMark is over 2x the shading performance.
You'll also notice that this reads "Per Core" too, which we can assume means one Turing SM / CUDA core versus the same number of Pascal cores. That's pretty impressive, and falls inline with the performance Nvidia officially released yesterday, where they said users can expect at least a 50 percent jump in performance with many titles, and that 60FPS is quite achieveable (in fact, reports are that the RTX 2080 Ti can be closer to 100 FPS).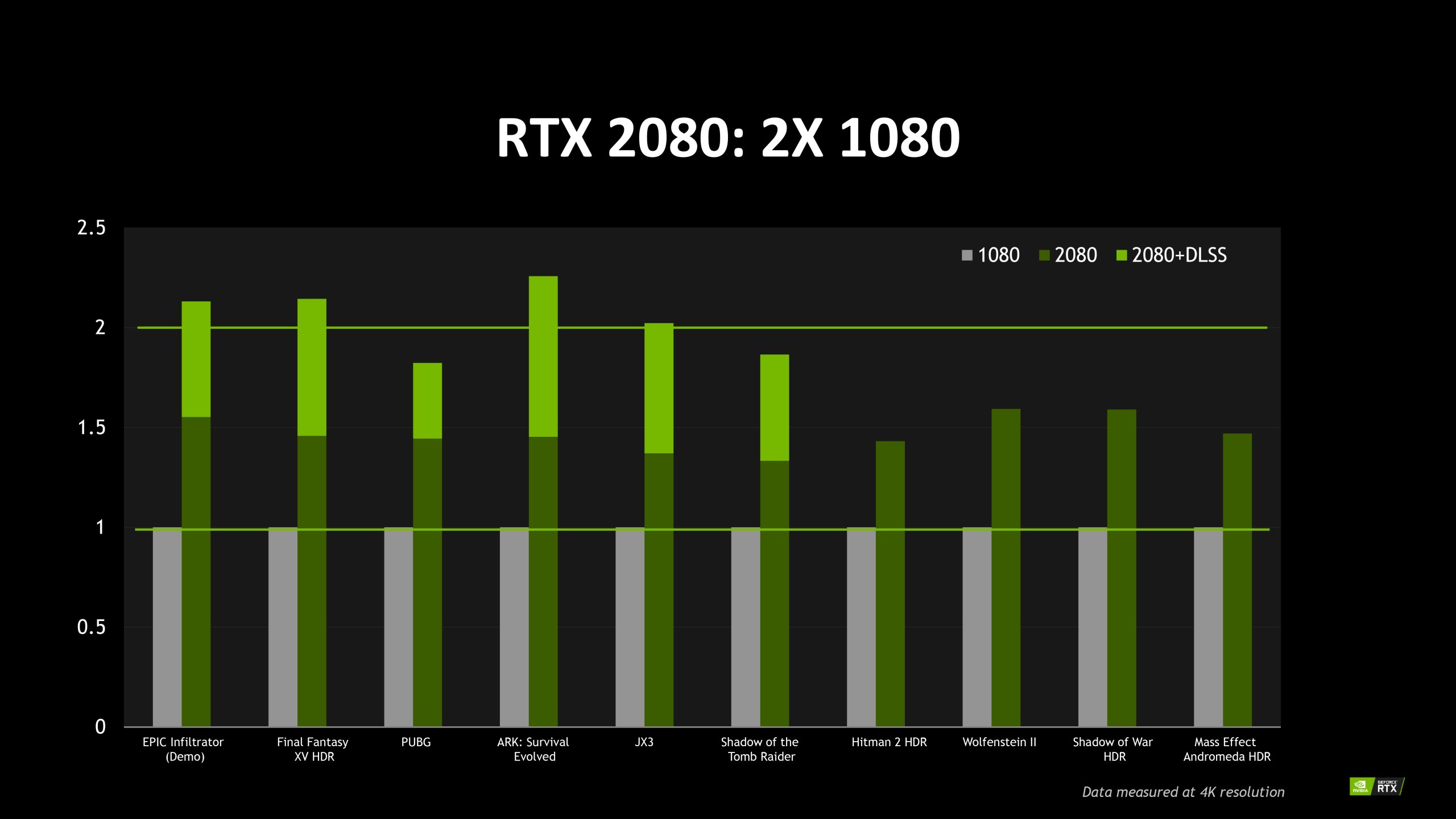 One thing we can also note – all of those games (to my knowledge) other than Shadow of War have DirectX 12. We can choose to take away one of two things here – one, Nvidia have tweaked Turing to really get more 'out' of DX12 games, or the other is that Nvidia just believe DX12 is the future.
Nvidia have also been working on a tool called Nvidia Scanner – name yet finalized. This tool allows Turing to work with the software to djust voltages and clocks for you. It seems to go with Nvidia's mantra of making gaming simpler on PC for the masses, and will be bundled in with Nvidia software. It makes sense.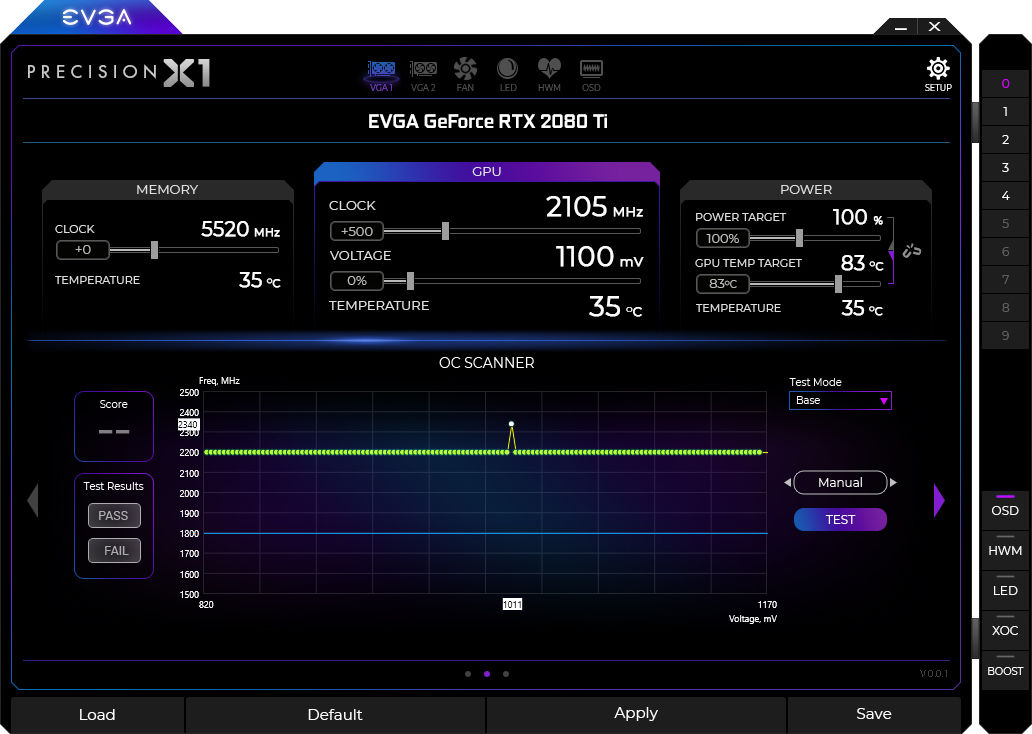 According to Nvidia, most users do not overclock their GPU – and Nvidia want you to do this. Bundling this in as either separate software, or GeForce experience is logical. Imagine you've just bought an RTX 2070 graphics card, either from an OEM (as part of a full system) OR your friend has installed it for you, and you don't know much about computer hardware. Now, with the GeForce Experience, a few clicks will automatically configure your PC games to the best settings based on the display you have and the card you own, then go about overclocking the GPU to wrangle every bit of performance out of the card you can.
In the screenshot you'll spot that the EVGA Precision X1 is using a variant of this software, and will also note that there's a clock speed of 2105 MHZ on the core, that's a 500MHz + on the base clocks for the RTX 2080 ti. If this is even roughly in the ballpark of the clock speeds we can expect out of Turing, the cards will be a total monster.
RTX 20 series comparison
NVIDIA GeForce RTX 2070
NVIDIA GeForce RTX 2080
NVIDIA GeForce RTX 2080 Ti
GPU Core
Turing GPU (TU104)
Turing GPU (TU104)
Turing GPU (TU102)
CUDA Cores
2304 Cores
2944 Cores
4352 Cores
TMUs
144
184
272
ROPs
64
64
88
GigaRays per Second
6GR
8GR
10GR
Cache
4 MB L2 Cache???
4 MB L2 Cache???
6 MB L2 Cache
Core Clock
1410MHz
1515MHz
1350MHz
Boost Clock
1620MHz
1710MHz OC Model
1710MHz
1800MHz OC Model
1545 MHz
1635MHz OC Model
CUDA Core Compute Perforance
7.5 TFLOPs
10.1 TFLOPs
13.4 TFLOPs
Memory Capacity
8 GB GDDR6
8 GB GDDR6
11 GB GDDR6
Memory Speed
14gbps
14gbps
14gbps
Memory Bus
256-bit
256-bit
352-bit
Memory Bandwidth
448GB/s
448GB/s
616GB/s
Power Connectors
8 Pin
8+8 Pin
8+8 Pin
TDP
185W
215W
250W
Price
$499 USD
$699 USD
$999 USD
Price (Founders Edition)
$599 USD
$799 USD
$1,199 USD
Finally, according to rumors – despite the RTX 20 series being unveiled, there's not any leaks concerning performance from early reviews – aside from the TechRadar whom claimed the RTX 2080 Ti is capable of 100 FPS at 4k.
The reason is apparently the drivers aren't ready yet – and that review samples won't ship until early in September. NDA for the full reviews is said to lift on the 14th September too, so that means you'll likely need to wait. These leaks according to VideoCardz do match up to what I'm hearing personally from AIBs too, who've told me they're not going to have samples ready until early to mid September.
This is both good and bad news – for those questioning about preorders, it's obviously frustrating. But it also is a sign that performance could go up further with the cards before they're launched – a lot can happen in about 3 weeks in terms of optimization.
Other Articles You Might Like