The rumor mill has been busy of late, and it's no surprise it's Nvidia's turn. They did say they were going to be announcing a new gaming device, and a new leak has suggested it will be the Nvidia Shield Tablet.
Now, the initial leak seems to have come from Evleaks, a source well known for their reliability. Their original leaked image is below.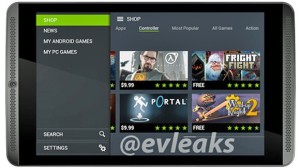 However, since then, some rather nice information has come out regarding the supposed specs of the device. Now, remember, as always you should take anything not confirmed by Nvidia with a pinch of salt. But, if you want to know what the whispers on the wind are saying, well…
SHIELD tablet will be 8 inches, with a 1920×1200 resolution. It has 2GB RAM, Tegra K1 SoC with 192 CUDA cores and a QuadCore 2.2 GHz A15 CPU. It will have dual speakers and 5 MPIX front facing camera.
The SHIELD tablet will be also be available in two versions, the cheaper 16GB model at $299, with Wifi capability only. There is a 32GB model for $100 more, which will have an LTE modem on board.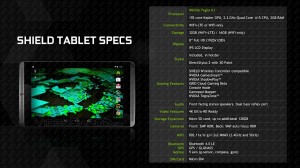 Other Articles You Might Like
Tagged with
Android
,
CUDA
,
geforce
,
graphics card
,
K1
,
keplar
,
keplar GPU
,
maxwell
,
nvidia
,
nvidia gpu
,
nvidia k1
,
nvidia shield
,
nvidia shield tablet
,
nvidia tegra
,
shield
,
shield control pad
,
shield controller
,
specs
,
tablet
.