In several days, we'll know a lot more about Nvidia's plans for the GeForce RTX 2080 (along with the other cards in the GeForce 20 series lineup), but as of right now, the Turing architecture is a very impressive jump in performance. Ray Tracing has been a lofty goal in computer graphics for years, but hasn't been possible in real time because it has been so computationally expensive. Nvidia's Turing architecture changes this with the inclusion of what Nvidia are dubbing the "RT Cores" whose job it is to perform various checking on a scene of what objects (geometry) are being interacted with by the various rays that are generated and flung out into the scene.
But a rather curious bit of a text is present on Nvidia's own Turing micro site, confirming that it's also very possible for the GPU to also handle Ray Traced audio too. Where as the purpose of Ray Tracing for visuals allows the GPU to better depict how lights and shadows interact with a scene (so for example, objects would cast a reflection if the object wasn't on screen, but the camera was aimed at where the reflection should be present). Ray Tracing for audio meanwhile, would more accurately allow sounds to match the specific environment they are supposed to be cast in.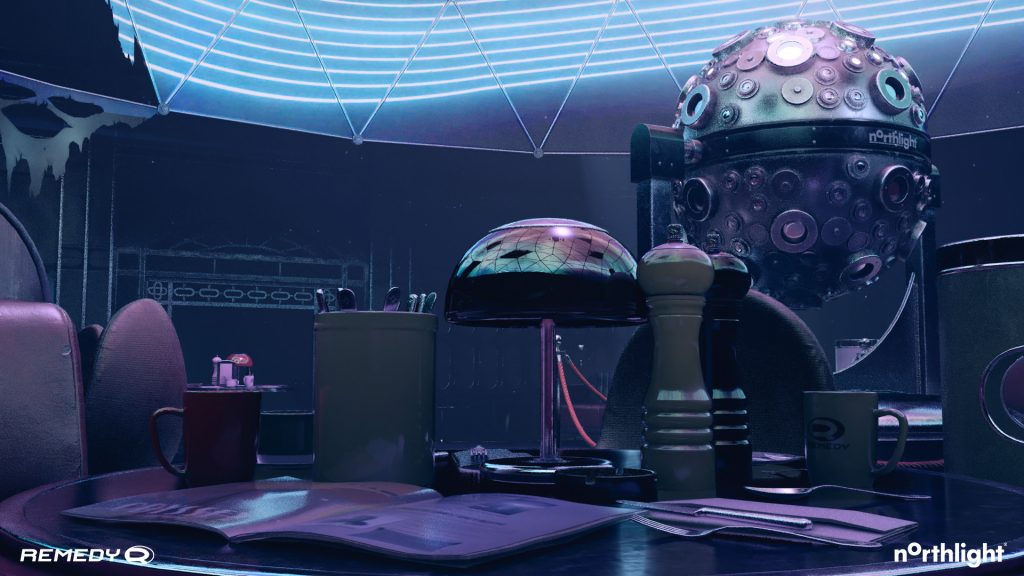 For example, if you are walking along a field and there's the sound of a gunshot, it would be considerably different from say if that same shot was to be inside a steelmill, and then imagine the same effect inside a cave system. Imagine how the sound would echo, each echo originating from a different sound position – and then imagine how expensive that would be. For truly immersive experiences – for example, VR games, this would truly increase the feeling of being there. Because your head (and therefore the position of your characters 'ears' would also effects how this sounded too. If you were close to a cave wall to the right of you, and there was a large chasm to your left, the sound from each of your ears would differ considerably.
"The Turing architecture is armed with dedicated ray-tracing processors called RT Cores that accelerate the computation of how light and sound travel in 3D environments at up to 10 Giga Rays per second," says Nvidia's own official Micro site.
We also have hints regarding the performance of how Volta and Turing compare to one another when it comes to Ray Traced audio; and this is with a Titan V up against a Quadro RTX 6000 GPU. Of course, for gamer's, we know from a series of leaks that the RTX 2080 Ti is likely not going to launch that much later than the Quadro RTX 6000; and more importantly for the sake of this article, it would appear that the RTX 2080 Ti is very similar to the Quadro RTX 6000 in specs, just as the Quadro RTX 5000 is similar to the GeForce RTX 2080 card.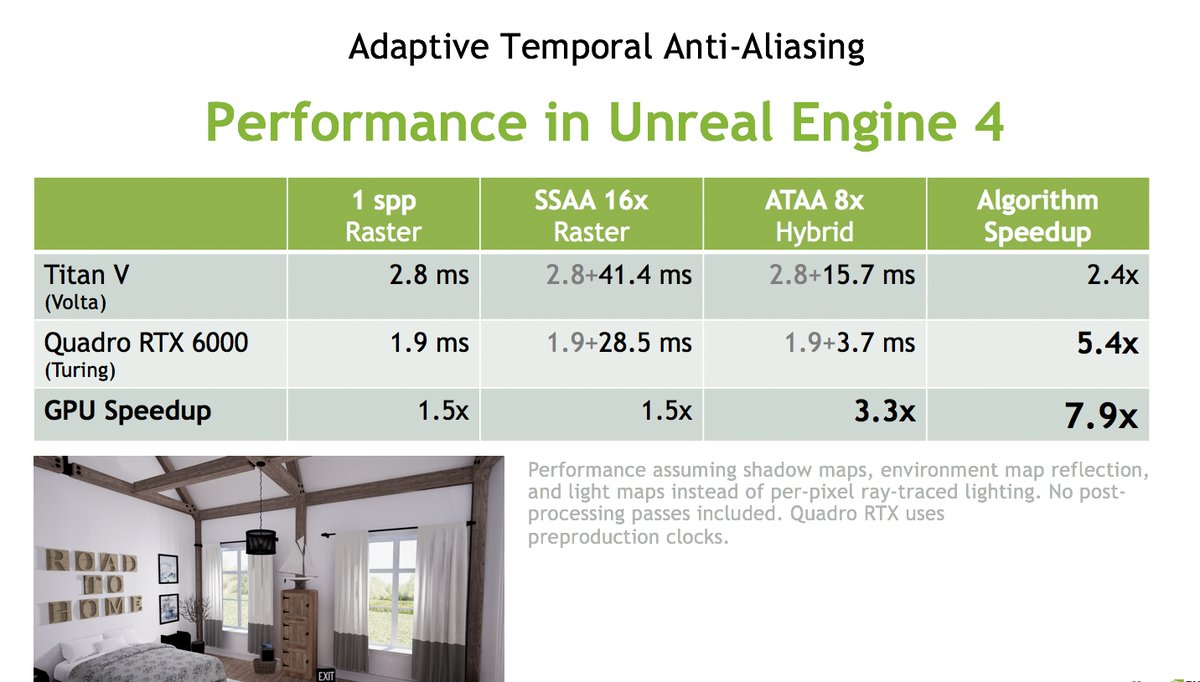 A Twitter user (who is an Nvidia Engineer and Scientist) shared a photo up above which shows that the with Adpative Temporal Anti-Aliasiing, the Titan V (which uses the Volta architecture) is massively slower than the Quadro RTX 6000, powered by Turing. With 1 SPP (Sample Per Pixel) we are looking at a 1.5x difference in speed, and this figure increases to 3.3x faster with the ADAA 8x, taking the time to just 1.9+3.7 MS, or 5ms (ish) total. This is still pretty expensive, as 60 FPS must hit a render time of 16.67 ms on average, but still, this is early days, and with an 8x figure.
The Titan V has 5120 CUDA cores, 652GBs memory bandwidth, 12GB HBM2, 640 Tensor Cores and operates with a Boost Clock of 1455MHZ. Compared to the Quadro RTX 6000, it has 4608 CUDA cores, 576 Tensor Cores, 24GB GDDR6 Memory.
We can also see that the Quadro RTX is using preproduction clock frequencies too, possibly a hint that there's a little room left in the tank. There are rumors that the RTX 2080 will be clocked at over 1900MHz on the base, but run up to about 2200 MHZ for boost clocks, and can be overclocked to around 2.5GHz (with the usual power limit tweaks and so on). Naturally, all of this is still pretty early – and doesn't necessarily equate to real world games having such a bump in performance – but it wouldn't be surprising.
Finally, as of the time I'm writing this article, we still don't have official confirmation as to what changes we'll be seeing for the GeForce RTX series, and if Nvidia will include Tensor cores (for example). The Quadro RTX 5000 sports 384
Other Articles You Might Like