If you've not had your fill of Nvidia Turing leaks, then good news everyone; there's been a goldmine of information discovered by a leak from PNY,  and we have now confirmation on clock speeds, CUDA core count, memory bandwidth and more for both the RTX 2080 and the RTX 2080 Ti graphics cards. There's also information regaridng the pricing of these graphics too; but I wouldn't put too much trust in the prices for either card, as we're probably looking at pre-order prices only.
The PNY XLR8 gaming series of GeForce graphics cards comprises (so far) of both the RTX 2080 and the RTX 2080 Ti, but these cards aren't running stock settings, and feature overclocking – hence their beefier coolers and higher TDP compared to the standard reference design (probably known as the Founders Edition if Nvidia use the same terms as Pascal).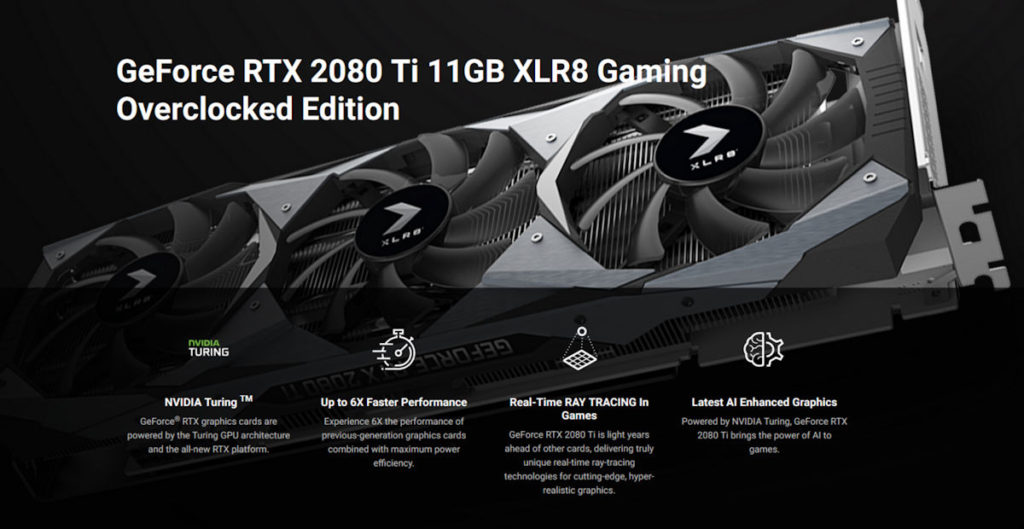 Starting things out with the RTX 2080 Ti, the GPU does indeed have 4352 CUDA cores, and 11GB GDDR6 RAM running at 14gbps with 352-bit memory. This means 11 RAM chips (32 bit per chip x 11 = 352 bit memory bus), or to put it into another way, 616GB/s memory bandwidth. The card does support 2 way SLI, but with NVlink rather than the older SLI interface, and in the case of this particular card requires up 2x 8 pin power connectors, for a TDP of 285W.
You will get support for DisplayPort 1.4, HDMI 2.0b, and the new fangled USBC and VirtualLink. So what about clock speeds then? Well, it has a baseclock of 1350MHz, and boosts up to 1545MHz – although it'll be interesting what it left in the tank (after all, GPU boost is dynamic and this isn't factoring in user instated overclocking).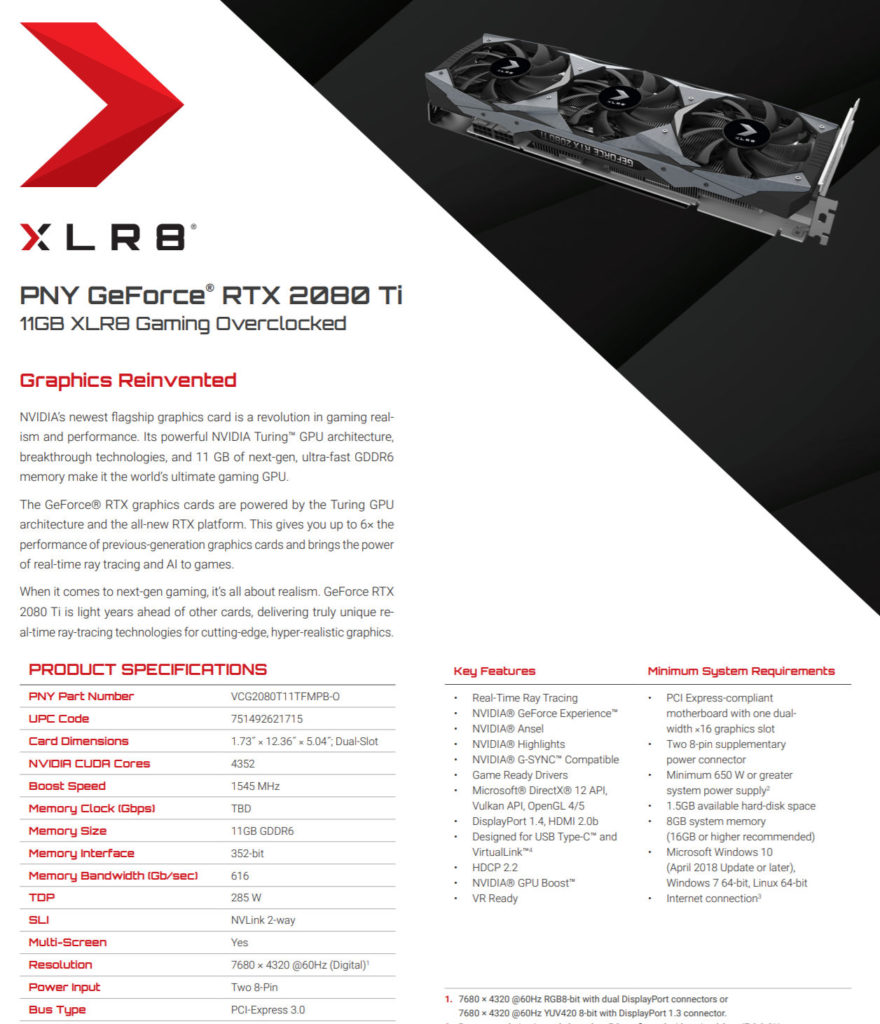 The PNY RTX 2080 XLR8 cuts the number of CUDA cores to just 2944, and memory bus is just 256-bit, running its 8GB of GDDR6 RAM 14gbps – so that's a grand total of 448GBs memory bandwidth (32 bit for each GDDR6 chip x8 chips as each one as 1GB capacity = 256-bit). Importantly though, we do see clock speeds operating considerably higher, with the 1515 MHZ base clock almost the same as the RTX 2080 Ti's boost, and boost clocks of 1710 MHz – about the same as we currently have with the Pascal based GTX 1080 FE cards. We still see a 285w TDP, but only 1x 6 pin and 1x 8 pin power connector.
I would say (and this is only a theory thus far) that these clock speeds for both the RTX 2080 and RTX 2080 Ti are worst case scenarios, and in the real world would probably hold their boost clocks considerably higher than what we're seeing here. There's also no leaked benchmarks yet, other than some older alledged benchmarks in AOTS  although we do have benchmarks of the GTX 2060 (yes, GTX) which apparently beats the GTX 1080, despite having significantly less VRAM.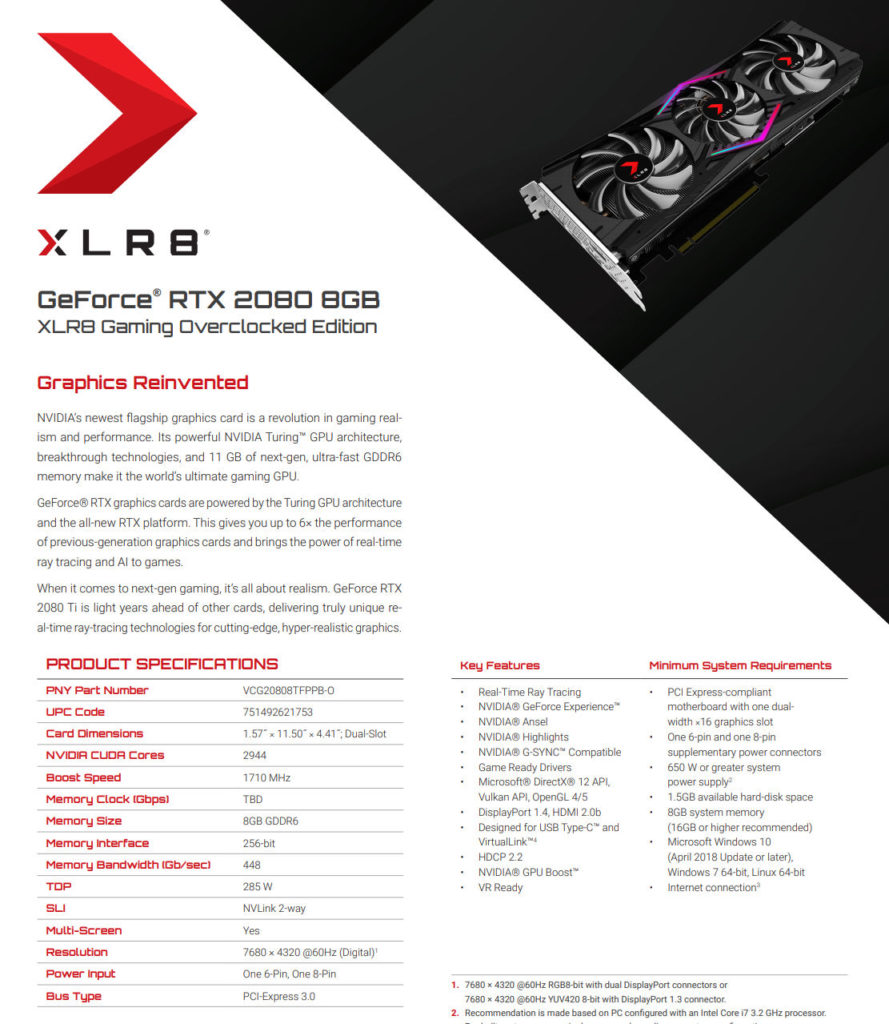 You'll notice that a 650W PSU is suggested (not too surprising) and other than that, there's nothing really unusual there – I don't suspect many would want to run a RTX 2080 Ti with 4GB RAM for example.
RTX 2080 (PNY)
GTX 1080
RTX 2080 Ti
(PNY)
GTX 1080 Ti
Architecture
Turing
Pascal
Turing
Pascal
Lithography
12nm FinFET
16nm FinFET
12nm FinFET
16nm FinFET
GPU Core
TU104-400
GP104
TU102
GP102
CUDA Cores
2944
2560
4352
3584
TMU Number
184 ??
160
272 ??
224
ROP Number
64
64
88
88
Core Clock
1515MHz
1607MHz
1350MHz
1481
Boost Clock
1710MHz
1733MHz
1545MHz
1582
Memory Interface
256-bit
256-bit
352-bit
352-bit
Memory Type
8GB GDDR6
8GB GDDR5X
11GB GDDR6
11GB GDDR5X
Memory Clock
14Gbps
10Gbps
14Gbps (Confirmed)
11Gbps
Memory Bandwidth
448GB/s
320GB/s
616GB/s (Confirmed)
484.4GB/s
TDP
275W (Rumored)
180W
275W
250W
Launch
?
May 17 2016
?
March 9 2017
Launch MSRP
?
$599
$699 (Founder's)
?
$699
The only details which aren't listed here are the RT cores (Ray Tracing cores) – but its almost certain they're present in the GPU – at least in some form. Both the 2080 and the 2080 Ti cards mention about a "6x performance improvement" compared to the older generation pascal cards when it comes to Ray Tracing and AI – a possible hint that we're also seeing the existence of some type of Tensor core arrangement in the GPU too.
Here's the blurb from PNY themselves "NVIDIA's newest flagship graphics card is a revolution in gaming realism and performance. Its powerful NVIDIA Turing™ GPU architecture, breakthrough technologies, and 11 GB of next-gen, ultra-fast GDDR6 memory make it the world's ultimate gaming GPU. GeForce® RTX graphics cards are powered by the Turing GPU architecture and the all-new RTX platform. This gives you up to 6× the performance of previous-generation graphics cards and brings the power of real-time ray tracing and AI to games. When it comes to next-gen gaming, it's all about realism. GeForce RTX 2080 Ti is light years ahead of other cards, delivering truly unique real-time ray-tracing technologies for cutting-edge, hyper-realistic graphics."
While we're on the subject of RayTracing, what can RayTracing actually do? Well, unfortunately the confirmed number of games which support ray tracing is not big… okay, it's pretty small. Okay. It's one okay… one. Metro Exodus; BUT I suspect this will likely change pretty quickly – and I'd be rather surprised if we didn't see at least a few other AAA games supporting it and showcased at the GeForce RTX event. Metro Exodus is launching in Feburary, and if (and this isn't a rumor but just an example) a game like Shadow of the Tomb Raider was confirmed to have ray tracing (even in a few months with a post launch patch) it'd do wonders to help Nvidia sell few more cards. It's very hard for owners of high end graphics cards to get their head around the fact there's an option they cannot enable because hardware simply doesn't support it.
Nvidia are working rather closely with Epic and their Unreal Engine 4, so a few games supporting appearing the future (given advanced SDKs will be around from both companies to aid games developers) is almost a given. Here's some footage of Project Sol, which is (according to the video description) powered by a Quadro RTX 6000 – and as we know, that's pretty much like saying (at least in CUDA cores) that it is powered by an RTX 2080 Ti.
https://www.youtube.com/watch?v=KJRZTkttgLw
Also according to the developer blurb on Nvidia's official webpage:
"The NVIDIA RTX platform fuses ray tracing, deep learning and rasterization to fundamentally transform the creative process for content creators and developers through the NVIDIA Turing GPU architecture and support for industry leading tools and APIs.
Applications built on the RTX platform bring the power of real-time photorealistic rendering and AI-enhanced graphics, video and image processing, to enable millions of designers and artists to create amazing content in a completely new way.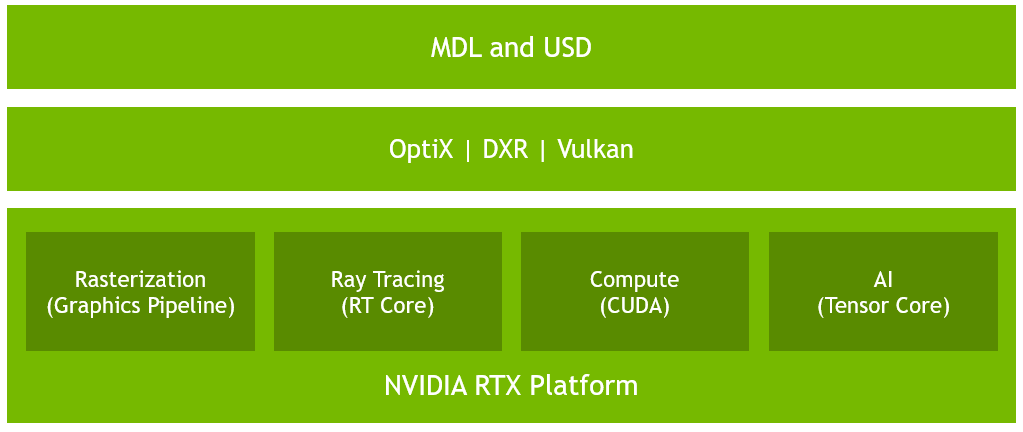 The RTX platform provides software APIs and SDKs running on advanced hardware to provide solutions capable accelerating and enhancing graphics, photos, imaging and video processing. These include:
Ray Tracing (OptiX, Microsoft DXR, Vulkan)
AI-Accelerated Features (NGX)
Rasterization (Advanced Shaders)
Simulation (CUDA 10, PhysX, Flex)
Asset Interchange Formats (USD, MDL)
You'll spot that Ray Tracing is fully supported by Microsoft DXR and Vulkan, meaning that upcoming titles such as Doom Eternal (in theory) could support this, along with of course DX12 titles. We have also learned there's a good chance that the RTX will be capable of using ray tracing for audio too.
Other Articles You Might Like