AMD's Radeon RX 490 is one of the most mysterious graphics cards in recent memory; a GPU we were certain would have appeared on retail shelves by this point. But yet this is evidently not the case, and as 2016 is drawing to the close and rumours of Vega take over the news, we're left with an intriguing question exactly what the GPU core inside the Radeon 490 will be, or even if AMD would opt to not release it and instead would cater to the high end purely with Vega 10 next year.
But yet another leak has popped up showing a GPU device identified only as '687F:C1′ running Ashes of the Singularity; this is of particularly interest because the naming scheme is very close to other cards in AMD's 4xx series, for instance – '67DF:C7' is the device id for the Radeon RX 480 graphics card.
So far it appears (as we don't know if the card is running at final clocks) that the 490 is roughly about the performance of a multi GPU Radeon 200 series card (say a R9 290X crossfire) and pretty close to either a GeForce GTX 1080 or GTX 1070.
So there's a few possibilities with the benches we're seeing – either the card (assuming it is a Radeon 490) is Vega 10 (or Vega 11 based), or Vega won't see a release until say the late Q2 of 2017 and AMD want something to counter Nvidia's higher end in the meanwhile.
According to a SeekingAlpha transcript of AMD CEO Lisa Su: "2017 we really roll-out sort of our high performance roadmap. A few years ago, we decided that CPU performance was absolutely critical, and we needed to start from scratch. And so Zen is our high performance CPU that is really a significant, significant enhancement over what we've had in the past.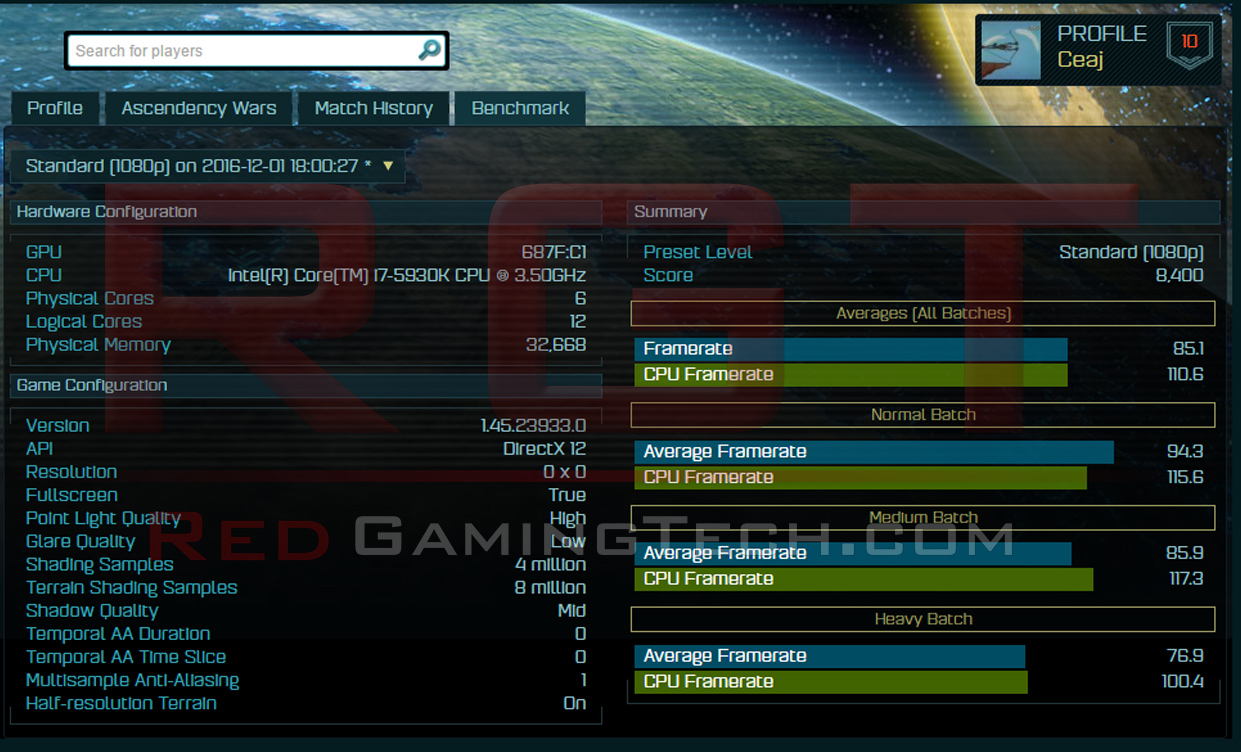 "We're launching that in the first half of 2017, first in desktop market and then going into the high performance server market. But we also have our Vega architecture and graphics that's coming out for high performance graphics in the first half of '17."
A dual Polaris part would likely be comprised of 2x Radeon RX 470 or 480s basically held on the same PCB. We can presume that the GPU would still run with GDDR5 RAM, and we can also make an assumption each core would be given its own 8 GB of dedicated memory (so 16 total on the PCB).
The downside is there's a lot of conjecture – but AMD are in a weird position right now. They've an excellent set of products for the low to mid end with the RX 460, 470 and of course the 480, but they've precious little to lure away power users. The best offerings are CrossFire RX 480's (which take up two PCIE slots) or the Fury or Fury X. The latter two are possibly worse still, with only 4GB of HBM1 memory and built using the older GCN architecture.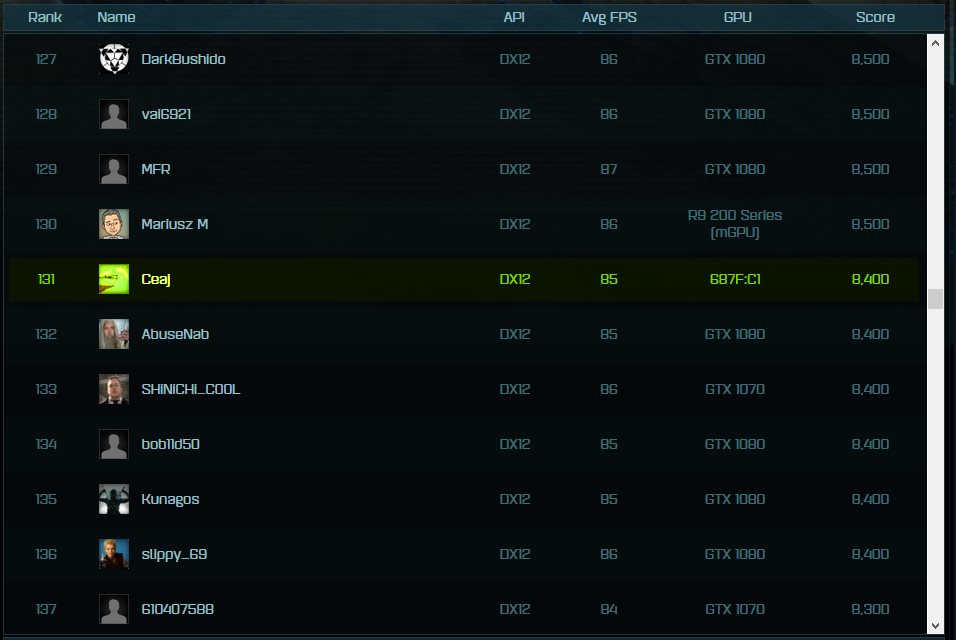 I have said before that it's probable AMD won't go down the 490 route because we're so close to Vega, and the rumours persisting we'd see Vega in 1st Quarter of 2017. Do remember, there will be both Vega 11 (replacing the current Polaris lineup) and Vega 10 – supposedly the super high end cards meant to compete with the GTX 1080 (or above) with almost 22 TFLOPS of single precision performance. But now, I wonder if team red are holding fire and optimizing Vega for higher clocks, spending a little more time tinkering with it and instead believe that a dual card is enough to eat up Nvidia's market share.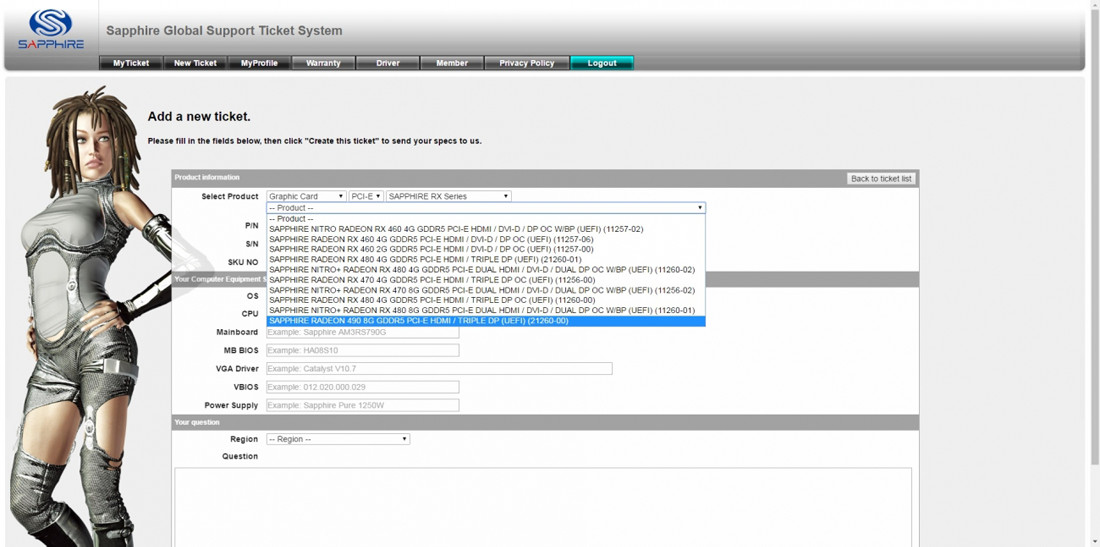 Whether this card will be a 'pro' version (so it would indeed be called the Pro 490) remains to be seen. If it is, then it would obviously be marketed not just towards gamer's, but also folks who're running the GPU for professional usage – for example, VR development. This might explain why the card has taken a bit longer to release than simply slapping two 480 cores on the same PCB, they might be improving the FP32 / compute functionality. Of course, that's pure speculation on my part and shouldn't be taken as a leak.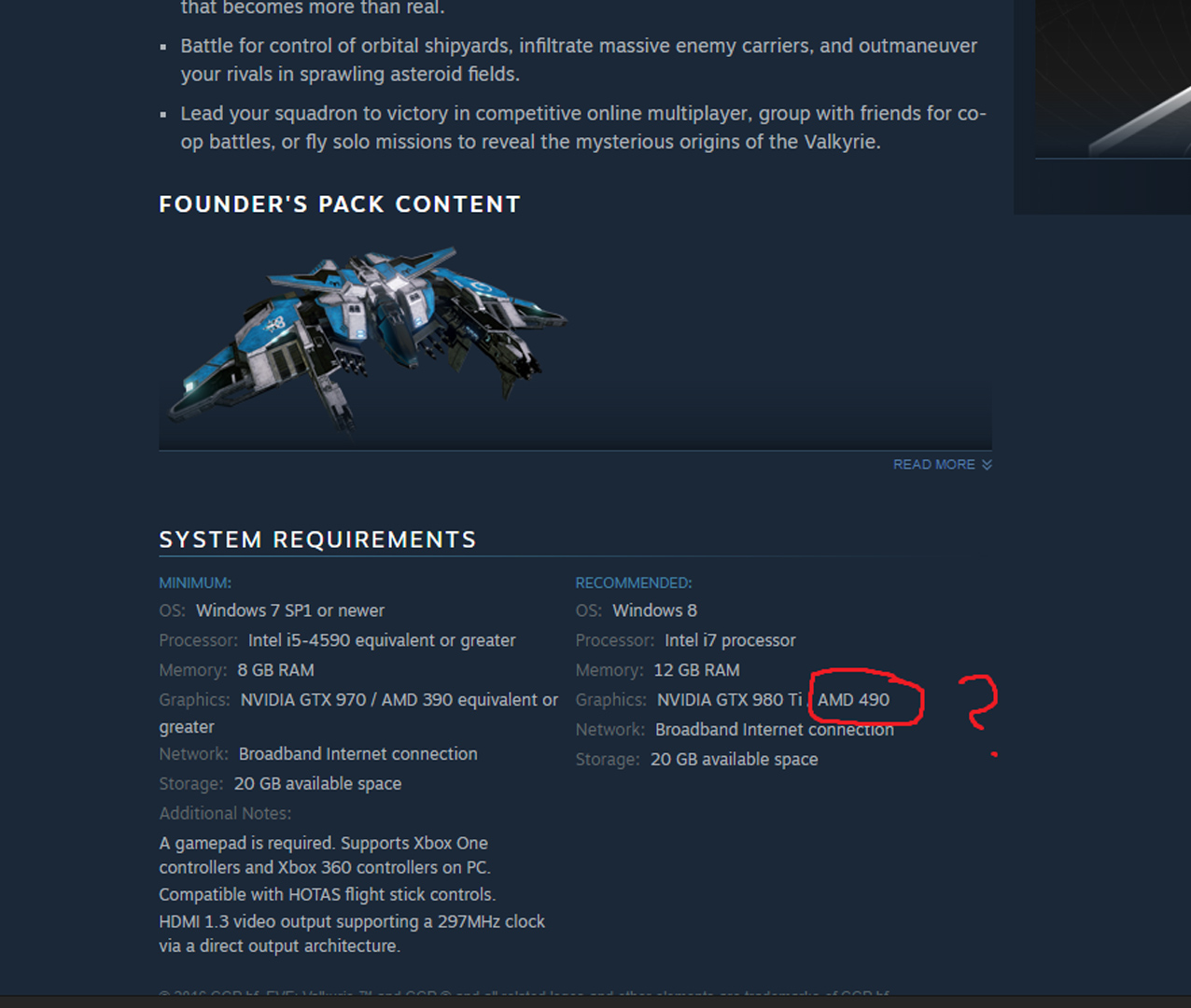 We all know that the 490 has appeared on AMD's own website for a short time, and of course was even listed on Sapphire's official help page – but the card was only shown as an 8GB card, which offers a lot more questions – because that would hint that it wasn't a dual card (unless they were not referring to total RAM, or they had the wrong number… or there was only 4GB per GPU!).
Then we have Eve Valkyrie on Steam showing as the Radeon 490 as a recommended graphics card. So the mystery (will for now) have to remain unaswered,
Thanks to Yalaz for emailing us over the tip! I appreciate it Sir!
Other Articles You Might Like