While I wouldn't say that stagnant is the right word for the graphics card markets prior to the reveal of the RTX 20 series and 7nm Vega graphics cards, we did see the status quo of Polaris vs Pascal for quite some time. Technically, only Nvidia have revealed something new, as AMD have made it clear that 7nm Vega is not for gaming.
So, it should come as no real surprise that the report from Jon Peddie Research on Q2 2018's graphics cards sales shows a decline. Or, to be more specific, we saw a decline for AIBs. But, it's important to remember that AIBs obviously have way more GPUs on the market, due to all the variations on a single model.
But, we did see Nvidia gain market share here, and we also see $3.2 million of AIB graphics hardware shipped. Not exactly small change.

So what percentage decline did we actually see for AIBs? This quarter, according to Jon Peddie's report, we have a decrease of 28%, and for the overall PC market we can observe a less steep decline of 3.4%.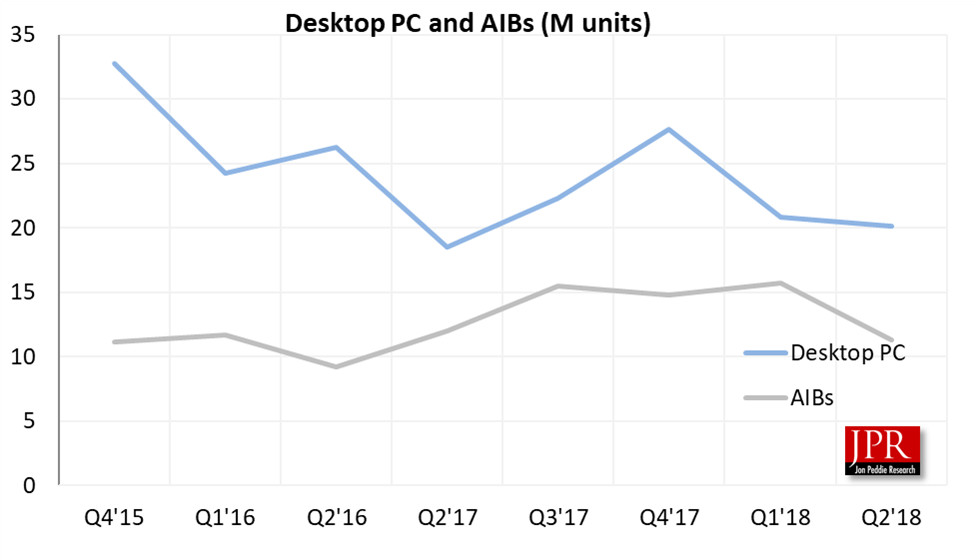 AIBS also had the misfortune of a decline in shipments as well, this time for 5.7%, but it's it all doom and gloom as an increase in desktop of PCs rose to 8.8%. Some of this can undoubtedly be put at the feet of cryptocurrency mining, which thankfully is no longer gobbling up every graphics card on planet Earth.
We have seen the strain put on both AIB and non AIB graphics card lessen a lot, as not only has there been the release of ASICs meant just for mining, the crypto craze has definitely lessened in it's verocity. But despite this decrease for AIBs, it is still heartwarming to see an increase in desktop PCs, as more gamers come over to the PC gaming dark side.
What this report is most likely showing here, is probably seasoned PC gamers holding off on their upgrades until they saw what Nvidia were doing with the RTX Turing, and of course the still mysterious Navi from AMD. This, alongside the lessening in demand from miners, we have seen AIB cards be less in demand.
We may see this figure change dramatically for the quarter when the RTX 2080 and 2080Ti release…. or we may not. The cost is undoubtedly going to be a factor in holding this back, as Nvidia's price tag for these graphics card has been somewhat controversial.
Other Articles You Might Like