When news and rumors regarding Quantum Break's 720P resolution broke, people weren't happy and took to Twitter questioning Remedy if there was truth to the matter.
Finally Remedy have broken radio silence and issued a statement on the issue, explaining that Quantum Break's base resolution is indeed 720P, but uses Temporal Reconstruction to bump up the resolution to 1080P by using the 4 previous frames of animation.
"Quantum Break's 1080p output is a temporal reconstruction from four previous 720p 4x MSAA frames. This approach gets us high pixel quality in combination with complex shading and effects, allowing us to achieve a cinematic look. However, varying sample counts between passes and temporal upscaling makes talking about resolution, as it is traditionally understood, complicated in the case of Quantum Break.
"Since the start of Quantum Break's development, the most important thing for Remedy and Microsoft has been delivering a compelling gaming experience with superior artistic quality. This is what Remedy is renowned for. We're confident that we have achieved this, and can't wait to hear what fans think on April 5 when they play the game."
For those who want a translation of what this means, the game uses information from the previous frames of animation and combines the details (where it can) to increase the games final resolution. Essentially Quantum Break uses four 720P 'images' to render the final 1080P resolution, using 4x MSAA (Multi Sample Anti Aliasing) to construct the final image.
What this does mean is that images and details with 'little motion' should look their best.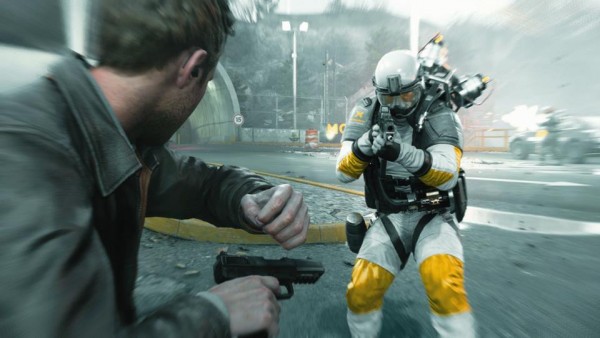 This isn't the first time developers have resorted to tricks and rendering techniques to bump up the native resolution of games. Killzone ShadowFall on the Playstation 4 used a very similar technique, using Temporal Reprojection to bump up the 960 x 1080P image to the full 1920x1080P.
As explained by Guerrilla Games at the time: "We keep track of three images of "history pixels" sized 960×1080
The current frame
The past frame
And the past-past frame
For each pixel we store its color and its motion vector – i.e. the direction of the pixel on-screen. We also store a full 1080p, "previous frame" which we use to improve anti-aliasing. Then we have to reconstruct every odd pixel in the frame:
We track every pixel back to the previous frame and two frames ago, by using its motion vectors. By looking at how this pixel moved in the past, we determine its "predictability". Most pixels are very predictable, so we use reconstruction from a past frame to serve as the odd pixel If the pixel is not very predictable, we pick the best value from neighbors in the current frame."
In the case of both Quantum Break and Shadow Fall (or other games which use similar techniques), the goal is to reduce the load on the GPU and rest of the system to help the hardware maintain the render target of 33.33 ms per frame of animation for 30FPS.
If you want more information on how frame rates and resolution works in gaming, be sure to checkout our handy and comprehensive guide here.
Fortunately, because of the rather generous usage of 4X MSAA, the constructed image is of an excellent quality. As usual, if you want more coverage and analysis of Quantum Break, keep watching and reading RedGamingTech!
Other Articles You Might Like