While we're eagerly awaiting the official specs of both the R9 300 series, the 390X in particular, and news on Nvidia's GTX 980 Ti's, there have been an awful lot of leaks and rumors swirling later, and if they're accurate they bring a lot of questions and things to ponder.
Kicking things off with the R9 390X first, the video card will be a monster if the specs are right. We've known for some time that it'll feature HBM (High Bandwidth Memory), and thus further news that the flagship contains this isn't anything new or exciting. But there has been some info that we'll not just be seeing a 4GB model, but also 8GB will make an appearance too. This is pretty big news, as the concern a lot of gamer's had with the graphics card was it wouldn't have enough RAM for 4K.
Instead, the R9 390X will come with both a 4GB and an 8GB option (but how much extra you'll be expected to cough up… who knows). But the GPU will feature the 640GB/s bandwidth, and this is thanks to the 4096 bit width HBM which is running at the rather sedate clock speed of 1.25Ghz.
The big news here though is that further rumors and supposed leaked slides have popped up showing the card will have 4096 Shaders running at 1Ghz. This will put out 8.2TFLOPS of computing performance – which is completely and utterly insane, bonkers, crazy and well, you get the point.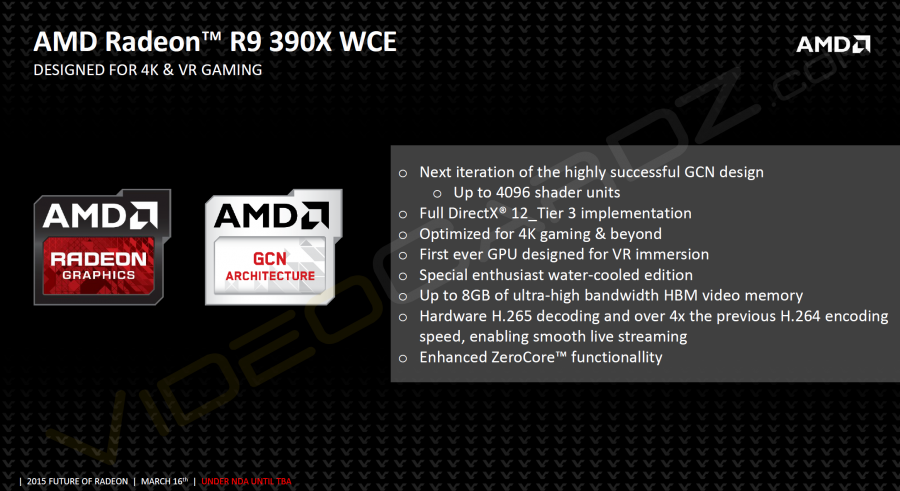 Unsurprisingly the GPU will be fully DX12 Tier 3 Compliant – hardly a surprise. But it's also marketing itself to be fully 4K ready and built for Virtual Reality, "First ever GPU designed for VR immersion" is actually on the supposed official marketing slide.
Moving things along from camp AMD and setting up in camp Nvidia, and the GTX 980 Ti rumors have started. Now, if you're from the days of Kepler (the original Titan's, the GTX 780 Ti…) you'll be aware that in terms of number of shaders, both GPU were the same. The main differences were VRAM (but 6GB Ti's were eventually released) and double precision. This isn't so with the GTX 980 Ti – if the rumors are accurate.
Instead, we'll be seeing the Titan X sporting 3072 Shaders, while the GTX 980 Ti packs in just 2816-2688 – the exact number hasn't been pinned down yet. So, this means that at least 1 SMX is disabled on the Ti.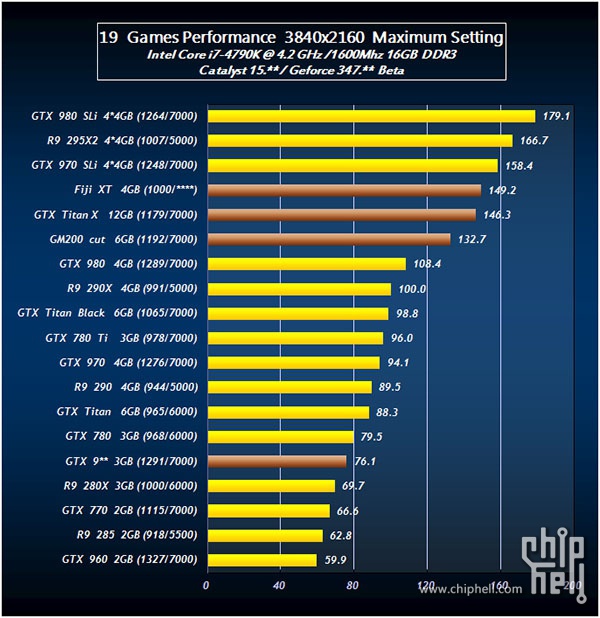 VRAM has been halved too – which is fine, I imagine 6GB will handle most games without too much issue, and the same 336GB/s bandwidth is also making an appearance. So the differences would appear to be really (from the standpoint of performance) the number of shaders and also the floating double precision performance – not an issue really in games, for folks who're using their GPU's for other things will obviously appreciate the Titan X's for that purpose.
Price wise, the Titan is unsurprisingly the highest – $999 to $1349, while the GTX 980 Ti sits at $649 to $699. AMD's Radeon R9 390X costs $549 – one would presume that's only for the 4GB HBM model however.
| | | | |
| --- | --- | --- | --- |
| Info | AMD Radeon R9 390X | NVIDIA GeForce GTX 980 Ti | NVIDIA GeForce GTX Titan X |
| GPU Code Name | Fiji XT | GM200 | GM200 |
| Number of Shaders | 4096 | 2816-2688 – unknown | 3072 |
| Die Size | ~550mm² | ~600mm² | ~600mm² |
| Memory | 4GB/8GB Stacked HBM | 6GB GDDR5 | 12GB GDDR5 |
| Memory  Frequency | 1.25Ghz | 7.0Ghz | 7.0Ghz |
| Memory Interface | 4096 Wide IO (HBM) | 384bit GDDR5 | 384bit GDDR5 |
| Memory Bandwidth | 640GB/S | 334GB/S | 334GB/S |
| GPU Clock Speed | 1Ghz | 1.2Ghz | 1.2Ghz~ |
| Compute Performance | 8.2TFLOPS | 6.0-6.3TFLOPS | 6.9TFLOPS |
| Estimated Price | $549 | $649-$699 | $999-$1349 |
Regarding the above performance image, I'd suggest taking with a truck of salt. If it is accurate, the R9 390X is slightly faster than the Geforce GTX 980 Ti, which wouldn't be a very impressive look for Nvidia considering the supposed price difference between the two cards.
Thanks, VideoCardz and ChipHell.
Other Articles You Might Like