Well, here we are again with another predicted launch and rumor for AMD's Radeon 300 series range of GPUs. We've had a couple of release dates pop up already, but they've turned out to not be too accurate, with the previous rumors stating the cards would launch in February.
February has come and gone, and from what we've heard, AMD delayed the launch to sell off more Radeon 200 series GPUs and to put the finishing touches on the 300 series. But, the launch window is starting to look a lot more solid, with news that the GPU's will indeed be launching the second quarter of 2015.
A leak from XFX has emerged which heavily hints the AMD Radeon R9 370 Core Edition will be hitting retail shelves at some point in early April. We don't exactly know a whole bunch about the specs of the GPUs, but it would appear from leaked images that it comes in a 2GB and a 4GB GDDR5 RAM configuration and runs with a 256 bit interface. In terms of power, the mid range GPU will consume just ask you to sacrifice a single 6 pin PCIe power connection, and thus the TDP will be a more conservative 110 to 130W. The XFX R9 370 comes with the usual connections – a HDMI, two DVI Ports and a single DisplayPort.
Unsurprisingly, you'll also be able to overclock the GPU's too, and the PCB should be easy enough to fit into even a pretty cramped environment, measuring only 167 mm in length, The codename (chipset) for the Radeon R9 370 GPU is known as Trinidad Pro.
Naturally, the release date for the R9 370 doesn't necessarily equal to the same release date as the R9 380(x) or 390(x) either. It's possible AMD will roll out these GPU's a little later, as the 390(X) is said to be a monster, sporting HBM (High Bandwidth Memory) running on a 4096 bit memory interface.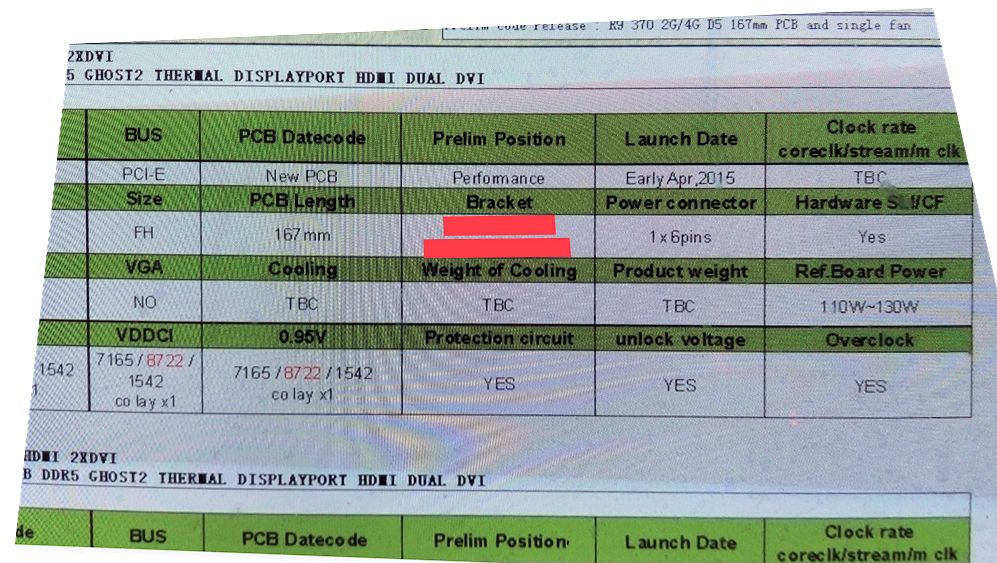 Whether this mysterious card AMD were running various demos on at GDC 2015 (in March) or not is unknown, but according to eye witnesses the GPU was said to be about 50 percent faster than the standard R9 290X. But for all we know, it was the R9 380X that was running and not the 390X, or indeed it could have been something else entirely.
We know that AMD will likely want to be rather careful of both the release date of the GPUs and the pricing. In the higher end Nvidia are offering fairly stiff competition with the GTX 970 and GTX 980 range of Maxwell graphics cards. We know of course that the Titan X has been announced (with 12GB of VRAM), and so it stands to logical reason that a GTX 980 Ti (or whatever it ends up being called) will launch based on the same core, but likely with cut down VRAM and sporting less compute power (which is what happened with the previous Kepler range).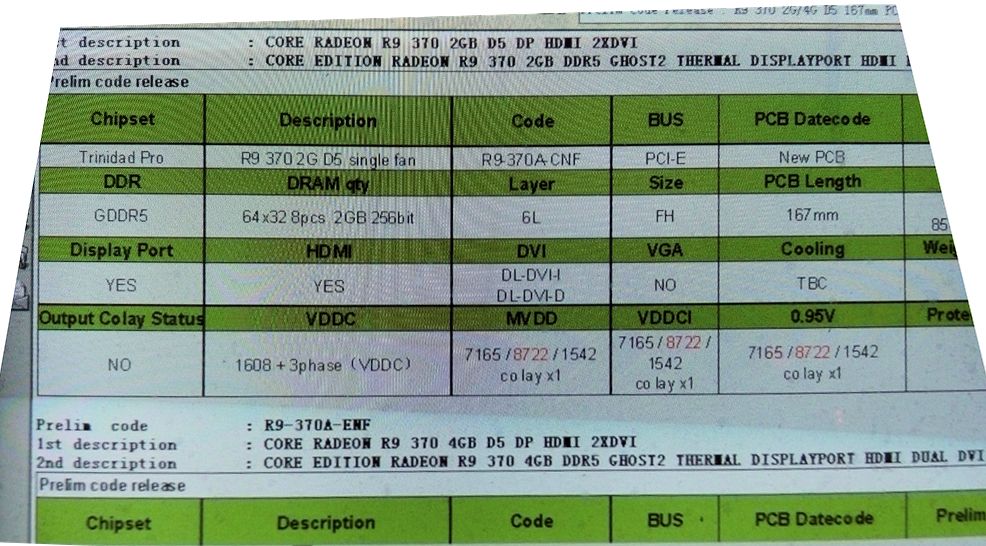 Source: VideoCardz
AMD Radeon R9 370 Released April According to Leaked Image
A leaked image shows that XFX are planning to release the Trindad Pro GPU, known formally as the Radeon R9 370 in early April 2015. The Video Card will come in two memory configurations.
Brand:
AMD Radeon R9 370 XFX
Manufacturer:
XFX and AMD
Other Articles You Might Like