There was certainly lots of hype surrounding the launch of AMD's Navi graphics cards, with buyers eager to know what alternatives the company would bring to Nvidia's rather expensive Turing offers.
AMD's strategy with the RX 5700 and the RX 5700 XT was simple – release a GPU targeting Nvidia's mid-range offerings in value and performance. One can argue Nvidia was forced to launch the RTX super series of cards directly because of the arrival of Navi. 
In this review for the Radeon RX 5700, you'll see why Nvidia's concerns for the RDNA architecture were indeed well-founded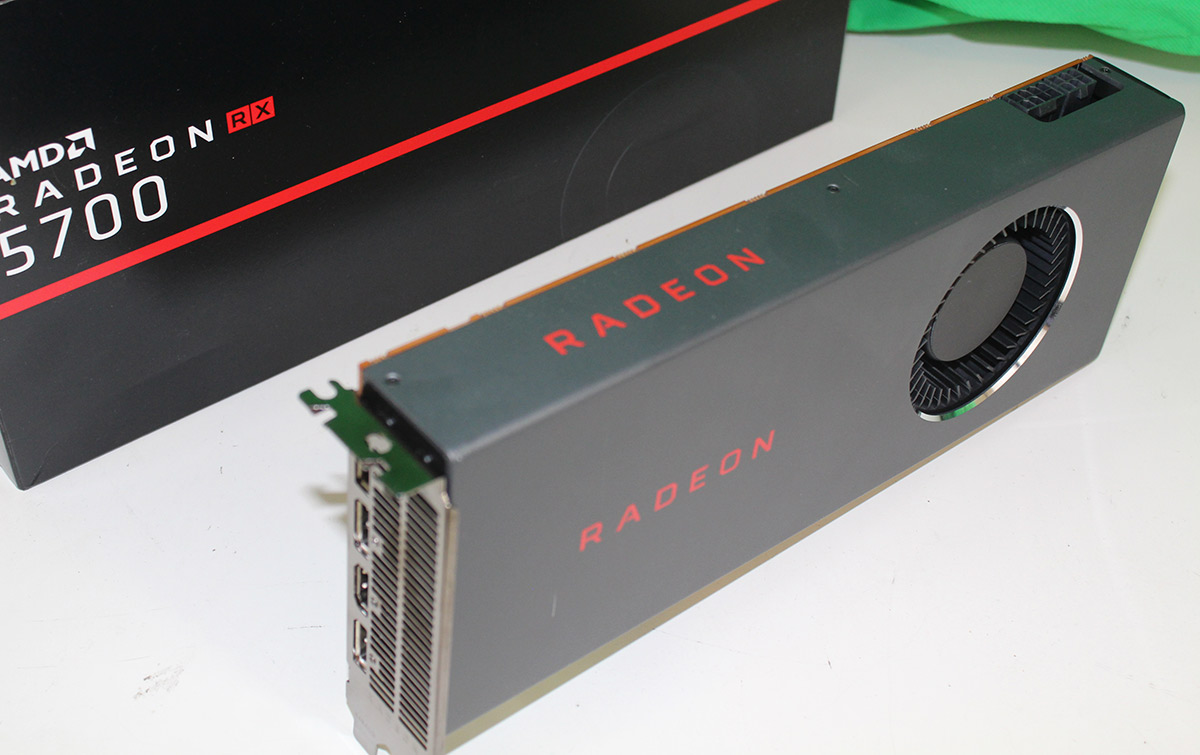 Just so that you're aware, we were loaned this RX 5700 graphics card by AMD for the purpose of review, however, this isn't sponsored content and we sent Radeon card back to AMD after the testing was done.
While the bleeding edge of the GPU market (the Radeon VIIs and the RTX 2080 Ti's of the world) might be the cards which get the most hype and coverage, the mid-range offerings from both companies are, arguably, the most important. While there were a number of people disappointed AMD opted to focus on Navi 10 first, taking on Nvidia's RTX 2060 and 2070 cards, it was also a very smart decision.
https://www.youtube.com/watch?v=l36ikM5aif8
Shifting to the 7nm process and designing an entirely new architecture was no small feat for AMD, but also in terms of mindshare, it makes a great deal of sense. Basically, more people buy a $300 USD card (for example) than one costing literally 2x to 3x the amount, and more Radeon users increase mind share too.
With that out the way, let's get into the review and start by taking a look at the aesthetics of this reference model card.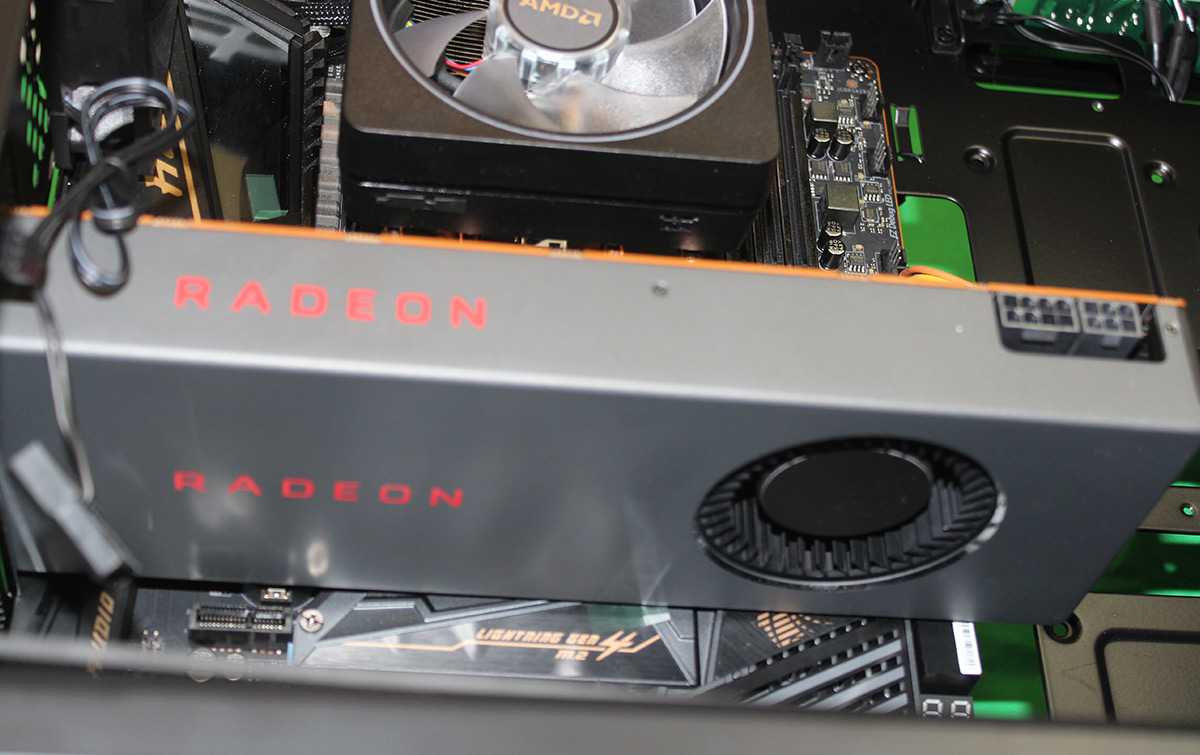 AMD's design for the reference Radeon RX 5700 is a relatively simple affair, primarily colored in a dark grey, with a single black fan towards the rear of the card. The only real color here comes from the red 'Radeon' logos on the card. 
Of course, the card requires additional power, and here it demands both an 8 and 6-pin PCI-E power connector (the TDP of the RX 5700 is 180W). The GPU has no backplate, so you can see the naked PCB goodness at the rear. As we know, backplates don't (in general) do a whole lot for temps, but I do quite like them aesthetically. The card takes up two PCI-E slots, and at the rear, we have the exhaust vents to expel hot air, and 3 Display Port connections and a single HDMI 2.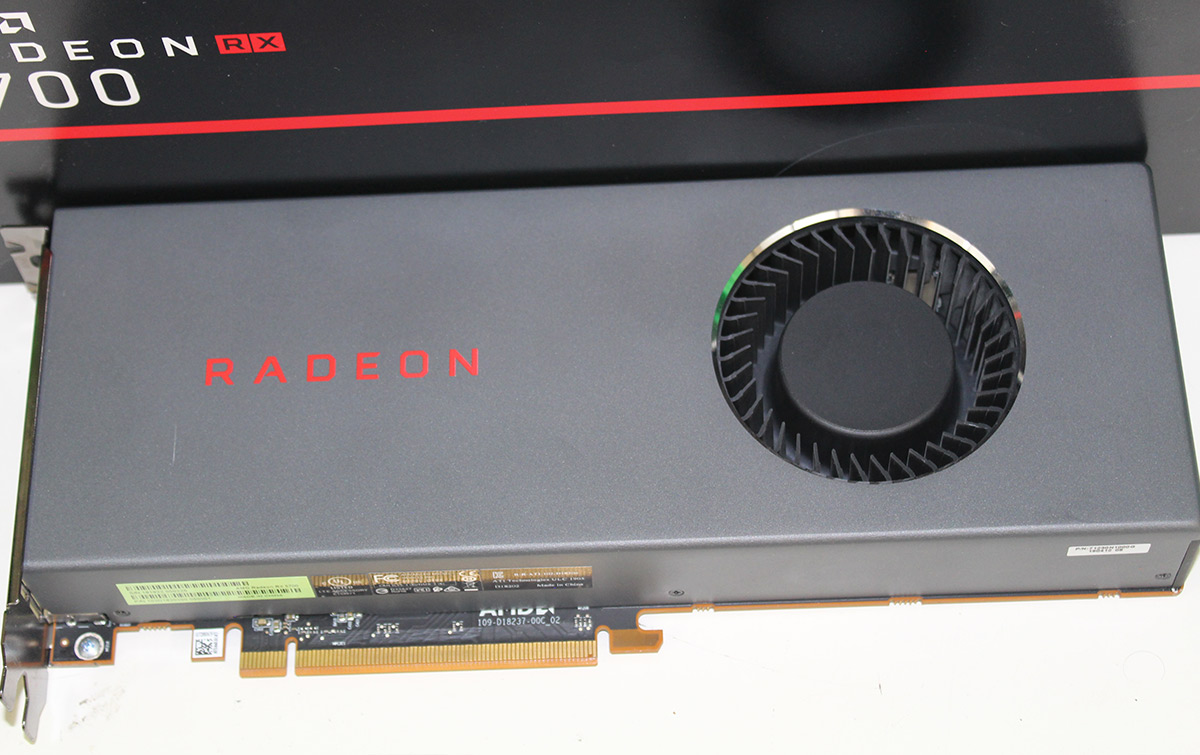 Overall, the reference design looks quite nice, though the reference design is noisy and definitely gets warmer than the AIB models (we'll discuss that further later). 
Onto the specifications of the card and the RX 5700 uses a cut-down Navi 10 die, sporting 36 Compute Units (2304 Shaders) with a 256-bit GDDr6 memory bus. The 8GB of memory retains the same 14gbps clock speed of the RX 5700 XT, so the 448GB/s memory bandwidth remains intact.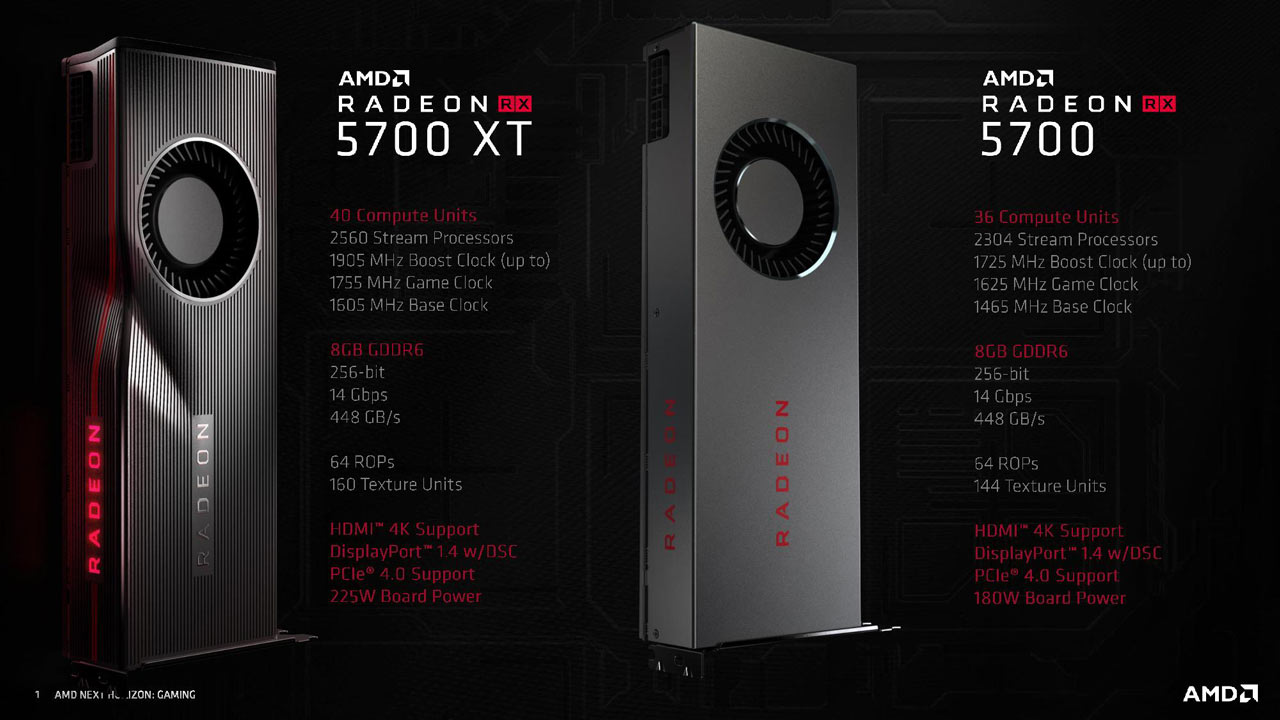 'AMD has also outfitted the RX 5700 with 64 ROPS and 144 TMU (each CU having its own 16 TMU hence the cut compared to the 5700 XT).
The GPU has a base clock of 1465MHz, with a boost speed of 1725MHz, though new to Navi is a 'Game Clock' which is listed as 1625MHz. The game clock is the typical speed AMD feels the GPU would reach during gaming sessions, although we found these figures a little conservative. During gameplay, the GPU would typically hit about 1680 – 1700MHz underload inside the case, though of course, your mileage will definitely vary. 
In conclusion, AMD didn't cut the performance of the Radeon RX 5700 down too much compared to the full Navi 10 die, and we have investigated this more in a soft-modding and overclocking video.
And now onto the benchmarks – once again, a reminder we're using the reference RX 5700 card, so custom models will squeeze higher performance thanks to higher boost speeds.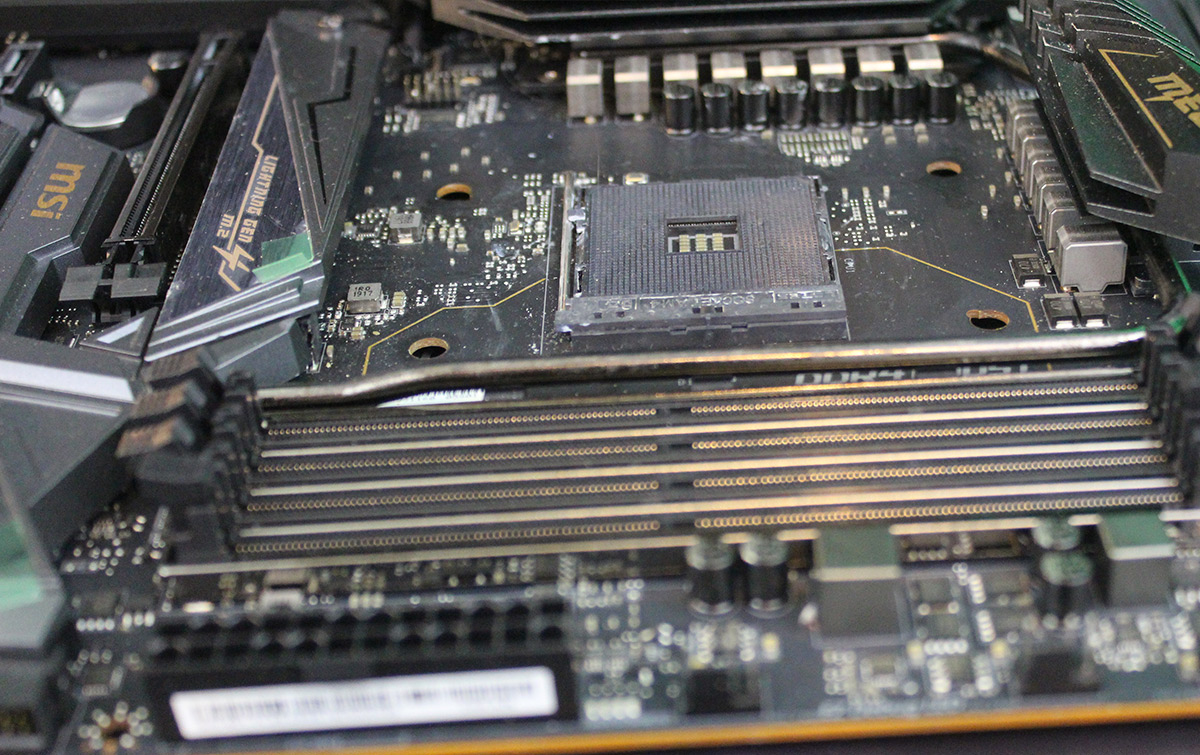 I'd also like to extend my thanks to MSI for providing the MSI MEG X570 Gaming Ace motherboard we're using in this review to show off the card, and also DeepCool for sending over the Matrexx 70 – which is a rather beautiful case.  We did provide the rest of the system components, including the Ryzen 7 3700X with your generous help on Patreon.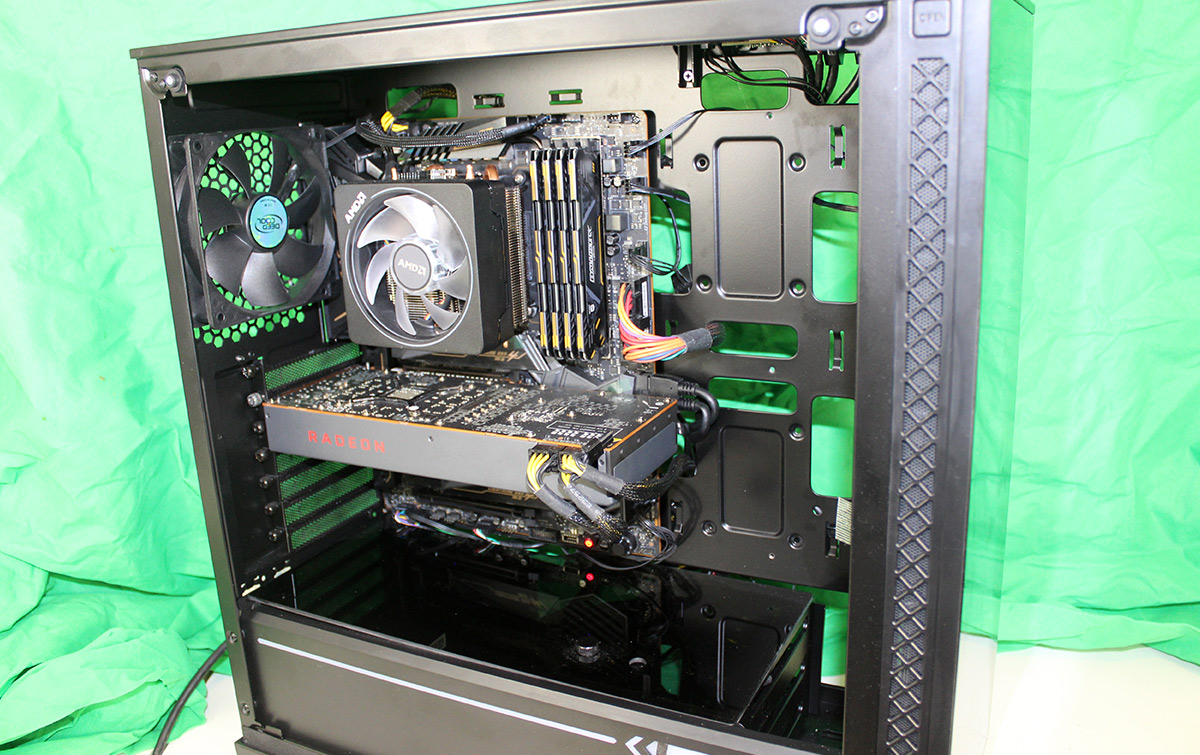 The main test bench is an Intel I9-9900K overclocked to 5GHz (provided by Intel), with an MSI Z390 Gaming Pro Carbon motherboard. This ensures we have the same test platform as we use in other cards in this review of the Radeon RX 5700 for a consistent baseline.
As for the benchmarks themselves – we're using a mixture of DX11 and 12 titles, across all resolutions, but focusing on 1440P. With that said, let's take a look!
Assassin's Creed Origins is a pretty looking, but demanding DX11 title which appreciates not just a fast GPU, but a decent CPU too. There's very little between the RTX 2060 and the RX 5700 with these results, with AMD's Radeon RX 5700 hitting an average of 39 FPS at 4K during the games inbuilt benchmark. Essentially, console-like performance but with vastly superior graphics and resolution. Dropping the resolution to 1440P maintains the crucial 60FPS experience for the Radeon RX 5700.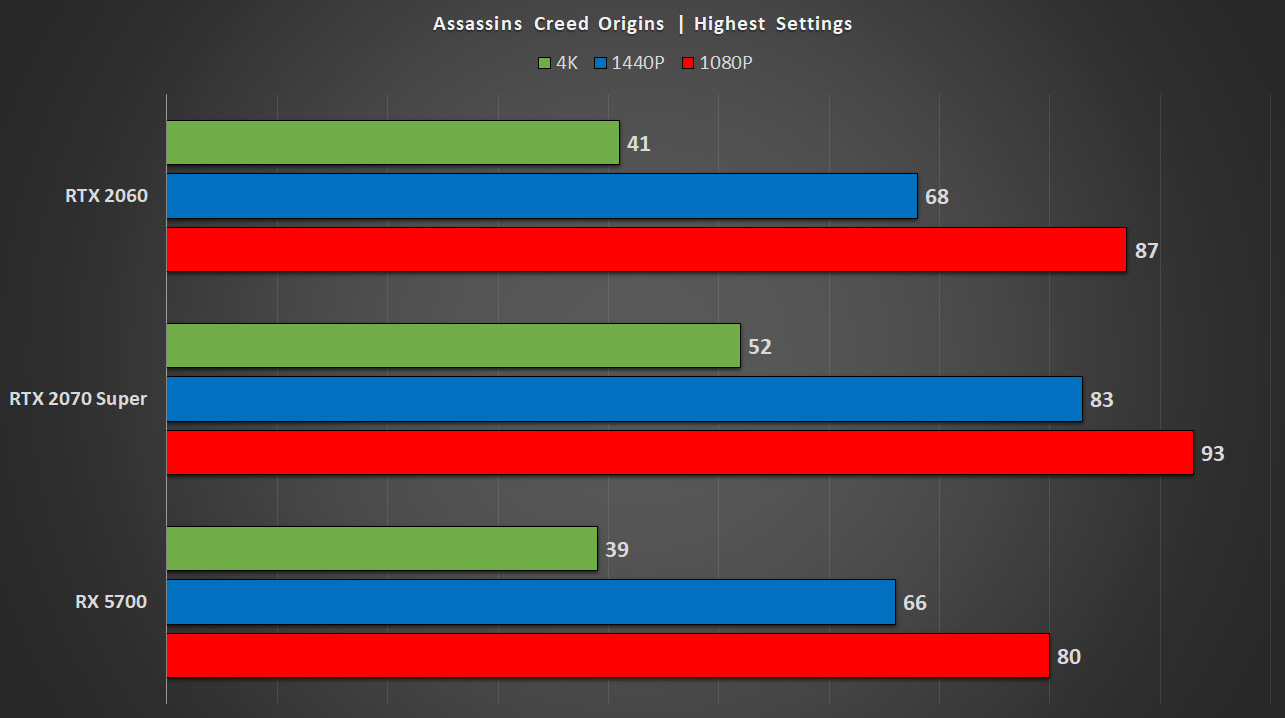 Next up, we'll be benchmarking Batman Arkham Knight, one of the oldest titles in our test suite. The Radeon RX 5700 averages 60FPS in this DX11 title, and at higher resolutions distances itself from the RTX 2060. The Polaris based RX 480 gets pounded here, maintaining about half the frame rate of the RX 5700 at 1440P during testing.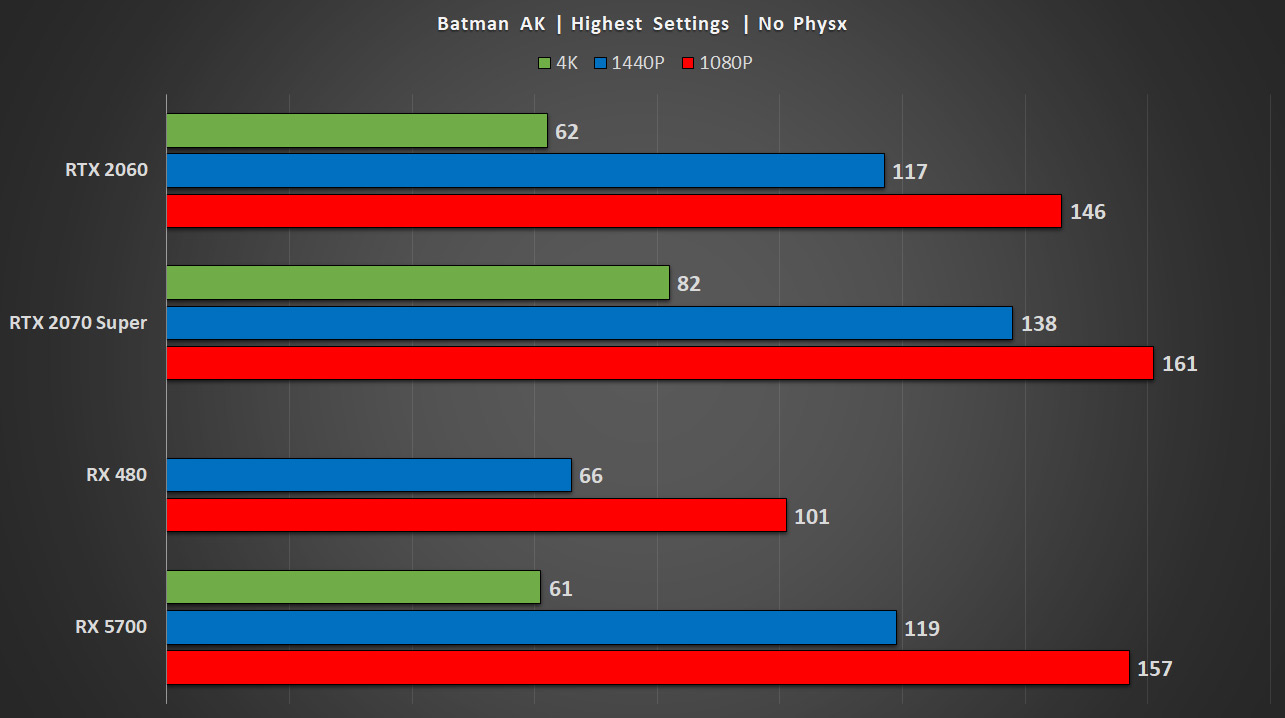 Next are two manual runs of the opening areas of Control, which provides nice consistent test data. We're testing of course with Nvidia's Ray Tracing disabled, but the game still is super demanding. At 1080P with the highest preset, AMD's Radeon RX 5700 hits a min of 60FPS, with an average of just under 80. Basically it doubles the performance yet again of the RX 480 showing a compelling upgrade path for Polaris 10 owners who wish to stick with team red.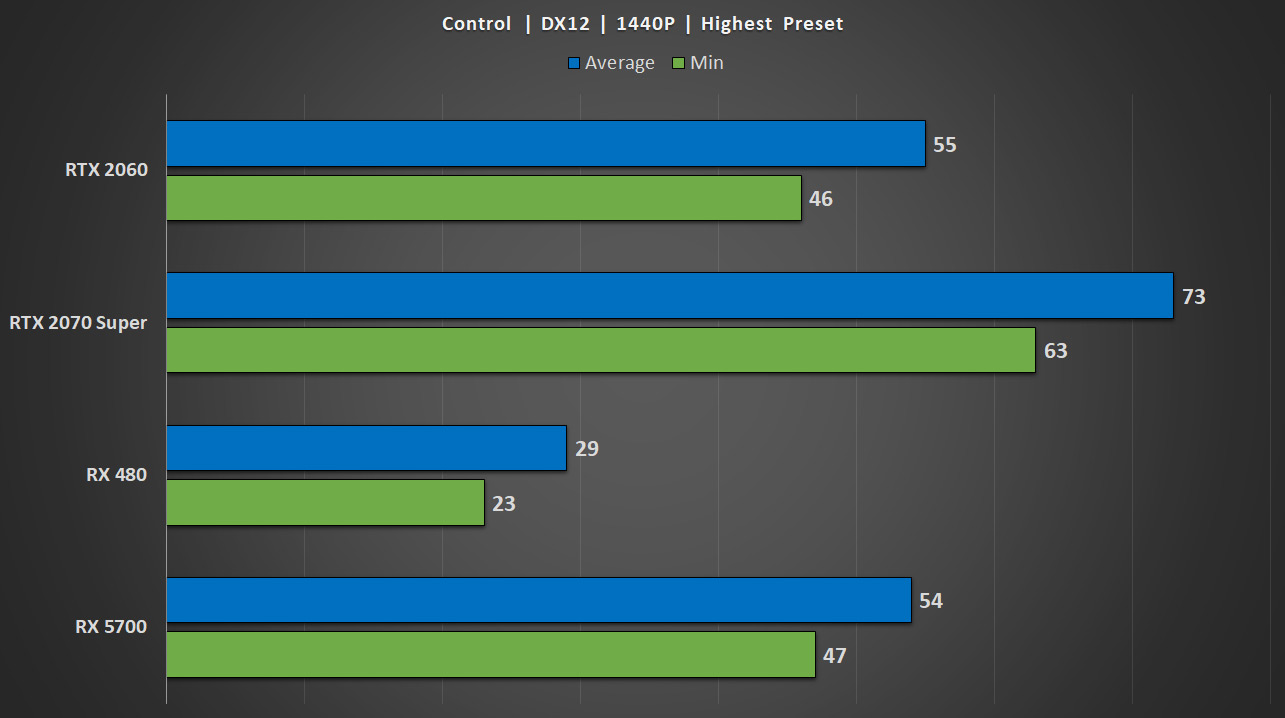 At 1440P, only the RTX 2070 Super is capable of hitting over 60FPS as a minimum, and the RX 480 at these quality settings is incapable of delivering a playable experience. The RTX 2060 and the RX 5700 during our benchmarks are essentially neck-and-neck.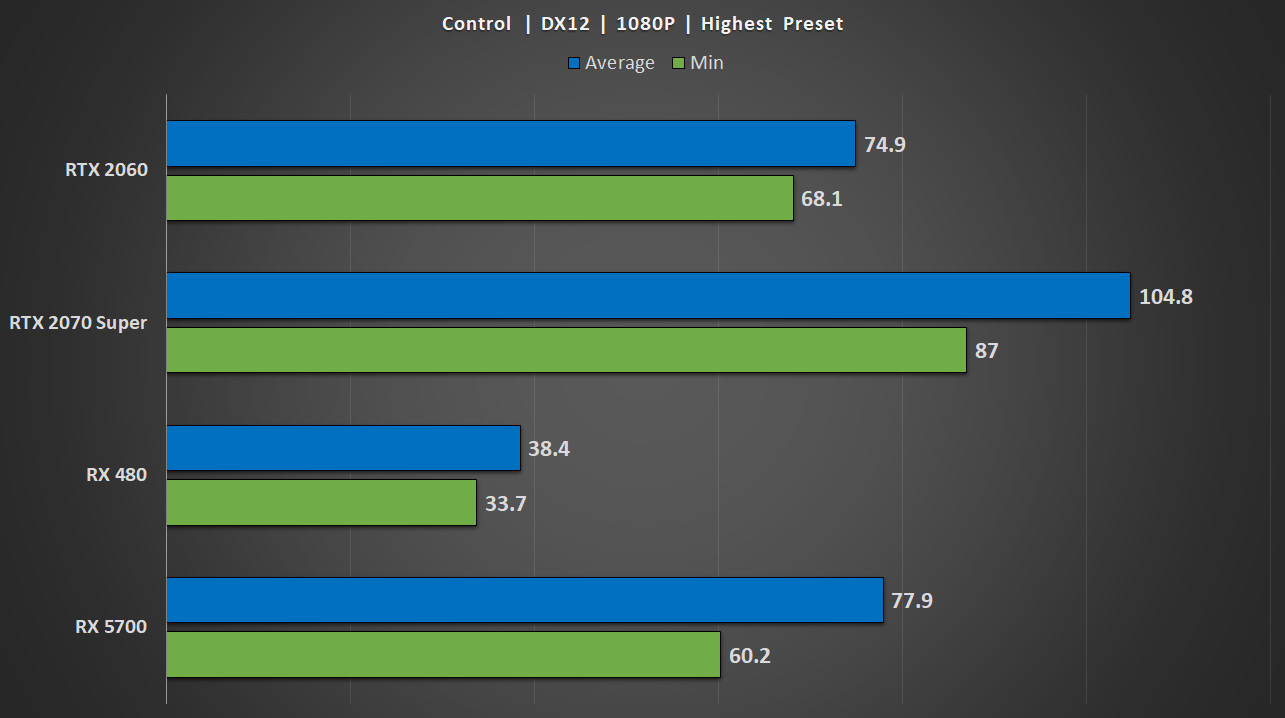 Far Cry 5 at Ultra settings running DX11 loves CPU clock speed (something we'll be investigating more soon), but also GPU power. The Radeon RX 5700 squeezes past the GeForce RTX 2060 here, and the real story comes at 1440P again.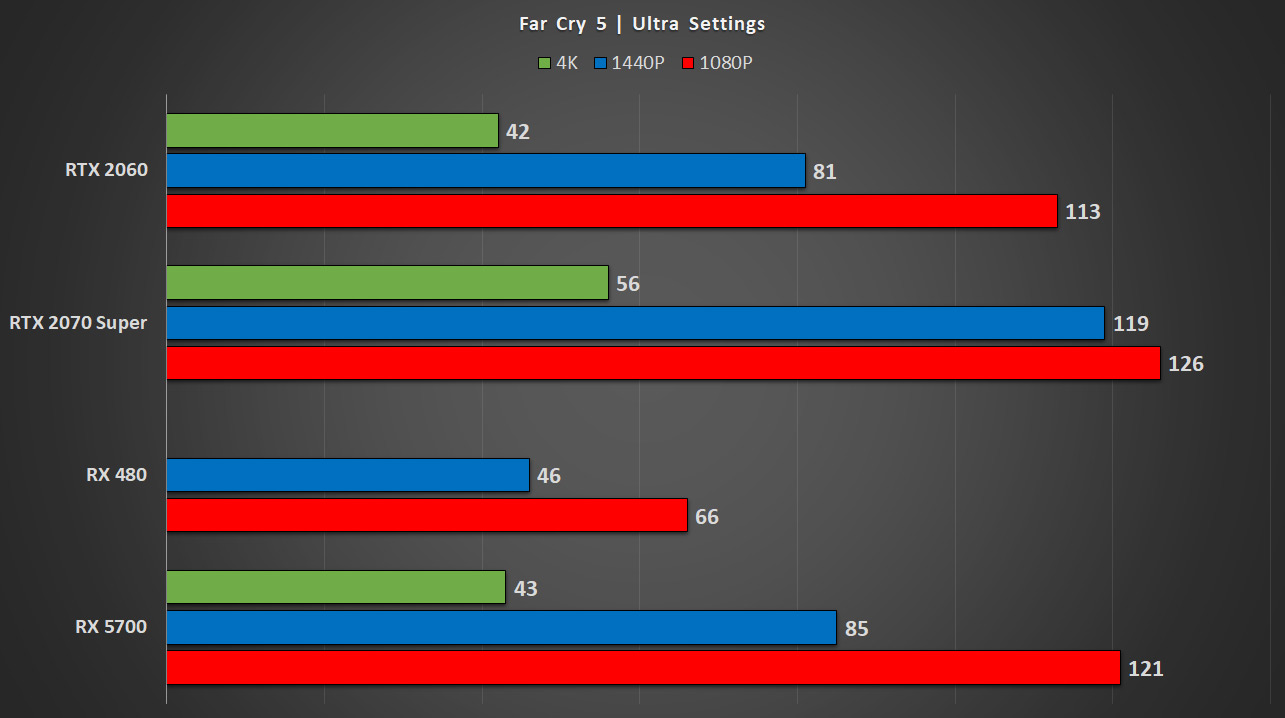 Gears 5 at highest preset eats GPUs for breakfast, and the RX 480 maintains over 30FPS during the built-in benchmark, once again its performance doubled with the RX 5700. During our testing, we wouldn't recommend even the RTX 2070 Super for 4K, but all of these cards offer great 1440P experiences.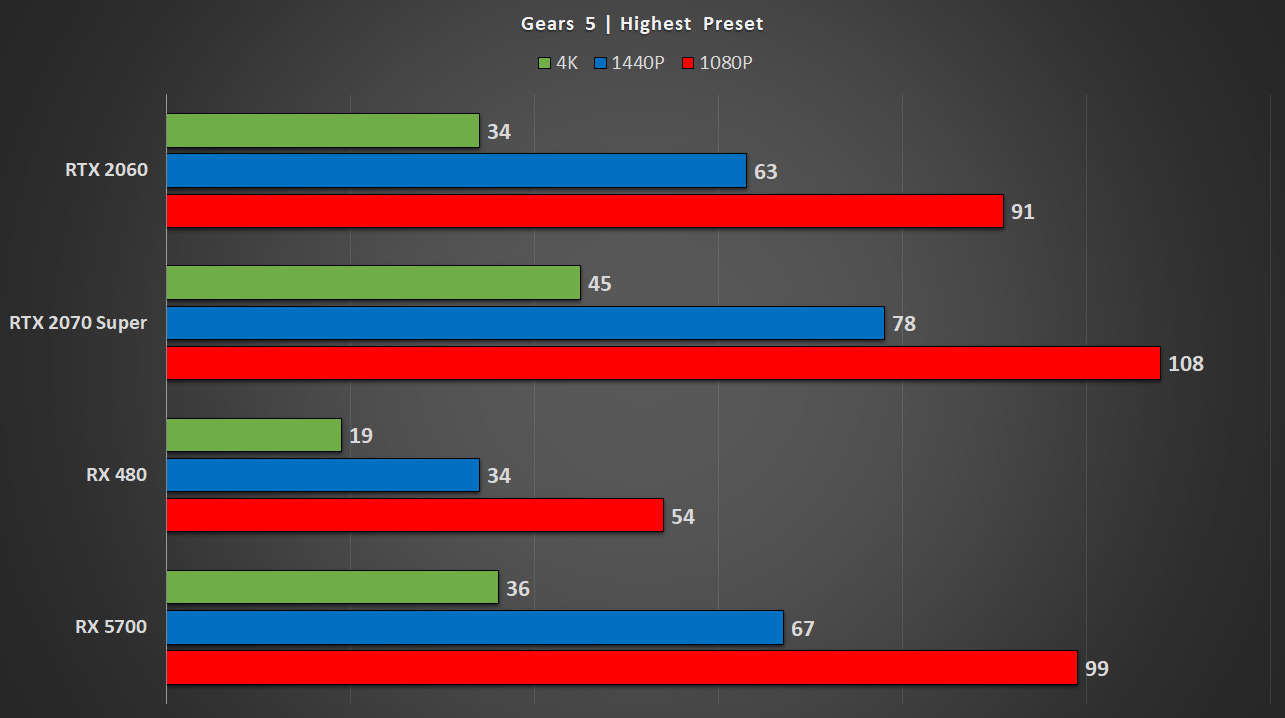 Metro Exodus on the RX 480 is so intensive we didn't even check above 1080P, though during our review this is a clear win for AMD. The RX 5700 maintains an average of 60FPS, coming out slightly ahead of Nvidia's RTX 2070 Super during this review.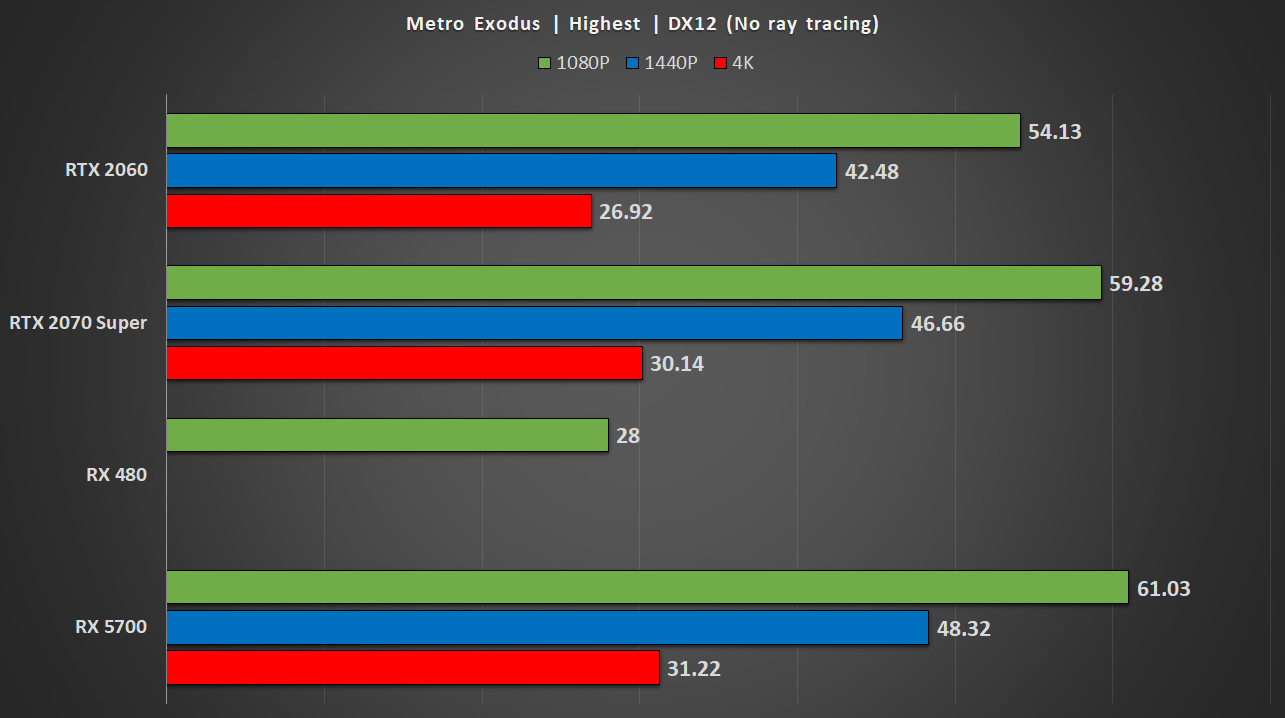 Shadow of the Tomb Raider and yep, the same story. AMD's Radeon RX 5700 comes ahead of the RTX 2060, the RTX 2070 Super is faster, so that's nice for higher refresh rate monitors but doesn't have quite the grunt for 4K.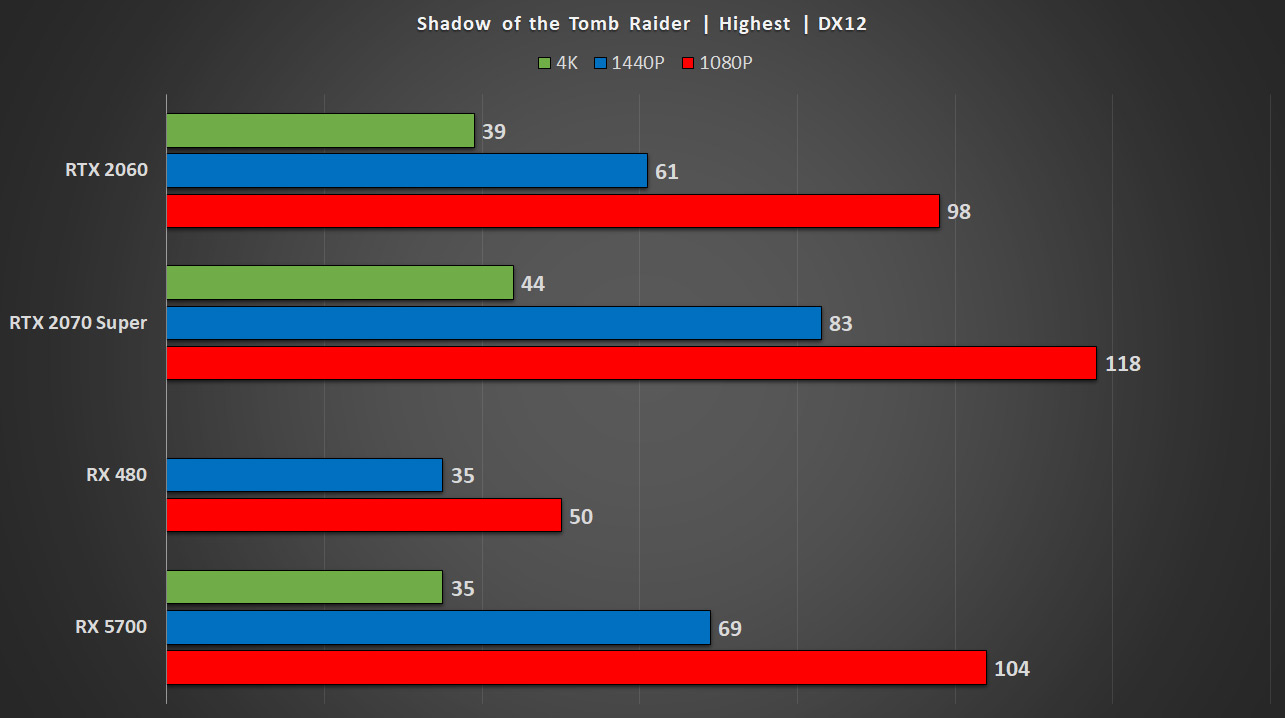 SuperPosition shows clear wins for Nvidia's Turing architecture, which we've not seen reflected in-game performance.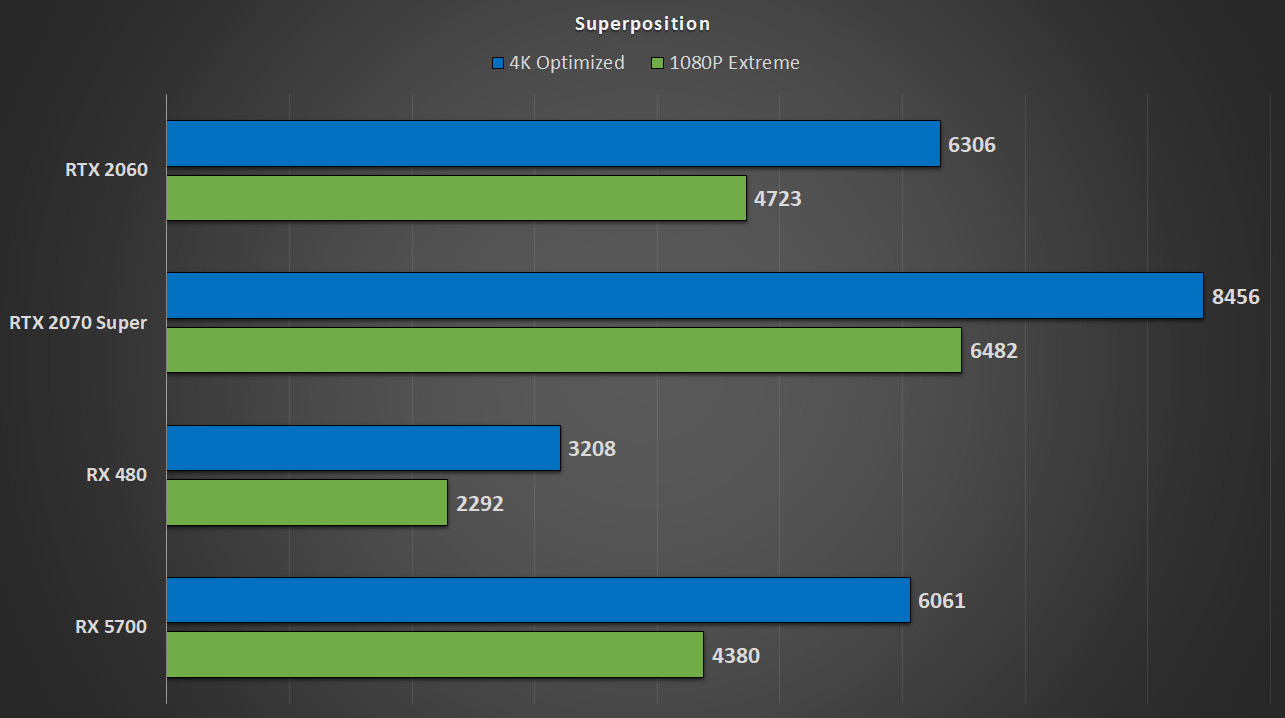 For productivity, we have SpecViewPerf at 1080P and here Nvidia's Turing architecture does show a nice boost over Navi. We'll investigate this more in the near future, but for productivity, Nvidia really hit the nail on the head with Turing, drastically boosting performance over its Pascal architecture.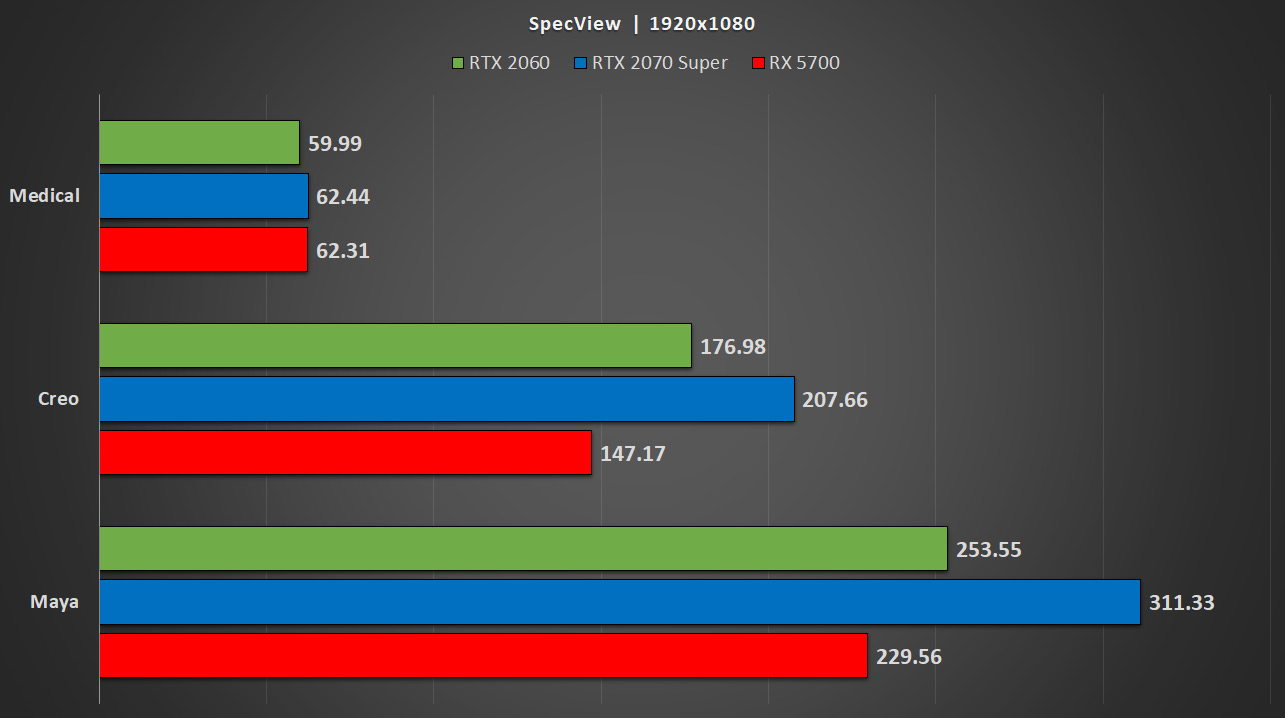 We'll finish off the benchmarks with Compubench running optical flow, with the performance of mpixels. This shows how in some compute workloads, AMD's Navi cards just fall behind Turing, and indeed even their older architectures such as Vega.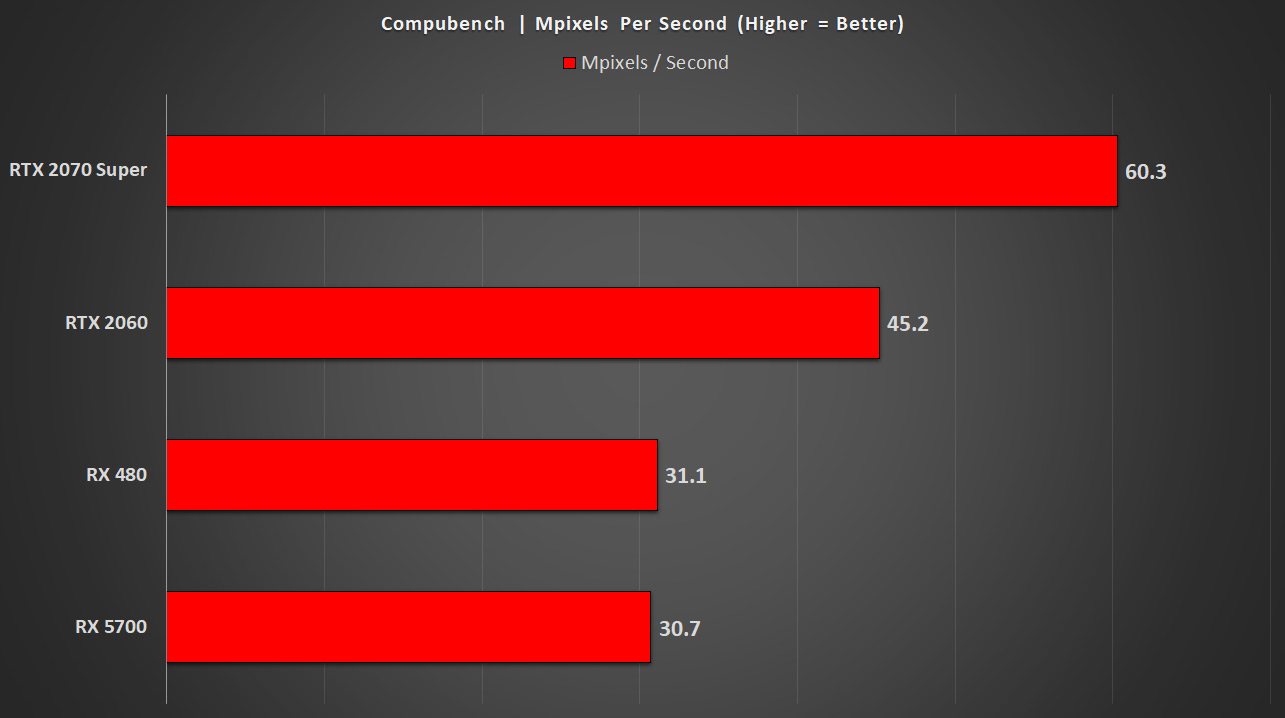 Radeon RX Performance & Benchmark Conclusions 
So, looking over the performance data – this card is pretty impressive and answers the question I left you hanging on earlier. Why Nvidia felt the need to refresh Turing with the super cards. AMD would have simply kicked Nvidia in the shin for both value and performance with these cards without the refresh.
The RX 5700 and RX 5700 XT would have simply decimated Nvidia's RTX 2060 and 2070 cards in terms of price and performance, though with Super, Nvidia definitely fares a bit better.
This card makes a great case for itself at high frame rate 1080P gaming or 1440P too. 
Final thoughts for our Radeon RX 5700 Review
AMD's Navi 10 architecture is the start of a new journey for the company, and the next few years in graphics will definitely be nothing short of fascinating to watch unfold.
We need to judge our review In the here and now, AMD's Radeon RX 5700 is a solid performer, with its main let down being the reference blower. This can largely be resolved by going with a third-party model, but the reference design honestly isn't as bad as I was expecting. In an enclosed case under your desk, with headphones on or game sound up, I didn't really hear it unless I manually cranked the fan curve for higher clock speeds during boosting.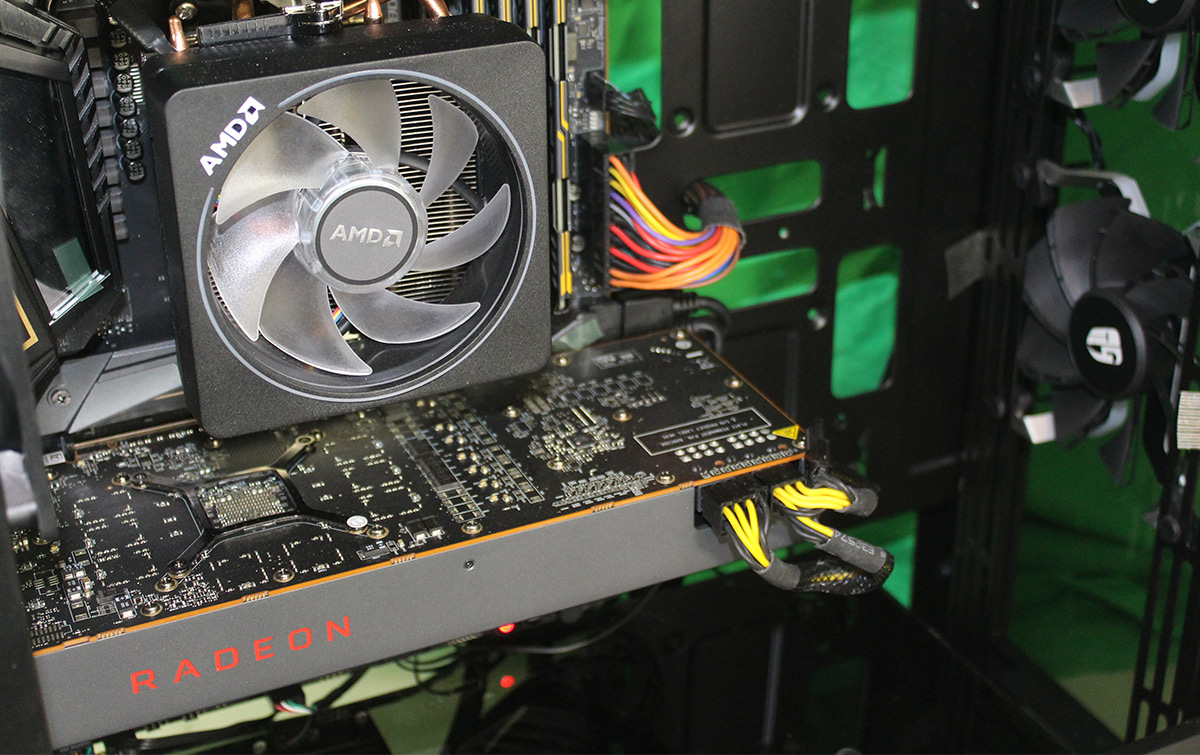 The reference card is essentially about as loud as a reference design GTX 1080 / GTX 1080 Ti… and maybe I got lucky, but it is a bit quieter than my reference design Sapphire Radeon RX 480, particularly when the fan is cranked up.
Either way, I can honestly heartily recommend the Radeon RX 5700. It's an impressive card in terms of gaming performance – sure. But the drivers were also solid, with all the functionality you'll need in an easy interface – including 'things' like Supersampling (downsampling).
Should you pick up an RX 5700 or an Nvidia alternative? Well, that's something only you can answer. AMD's cards offer stellar performance at a great price, and while Nvidia's Ray Tracing is something nice to experiment with, but unless you're playing on a higher-end card, it usually impacts performance too much unless combined with DLSS. 
I would nudge my decision to AMD if you are focused on performance per dollar, and possibly Nvidia if you like to mess around with technology or you need the additional compute performance of Turing (say you do 3d modelling) as well as Gaming. 
There's rarely a 'no-brainer' when we review a product – and despite the small flaws of lower compute performance and a noisy cooler (which of course is easily rectified with a non-reference design), I think few would argue AMD is back and putting pressure on Nvidia's mid-range offerings and reminding us why competition is only ever a great thing for us end users.
Amazon Links
If you'd link to help us out – here's some Amazon affiliate links. Do note that we get a small commission from any purchases made through these links, but it costs you nothing – so if you're tempted to pick up something, use one of these links to help us with a few pennies!
AMD Radeon RX 5700 Series
AMD Ryzen 3000 Series
MSI MEG X570 ACE –
DeepCool Matrexx 70 –
Other Articles You Might Like