There is a fair amount of anticipation surrounding the release of the RTX 3060, as it's Nvidia's first desktop GA106 graphics card, and of course a fresh entrance into a very strained GPU market.
Today, we have a nice set of benchmarks – 3D Mark and Superposition, thanks to the work of Videocardz.com. The RTX 3060 is a pretty important entry into the mid-range graphics card market, which is a crucial battleground for both Nvidia and AMD. In normal circumstances (i.e where actually finding a GPU in stock isn't a noteworthy event), the mid-range is where both companies expect to see their highest volume of sales as gamers snap up the cheaper gaming cards.
Feature-wise, it also brings a couple of interesting things to the table – firstly, Nvidia has put in a cryptocurrency limiter as we discussed in our recent video, and it will be the first RTX 30 GPU to support resizable BAR (also known as Smart Access Memory).
But, enough preamble, let's move onto the benchmarks themselves and see what the RTX 3060 has to offer in these performance tests.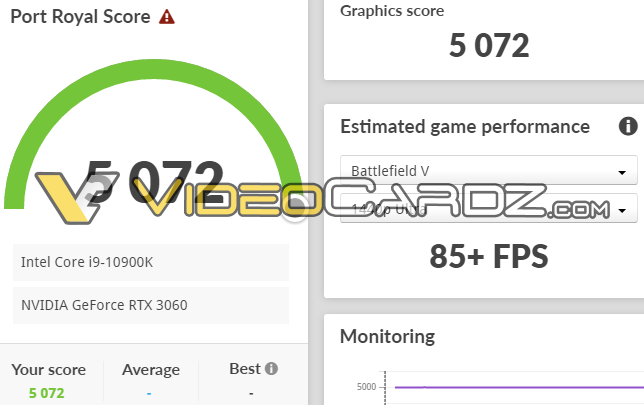 So, where does this leave us? How does the RTX 3060 stack up? Well, if we take a look at these benchmark results, it offers similar performance to the RTX 2060 SUPER or RTX 3070. Of course, as I've said a million times at this point, synthetic benchmarks are great, but I'd love to see some more gaming results for this card. Overall, it seems the RTX 3060 is offering some pretty competitive performance – for the MSRP. But sadly, with the shortages that are still plaguing the tech industry, good luck finding one at it's actual recommended price.
Speaking of the RTX 3060 though, the RTX 3060 6GB has raised it's head again. You probably recall that since before the RTX 3060 was even unveiled, rumours were swirling about Nvidia offering different SKUs for this card. Today, we have another listing from the RRA, or the South Korean National Radio Research Agency, which reveals that Palit is expecting a RTX 3060 6GB variant.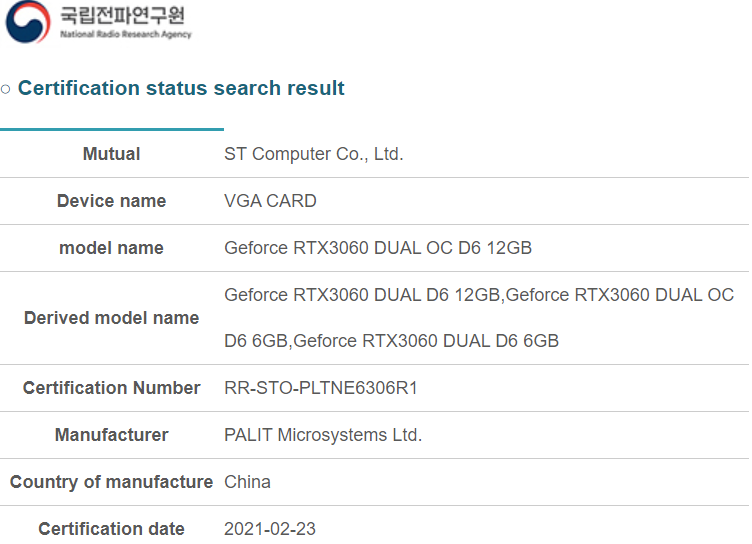 If this seems a bit familiar, it's because we also recently had a listing for a RTX 3060 8GB model from Gainward. In all likelihood, I wouldn't be surprised at all to see Nvidia do multiple versions of the same card, given that Nvidia's tendency to release a ton of different 60 cards has become almost a meme at this point. But, as always, take this with a pinch of salt ™ until we get official confirmation from Nvidia.
Other Articles You Might Like