Smart Access Memory or SAM if you prefer, was a feature AMD touted heavily as it marketed both its Radeon RX 6000 series of graphics cards, and the Ryzen 5000 series processors. This feature AMD claimed, offered a nice bump in performance, and came with no real downsides, and their announcement of SAM prompted waves across the industry.
You see, Smart Access Memory is AMD's own branding for a feature that's part and parcel of the PCIe standard, which is called Resizable BAR (Base Address Register). To this end, both Nvidia and Intel quickly put out statements that their hardware is also capable of supporting Resizable BAR, but it really was thanks to AMD that we gamers are able to benefit from it.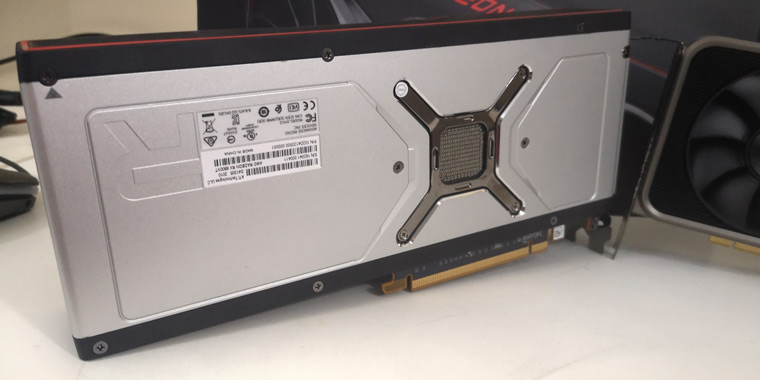 Nvidia will offer driver updates next year and as long as your motherboard is capable of taking advantage of the feature, Geforce cards will happily run with on either an AMD or an Intel Platform. For Intel, they've released the updated tools to motherboard vendors, so as long as the board manufacturer is inclined, you can simply update to the latest board BIOS and run with Resizeable BAR on your Comet Lake processor (and of course, Rocket Lake too, when it releases in a few months time).
Naturally, when Nvidia does release these drivers for their cards, we'll be very eager to test the results on both Intel and AMD processors, so definitely stick with us for that. Along with Nvidia's adoption of Resizable BAR, the company are also pushing RTX IO too, which allows the decompression of data heading to the GPU… well, on the GPU itself. RTX IO hasn't software which is released yet, but I am curious to see how RTX IO, Resizable BAR and PCIe 3 / 4 speeds all stack and affect one another when software is finally out to take advantage of this.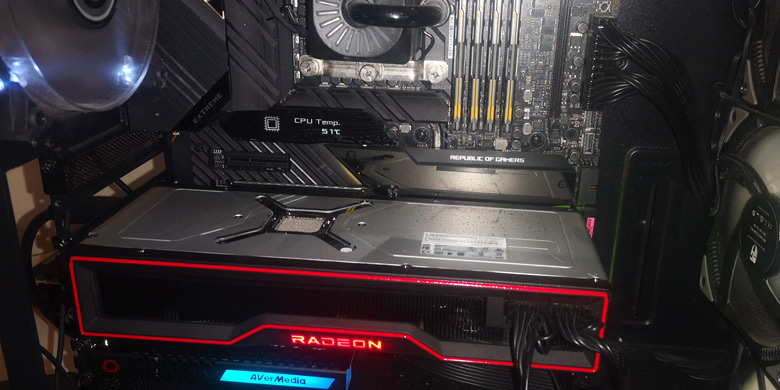 We'll be testing on a reference design Radeon RX 6800 XT (which has been provided to us by AMD), and an Intel I9-10900K processor running on an ASUS Maximus XII Extreme Z490 motherboard (both the CPU and board come courtesy of Intel and this has been our main benchmarking rig since the launch of Comet Lake).
Before we delve into the performance, what exactly is Resizable BAR, and why does it provide a performance benefit?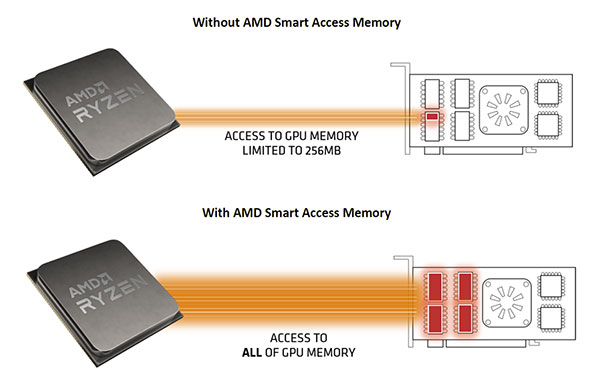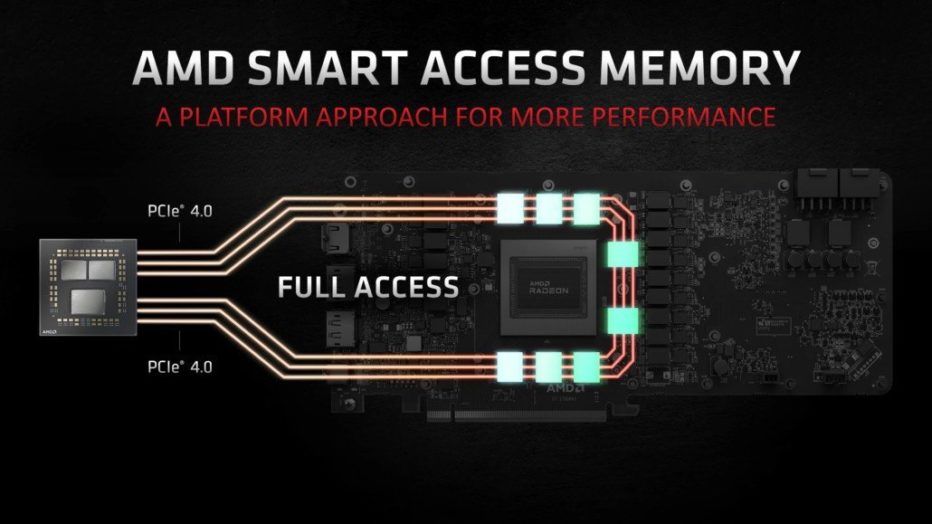 It was a feature baked into the PCIE standard, designed to 'fix' a limitation that's existed for a good number of years with how the CPU addresses the GPUs memory. When 32-bit operating systems were common and Address Spaces (and actually memory and system resources as a whole) were considerably more limited, a 256MB Aperature limitation was imposed on what the CPU could access in PCIe devices… and hey wait, your GPU is a PCIe device.
That's right, with Smart Access Memory / Resizable BAR, the CPU can now access the entire amount of the GPUs VRAM pool (so in the case of the Radeon RX 6800 XT, that's 16GB) rather than needing to do so 256MB at a time.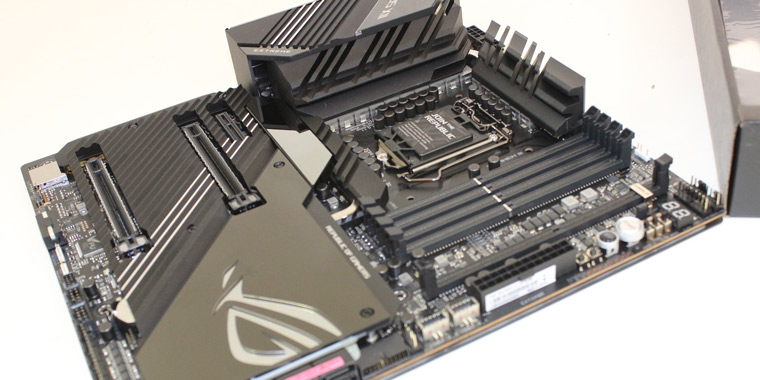 Games don't need to necessarily be optimized for SAM, however as you'll see in a moment, not all games offer performance advantaged. I have no doubt that developers will come to leverage Resizable BAR going forward, particularly when Nvidia fully embrace this technology. If you're concerned, for software which doesn't support Resizable BAR, you'll almost certainly not encounter any negative effects, but you might get the odd game which has the same performance when you benchmark it with Resizable BAR / SAM on or off (as you'll see when we get to our results in a moment).
To enable Resizable BAR on our ASUS Z490 Maximus Extreme XII motherboard, we had to download the latest BIOS update and update (I simply did so using the BIOS itself and a USB drive). After that's done, go into BIOS and tweak things as you need them (depending on your BIOS, settings might be reset).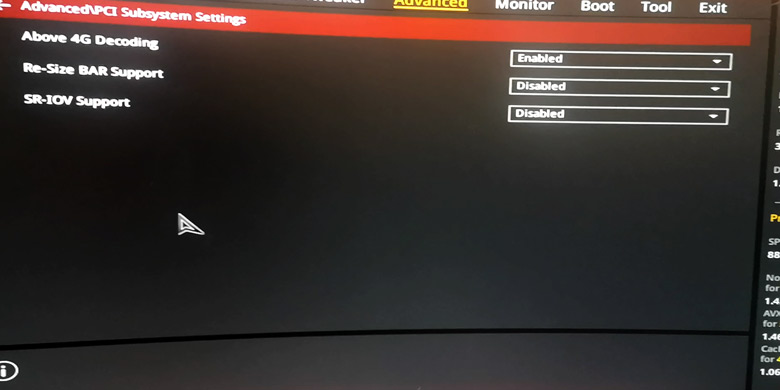 Next, go to the advanced menu, PCI Subsystem and enable BOTH Resizable BAR and 4G, and under the Boot menu disable CSM. You'll then simply save and exit, and the system will power cycle a time or two, then you'll be back into Windows and ready to test games. To be clear, you'll not need to do anything with drivers, tweak any settings in Windows.
So let's take a look at the results shall we? I benchmarked with the Intel I9-10900K running at 5GHZ across all cores, and the Radeon RX 6800 XT with everything at stock. Games and OS are on their own SSDs too, so everything should be nice and snappy.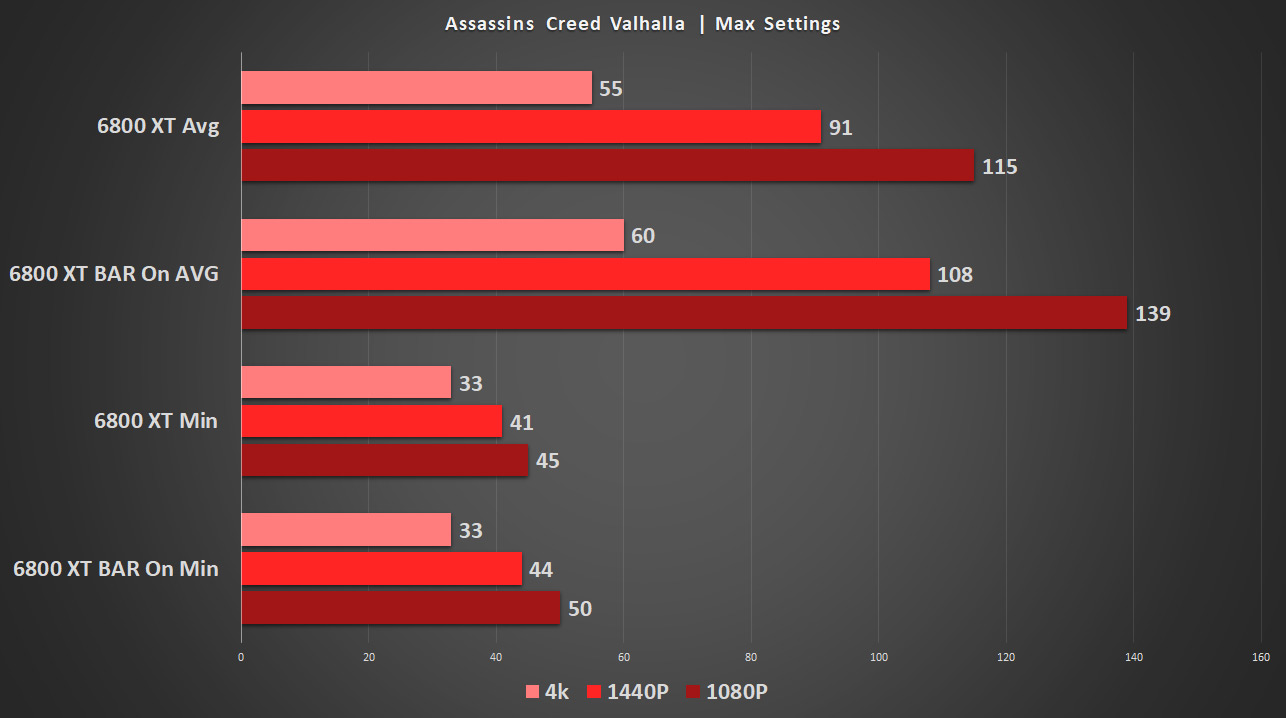 Assassin's Creed Valhalla is a very demanding game, but I love that even at 4K, which is obviously a very demanding GPU bound resolution, we gain 5 frames per second more, although the min FPS using the games built-in benchmark remains the same. 1440P results are no less impressive, with the Radeon RX 6800 XT able to churn out 108 FPS thanks to Resizable BAR.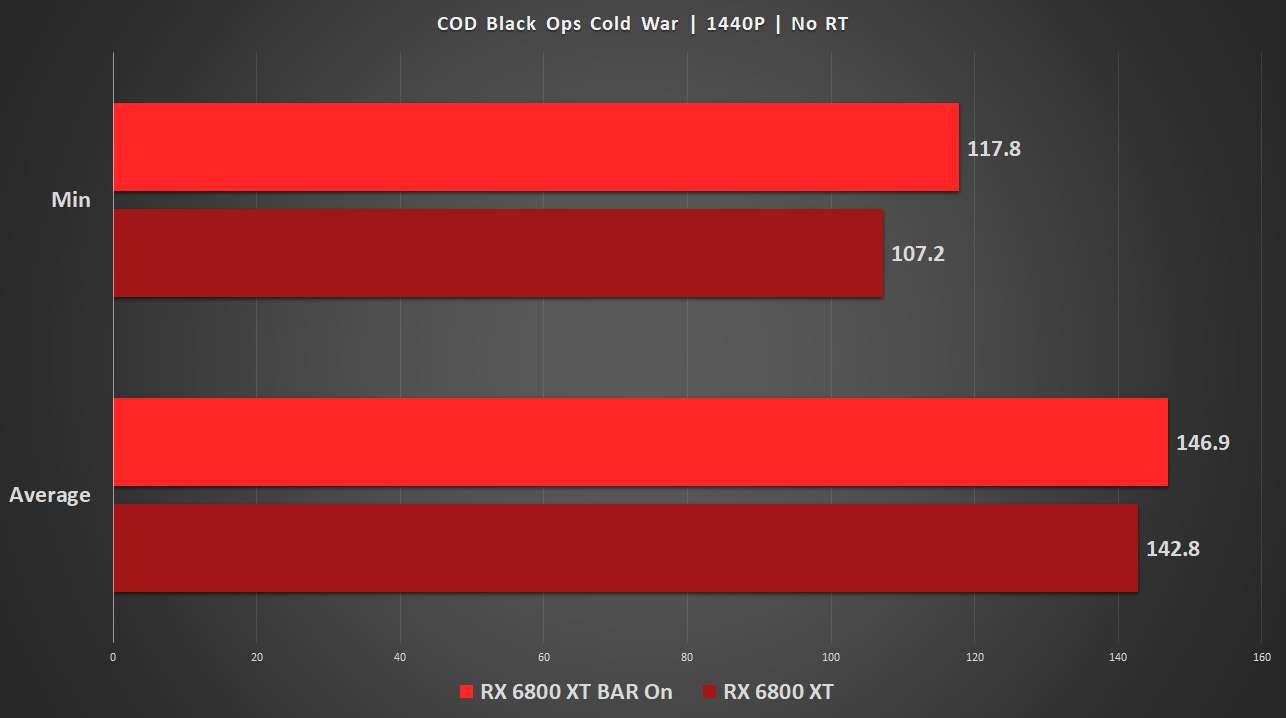 Call of Duty Black Ops Cold War, with Ray Tracing Disabled isn't as impressive as ACV's gains, but still, 4FPS average is nothing to ignore.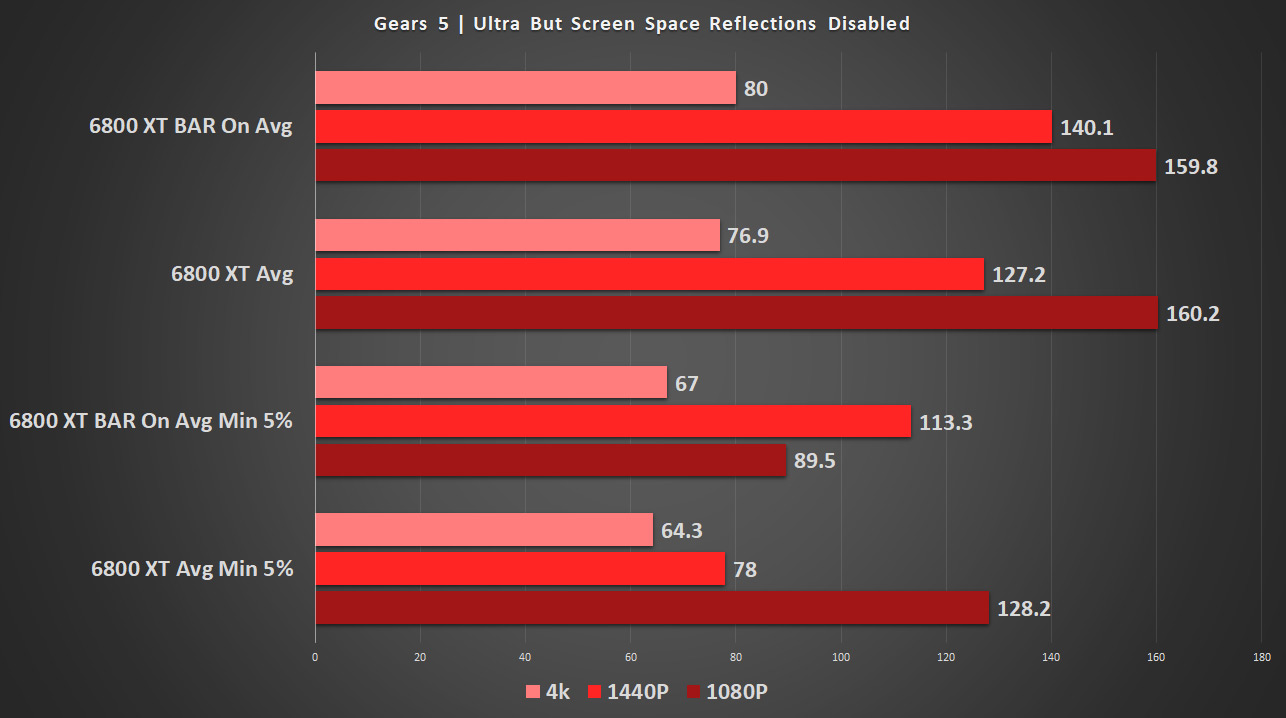 Gears 5 also gain an amazing performance gain thanks to SAM, 13FPS more at 1440P simply by switching something on in BIOS. The benchmarks at 1080P and 4K aren't as impressive though.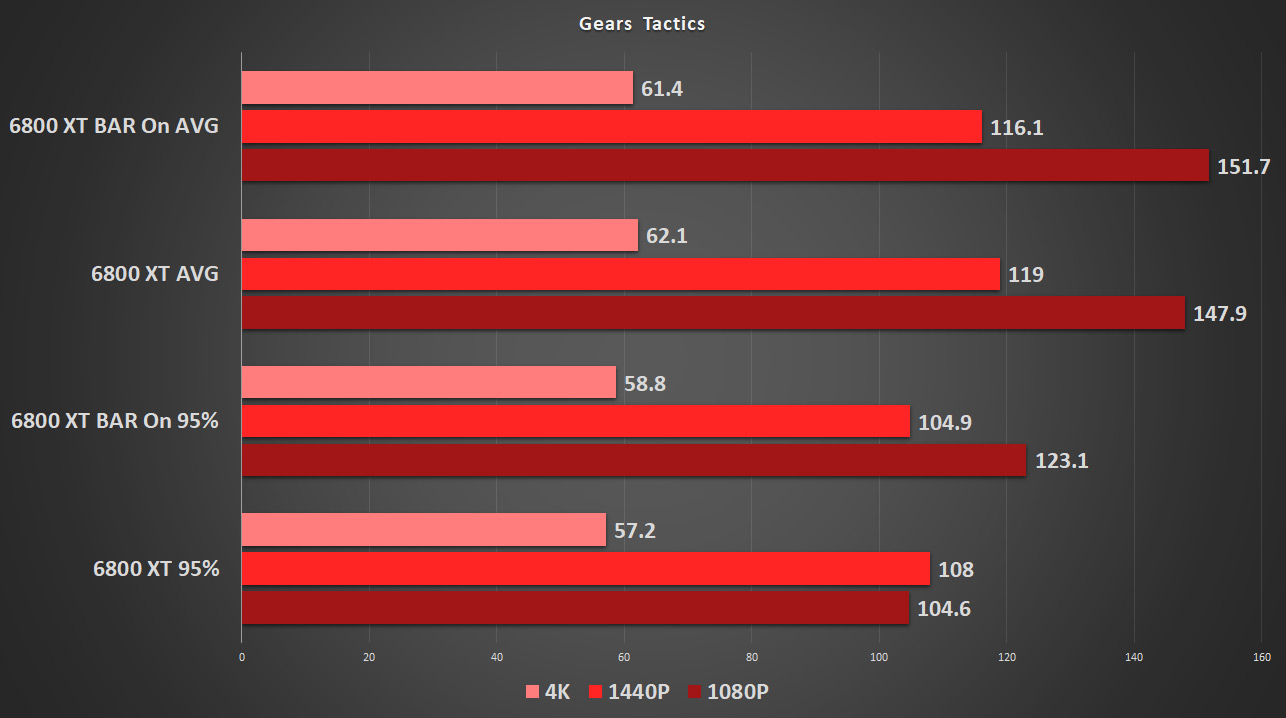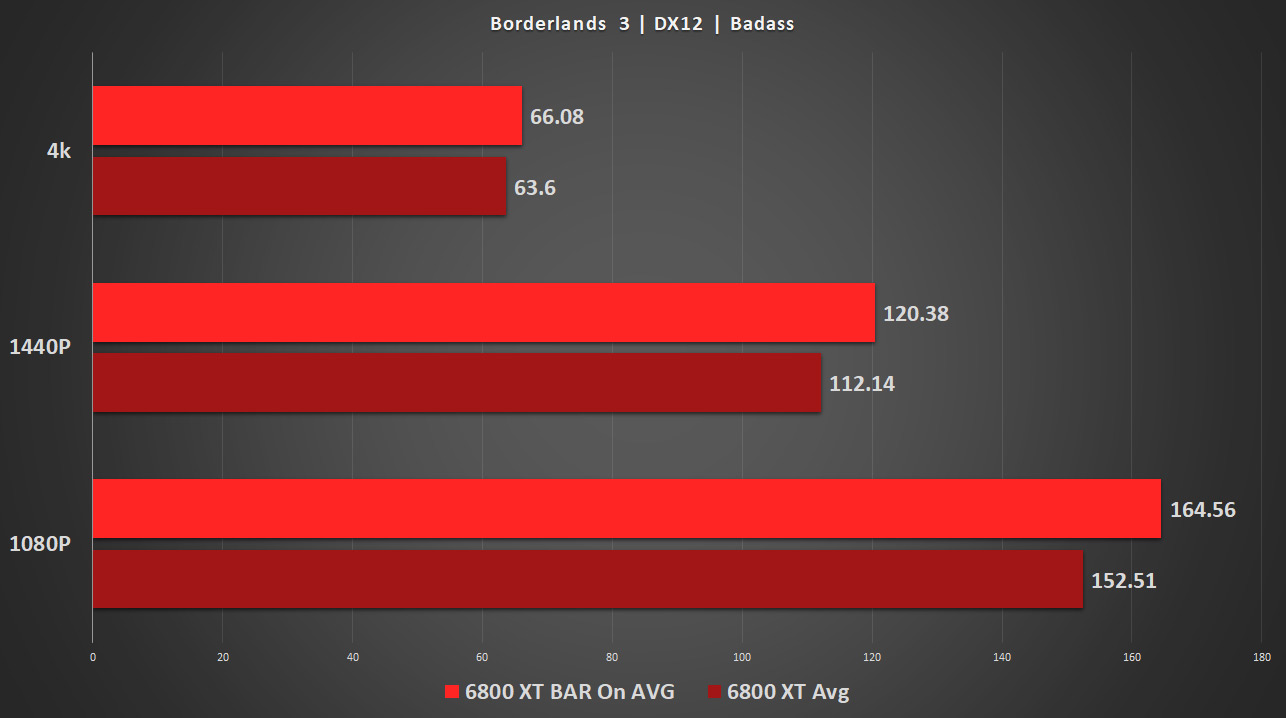 Borderlands 3 running in "Badass" quality really hammers the GPU at 4K, so we gain only a few FPS at that resolution, but a chunkier 8FPS at 1440P.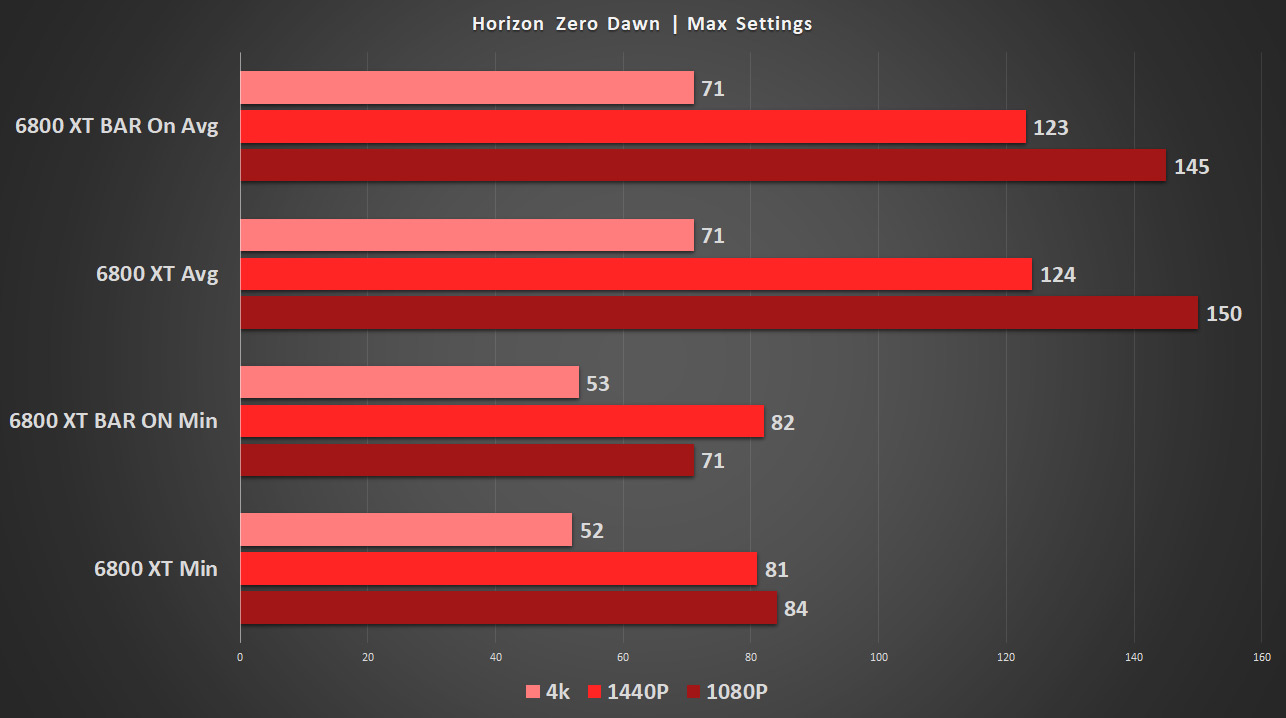 Horizon Zero Dawn shows no benefit at all with Resizable BAR here.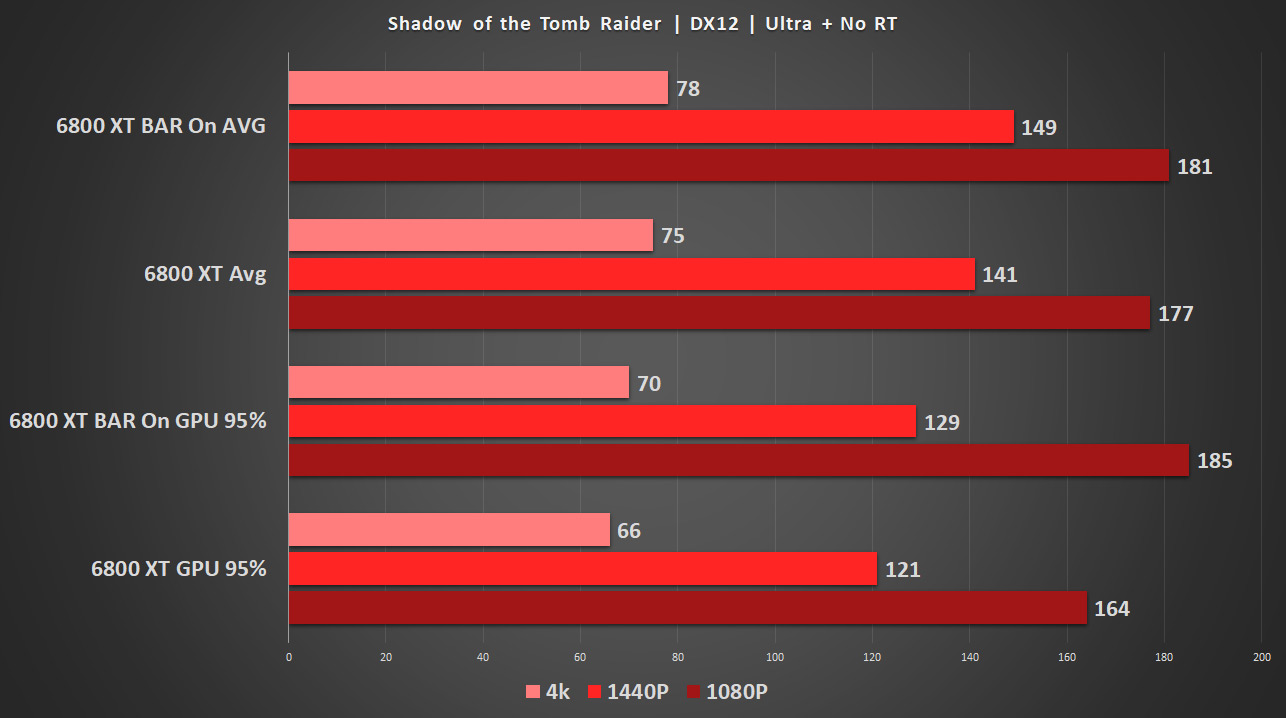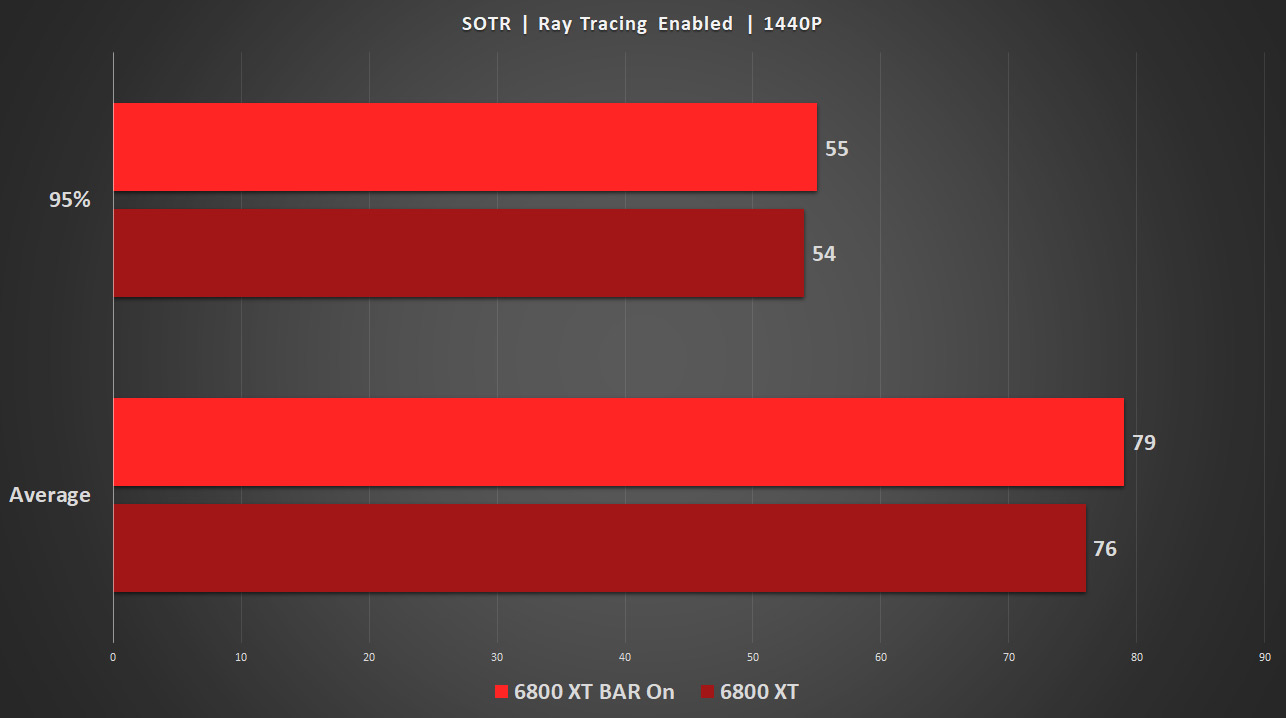 Shadow of the Tomb Raider gained solidly too, including with Ray Tracing abled. The Radeon RX 6800 XT really cranks out the frames at 1440P. Without Ray Tracing, we see a pretty large gain with Smart Access Memory enabled, and again, just as importantly, minimum frame rates all increased. If you're wondering why the 1080P 95% result was faster than the average, it's because I took the average result as the overall result from the benchmark, but the built-in benchmark also provides the 95% GPU average too, which I thought would be interesting to include.
Ray Tracing performance for our Radeon nudged up 3 frames per second too, and 1 extra FPS for 95%. While this might not sound huge, remember that this is with the GPU being absolutely hammered here, with the Radeon RX 6800 XT being fully used, and 3 FPS extra is nothing to turn your nose up at, especially in really busy areas, it could mean the difference between maintaining the 16.6ms render time to maintain 60FPS or not.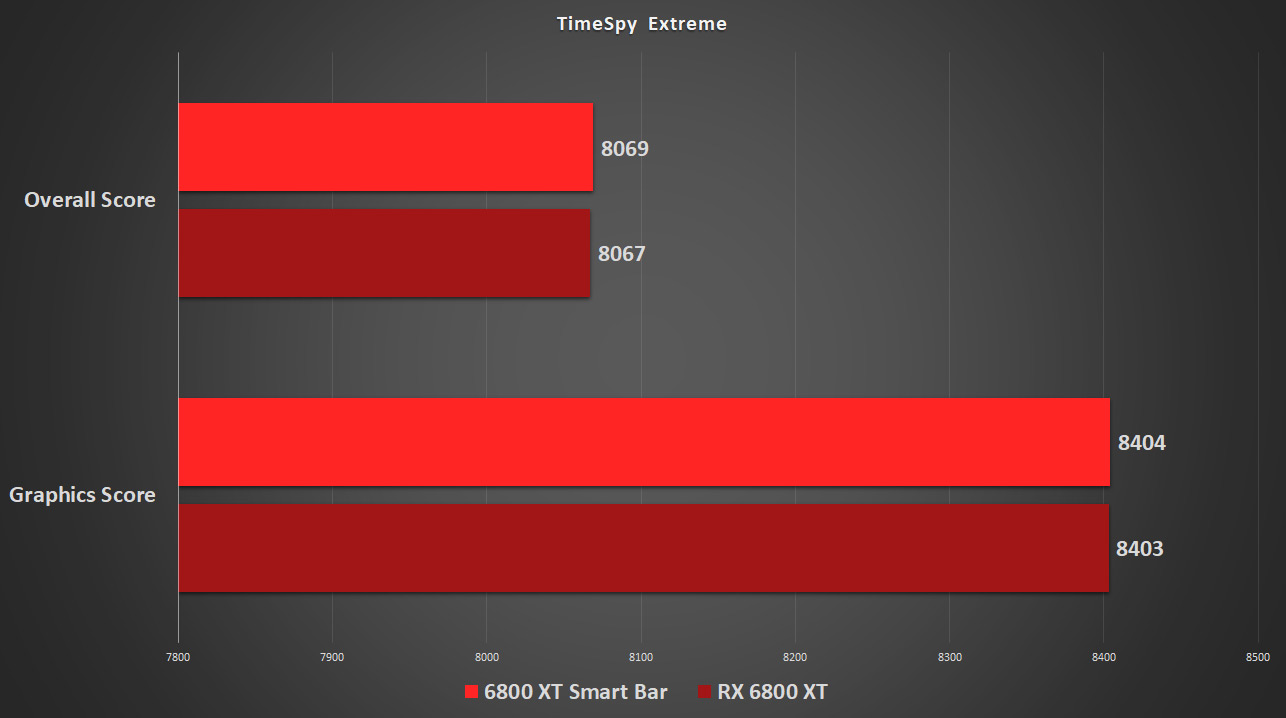 Our last result is TimeSpy Extreme. and here again, there's no performance benefit (or loss) with the feature enabled. Amusingly, we gained a whole single graphics point in our tests (which, I suppose could be the difference between a world record), though these results are well-within the margin of error.
Conclusions time
Really, the Radeon RX 6800 XT and Ryzen 5000 series are great for gamers who aren't even buying them, because it's pushed Intel and Nvidia to move forward with Resizable BAR support. If you have a graphics card and processor which does support these features, there's absolutely no reason to not switch them on. In my testing with the ASUS board, I had no bugs or crashes and everything was totally rock-stable too.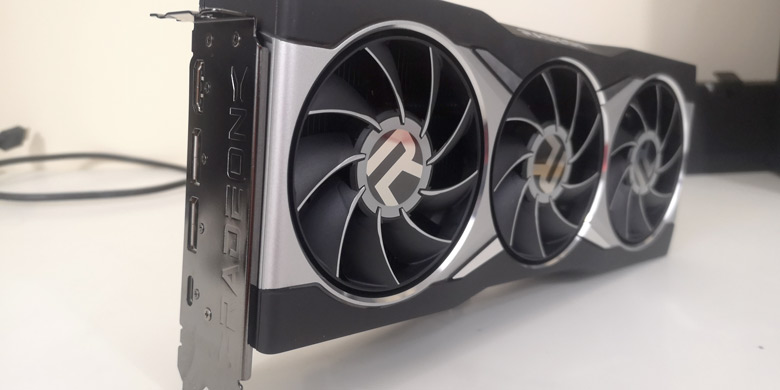 The only negative (and it's not really anyone's fault) is because this feature has essentially languished for so long, it's hit and miss how much a title will benefit. Shadow of the Tomb Raider and Assassin's Creed loved it, whereas Horizon Zero Dawn just shrugged. Again though, developers will probably optimize for this feature in the future, and given it's a set it and forget it type of scenario, there's no real downside to you, even if the game doesn't get any performance benefits.
Clearly, there's a lot of curious movements in the industry too, and given AMD's usage of Infinity Cache on the RDNA 2 architecture, and RDNA 2 incoming to APUs, and faster DDR5 memory, it'll be interesting to see how this comes together with more efficient flows of data with Resizable BAR.
Other Articles You Might Like
Tagged with
gpu
,
hardware
,
intel resizable bar
,
radeon
,
ray tracing
,
rdna 2
,
resizable bar
,
SAM
,
smart access memory
,
z490
,
z490 resizable bar
.