In about a weeks time, CES 2019 will kick off, and it's all but certain AMD will be at the very least announce key details concerning the Ryzen 3000 series of CPUs (known as Matisse). These processors will, of course, feature the 7nm Zen 2 architecture, and according to whispers in the industry, we'll see an increase in core count and clock speed, combine that with the architectural improvements AMD has been oh so happy to reveal.
A Russian Price Tracking website known as E-Katalog is listing several Matisse SKUs, with the highest end processor currently a Ryzen 9 3800X, sporting 16 cores and 32 threads on the AM4 platform. Clock speeds are 3.9 GHz and 4.7Ghz for the base and boost speeds respectively.
The best value of these processors though might be the Ryzen 3, with say the Ryzen 3 3300X running with 6 cores and 12 threads, and a 4.3GHz boost frequency.
These leaks are virtually identical to what youtuber AdoredTV put out in a video about a month ago, minus a few SKUs here or there. Interestingly, there's also the processor instructions listed, but it doesn't appear to be updated. It is written identically to how the original Ryzen 1000 series CPUs listed its own instruction set, which is a little suspicious.
From googling around, the website isn't obscure – at least within Russia, but their listing of various Ryzen 3000 series CPUs could be seen as one – a genuine leak, or two (which I believe is more likely) simply copying online specs as a placeholder. This generates them with traffic, and of course, helps promote their website in what is a highly competitive niche.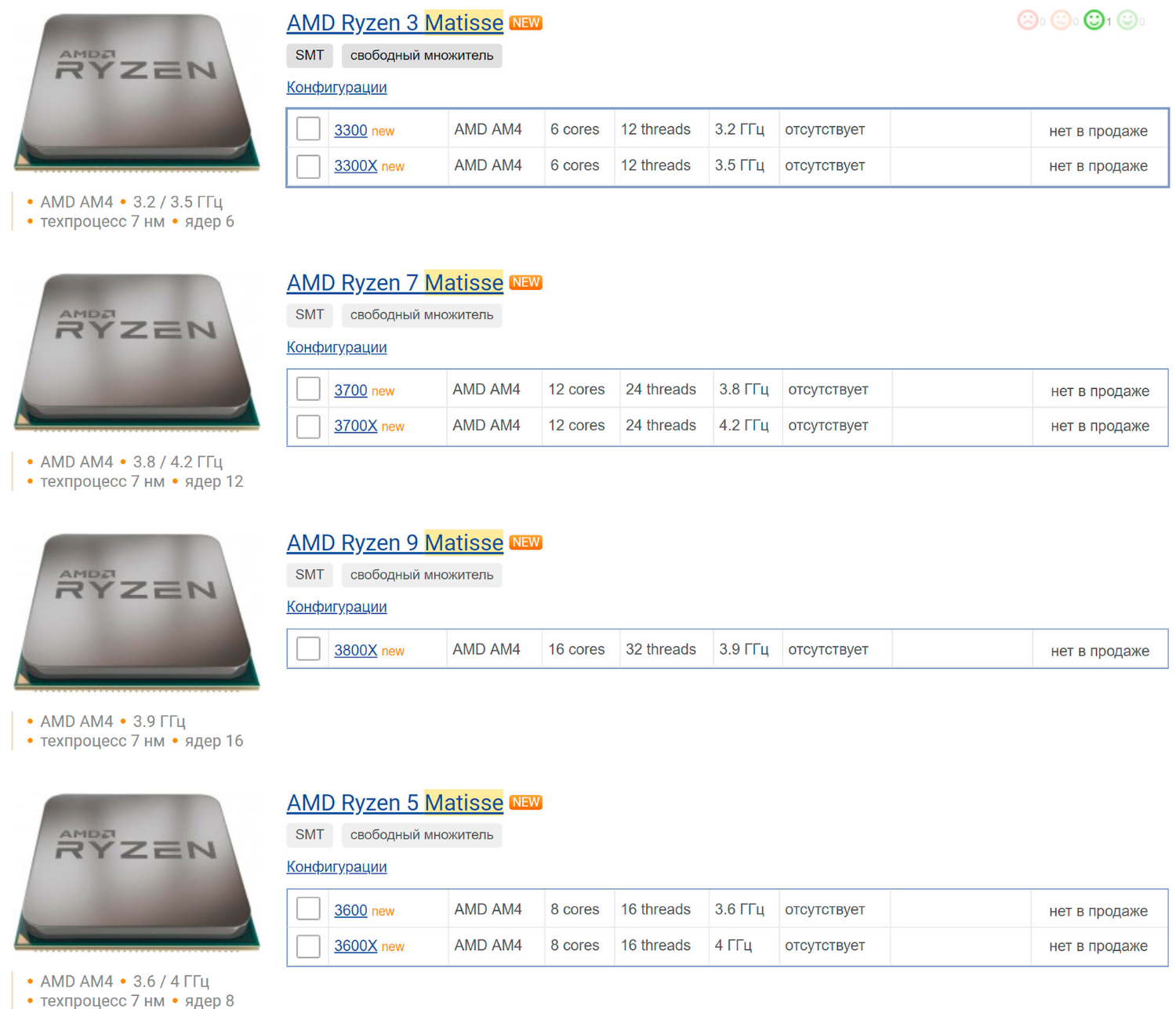 A retailer listing place holders isn't anything new – and even Amazon have gotten in on the act, with games that aren't even in development, rumored or announced having been listed. BloodBorne 2 is a great example of this.
The Ryzen 7 3700X could effectively kill off the Intel I9-9900K (if it's accurate, or even ballpoint accurate) because of the number of CPU cores and clock speed… also assuming AMD's reported IPC gains are true. According to reports, we could see about 10 – 15 percent (on average) IPC gain between Zen 2 and the original Zen architecture.
From my own sources, AMD is said to be aiming to be as aggressive as possible with the performance of these processors, and their partners primarily want IPC and clock speed increases in the 'mainstream' for gaming. My sources also confirmed the X570 will feature PCIE 4 and USB 3.2 and a few other things, such as the company aiming for 3200MHz RAM.
Other reports claim that we'll see a 'launch' at CES 2019 for the Ryzen processors, although these claims are shakier, instead, the safer bet is on announcements for various products, both CPU and GPU related. Indeed, I've had a few sources reach out and confirm that 'Vega VII' is a real product, and as the name implies is based on a 7nm Vega part and aimed at gamers… with impressive performance and decently priced.
Intel's recent roadmap announcements concerning its do-over of 10nm, and with Ice Lake (on paper) seeming to tick all the right boxes is great and all, but if AMD's product SKUs are even somewhat close to reality, it'll put the company under a lot of pressure. In fact (and this is just me spitballing here), one can make a compelling argument that AMD could 'sandbag' and launch a Ryzen series of SKUs up to a Ryzen 7, running at say 4.5 or 4.6GHZ, 12 cores and naturally with the IPC gains and a bit of overclocking, and of course, decent pricing, make Intel still rather uncomfortable.
Then mop up more sales later by launching a 16 core part, or refined clock speeds. The Ryzen 7 2700X is already a very nice CPU, and compares rather closely in most applications to the Intel I9-9900K when running at the same clock speed, so the prospect of a Ryzen 3000 series Matisse clocked in the 5GHz ballpark is likely extremely uncomfortable for Intel.
Other Articles You Might Like