Regular viewers will know that a every month, we discuss how AMD is doing against Intel in the Mindfactory.de hardware sales race for the previous month.
For those not in the know, Mindfactory.de is the biggest digital retailer in Germany, and every month the Reddit user ingebor compiles some very helpful graphs showing how Ryzen faired against Intel's 9th and 8th generation CPUs.
Now, I am a little late in the game to just talk about the results for July, however the dominance from AMD is so strong I wanted to highlight just how well Ryzen 3000 is doing here. However, we also have some sales reports for Amazon.com as well, straight from their latest Amazon best sellers list.
First things first though, let's take a look at the Mindfactory report for July 2019.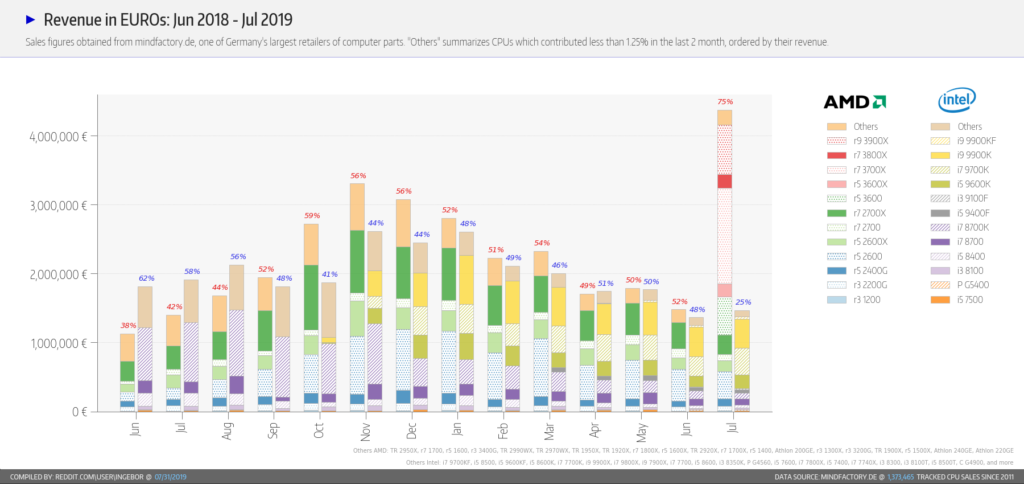 So, the above shows how much revenue each company generated (in Euros, of course) for each month. AMD has had a slight lead over Intel in this area for quite some time, usually beating their rival by a couple of percent. The difference for the month of July is simply staggering, as we see 75% vs Intel's 25%. Considering the price difference between the top end Zen 2 processor to the top end 9th gen, the difference really is astounding.
But what about units sold?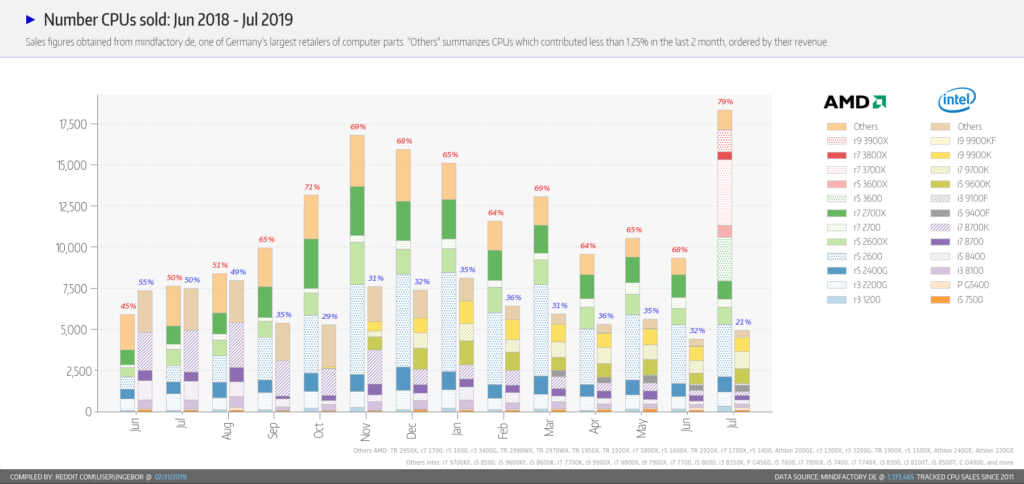 As you can see, we see a very similar story in terms of raw units sold with 79% of CPUs sold being AMD and just 21% being Intel. Now, I have to say – I was expecting AMD's lead over Intel to increase with the release of Ryzen 3000, but I was not expecting this absolute annilihation of Intel by AMD. But, the report doesn't stop there. We can also see how many of each generation of CPU customers bought.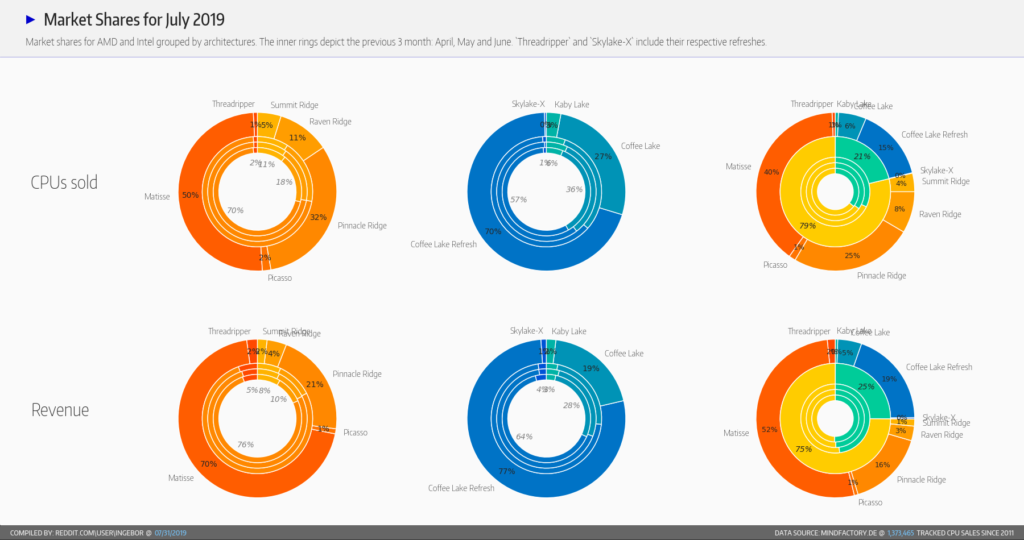 The results are, well, about what you would expect. We can see that AMD Matisse (AKA Ryzen 3000, makes up 40% in CPUs sold and 52% in revenue. As for Intel, we see the strongest showing from the Coffee Lake refresh, with both segments coming in around the 70% mark.
But what about Amazon, I hear you ask? Well, let's take a look. This is updated hourly, so if you wish to see if it's changed at all, you can go here.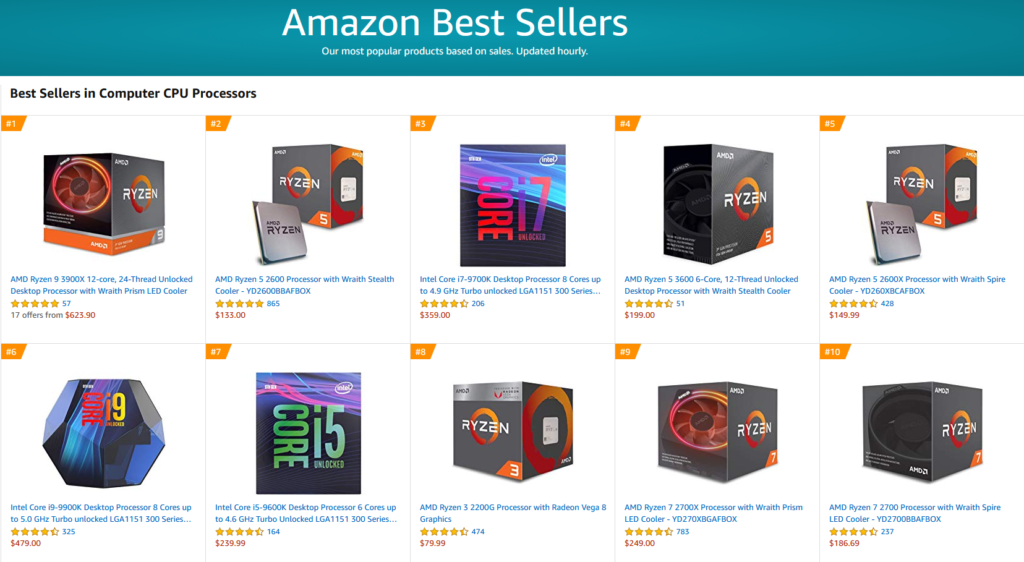 I will admit, I was a little surprised at the results here. I very much expected to see a top end Ryzen 3 CPU in the top spot, but the Ryzen 5 2600 in second place was a little bit unexpected. That aside, however, you can see a similar story reflected here that we saw over at Mindfactory. While we see some entries from Intel's 9th generation, most of the top 10 is filled with AMD Ryzen. But, interestingly we see more of an equal mix between Ryzen 2000 and Ryzen 3000, which is most likely due to the significant price cuts that Zen+ has gotten. If you are looking for some pretty stellar performance on the cheap, Zen+ is definitely a solid choice.
So all, what do you make of the findings, and just how long do you think we see this trend continue? Let us know.
Other Articles You Might Like
Tagged with
amazon bestsellers
,
AMD
,
AMD ryzen
,
amd vs intel
,
intel
,
intel 9th gen
,
july
,
mindfactory.de
,
ryzen
,
ryzen 3000
,
zen 2
.