A quick visit to any of the Reddit gaming subreddits will quickly show you an unpleasant picture. That is, Techland is abusing DMCA claims to take down mods for Dying Light.
Two Redditors, /u/drogean2 and /u/Descatusat, uploaded a mod to disable the always on film grain onto MediaFire and TinyUpload. These files were very quickly removed for terms of service violations. If you tried to visit the page for their singleplayer mod, this is what you would see…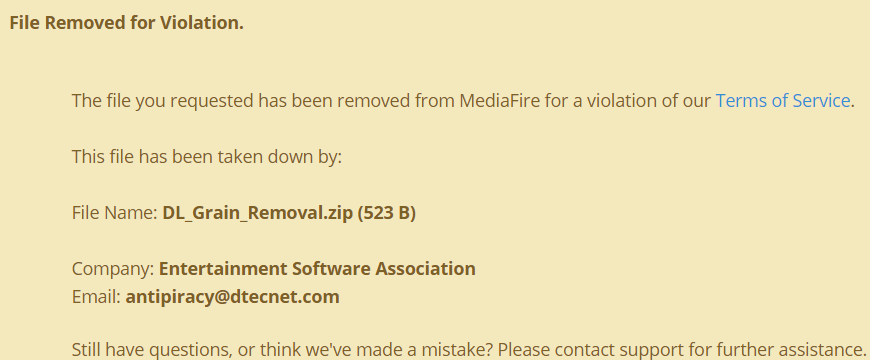 Now, this is not the only thing Techland have been up to. Their publisher, Warner Brothers is an ESA member,  and they are using ESA's relationship with MarkMonitor to file actual, legitimate DMCA claims against modders who wish to mod Dying Light for the PC.
Unfortunately, the facepalm worthy actions do not stop there. A close look at the latest patch notes (1.2.1) on Dying Light's Steam store page reveals this dilly…

You will notice one of those entries is "blocked cheating by changing game's data files". This simply means that they are using Steam's DRM to block ANY and ALL mods to their game. Now, if this was for multiplayer where a mod could be a hack or a cheat, I could understand where they're coming from. But, this will effect singleplayer as well.
So here's what they're saying, "You see this product you paid $60 for? Better not change it in any way, even if it is to improve your PERSONAL singleplayer experience. That cool brah?"
No. It's not cool.
The benefit of the PC is that the community embrace mods – it's one of the reasons games like Skyrim are still so popular today on PC. Texture mods, follower mods, new dungeons, ability to remove the carry weight, or do other 'things' which the developer didn't originally intend. Disabling Dying Light's film grain using a mod doesn't harm Techland in anyway, and the modders put out the mod for free.
Other Articles You Might Like