Over the past few years, picking up a decent tablet has gotten a lot cheaper. While certain brands, such as Apple's Ipad products certainly tick the high end boxes, picking up a good, but cheaper tablet, between £100 – £200 is now easily possible. Tesco's Hudl 2 is a surprisingly feature packed, solidly build and reasonably powerful android device that's a great all round entertainment device.
Considerably cheaper than the Ipad Mini (just under half the price) and also considerably cheaper than the Nexus 7, Tesco have managed to create a rather impressive entry into a rather competitive market.
£99 will buy you 2GB of RAM, a Quad Core Intel Atom processor, clocked at 1.83 GHZ, a 8.3 inch screen (running at 1920×1200) and 16GB storage space (upgradeable with a 32GB SD card). These specs provide enough juice to whizz through web browsing, NetFlix, YouTubing and run virtually any games without too much concern.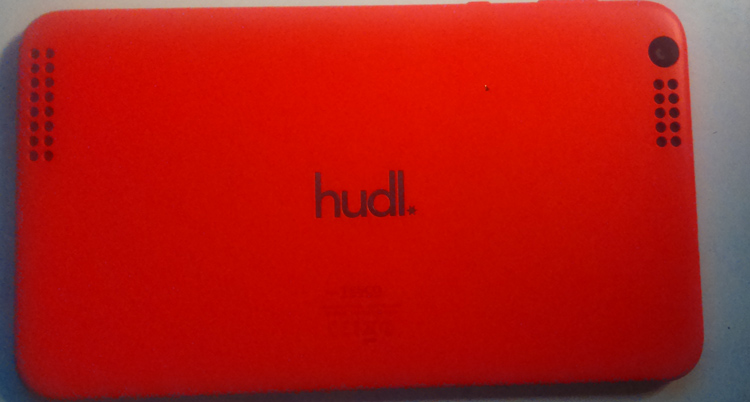 Speaking of the screen, as mentioned above, the Hudl 2 runs at a native resolution of 1920×1200, making the on screen text clear and sharp. Web sites look great – particularly if you're used to browsing on a smaller phone or an old tablet. The screen is bright and vibrant, and even allows you to set the color balance (a rather nice touch). The screen is also extremely responsive – so far, I've never felt like I've not had it respond to my gestures while zooming in or scrolling down. It all runs rather beautifully.
The Hudl 2 measures 224 x 128 x 9 mm (8.8 x 5 x 0.35 inches), and weighs in at 410g. It's heavier than some of its competitors (such as the Nexus 7) but isn't too bad. Because the display is so large, you'll likely want to hold it with two hands if it's rotated in landscape – but in portrait a single hand (if your hands are large, of course) is sufficient. The case is comfortable to hold, and doesn't make your palms sweat.
At the rear are two speakers, allowing the Hudl 2 to output in Stero sound (assuming you're not using either the 3.5mm headphone jack or the HDMI port). The speakers do a pretty nice job of playing audio, and don't sound 'tinny' or puny. The speakers position (at the devices rear) can be a bit of a problem – it can cause the audio to be muffled if you've the tablet lying against something. Chances are if you've it resting in your lap you'll be holding it anyway, so it cancels out the issue.
As I've touched on, there's the traditional 3.5mm headphone jack – headpones aren't supplied, but the port is so common chances are pretty good you've a pair of headphones (or three) that'll fit it. Additionally, there's a micro USB port, which allows you to either connect it to a PC (Windows detects the device easily enough, and without need for an installation disk) and a charging port. Oh – and the Mains (AC) power plug is actually a converter to the USB cable. Meaning the USB cable has to play double duty. It's a bit of a shame, but does shave down the cost of the device. Personally, I've several of the micro USB cables lying about anyway, so this isn't a big issue.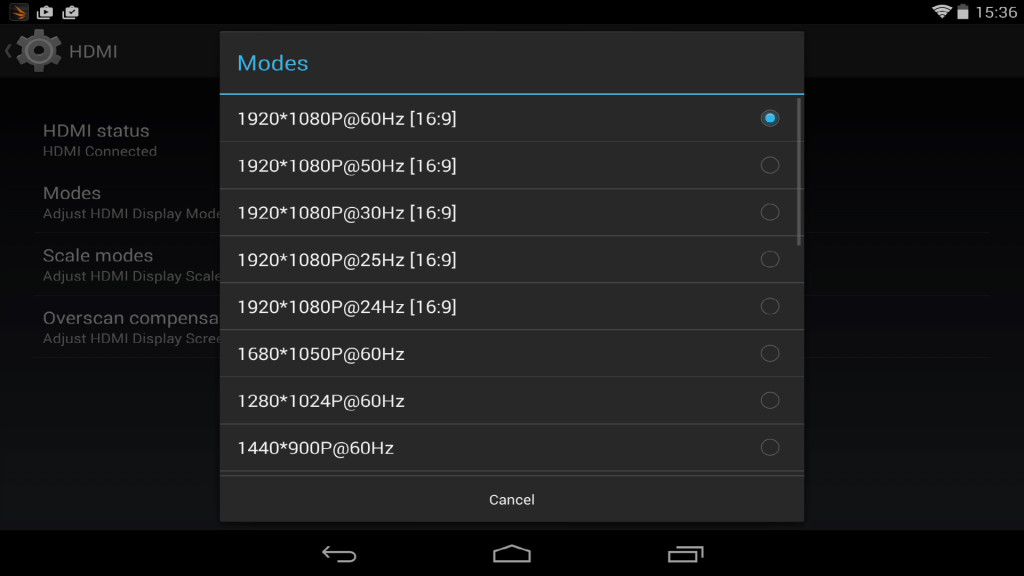 Rounding off the subject of ports, Tesco have included a Micro-HDMI connection on the Hudl 2 (the cable isn't included). This provides you opportunity to hook the Hudl 2 directly to a HDMI equipped TV. Fortunately, the device provides a plethora of resolution and scaling options. So you can select 1080P 60hz all the way down to 24hz, and even other resolutions such as 1680×1050, 1440×900, 720P all the way down to 640x480P. Combine that with the scaling and overscan options and you should be able to use the tablet on pretty much every TV. Naturally, the audio will be transported over HDMI too.
Interface & Operating System
The Hudl 2 is an Android device through and through, and my review model requested I updated the device the moment I connected it up to Wi-Fi. Doing this installed Android 4.4.2, and then updated the various bits of installed software. It took a few minutes with the device restarting a few times – all pretty standard stuff.
The moment you turn on the device, you'll be presented with various guides and welcome screens. They'll help you setup Wi-Fi, security, multiple users, tour you through the various Android and Hudl 2 features… if you're new to Android, or not too tech inclined, it could be a nice bonus. The more technically savvy will probably be using the skip button though.
Once you're in the device itself – everything feels pretty familiar. One of the major gripes I've got with the tablet is the inclusion of so much of Tesco's own software. The built in Tesco software cannot be uninstalled (unless you root the device), but can be disabled. I personally find it a little bit too much. It allows you to check your club card, order online and take advantage of other various Tesco services.
The unit is pre-installed with Google chrome, and within 10 minutes of first turning on the device you should be browsing the internet. Everything feels pretty responsive – and because it's so close to a stock Android, will likely feel familiar enough.
Performance
The Intel Atom Processor is a quad-Core CPU, running at 1.83 GHZ. The 2GB of RAM help ensure the device won't really have any problems running the majority of software. In the bemchmarking software GeekBench 3, the Tesco hudl 2 scores 792 for single core performance, while in multi-core testing, it scores 2119. That's not too shabby at all!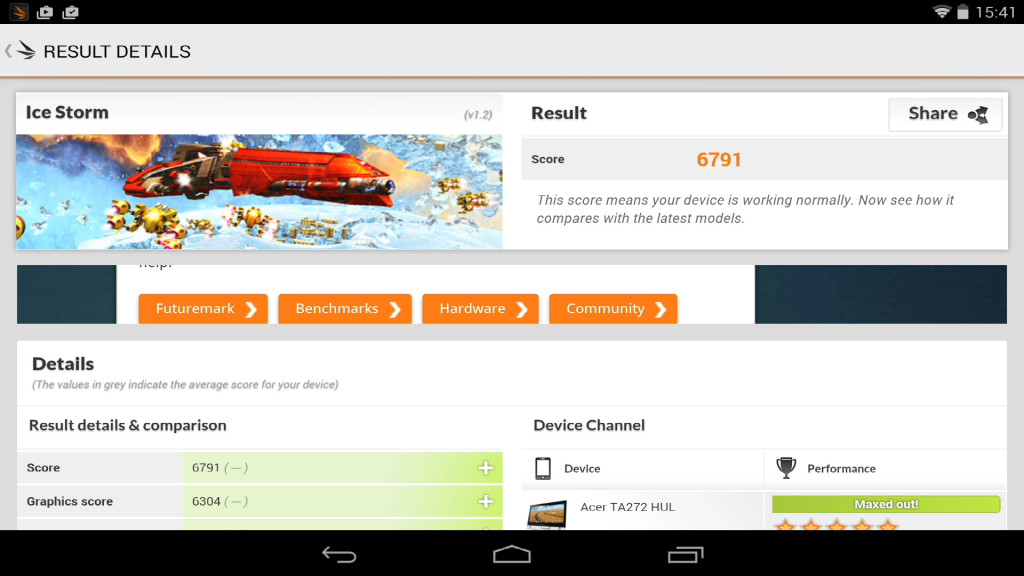 3D Mark has been available for PC's for a long time, being used by PC gamer's to test out their new rigs, and show off their pixel pushing power. Times have changed, and now 3d Mark has emerged on smart devices, so what better way to test out the 3d power of the Hudl 2 than by trying it out? Downloading and installing the application, we run "Ice Storm" – just the default test. We manage to score a total of 6791. While its graphics scores are lower than an Ipad, it does manage to hold out better on the Physics tests (which are more dependent on the CPU).
Regardless of how you slice it – this device isn't going to have problems with games. Trying out a variety of popular titles and applications all leads to the same conclusion – you'll be happy enough with the device, particularly given the price point Tesco's are targetting.
Camera's and Photos
As you'd expect, there is both a rear and front facing camera on the Hudl 2, functioning at 5MP and 1.2MP respectively. The rather low resolution of the front camera is a bit of a shame – it's enough for basic Skype and perhaps the odd Vlog, but it's actually a smaller pixel count than that found on the original Hudl.
The rear camera is a bit more impressive, at 5MP, and does an 'okay' job at capturing details. I want to be clear – this isn't going to replace an even remotely decent digital camera. But it's not meant to – it's perfect for a quick snap or two about the house, or daylight conditions. There's no flash associated with the camera – and the effects and camera modes are fairly basic.
The colors aren't awful, and the image is reasonably sharp – but it isn't going to set the world alight. The camera is certainly something Tesco's can work on for the Hudl 3.
Battery Life
The third issue with the Hudl 2 (the other two being the camera and the Tesco launcher) is the battery life. We've seen worse – but we've also seen better. How quickly the battery dies depends what you're doing with the device, but at best you're going to have it last about eight hours.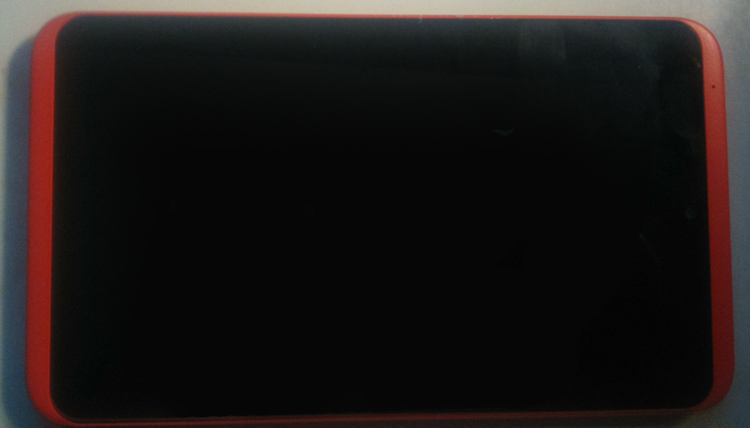 For basic internet browsing and Netflix watching, the screen is what gobbles up the majority of the juice. Clearly dimming the screen (even the lower brightness settings are enough unless you're in direct sunlight) will help extend battery life.
Games and other intensive applications will have the battery draining much quickly. This isn't a 'huge deal' if you're just using the device at home – as it's pretty quick to charge it up. But, if you're taking it out and about with you for extended periods, you might find yourself trying to conserve the juice. Personally, for me the battery is fine – but everyone's usage will and does vary.
Tesco Hudl 2 Final Verdict
This cheap tablet isn't perfect, but it's a very impressive entry into a fairly crowded market. Clearly, the Hudl 2 has been priced as an impulse buy – and one that you won't regret when you get it home. It has a rather nice screen, great performance and will effortlessly handle virtually any task you could ask of it.
For the price bracket, it's hard to ask or expect more. It feels nice in the hands, the screen is large and sharp, the audio is fairly impressive, and it doesn't feel cheap or flimsy.
The biggest issues with the device is the battery life and the Camera. Truthfully, one shouldn't expect a fantastic camera in a budget tablet – but the absence of a flash is a bit puzzling. This means that even darkened rooms can be a real challenge for the camera. The battery life doesn't personally affect myself or the RGT team, but for those who're using the device "on the move", it could be more of an issue.
I've no qualms recommending the tablet to anyone who's after a tablet this Christmas or for just an additional media device. If you're in the market for a tablet, and this is the budget you're working with, you'll struggle to do better.
Find the official website for the tablet here.
Tesco Hudl 2 Tablet Review
A review of the Tesco Hudl 2 tablet, showing off benchmarking, game performance, geekbench and so on. Features, specifications and value for money analysis.
Other Articles You Might Like