Intel's Skylake line of processors were the first desktop CPUs to use DDR4, this was back in August 2015 and along with the added bonus of lower operating voltages, the radically increased clock frequencies compared to the older DDR3 standard was the real improvement DDR4 bought to the table.
You can certainly buy DDR3 memory at speeds of 2133MHZ and above, and indeed if you're still on a Haswell or similar system, you can get lots of extra life out of it by running your RAM at higher speeds (which we tested). But modern DDR4 memory is still way faster, with kits on the market today commonly hitting way north of 3000MHZ. 
In this article, we're going to be doing a little experimenting with an I7-8700K (with all Six cores locked at 4.7GHZ) and testing how different memory configurations affect its performance. 
We'll have 5 different results, with the two results here for an equal mixture of fun and curiosity. The first configuration is running the memory at a rather meagre 1600MHZ, about the same speed of an average DDR3 memory kit you might have paired with an I5-2500K back in the day. The next configuration is 3200MHZ… albeit this time with just a single 8GB stick inside the machine.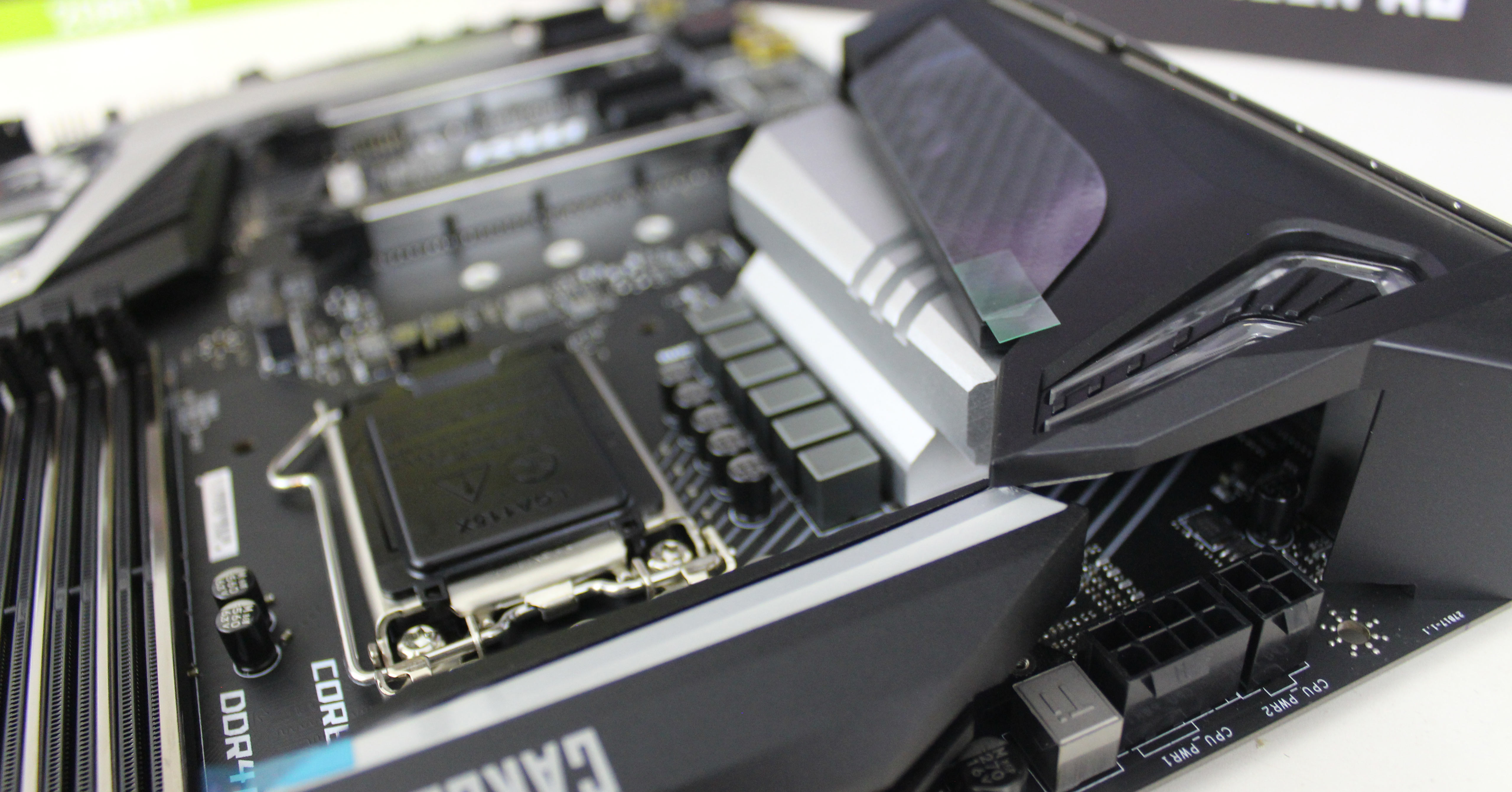 Obviously with a single stick of RAM, we're cutting the amount of RAM by half, but furthermore, we're also reducing the memory bandwidth as it isn't operating in Dual Channel (DC) mode, and instead just Single Channel (SC).
Then there's 3200MHz, a very common frequency for modern DDR4 memory kits, and we also will look at results from 3466MHZ too (the fastest we can crank these particular Crucial DIMMS).
Then rounding off our results is 2133Mhz, which is still very slow compared to modern DDR4 modules. The logic to include this is that I suspect some folks might still have memory at these speeds if they bought their RAM kits when memory prices were insanely a few years ago.
Another possibility is that you upgraded your motherboard and processor (say moving from an I5-6600K to an I7-8700K) and to save costs you kept the same RAM while waiting for prices to stabilize and now considering if faster RAM is worth the cash.
To keep things as simple as possible, we're going to keep the memory timings identical throughout our testing, so the only change will be the memory frequency. Memory timings can be an entirely separate discussion, and we'll possibly investigate this in the future.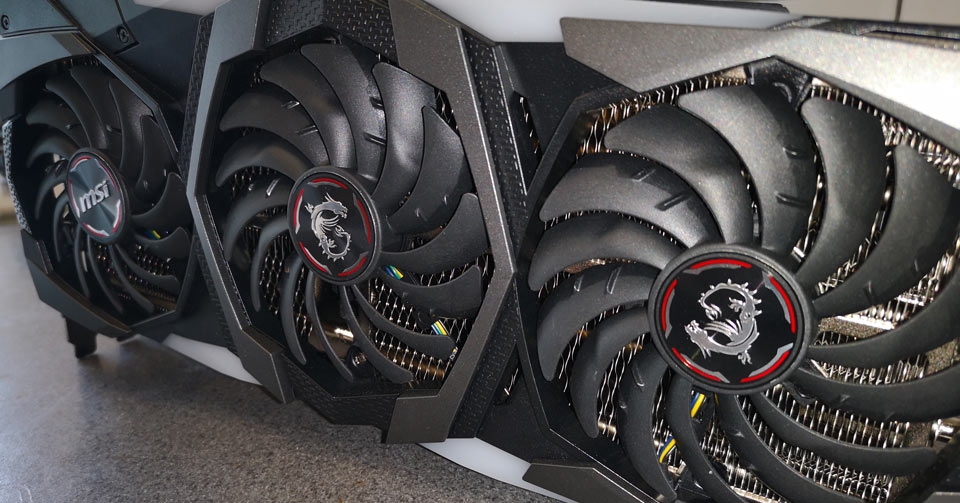 For the rest of our configuration – we're using an MSI RTX 2070 Super Gaming X Trio (we're in the process of reviewing this card, so it's the GPU that's currently stuck in the machine), an MSI Z390 Gaming Pro Carbon motherboard and an I7-8700K locked at 4.7GHZ across all 6 cores.
We're also using the latest patched version of games (auto patched via steam or its respective platform) and also Windows 10 64 Version 1903 with all the relevant patches applied.
SC means single channel (only a single stick of memory), while DC means there are two sticks of RAM. With all that said – let's start our tests, shall we? 
So, the first benchmark is CPUZ and immediately we see that the configuration of the memory makes no difference here, the results falling easily within the margin of error from one run to another.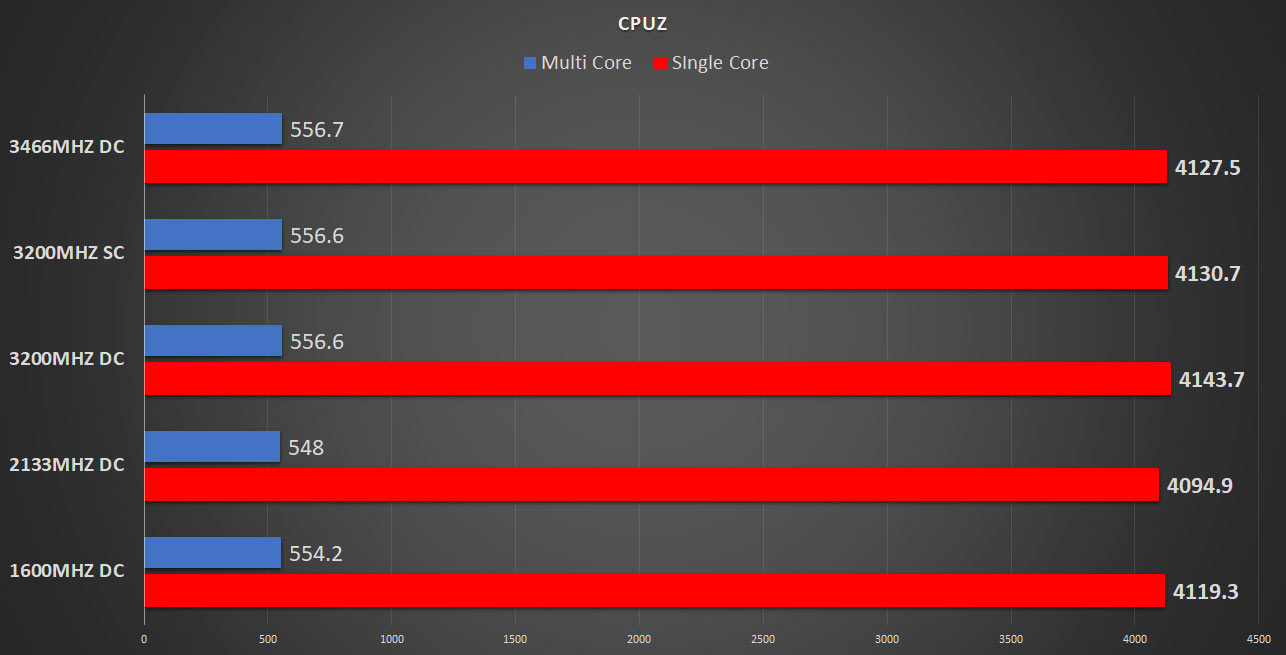 Cinebench R15 has a similar enough result, with 30 points separating the lowest performance. Indeed, the single-channel slightly edges out the results here. Why? In a nutshell, CPUZ and Cinebench don't heavily impact the memory system of the system, and therefore these tests really don't scale so much on Intel systems with faster RAM.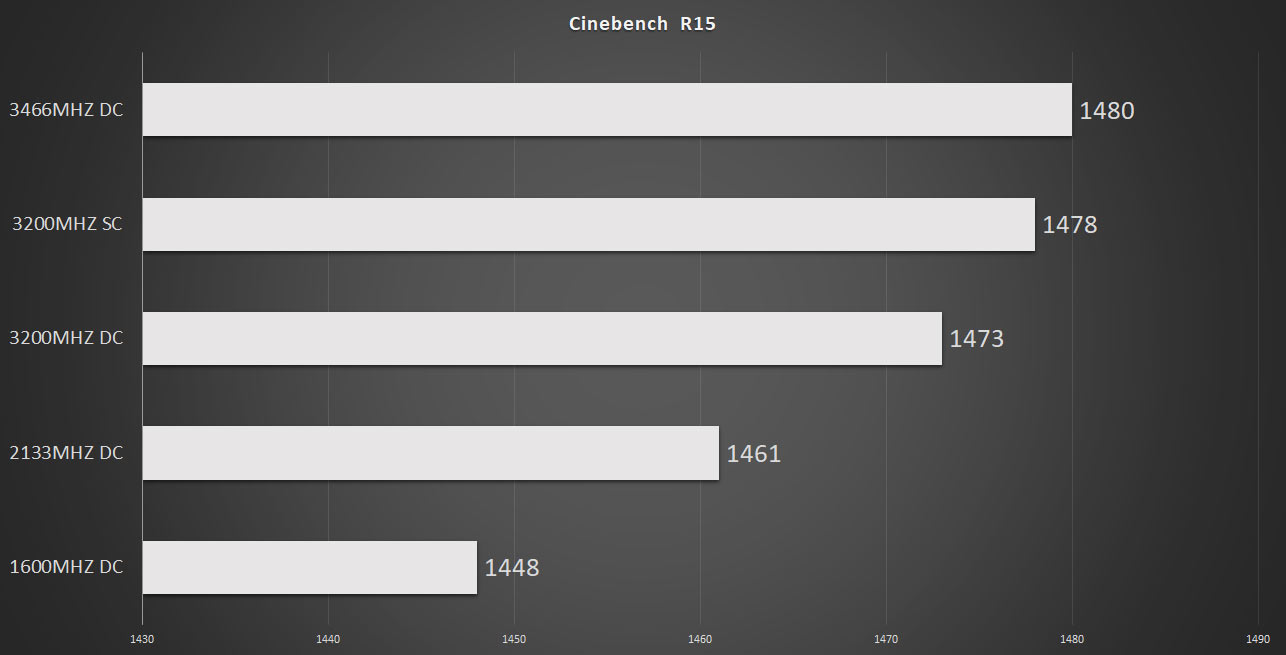 Things do change a bit with both FryBench and Corona – both benchmarks do suffer from slower memory configurations.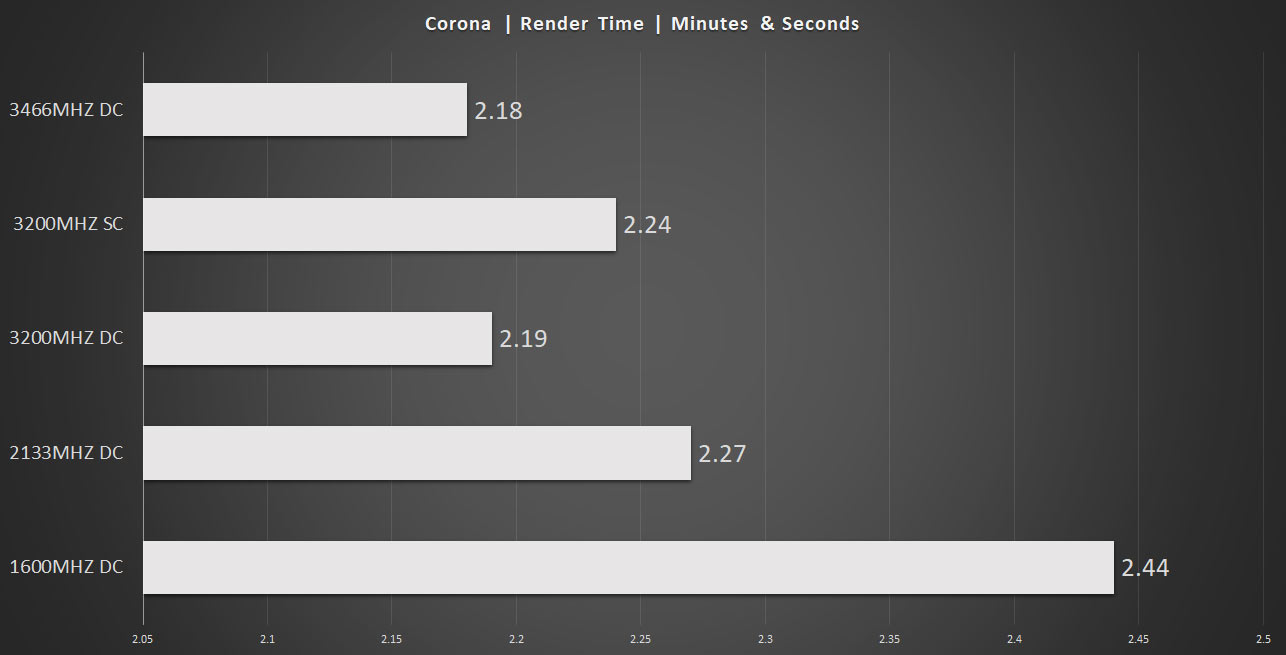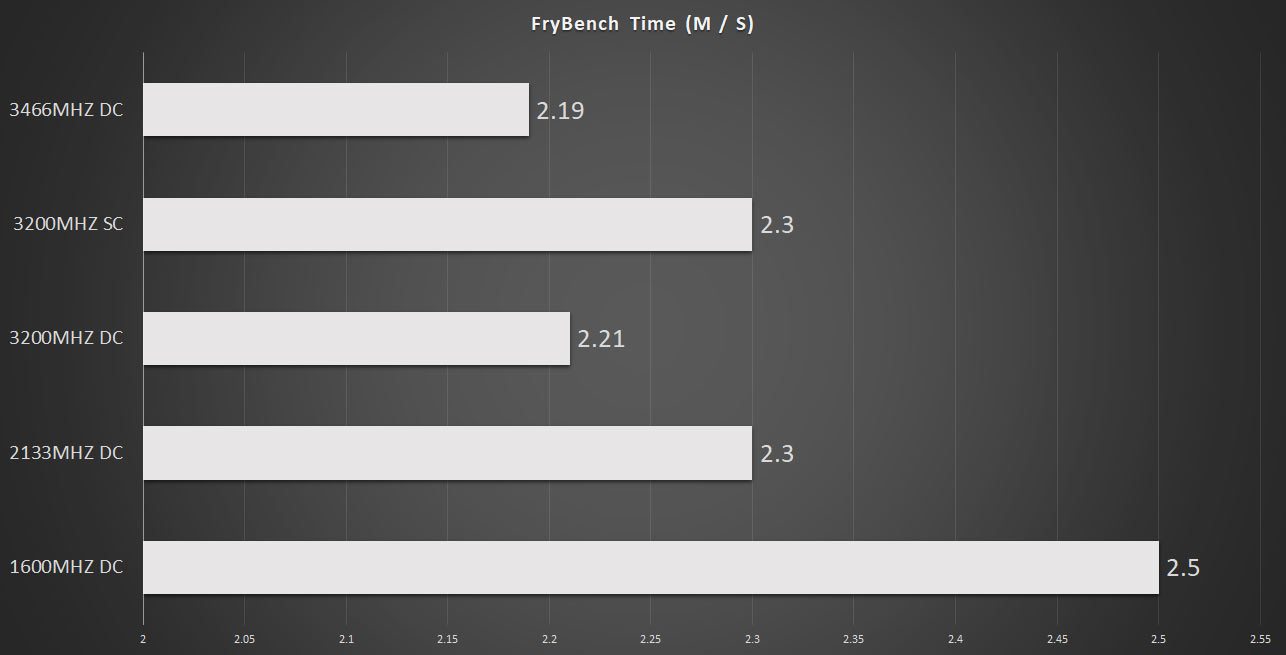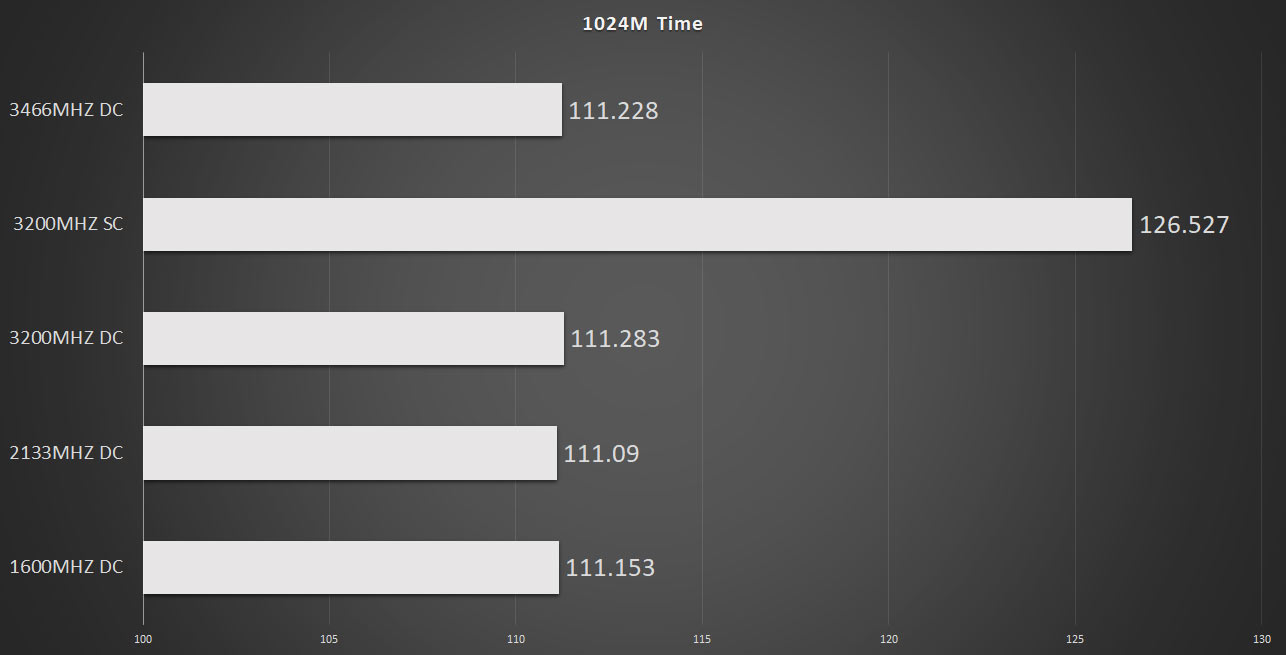 Okay, what about gaming performance?
For our gaming tests we're going to run at just 1080P, but crank all the details at the max. Remember, our RTX 2070 Super is about on par with a GTX 1080 Ti, so that's quite a bit of graphical power for just 1080P, so we shouldn't have much of an issue with the resolution holding us back in most games.
Superposition is the exception to this – a benchmark designed around stressing and utilizing the GPU to its absolute max, we used the slightly less demanding 4k optimized. Overall, the variances are pretty close to one another.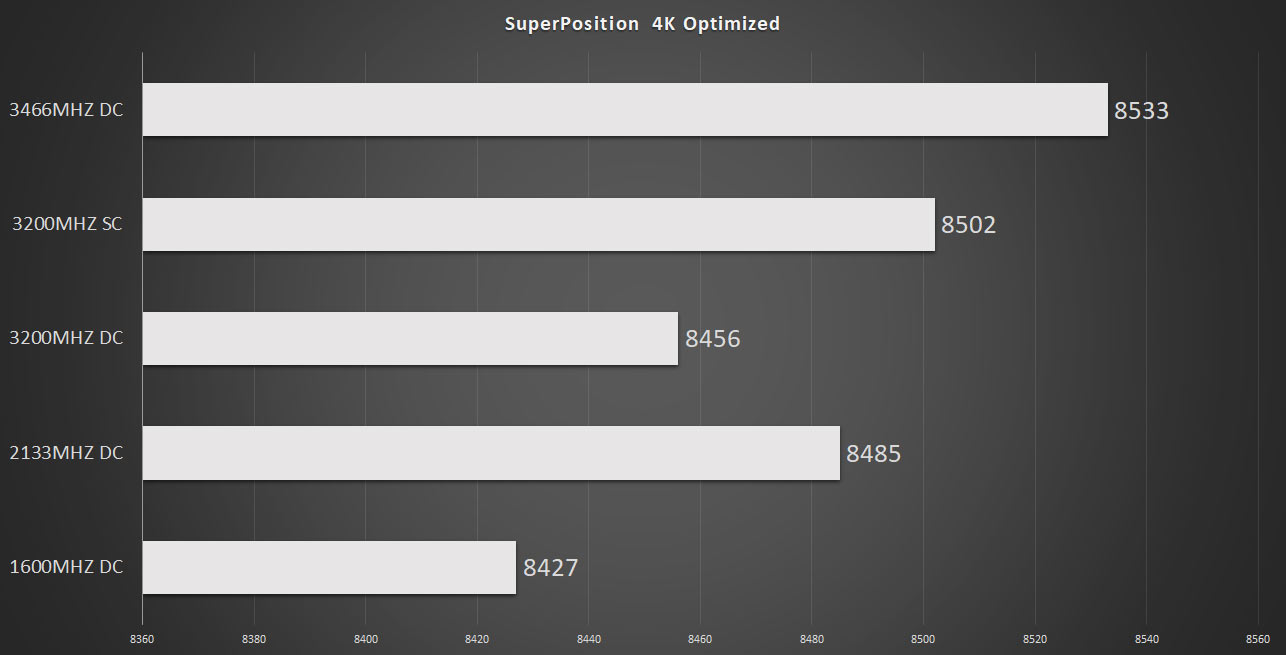 Batman Arkham Knight changes the story though, Dual Channel at 1600MHZ drops by 38 frames compared to the 3200MHZ results, about 30 percent difference in performance for the average, which is definitely significant.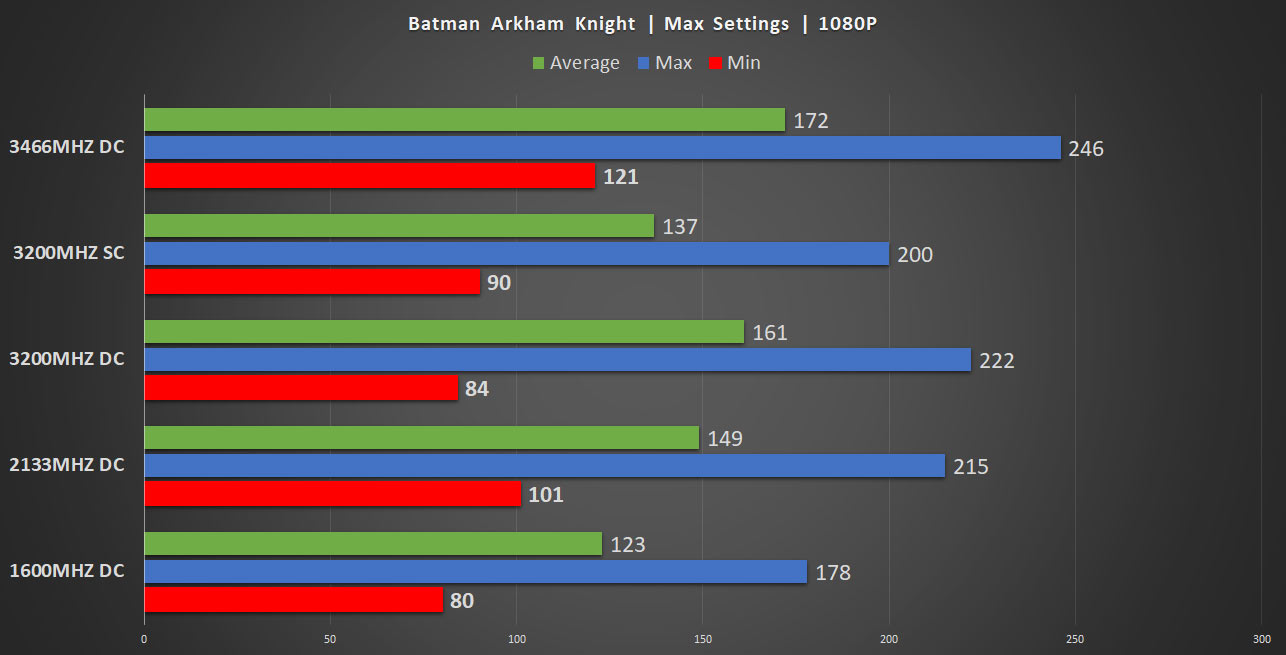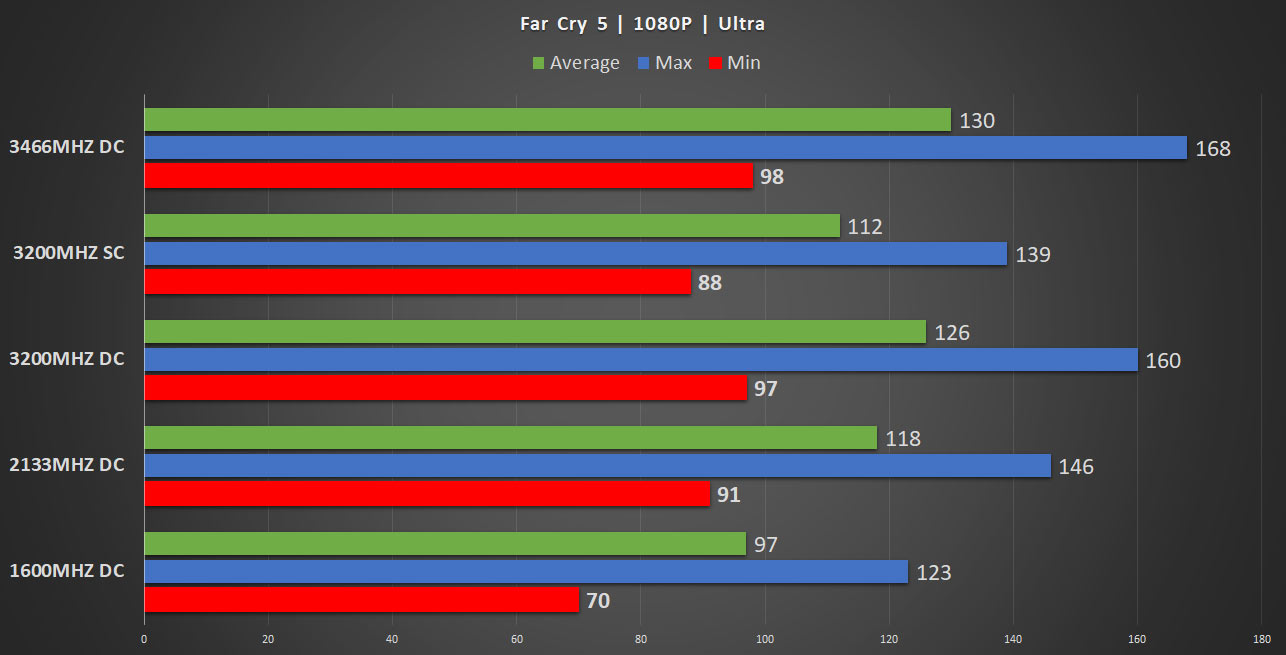 Shadow of the Tomb Raider continues this trend. A single stick of faster memory is a much better idea than an ultra-slow memory kit.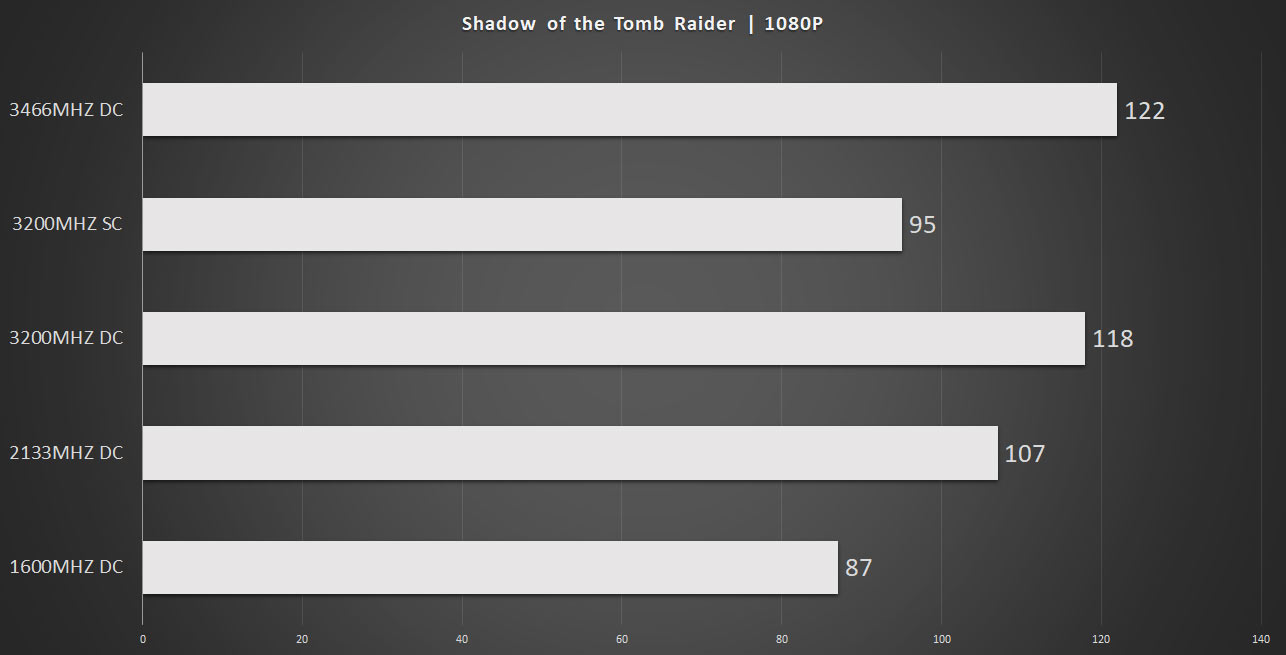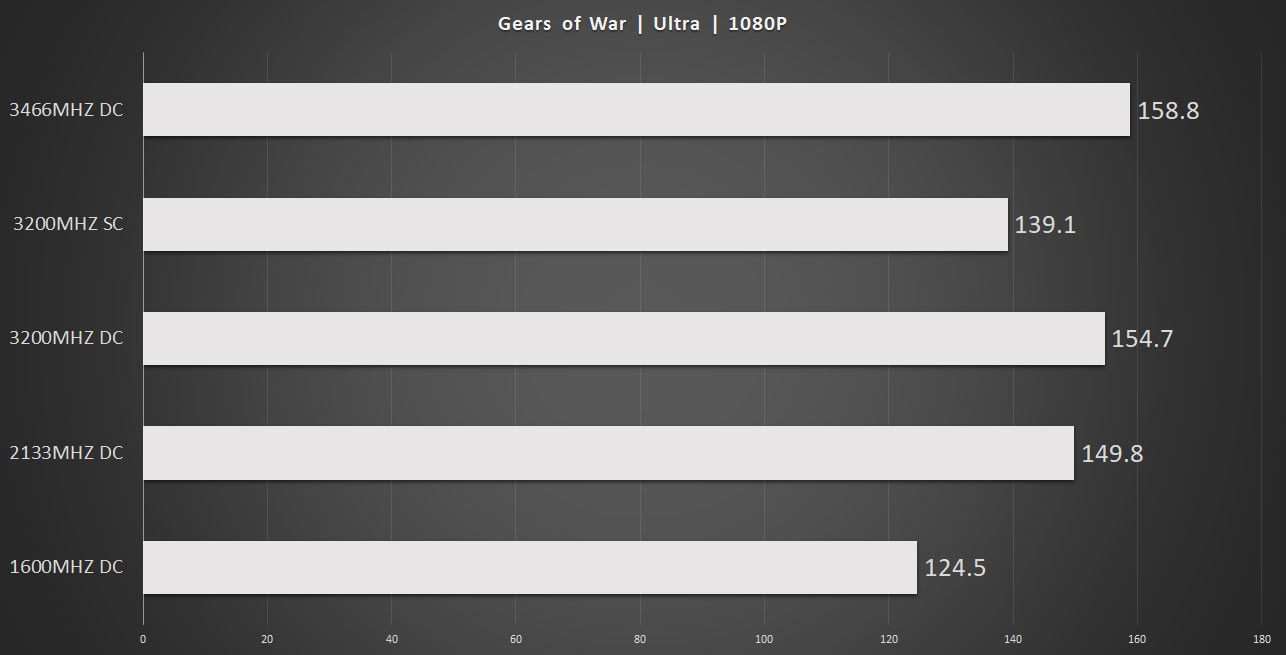 Yesh, Gears of War 4 and Final Fantasy 15 benchmark really gets hit with slower memory configurations. Gears loses 34 FPS with only 1600MHZ RAM, though in the more realistic 2133MHZ configuration, there's only a 10FPS difference.
As for Final Fantasy 15, there's over a 700 point difference between the 2133MHz result and 3466MHz.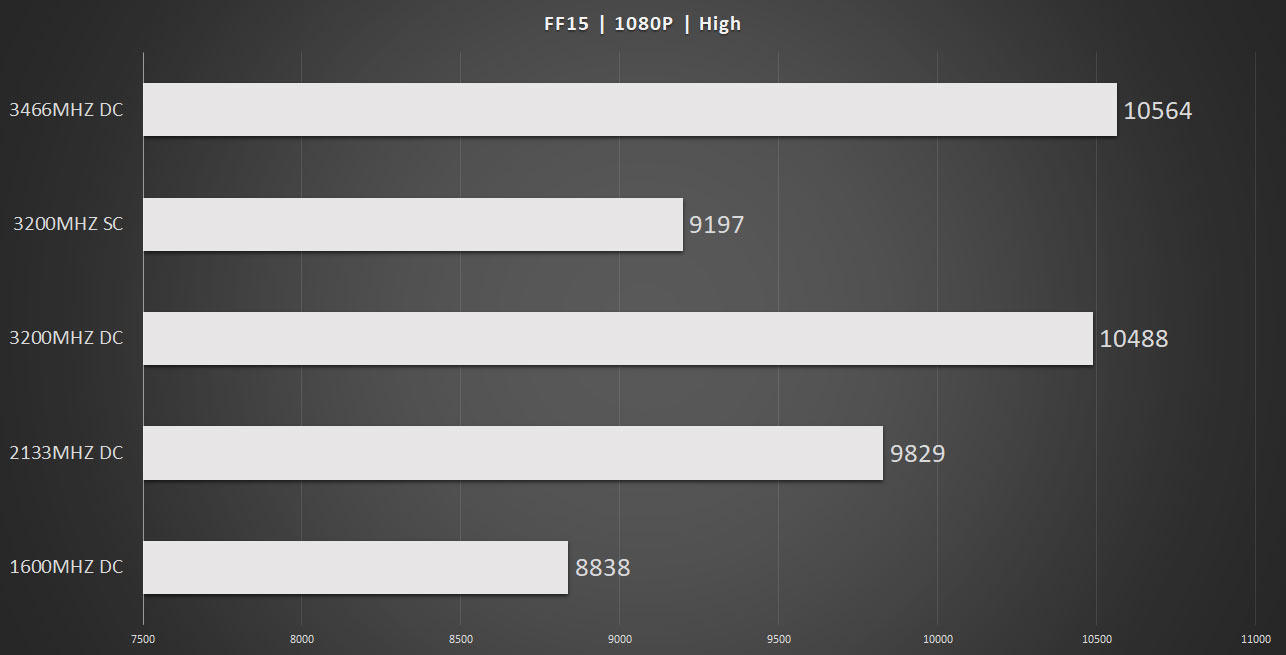 Wrap up
So then – for certain synthetic tests, the results are within the margin of error for the different RAM configurations. Indeed, with tasks such as web browsing or video playback (ie, anything that's not very intensive), the performance difference probably won't be anything you'll notice.
Performance does change more significantly when running more intensive tasks such as 3D rendering, and performance in games increases substantially with faster RAM. 
If you're running an I7-8700K (or similar system such as the 8600K or an I9-9900K) from Intel and happen to still be running with slower memory speeds, then picking up a faster set of DDR4 RAM makes an awful lot of sense while RAM remains reasonably cheap. 
Fortunately, for Intel owners, memory frequencies have less of an impact on performance compared to AMD's Zen architecture, so extreme memory speeds are less important.
We've also done a similar investigating for the 2nd generation Ryzen processors too, but we're just starting our investigations for the third generation Ryzen CPUs. So if you want more fun content, be sure to check back soon and subscribe to the youtube channel.


Other Articles You Might Like