According to a new report from ArsTechnica, Valve are working on a Switch-like portable console for Steam games.
The Switch has been hugely successful for Nintendo, but the few attempts at Switch-like portable PCs have fallen pretty flat. But, Valve of course have a lot of mindshare with gamers, and their backing could be what their portable PC console needs to be successful.
According to ArsTechnica's insiders, there has been chatter for some time that Valve has been in development for some time. But yesterday, there was an interesting discovery made by SteamDB operator Pavel Djundik.
He spotted an interesting change in Steam's code, which mentioned a device called SteamPal.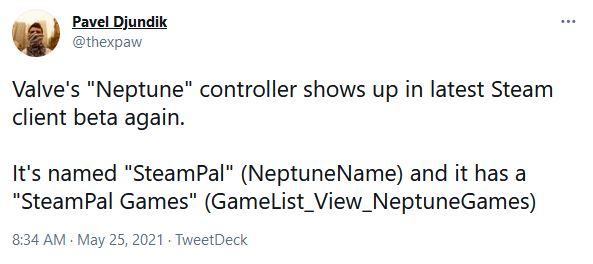 As Pavel implies in his tweet, the "Neptune" codename has been floating around for some time, with the "Neptune Optimised Games" string. At the moment, the SteamPal seems to be the codename for the device, but we have no way of knowing if that will be the device's final name. But, further according to what ArsTechnica's sources have discovered that is an all-in-one PC with gamepad controls and a touchscreen.
It seems then, that it won't be dockable like the original Nintendo Switch and will be more comparable to the Nintendo Switch Lite, the all-in-one Switch that targeted a cheaper price range.
But what about the specs inside the machine, I hear you ask? According to the Reddit user amdbatman, the SteamPal handheld device will use an AMD APU with the codename "Aerith".

Of course, we should wait for an official announcement from Valve before getting too excited, but the prospect is definitely interesting for sure. It all comes down to three crucial things – specs, price and availability.
Other Articles You Might Like