The release of Microsoft's Windows 10 Operating System has been one of the most eagerly anticipated in the companies history – not only does it usher in the age of DirectX 12, but also brings in a plethora of new features and goes back to a more desktop PC and power-user friendly GUI. Unfortunately, news of Microsoft's recent updates to both their Privacy Agreements and Terms of Service has certainly killed some of the W10 hype, with the updated privacy notice giving Microsoft a rather unhealthy and frankly creepy insight into your personal and online space.
Fortunately there are ways to help put you back in the driving seat of your own privacy settings – but it's going to require a bit of work on your part, but when you read "We will access, disclose and preserve personal data, including your content (such as the content of your emails, other private communications or files in private folders), when we have a good faith belief that doing so is necessary to", for example, "protect their customers" or "enforce the terms governing the use of the services," it's certainly good motivation.
Microsoft's virtual assistant, Cortana isn't any better: "To enable Cortana to provide personalized experiences and relevant suggestions, Microsoft collects and uses various types of data, such as your device location, data from your calendar, the apps you use, data from your emails and text messages, who you call, your contacts and how often you interact with them on your device. Cortana also learns about you by collecting data about how you use your device and other Microsoft services, such as your music, alarm settings, whether the lock screen is on, what you view and purchase, your browse and Bing search history, and more."
The software will also monitor what it calls "speech data" (but doesn't specify more than that): "we collect your voice input, as well your name and nickname, your recent calendar events and the names of the people in your appointments, and information about your contacts including names and nicknames."
If you're uncomfortable with the above, then you've come to the right place. The first and easiest step is to have a local Windows 10 account, not one associated with Microsoft's cloud services. During the initial Windows 10 setup, you might find Microsoft heavily suggest this isn't a good idea, but it's really the best way of reducing the amount of info Microsoft collects about you.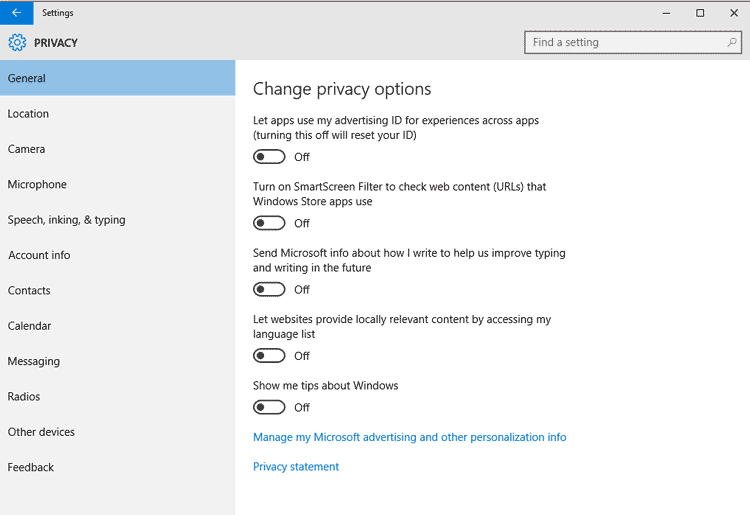 After that, you need to head over to privacy settings: Click start -> type Privacy and then load up privacy settings. There's little reason to leave any of the default settings "as is" – go through each of the privacy settings one by one and disable their monitoring.  As you can see above terms such as "Send Microsoft info about how I write to help us improve typing and writing in the future" and "Let apps use my advertising ID for experiences across apps" doesn't really bring out a great deal of user confidence. After you've go through the various tabs, such as General, Location, Camera, Contacts, Microphone and so on, we need to turn our attention on to Project Spartan.
I would highly suggest you don't use Project Spartan and instead use something like FireFox or Chrome, but it's worth disabling the (alarming) privacy problems with Spartan first, just in case an application loads of Spartan by default. So once again on the W10 desktop, type "Spartan" to load the application, then click on the "…" on the right right corner, settings and then advanced.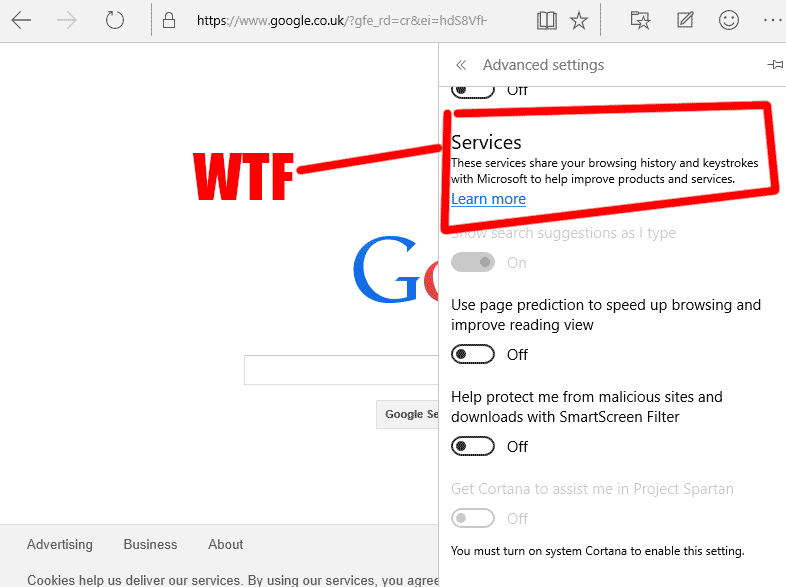 I think the highlighted text above "These services share your browsing history and keystrokes with Microsoft" says it all really. It's a crazy this stuff is on by default – and if nothing else is potentially a massive security flaw in the future.
Next, click start and type in "command" -> right click Command Prompt and -> Run as Admin. You'll get a good old fashion dos Command prompt window where you need to type out the following commands in order.
SC DELETE DIAGTRACK
SC DELETE DMWAPPUSHSERVICE
ECHO "" > C:\PROGRAMDATA\MICROSOFT\DIAGNOSIS\ETLLOGS\AUTOLOGGER\AUTOLOGGER-DIAGTRACK-LISTENER.ETL
If you've done everything correctly, re-entering the command will get you an error message telling you that the service isn't working.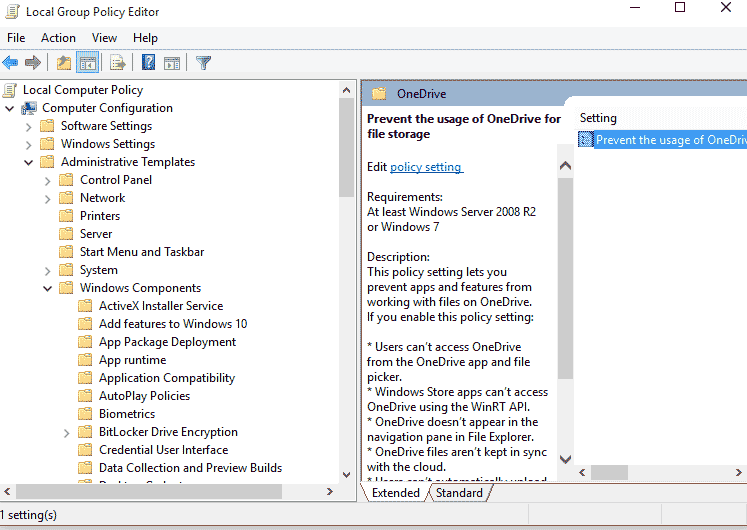 Now, we need to start our work in Group Policy: Windows + R -> gpedit.msc -> okay. We've two tasks while we're here, the first is disabling the storage of files in OneDrive. To do this, click on Computer Configuration -> Administrative Templates -> Windows Components -> OneDrive -> right Click -> Prevent the usage of OneDrive for File Storage -> Okay.
With the window still open, we need to disable Windows 10 Telemetry. The problem is that it's a lot harder to disable on non-enterprise versions of the Operating System, with even the lowest setting sending over limited data to Microosft. We can fix this, but requires a bit of effort. First things first -> Computer Configuration -> Administrative Templates -> All Settings -> Allow Telemetry -> Disabled.
If you're running Windows 10 enterprise, that's all you need to do to stop Telemetry, but if you're running a home version of Windows 10, you've got to follow these steps too: Start+R -> Regedit -> HKEY_LOCAL_MACHINE -> SOFTWARE -> MICROSOFT -> WINDOWS -> CURRENT VERSION -> POLICIES -> DATACOLLECTION. Double click on AllowTelemetry and change the value from "1" to a "0".
If you're running a wireless connection, be sure to head over to Manage Wi-fi settings and look at the options of Wi-Fi sense. There are several glaring security flaws there, so make sure to disable everything and untick everything under "For networks I select share them with my…"
The alarming thing isn't that these options necessarily exist – the alarming thing is that everything is on by default. The average computer user isn't going to know how to disable this stuff, let alone that these intrusive options even exist inside the operating system. In absolute terms, Windows 10 is an improvement over older iterations of the software, but in terms of user rights it's a major step backwards. As excited as I and many other gamer's are about the possibilities of DirectX 12, there's a good part of me hoping Windows 10 is challenged by SteamOS and more games become compatible with the OS. With so many in the industry throwing support behind Vulkan (including Valve) there's a good possibility that those who're looking to game will at least have an alternative to fall back on in the future.
Other Articles You Might Like