Sony's Playstation 5 console is scheduled to launch Holiday 2020, within the same rough time window as arch-rival Microsoft's Xbox Scarlett. A new report from a respected Japanese journalist indicates that Sony isn't going to launch just the base model console, but instead also a 'Pro' version of the new console too.
There's been no shortage of leaks for the Playstation 5, along with official information, but according to Japanese journalist Zenji Nishikawa, Sony will be employing a radically different strategy compared to the launch of the PS4, which saw the launch of the 'base' model console, then a few years later the PS4 Pro came along, which bumped up the GPU and CPU perf0rmance considerably.
The aim of this article is to not only examine what Zenji Nishikawa revealed but also delve into some older rumors and official info too so we can perhaps get a bit of content. In the future, I'll go deeper into the actual technical specs of the machine (and what has changed versus the Playstation 4), but this article will instead focus on the leaks we've had of the PS5 itself and if any of this fits in with the PS5 Pro rumor from Zenji.
Before getting deeper into the rumor, let's talk about the obvious caveat – the information Zenji received is from the CEDEC event, where he was speaking to developers who told him that Sony understood that there was a demand for a Pro version of the console and that the company were now aiming to launch the PS5 and PS5 Pro simultaneously.
Zenji Nishikawa has been accurate with previous leaks, including leaking the fact we would see new Switch variants and is widely known in the industry with high regard. With this said, any information can be wrong, company plans can change, and most of this information is also from a Live Stream (linked above starting at about 29 minutes in) with the help of translation.
Also, there aren't specifications of either console he was given – or what exactly Sony is attempting to achieve with a 'Pro' version of the machine. It's possible "Pro' isn't a spec bump, but instead other differences more reflecting the launch of the PS3. If you recall the Playstation 3 shipped with different hard drive sizes.
Given the PS5 will be shipping with a very fast SSD (likely rivalling a PCIe Gen 4 drive given what Sony have said), a potential is that the Pro model would come with a larger drive, or perhaps with a secondary drive too. Other differences might be accessories, such as a bundled headset for online or other peripherals – we'll discuss this later on in the article.
Microsoft is working on a few different consoles, Lockhart and Anaconda. Phil Spencer did mention that Microsoft was working on a few Xbox consoles simultaneously during E3, but after this, there were reports Lockhart was dead.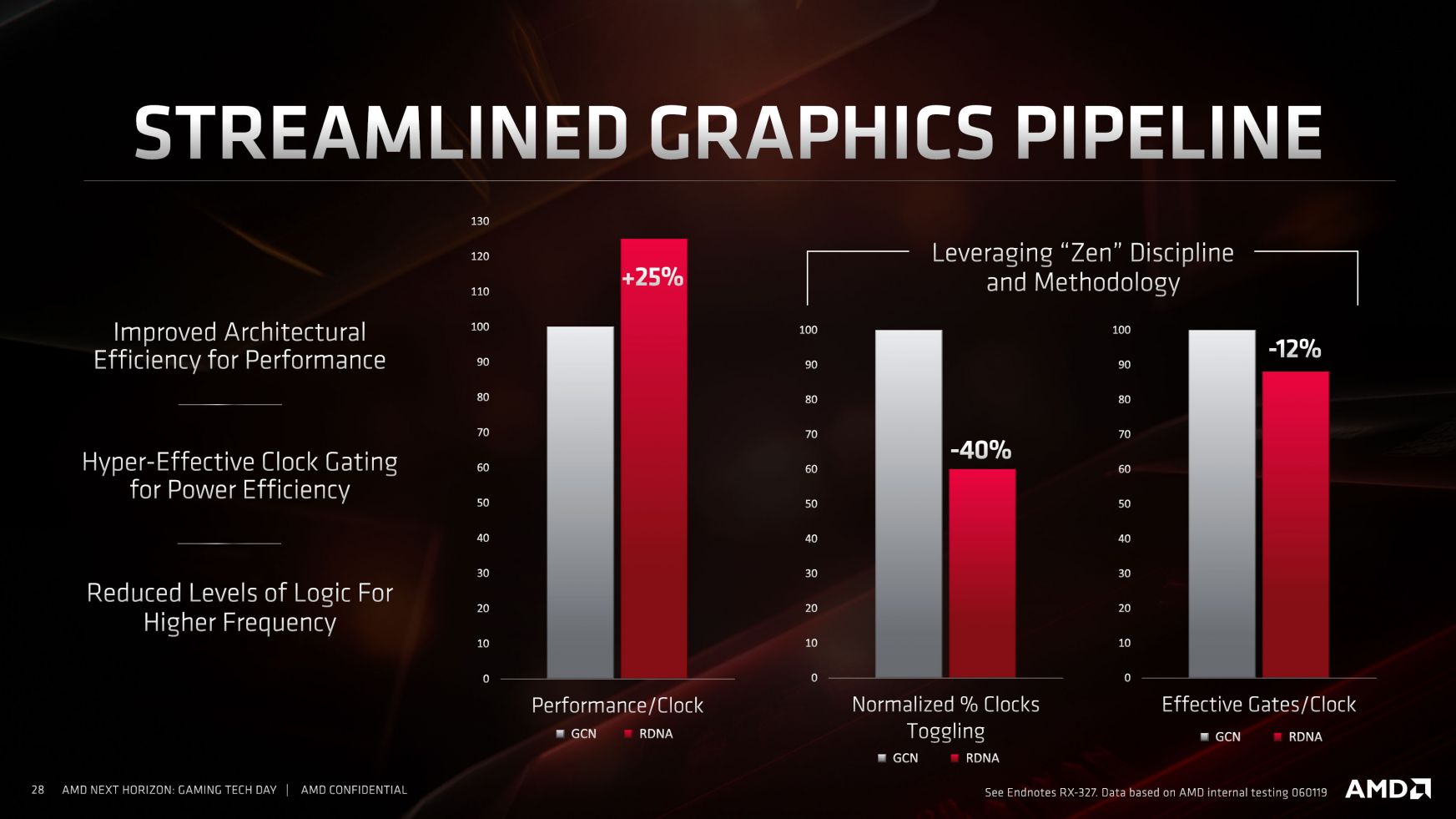 Later we had other reports that Xbox Lockhart wasn't dead, instead, it is designed as a 'streaming only' console, with most processing handled on xCloud (Microsoft's game streaming service) and with local processing relegated to basic game logic and network stuff, which should reduce latency compared to say how Google's Stadia works which doesn't process any game data locally at all.
Xbox Anaconda is the most powerful system console from Microsoft. From the little we know about it, it's based on a second-gen AMD Navi architecture (with hardware ray tracing), a custom Zen 2 CPU and lots of memory. Oh, and the SSD is super-fast, too (about 40x faster).
If you read that and thought it sounded quite similar to the PS5 – you'd not be wrong. With both Microsoft and Sony opting to choose AMD as their partner, both had access to similar choices in hardware. Engineers designing consoles have set goals which often crosses between companies- X price, Y release date and Z products in a companies roadmap to work with.
So while Microsoft and Sony both have AMD 'bits' to work with, both have a set price point they won't wish to cross and target a release for Christmas next year, that isn't to say Xbox Scarlett and PS5 will be the exact same box. The variable here is how the machines are configured with the parts available. The amount of memory, the number of CPU cores, the number of cores crammed into the GPU of the machines, the clock speed the processors run at and so on.
Sony has confirmed 8 CPU cores (based on Zen 2) in the Wired interview with Mark Cerny, an rDNA based AMD GPU. The performance targets here weren't mentioned, and the amount of system memory and many other specs were also absent.
But we have seen a few hints as to what might be inside the machine thanks to a couple of leaks which potentially give us some idea of what Sony is working on.
TumApiSak (a well-known leaker) found an APU which is POSSIBLY the PS5's APU. While it does seem a good fit for the Playstation 5's APU, Gonzalo does have a few things that seem a little odd (mostly, the GPU generation which we'll get into). Gonzalo has been spotted twice. The first time was likely an early production model (as it was listed as ES = Engineering Sample), which had lower clock speeds for the GPU and a few other differences.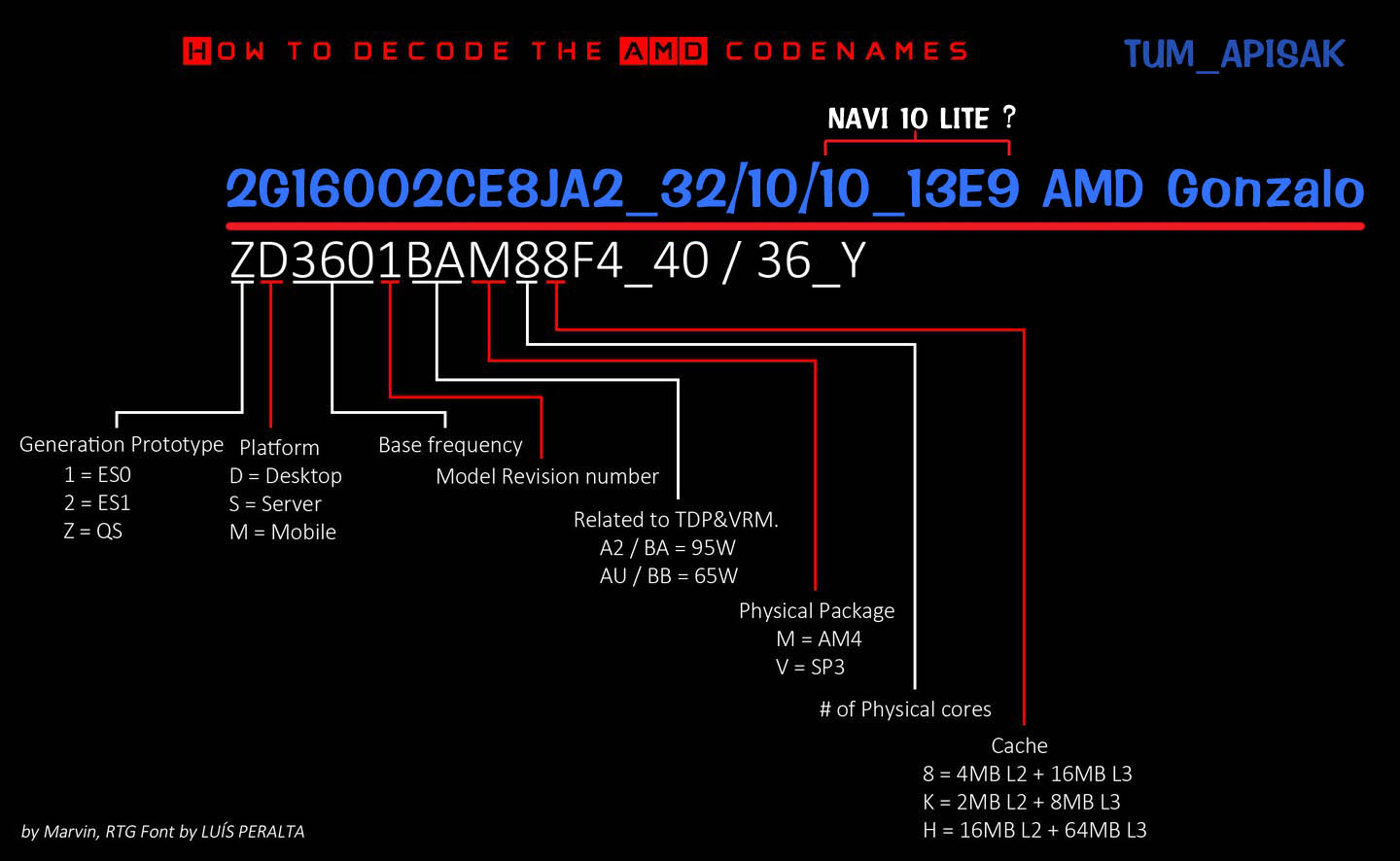 The above might look gibberish at first glance, but all you need to know is that it's a Zen 2 based CPU with 8 Cores, the platform is gaming (ie, console or similar), an ES (Engineering Sample), 1600MHZ for the base CPU clock, and 3200MHz for the 'Turbo', and the GPU runs at 1GHz.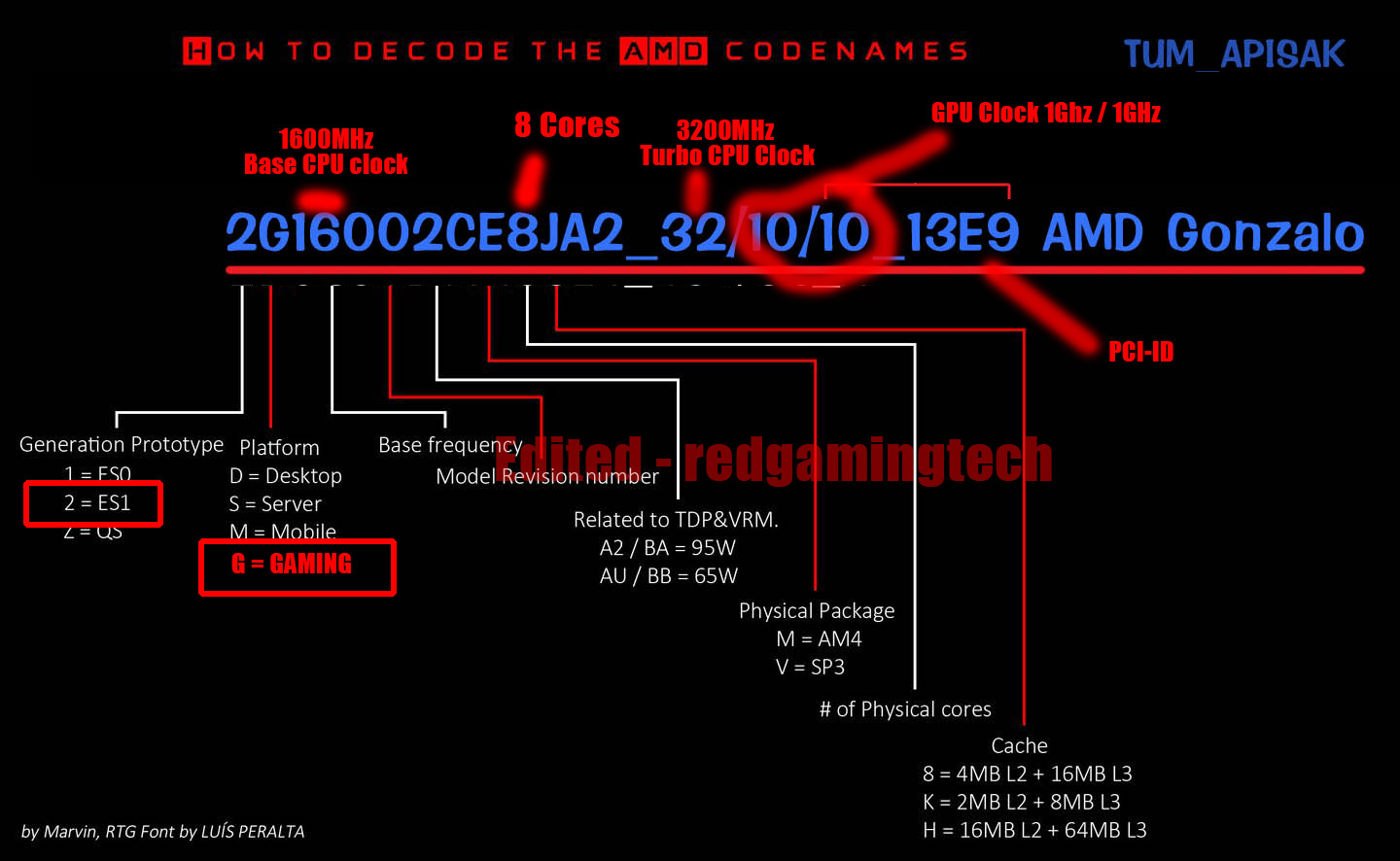 In the above graphic, I've edited it to highlight and further explain the relevant sections.

Tum_ApiSak a few months later tweeted the above. The APU is now a qualification sample (basically, this means that it's closer to final production and no longer has any glaring flaws), the GPU clock is now up to 1800MHZ, but CPU speeds are the same as previously.
Consoles do NOT have base and boost speed like a PC but instead will operate at the same clocks unless there's a major heat issue (such as blocked air vents) and then the parts will automatically downclock. The whole point of a console is to maintain the same performance so that developers can easily develop games for it. So the base and turbo speeds here likely related to the PS5's backwards compatibility mode.
Indeed, we've seen quite the number of backwards compatibility patents filed by Sony (we've gone into depth with them on the channel before), but there have also been a few more interesting developments too.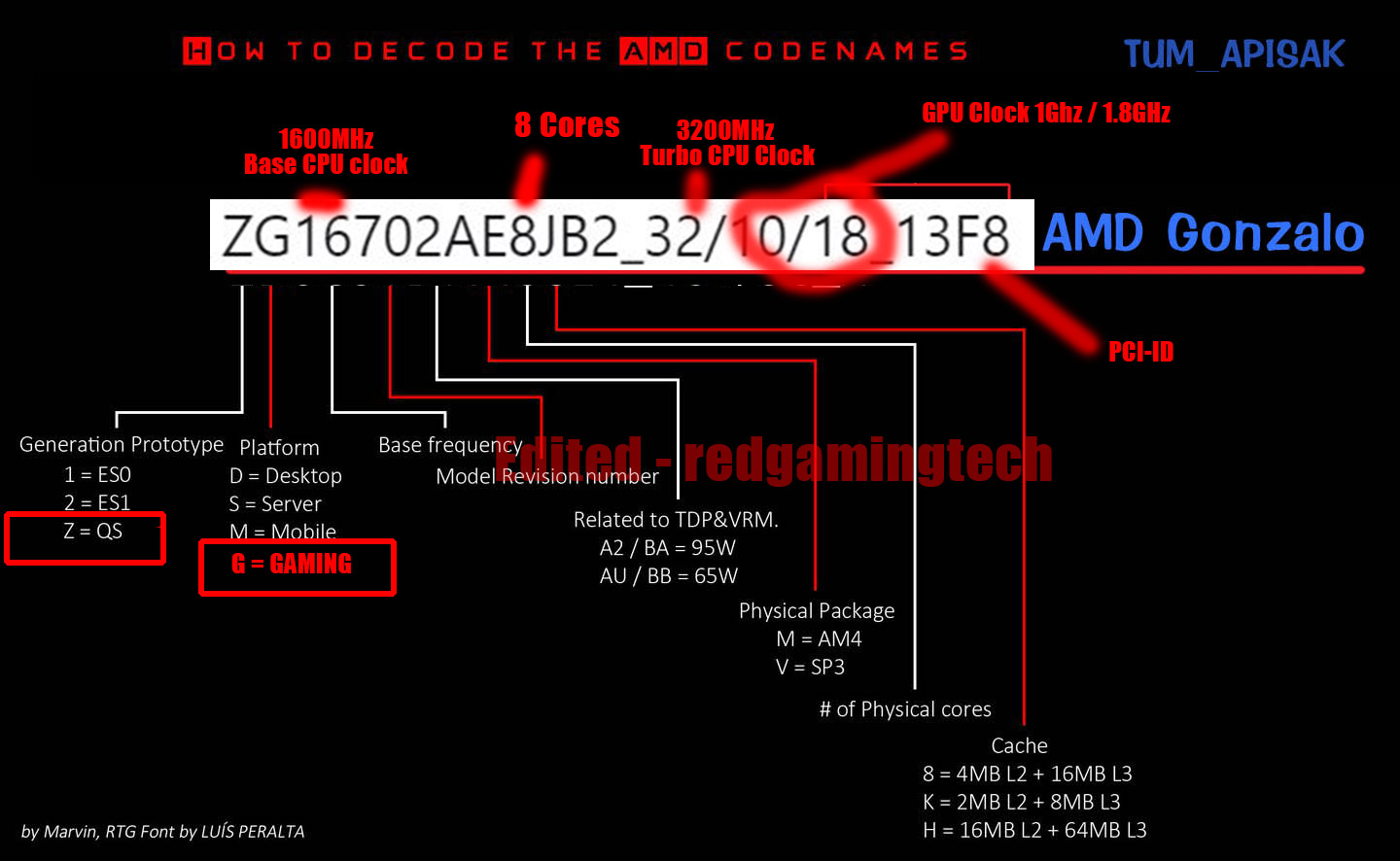 In the above image, I've broken down the codename of the second string from TumApiSak. You can see how it differs from the early piece of silicon, for example – the '2' at the start is replaced by Z, to illustrate that it's a Qualification Sample.
There's also a number of questions concerning the Navi generation too (for both consoles). The first generation Navi GPU does NOT feature any type of hardware ray tracing, while the second generation (which is due for launch next year) does. Most of the speculation and leaks concerning the Playstation 5 GPU has said that it's Navi 10 Lite, or to put that into simple terms, a cutdown variant of the RX 5700 XT GPU's AMD has launched.
In the infamous Wired interview, the following was written about the CPU and GPU: "PlayStation's next-generation console ticks all those boxes, starting with an AMD chip at the heart of the device. (Warning: some alphabet soup follows.) The CPU is based on the third generation of AMD's Ryzen line and contains eight cores of the company's new 7nm Zen 2 microarchitecture. The GPU, a custom variant of Radeon's Navi family, will support ray tracing, a technique that models the travel of light to simulate complex interactions in 3D environments."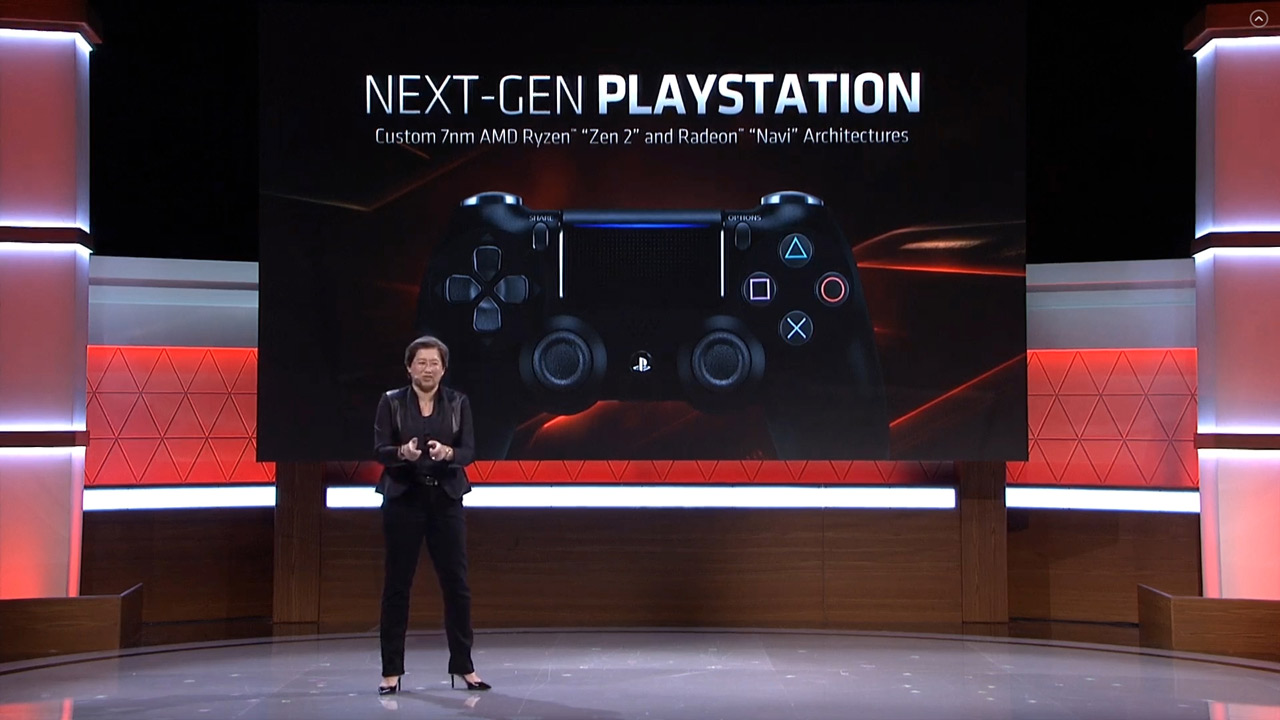 It's possible that the PS5 GPU is based on Navi 10, but is still a custom design with some elements of the second-gen. Sony did this with the PS4 and PS4 Pro. The PS4 Pro GPU was mostly Polaris based but had some elements of the later Vega architecture. But whether Sony is doing the same thing here with the Playstation 5 and using the first-gen Navi with some elements of the second isn't yet clear.
During AMD's E3 2019 conference, Lisa Su went on stage and said this about both companies upcoming next-gen consoles:
For Sony "We've been working with sony collaborating to build a custom chip based on the Zen 2 and next-gen Radeon graphics architectures"
For Microsoft "Project Scarlett is powered by a custom processor co-engineered between our team and Microsoft team to deliver the ultimate gaming experience, and it uses our zen 2 CPU core and our next-generation rDNA graphics architecture."
I actually asked an AMD employee about this and was told that these slides are agreed on by the partner (ie, Sony and Microsoft would okay what Lisa said on stage), so it possibly means that the there's no difference in generation of between the two consoles, but it's also possible that there is.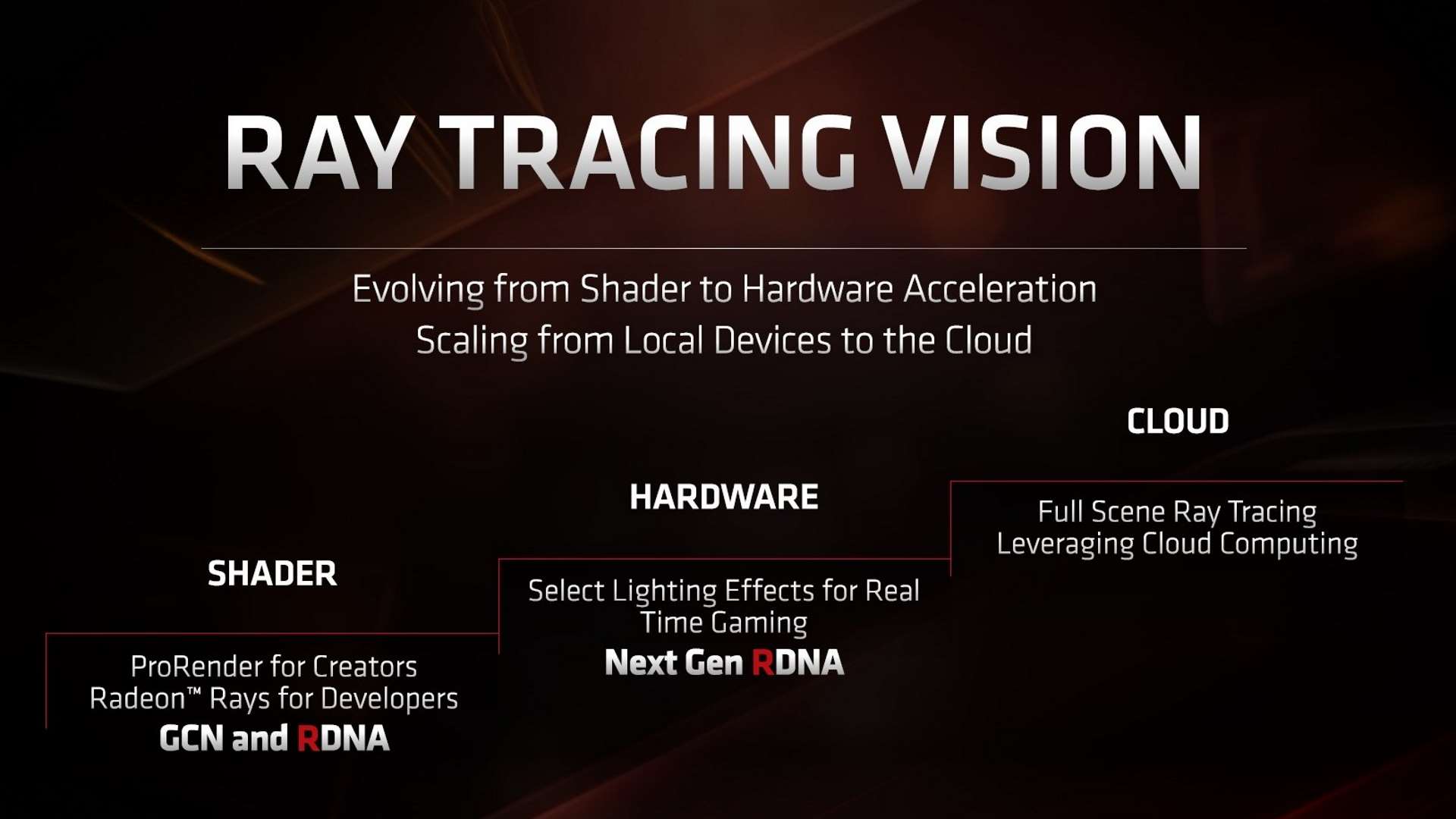 The source of contention here is that this was said before the launch of the Navi cards for PC, so technically speaking "next-gen Radeon graphics" could easily mean the first generation of Navi. The phrasing for Xbox though could be taken as the second generation of Navi cards. Though Lisa did confirm both companies were using custom GPUs, so generation may be much less meaningful anyway compared to say PC.
If the Playstation 5 has hardware ray tracing (and there's no reason to think it doesn't given what Sony have said), we know that the GPU at least has SOME elements of the second generation rdna architecture.
So given the PS5 has hardware ray tracing given what Sony has said, we know that it has at least some elements of the second generation Navi architecture. The question is, is it based on the second generation with customization or, based on the first generation with additional features (like PS4 Pro was based on Polaris, with some Vega features added) and also what's different about the Playstation 5 GPU architecture versus the Xbox Scarlett?
This article isn't focused on comparing the specs of the Playstation 5 and the Xbox Scarlett, and that will be coming in the near future. But instead, I wanted to illustrate the questions regarding both consoles GPUs.
On a PasteBin leak, a supposed set of specs of the PS5 were listed, specifically stating that the dev kit has 32GB of memory, while retail consoles will sport just 24GB. This leak also mentions 6GB of DDr4 memory too, and supposedly this is to act for things such as an SSD cache.
But the other thing that was mentioned was a 70 AMP 16 stage VrM design, which would mean the development kit would suck down an awful lot of power. Out of the two PasteBin leaks, I feel this is the weaker of the two in terms of potentially being accurate, although development kits generally are way bigger and more power-hungry compared to the retail systems.
But then there was an even more recent leak of the aesthetics and cooling, plus the GPU clocks speeds which might lend some credibility.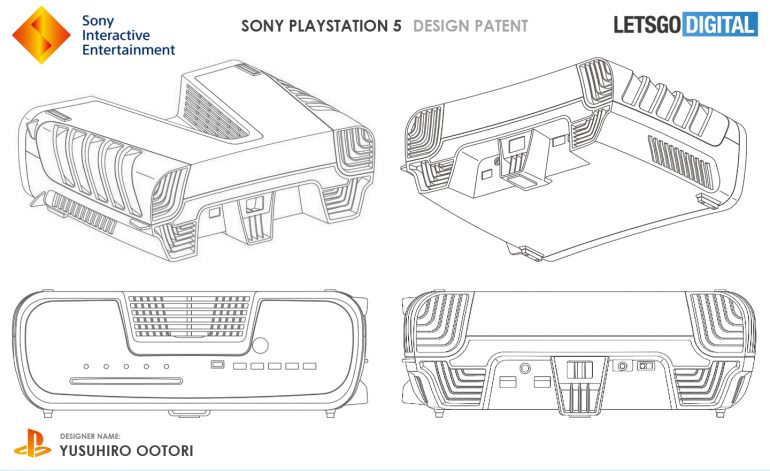 The website LetsGoDigital spotted these patent illustrations from Playstation designer Yusuhiro Ootori, and the beefy design that's seen in these illustrations certainly doesn't look like a 'traditional' PS5 design, which might mean that a higher power draw that was mentioned in the first PasteBin leak does hold some merit.

In the above Tweet, developer Matthew Stott confirmed that it is a dev kit (his tweet is now deleted… I'm guessing Sony weren't best pleased), and in other reports, it alleges that this design isn't just the PS5 development kit, but also the final Playstation 5 console.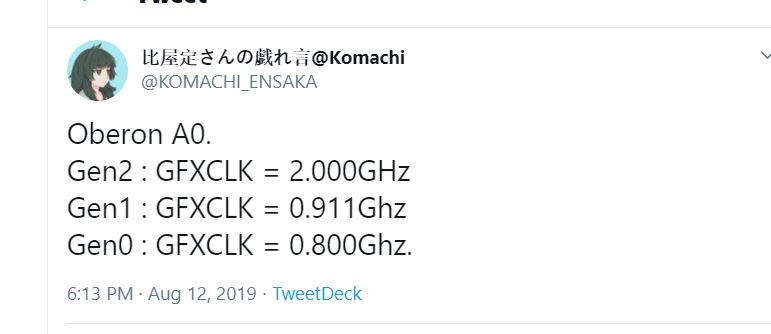 Now we have the above tweet from Komachi, another well-known leaker. He and I have shared info in the past, in my discussions with him about 'Oberon' he is pretty certain it's PS5. He can't say where get got the info (as it could get someone… let's say in trouble) but suffice to say that it's definitely curious information about the GPU clocks.
Check my previous article for a deeper dive, but the gist is that Gen0 clock would be the PS4 vanilla backwards compatibility mode, Gen1 is the PS4 Pro mode and Gen2 is the PS5. The backwards compatibility modes essentially 'shut down' parts of the chip, disabling features that aren't found in the PS4 hardware and emulating the same clock speed. This (in theory) means PS4 games should run identically on PS5 hardware.
To be super clear here – Oberon is the codename for this GPU, which is found on the Gonzalo APU. But notice how much cooling this console has in the above design. There's lots of space for vapor cooling – a little bit like the Xbox One X and Microsoft's cooling of its APU (the Scorpio Engine).
I bring this up because upon further reflection – it might lend a bit more credibility to the Paste Bin leak and the insane 16 phase vrm design. If the console really does have such a high power APU, it would not only require a hefty cooler (as seen in the design leaks) but also a lot of power fed to it (the 70 Amp 16-phase design).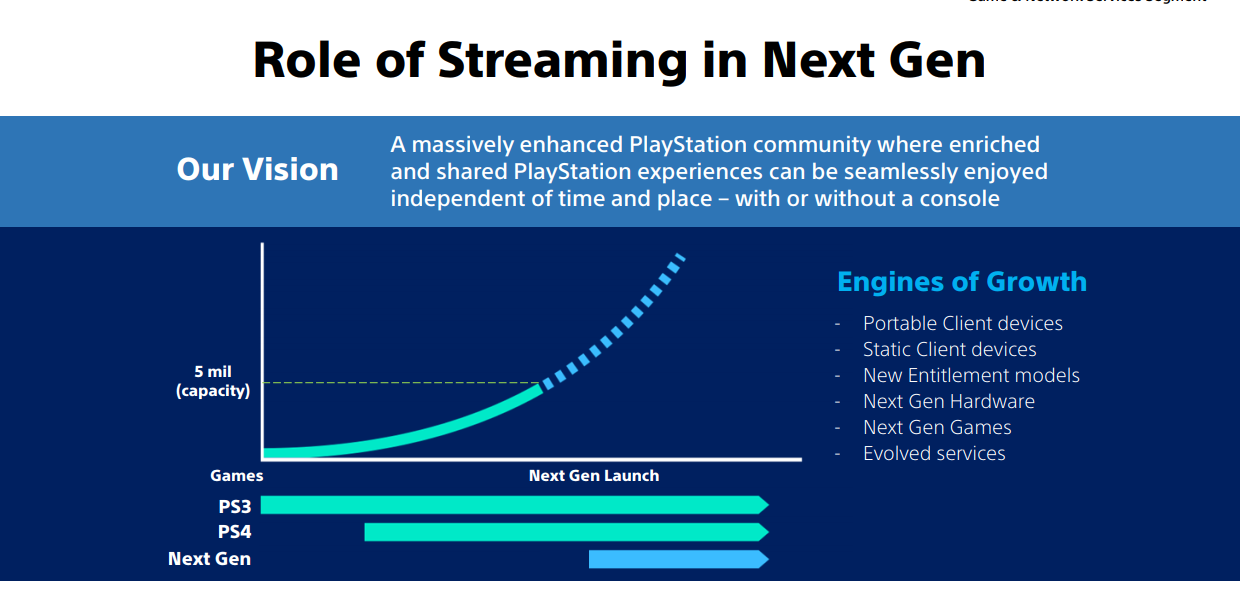 There is however one piece of evidence which might indicate that the next-generation Playstation is designed with lower power operation in mind. Jim Ryan, head of Sony Interactive was speaking via the companies blog on climate change and power consumption. He said that the PS5 would have a lower standby power consumption compared to the PS4.
"At SIE, we have made substantial commitments and efforts to reduce the power consumption of the PS4 by utilizing efficient technologies such as System-on-a-Chip architecture integrating a high-performance graphics processor, die shrink, power scaling, as well as energy saving modes such as Suspend-to-RAM. For context, we estimate the carbon emissions we have avoided to date already amount to almost 16 million metric tons, increasing to 29 million metric tons over the course of the next 10 years (which equals the CO2 emissions for the nation of Denmark in 2017).
I am also very pleased to announce the next-generation PlayStation console will include the possibility to suspend gameplay with much lower power consumption than PS4 (which we estimate can be achieved at around 0.5 W). If just one million users enable this feature, it would save equivalent to the average electricity use of 1,000 US homes."
The blog also added "From an operations point of view, we will complete a carbon footprint assessment of our gaming services and will report the energy efficiency measures we employ at our data centers. We are committed to informing consumers of energy efficient console set-up and use."
For comparison the PS4 would take between about 150 to 200W, depending on the model (PS4 Pro, Slim, launch models and so on). This is during gameplay, however, and power consumption was considerably lower during say watching a Bluray or streaming from Netflix. Having the PS5 being more power-hungry than the PS4 would be at odds versus Sony's messaging… although the blog post is referencing standby consumption and not operational power consumption.
There was another paste bin entry which dated back December 2018 and this particular entry is far more interesting (this is an exact copy and paste so spelling and grammar are down to the OP):
"-PS5 official info from Sony somewhere around next E3(Sony will not be participating on E3),i'd say Q2 2019 small reveal
-PS5 release March 2020 or November 2020,not yet finalized
-backward compatible
-physical games & ps store
-ps plus & ps plus premium ( premium-beta early access,create private servers,
-specs CPU 7nm ryzen 8 core 16 threads,unknown speed
GPU 7nm Navi arhitecture around 14TF,its gonna be powerful and power efficient,Sony working with Amd for Navi,some sort of Ray Tracing but will not focus on that,more focus with VR and 4k,much better bandwith overall
24GB Gddr6 + 4gb ddr4 for os,we have 32 gb dev kits
-2tb hdd some sort of nand flash
-8k upscaling
-PSVR2 in 2020 also,reveal with ps5,big resolution boost probably 2560×1440,120hz,220 field of view,eye tracking,wireless,battery life 4-5 hours,headphones integrated,less motion sickenss,no breaker box,much less cable management,much more focus on VR for aaa games,price around 250$
-dualshock 5,some sort of camera inside for VR,more analog precision for fps games,something similiar to steam analog trackpad
-price 499$,100$ loss per console at a beginning"
The reason this entry is so interesting is that it was appeared prior to the Mark Cerny Wired reveal of the PS5. Cerny confirmed the 8 Core Zen 2 CPU, along with the Navi architecture and the tracing of rays. 8K upscaling with a focus on 4K. Naturally, the Wired interview itself could be considered a 'small reveal'.
What's also quite telling about this is the information with the PSVr2, because we've seen several patents regarding the inbuilt cameras, and the DualShock 5 pads also containing cameras too (once again, thanks to patents). The image below is an illustration from the PSVr2 headset which was in a patent that wasn't publically available until this year.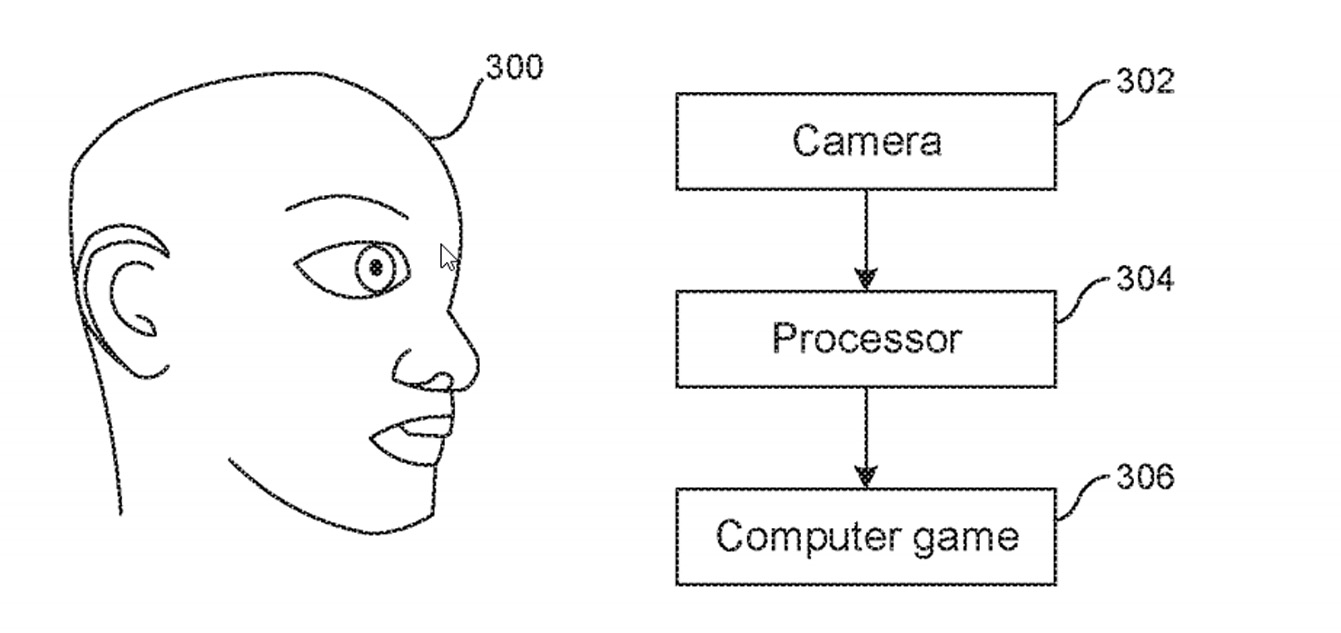 I'm not here to sell you that this (or any leak is real, you shouldn't believe anything 100% until Sony confirms it), but this was either a really good guess (and to be fair, if the person assumed Sony would use AMD then they could guess Navi and Zen 2 for the Playstation 5), or it really was an early leak.
So then, will Sony launch a PS5 Pro with the base console?
So, now here are a few personal theories of mine (assuming what information Zenji was fed is accurate), and I am not passing this speculation off as 'inside information', this is based on the info I've written here in the article so please take it as speculation only and NOT a leak.
Theory 1: When the PS5 was demoed to investors, Sony showed off the above graphic – and it speaks for itself, it's revolving around game streaming. I think most people reading this are familiar with Playstation Now (Sony's own game streaming service) so I'll not go into the background there.
But it's possible that the 'Pro' version of the PS5 Zenji mentions is actually the 'vanilla' machine we've been hearing about, but Sony is doing much like Microsoft supposedly are with their 'Lockhart' Xbox, and developing a Playstation designed for streaming only. You pair a PS5 Controller, and it features a highly cut down APU with just enough grunt to run the OS and maybe a little local processing.
So in short, Sony would aim to create a low power, low cost and entry-level system for people who're not wanting to plonk down lots of cash on a new Playstation. This would also mostly match what Zenji said about hearing people what people want in terms of choice, but instead of a more powerful and expensive system, this would instead be a cheap entry-level device. And given this is a translation, and what he's heard through sources at an Expo… that's entirely possible.
Theory 2: Sony is going to launch two variants, but it's just got more SSD space, comes with additional peripherals (such as headset), perhaps has a slightly different case design (like the Xbox 360 Premium vs the Xbox 360 Arcade back on the Xbox 360's launch) and maybe a few other bits.
Theory 3: And the most interesting, is that the PS5 would have faster/more powerful hardware for the 'Pro' variant compared to the base Playstation 5. This would be very curious, because supposedly, Microsoft was planning a low-end Xbox SKU which would be much like the Xbox One S and Xbox One X.
The rumors here are a bit mixed, with some saying that originally Lockhart was this very system, but was then repurposed to be the streaming console mentioned above. The rumors are that developers whispered to Microsoft that this would eat too much development time (especially at the start of a new console generation when developers are attempting to figure out hardware), and thus one version (or both) would suffer on the Xbox hardware.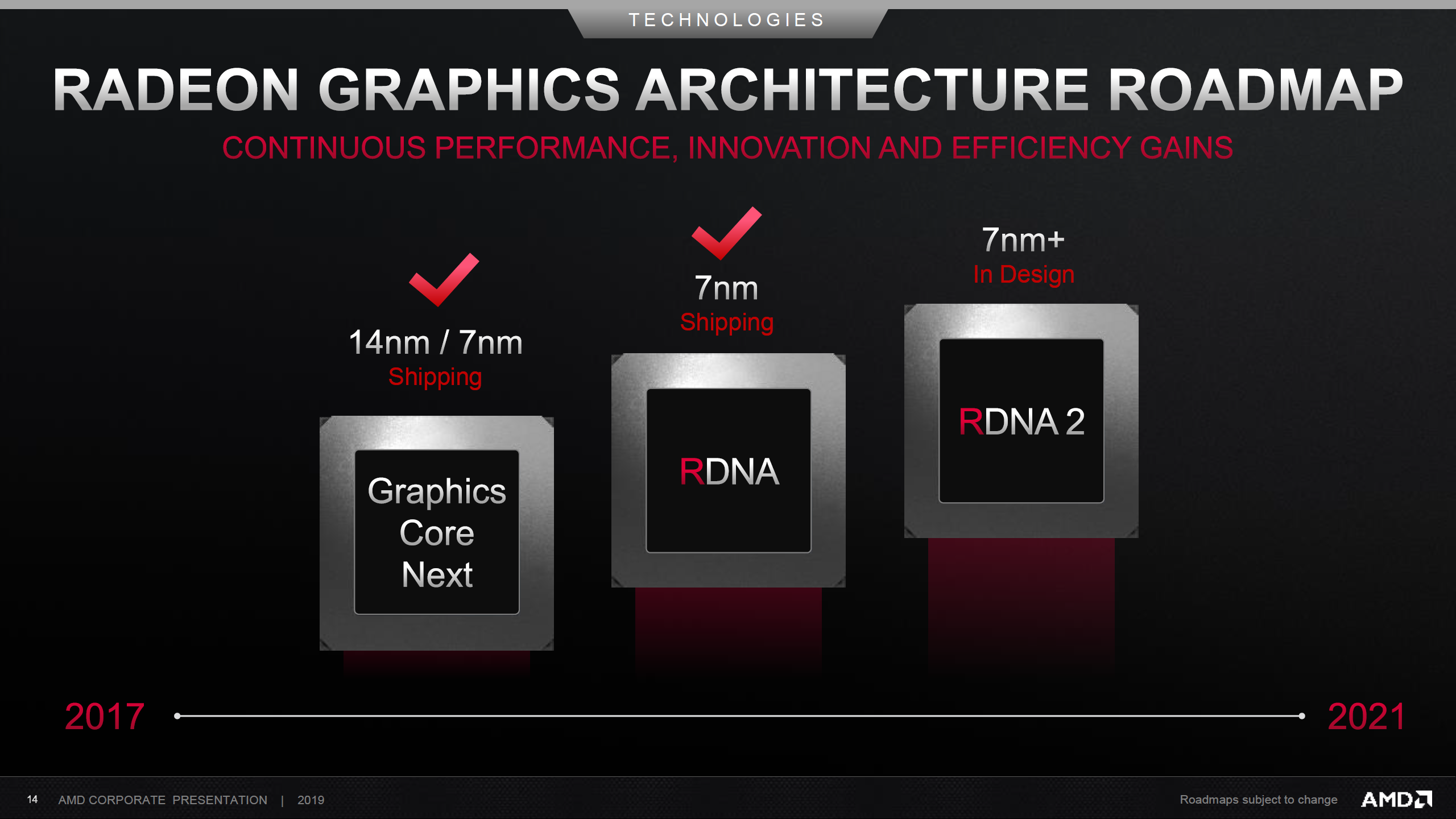 So if Sony is planning to do this, it'll be interesting how they're going to get over this problem. Further, assuming the APU (Gonzalo) has been accurate to the base PS5, that means there's another Playstation 5 APU that we've not seen yet. Unless Oberon (the GPU) is part of this unknown APU (and there isn't any evidence that it is), which would explain why it's clock speed is 2GHz vs the 1800MHz of the GPU in Gonzalo. We can also expect that there'd be more GPU cores too, as clock speeds alone wouldn't cut it.
This would also beg the question of what will happen 2 – 3 years after the Playstation 5 and Xbox Scarlett launch. We can presume that there'll be a 'refresh' of sorts planned… but it'll be hard to imagine that end users won't be frustrated coughing up for a 'Pro' machine then a new Super Pro comes out.
The PS5 is said to be capable of 8K output, but realistically this would be upscaled and games will render in 4K for the most part. 8K is literally 4x the number of pixels. A leaked benchmark of the PS5 Gonzalo APU said that it scored roughly 4x more than the PS4 (base model) for 3dMark fire strike, putting it about on par with a GeForce RTX 2070 and even an RTX 2080 Ti (which is massively faster than the RTX 2070) is only just about capable of 4K gaming at 60FPS.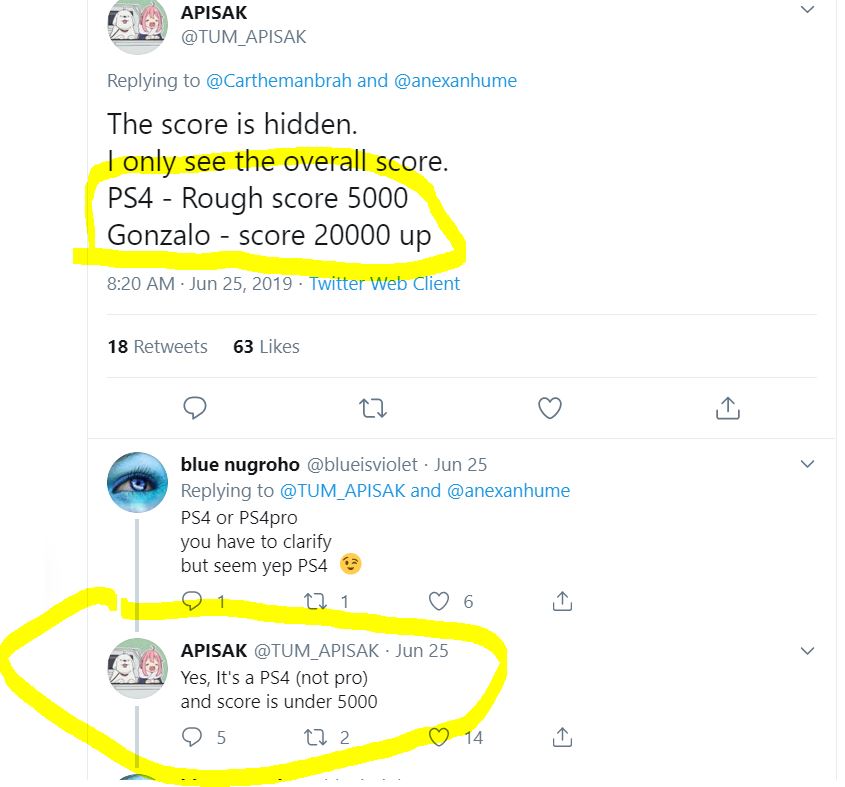 It's important to realize that this benchmark is essentially a PC graphics testing tool, and we don't know how optimized the silicon is that it's running on (including the drivers). Thus the performance increase in the real world might be more, particularly when developers understand the console better.
The bottom line here is that Sony – in theory, can make a more powerful APU than the one we know about for the base model console and cram in additional GPU cores at higher speeds (I suspect that the CPU cores will remain at 8, but potentially with higher speeds), but how much more powerful it would be over the base system is questionable.
Assuming we see an APU (and AMD hinted that it was at E3), even with such a potentially beefy cooling system as we've seen in these patent illustrations, there are limits as to cooling of a console. I don't see such a big gap between a simultaneously launched PS5 and PS5 Pro as we saw with the PS4 and PS4 Pro, for example.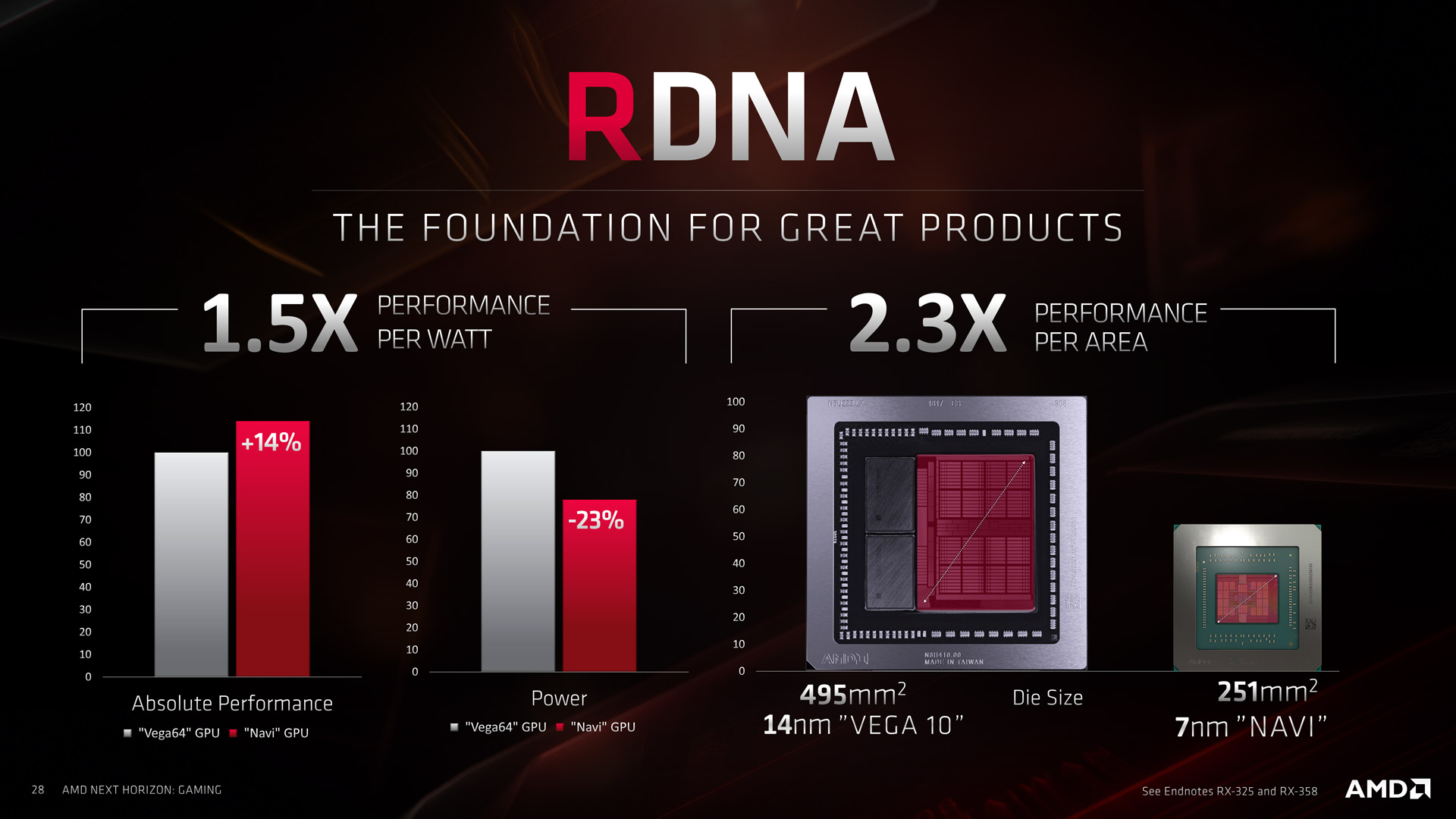 The biggest problem here is that the APU is already likely to be pretty big for a PS5 APU that's roughly on par with the RX 5700 XT. The Navi 10 die is 251mm2. Then we need to add 8 Zen 2 CPU cores, which we know comes to 74mm2 square for the desktop. 8 CPU cores come together to make a single IO die, though much of this area is taken up by Level 3 cache. I personally think we'll see only 16MB L3 cache vs the 32MB of Level 3 cache of Zen 2 cores we'd see in say a desktop. This would save a significant amount of space. I've discussed this much deeper in my Xbox Scarlett E3 analysis and also my 'All You Need to Know About Zen 2' analysis. 
Then we still would need an IO die (for communicating with memory, input devices and so on) and potentially some other space if we have dedicated rt cores. In theory, then – 8 Zen 2 CPU cores, a Navi 10 based GPU and the other 'bits' which would be needed for the silicon to function would likely be similar in size to an Xbox One X APU now (the Scorpio Engine).
So not only would the die for a more powerful system be… well… huge, the power requirements would also go up too. So if the leaked design we've seen for the console is accurate, and we already have a GPU that's 1.8 to 2GHZ in speed that's already similar in size to a Navi 10 GPU… how much bigger can the die become without awful yields… and then once again the power requirements and cooling the thing.
This is all assuming we see a traditional APU as AMD have hinted, and not some sort of chiplet like design, similar to the how AMD construct their ryzen CPUs… which would potentially improve yields?
Another question  – would AMD and Sony (and Microsoft for that matter) use TSMC's 7nm+ process instead of the 7nm currently used in Zen 2 and Navi 10 (which would improve density and reduce power consumption a little more) for the APU, and what space is taken up by ray tracing technology on the die.
With such a large APU then, it'll be fascinating to see what a higher specced Pro machine at launch would look like.
With the rise of game streaming, new console generation, Intel entering the GPU market in the PC, ray-traced graphics, 4K TVs becoming cheap enough to be standard now, and gaming worth more than ever before, I think the next few years will be nothing short of very interesting for gaming.
Other Articles You Might Like