Well, this is definitely going to be a packed article, but turns out there are still lots of announcements to come from AMD. Let's start things with upcoming motherboards for both the Mainstream and HEDT processors from the company.
According to VideoCardz.com, there is an internal memo that is floating about at ASUS which confirms the existence of the long-rumored X590 motherboards and also the X599 chipset.
The AM4 motherboards would be the Prime X590-Pro and also the ROG Strix X590-E. Of course, the X570 boards already support PCI-E gen4, so quite what the X590 boards bring to the table is a mystery. There are about two months to go until the Ryzen 9 3950X launches (AMD's 16 core Zen 2 AM4 CPU), so potentially we could see the board launching in the same time frame?
WhyCry over at VC also confirmed that there is a Zenith II Extreme-board incoming as well, and the first generation Zenith board was used for the X399 board (for ThreadRipper). So it's not too difficult to guess this could be a new chipset for the ThreadRipper 3000 series.

Exactly what X599 does that X399 doesn't is still a mystery. There's conflicting information if we'll still see a quad-channel memory layout for the next-gen boards. Though we can of course very easily say that the boards will definitely support PCI-E Gen 4.
Now let's switch to the higher end RDNA cards which have been swirling in the news for the past several days. As a quick catch up, the RX 5700 XT is the highest performing card in AMD's Navi lineup, but it isn't enough to compete with Nvidia's high-end Turing cards such as the RTX 2080 Super and RTX 2080 Ti.
The rumor is that AMD is preparing to launch an RDNA based GPU with up to 4096-shaders (Stream Processors), which is a substantial uptick in shaders compared to the 2560 Stream Processors found in the RX 5700 XT.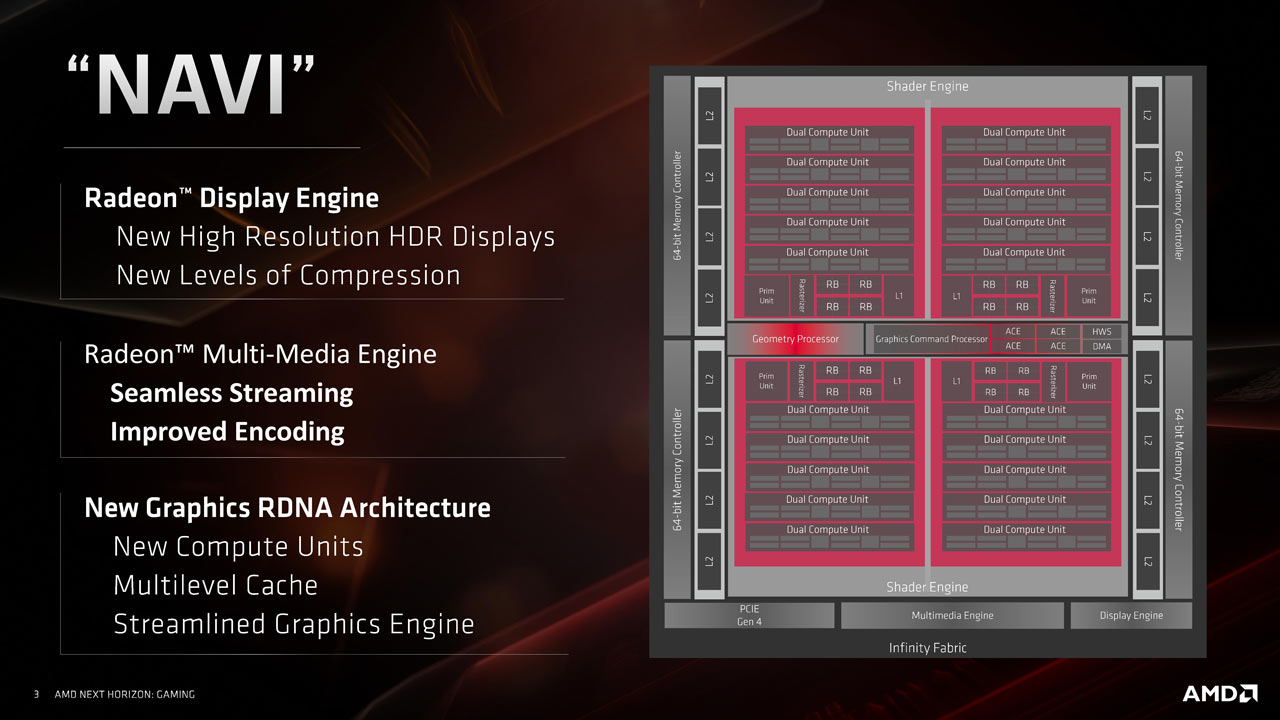 Rosenblatt Securities' Hans Mosesmann recently asked Lisa Su if she could "give us a sense, if you can, on 7nm high-end Navi and mobile 7nm CPUs."
"I would say they are coming," responded Dr Lisa Su. "You should expect that our execution on those are on track and we have a rich 7nm portfolio beyond the products that we have currently announced in the upcoming quarters."
Komachi on Twitter has been very accurate in previous Navi leaks (including the SIMD32 architecture) and according to multiple Tweets by him (plus several other insiders), AMD is indeed preparing to launch higher-end SKUs.
Next up, what about Arcturus – one of the longest known codenames from AMD's graphics division. Up until very recently, Arcturus was a complete mystery. Originally it was thought to potentially be a next-generation architecture succeeding Navi, but then later was confirmed by an AMD engineer to simply be the codename of a particular chip.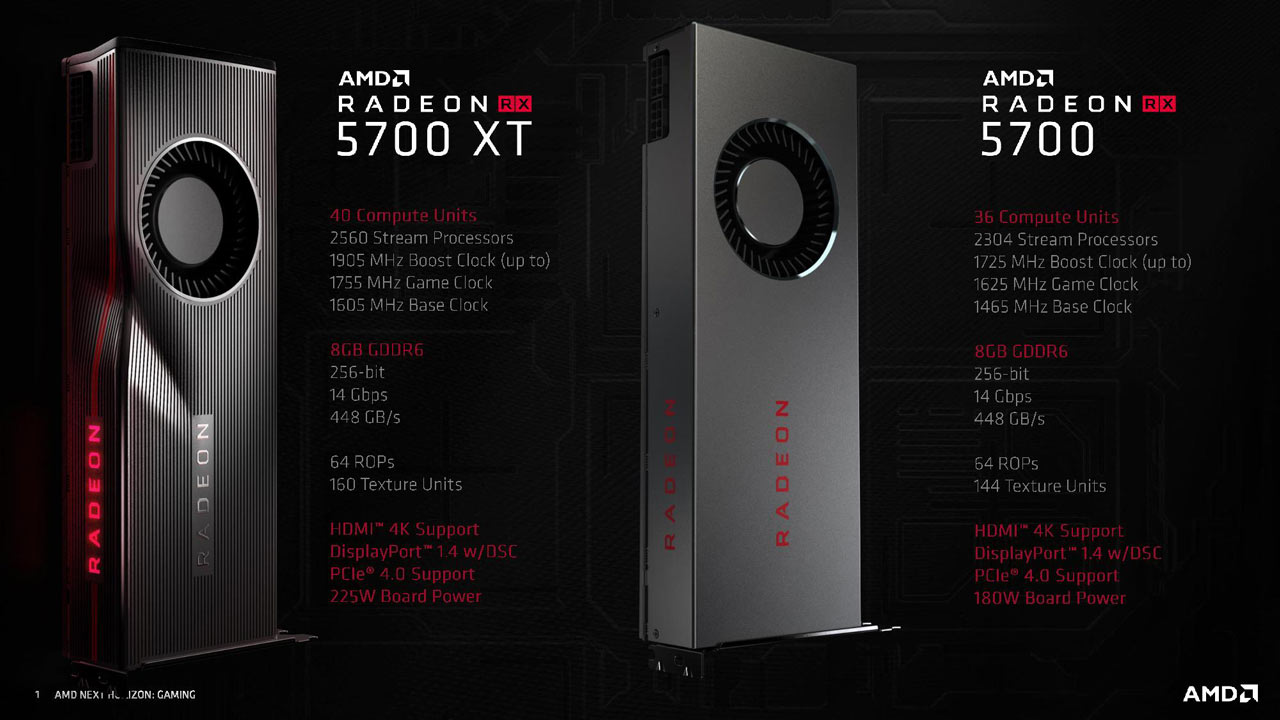 There was lots of speculation this might be the codename for a next-generation console APU… and indeed even an image started floating around the internet, which was allegedly the dump of an Xbox Scarlett development system, with the system equipped with a chip known as 'Arcturus'.
As regular viewers know, none of that was accurate. Instead, AMD Arcturus is a Vega-based product which lacks the ability to 'display graphics' (missing graphics IP blocks). If you're scratching your head, wondering why a GPU would be produced without graphics capabilities, you're forgetting that Vega is very good at compute tasks.
Basically, Arcturus is likely tweaked and enhanced Vega architecture. On the Free Desktop.org website, a recent update actually explains this better. "Arcturus CHIP enum is less than Navi10 since it's still gfx9, but its VCN version belongs to VCN2.x"
As an explanation to this – GFX9 refers to the Vega architecture, but VCN is Video Core Next, AMD's Video Encoder. As the update implies, Vega we've seen up until recently was actually using the first generation VCN from AMD. But Arcturus seems to have been updated to a later version.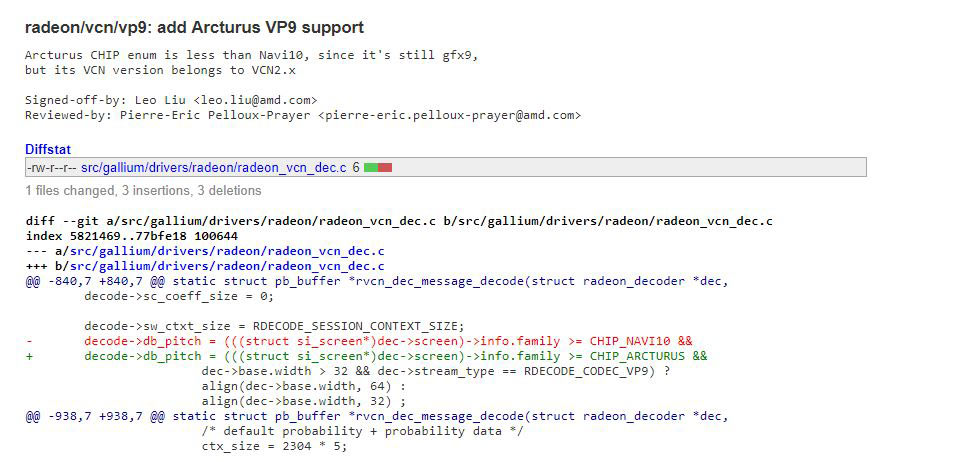 I was told by a source (who had fed me rather accurate info in the past, including second-generation Navi featuring Ray Tracing… back in March this year) that the AMD is planning to further separate their graphics and compute based GPUs. With the compute based GPUs essentially becoming almost like an ASIC, whereas the graphics focused cards will focus primarily on pure graphics performance.
This is much more like how Nvidia has created their graphics architecture over the past several years and probably makes more sense from the perspective of AMD's recent strategy.
GCN definitely wasn't the most efficient for pure graphics performance, but with RDNA this has changed considerably. But the trade-off is weaker compute performance compared to say, Vega.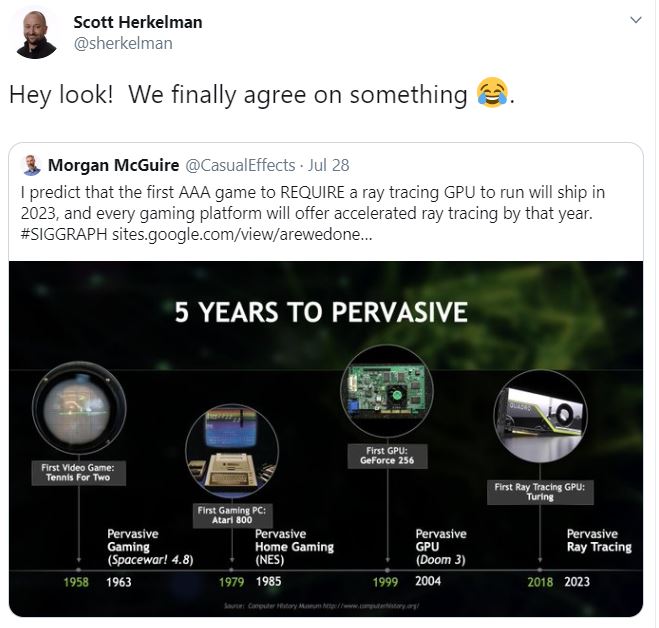 Finally, and a bit of a bonus tidbit  – AMD's Scott Herkelman (Mr Jebaited) has recently 'agreed' with Nvidia's Morgan McGuire that Ray Tracing will indeed be a requirement for graphics cards by the year 2023.
This isn't really anything super surprising – if you think about it logically, the next generation consoles will be about mid-life cycle by that point (launching in 2020) and both consoles support Ray Tracing. Given AMD will be implementing Ray Tracing in the second generation RDNA, Nvidia already have done so in Turing… and even Intel Xe getting in on the act (though it's unclear if this is the first or second generation), developers will certainly be shipping at least some AAA titles that have it as a minimum requirement.
Other Articles You Might Like