A new Xbox One bundle has been announced at Gamescom 2014 yesterday for the upcoming Call of Duty: Advanced Warfare. Phil Spencer revealed the news during Microsoft's press conference at Gamescom.
The new bundle will include a digital copy of Call of Duty: Advanced Warfare "Day-0 edition", which lets you play the game one day before release, a custom designed Xbox One & controller, and COD-inspired sound effects. The most interesting part of this bungle is the inclusion of a 1TB hard drive and the deduction of the Kinect. This is a non-Kinect bundle and will cost the same as the bundled console. It's pretty much an additional 500GB replacement substituted for the Kinect.
The Call of Duty: Advanced Warfare bundle is available for pre-order now and you can grab it for £429.99/€499.99/$499.99.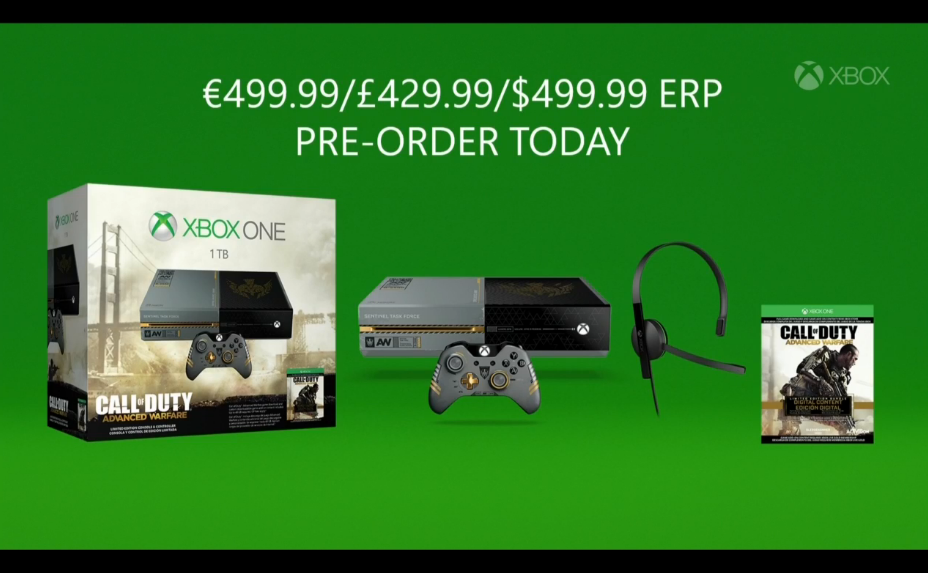 Other Articles You Might Like
Tagged with
1tb
,
2014
,
advanced warfare
,
bundle
,
call of duty
,
COD
,
console
,
Controller
,
decal
,
digital
,
download
,
exclusive
,
gamescom
,
hard drive
,
hdd
,
kinect
,
new
,
order
,
phill spencer
,
pre
,
xbone
,
XBox one
.