AMD's Zen 2 architecture feels like its only just arrived, but there's already a lot of excitement as to what we'll be seeing with Zen 3, which is scheduled to launch next year. We know for sure that Zen 3 will be using TSMC's 7nm+ process, and Zen 3 will also be the final farewell to the AM4 platform too, as we see the end of forwards/backwards compatibility.
AMD provided hints as to what we'll be seeing with Zen 3, with their Innovators Highlights Epyc conference (which was quickly pulled offline). During this conference, a slide was shown highlighting that the Zen 3 CCX will look quite different from Zen 2, with Zen 2 a CCX was 4 cores and with its own 16MB L3 cache, and then two of these CCXs came together to form a chiplet.
With Zen 3, the 'CCX' is essentially the chiplet, with all 8 cores and 32MB+ Level 3 cache unified which should reduce latency. In the very same conference, AMD seemed to confirm that Zen 3 will not feature SMT-4 either, and will retain SMT-2 support. SMT-4 support for Zen 3 was long-standing rumor and whisper, so unless AMD is hiding something profound, it seems like it's confirmed to not exist for next years chip.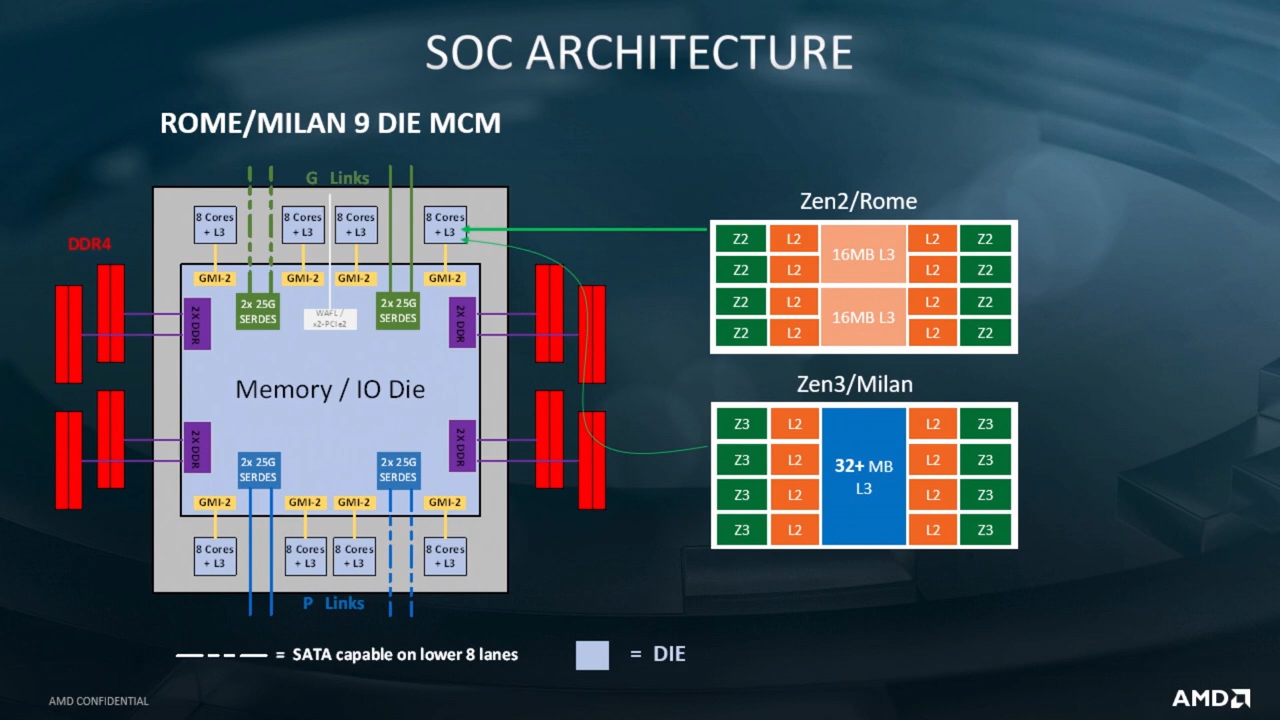 However, a very good source of mine emailed me and provided me insight into the IPC gains of Zen 3, telling me that speculation that the chip had an insignificant improvement over Zen 2 isn't accurate. I asked him via email if it was over 5-8 percent (a figure I'd guessed based on what tweaks we've seen so far in the public eye) and was told that the gains is more than this, but he wasn't able to provide exact numbers right now.
He also confirmed information that is currently doing the rounds on ChipHell.com from a forum member 'Zoo'. Zoo claims that the early Engineering Sample Zen 3 silicon is hitting 100 to 200MHz higher than what Zen 2 was capable of. This is very interesting, as obviously early Engineering Sample silicon isn't exactly the best performing chips, and thus there's possibly a hope we can see more than this in final retail chips.

This source has previously given very accurate information regarding the Zen 2 series of CPUs, and so they've a pretty good track record.
Being conservative (and this IS NOT what a source told me, I am giving an example), let's say AMD hit 10 percent IPC gains with 200 – 300 MHz higher on average for zen 3, but still retain the same core counts as now, it would still make for incredibly compelling chips, especially for gamers. It also means that Intel would be under incredible pressure with Comet Lake, as we can presume they can't get the 10-core parts much higher than 5GHZ.
As with all rumors, this information can be wrong, but I don't think AMD would want to do another Zen+ gain, indeed they've publically stated that they didn't want to do another
Other Articles You Might Like
Tagged with
7nm
,
AMD
,
amd milan
,
amd zen 3
,
ipc
,
milan
,
ryzen 4000
,
zen 3
,
zen 3 analysis
,
zen 3 IPC
,
zen 3 release date
.