2016 has been a pretty great year for technology enthusiasts, and for folks with an interest in processors the past couple of months have been particularly interesting. There's been no shortage of news, rumors and leaks on AMD's upcoming next generation processor architecture, Zen.
Now we have yet more information on AMD's upcoming Summit Ridge range of processors (just so we're all on the same page, Summit Ridge is the desktop variant of Zen and relies on the AM4 platform) which seems to tie in rather nicely with rumours and leaks we'd covered late last week.
It would appear AMD are going to be more closely matching Intel's naming convention with the Zen lineup of processors, but in place of the familiar I3, I5 and finally I7 CPU's, AMD have opted to call their CPU's SR7, SR5 and finally SR3 (we can presume SR = Summit Ridge. Clever, eh?). These links sprang up on the infamous Chinese website ChipHell.
Whispers earlier this year hinted AMD would be releasing the high end Summit Ridge Zen parts first, and this latest image seems to add fuel to the fire. Zen SR7 will be launching early 2017 (once again, on AM4) and the lower end parts will see a trickle down after the high end enthusiast parts are released.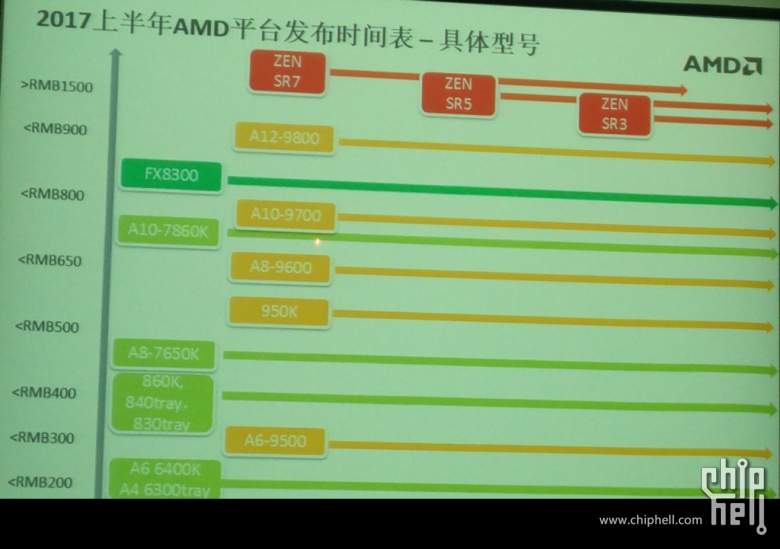 Zen comes first to SR7 & X370 
The highest end motherboards from AMD are the X370 series, which offer fine grain overclock controls, additional PCIe slots (for multiple graphics card configuration) and robust BIOS and configuration options which power users will likely find rather appealing. With the release of Zen's SR7 AMD will also make available the X370 boards in the same time frame. For folks who were hoping to jump on a cheaper Zen option it will be a little disappointing, but for those wanting a high end Zen CPU (SR7) which features 8 cores and 16 threads thanks to Simultaneous MultiThreading, you'll be in gaming nirvana.
It would appear that AMDs coolers  can handle up to 140W of energy, which is rather intriguing because it lends a lot of weight to the rumors AMD will offer special version of Summit Ridge Zen CPU's specifically designed to accommodate higher clock speeds.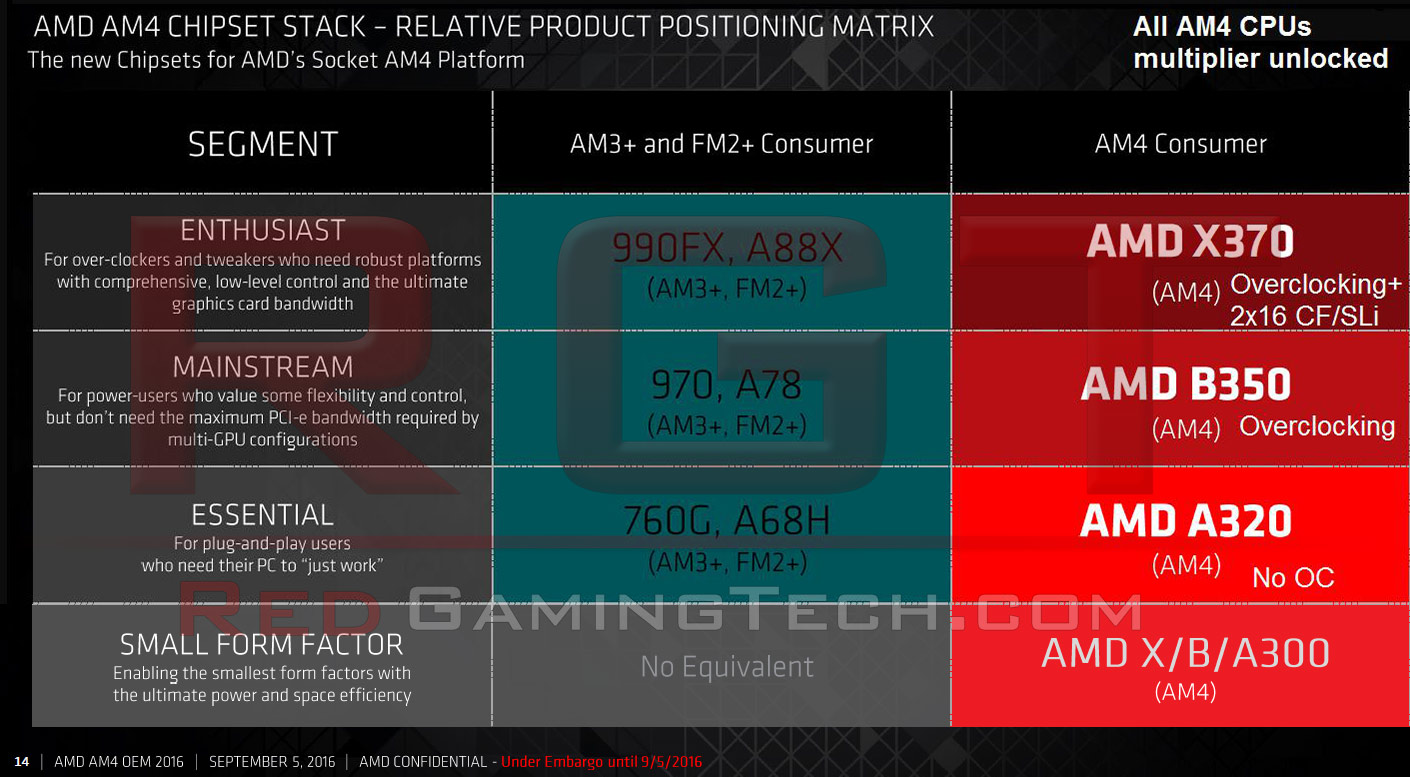 Since all AM4 chips are unlocked, the X370 motherboard chipset will make for impressive results. A few leaks have pegged the chips as capable of running at 4.2 Ghz with an AIO, but this is with engineering sample silicone back in August, and (supposedly) the chips are currently being fine tuned to scale better with higher voltages. These same rumors peg the 'standard' voltage of Zen to be about the 1.3 V mark, but is okay up to 1.5V on an AIO.
From all we know about Zen so far, it's pretty even with Intel's latest and greatest chips on a clock for clock basis, but supposedly the memory is running at only 2133 Mhz (though this won't be the case in the final silicone) thus likely meaning performance is being somewhat hampered.
The pricing of Zen for desktop appears to start from RMB1500, which works out to be about $220 US dollars… but whether these prices are final or not, remains to be seen.
While the 'default' X370 configuration does fully support two PCIE 3.0 x16 cards (for either crossfire or SLI) vendors are free to add additional lanes through a PLX chip. The only downside to this would be an increased cost to the motherboard, but we're fairly certain super high end boards will likely offer this as a way to further separate themselves from the pack.
Other Articles You Might Like