Disclaimer: We were sent this product to review.
Esports is becoming more and more of a thing, and when you look at the esports pros they usually have one thing in common – mechanical keyboards. However, usually mechanical keyboards are very expensive, and way beyond the budget of someone just looking to make their play more efficient or climb the ladder in League of Legends. The Roccat Suora is Roccat's attempt to bring a mechanical keyboard to a mainstream price point, and give those of us looking for a fancy keyboard to finish off our builds a less wallet busting option.
While £80 is still a fair chunk of change for a keyboard, that can be seen as a worthy investment for those who spend as much time using our keyboards as we do. Compared to some other flagship models, the Suora is pretty cheap.
The first thing you will notice about the Suora is it's pretty slim and sleek design. While it is a full size model, it is much more compact and less bulky than other similar offerings from Roccat and other companies. Compared to my usual keyboard, the Suora takes up a lot less space and would be much less of a pain to pack for those who like to attend LANs. The overall build quality is also good, as while it maintains a fairly light weight, the Suora still feels sturdy and well built.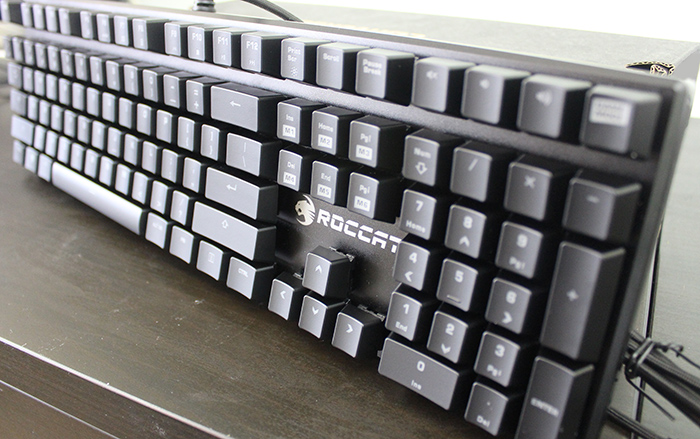 The main downside to more compact design is this means the keys are closer together, and might be a bit of an issue for someone with a large handspan like myself. While I had no major problems, it was still an adjustment versus my larger standard keyboard.
On the back, it has the usual flip out rubber legs if you want to raise your keyboard a little. The USB cord is just a single USB, so if you've also experienced keyboards who are also part squid with their cabling, this isn't a concern here. The cable itself is braided and feels like it will be a bit more lasting than your usual plastic-y feeling USB cable.
Moving on however, each key is backlit by a blue LED that can be adjusted either by using FN + Print Screen or by using the Roccat Swarm application. (More on that later.) Another nice touch with the LEDs is that the second function for the number keys and other multi function keys is dimmer than the main function, which is a purely an aesthetic touch but still a good one.


Also, the caps lock, scroll and numlock keys serve as their own indicators, meaning that the Caps key will be unlit when Caps Lock is off.  The overall quality of the lighting is good, even if some buttons seem brighter than others.
For those thinking of using this keyboard for streaming or Youtube, most of the time this keyboard will not be terribly interruptive of your recording if you're using the usual WASD and maybe a few keys like E and R. If you're using the keyboard a bit more heavily while recording, this is a mechanical keyboard so it does have sharper, louder sound that will be picked up more by your microphone so do keep that in mind. (Test was done with a Blue Snowball mic, the usual distance I have while recording with a KB+M game.)
Speaking of functions, you have several media control keys between F9 and F12 that are activated with the function key, as well as volume up, volume down and a mute buttons. There are other non-media shortcuts on F5-F8 as well.
The real gaming/esports feature of this keyboard is the six macro keys, located just above the arrow keys. There's no capability to record on the fly, but recording is pretty easy with the Roccat Swarm application. Once you have set them up (we'll go through that in a minute), they are activated or deactived with the Game Mode button on the top right of the keyboard.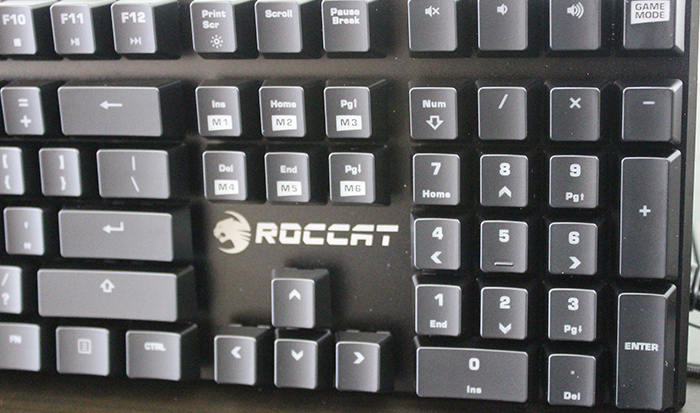 Thankfully, the Swarm app is lightweight and easy to use, so it's not a huge downer that you have to use it in order to program your macro keys. Here you have finer control of the lighting functions, as well as access to five different profiles, and a ton of pre-loaded macro keys for popular games. I was pleased to see my favourite, Starcraft 2, present as well as the surprising addition of Photoshop.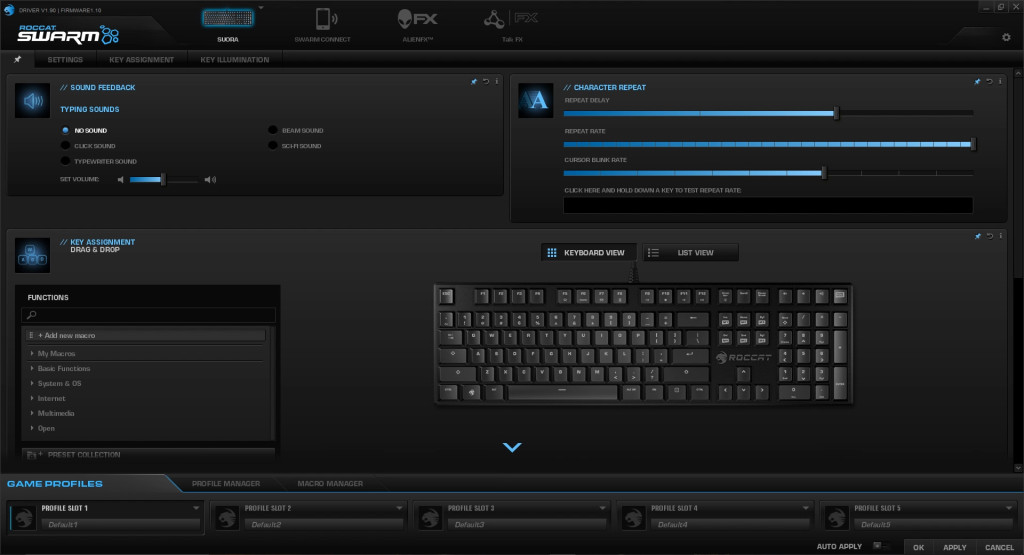 Of course you can record custom macros as well, and the program also offers control over the delay as well. You can either ignore it, have it be a fixed delay, or record the delay as you input the keys. While you can't record mouse clicks, you can add them in fairly easily. As mentioned, Swarm comes with five profiles which can have multiple programs to each profile, and you can import/export profiles easily if you're taking your keyboard on the go.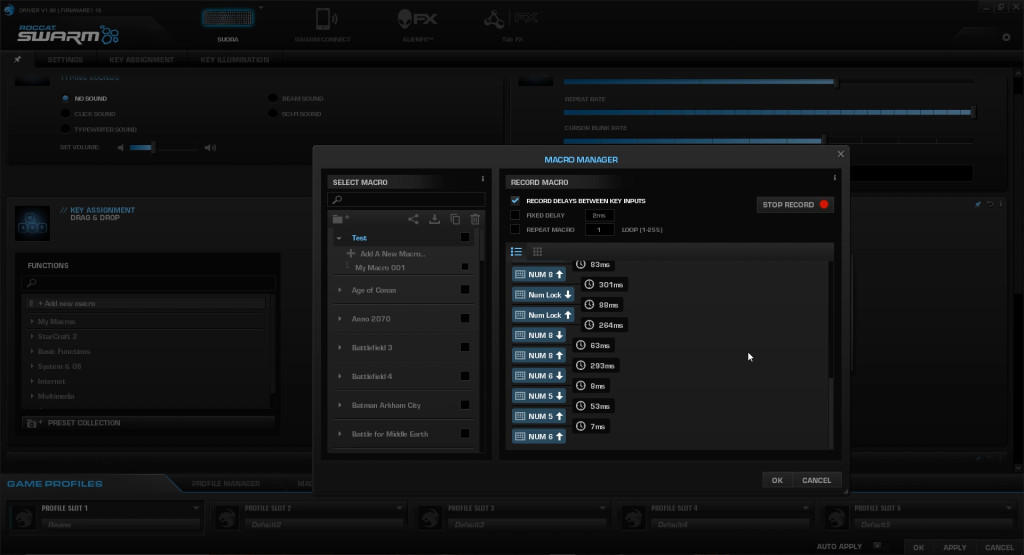 As mentioned, the Swarm app also offers fine control of the brightness of the LEDs, as well as a toggle of the breathing mode. You can of course turn the lighting completely off if you so wish. As mentioned previously, you can also toggle between various states of brightness and turn off the breathing mode by using the FN + Print Screen command, but if you want more precise tweaking then the app is quite useful.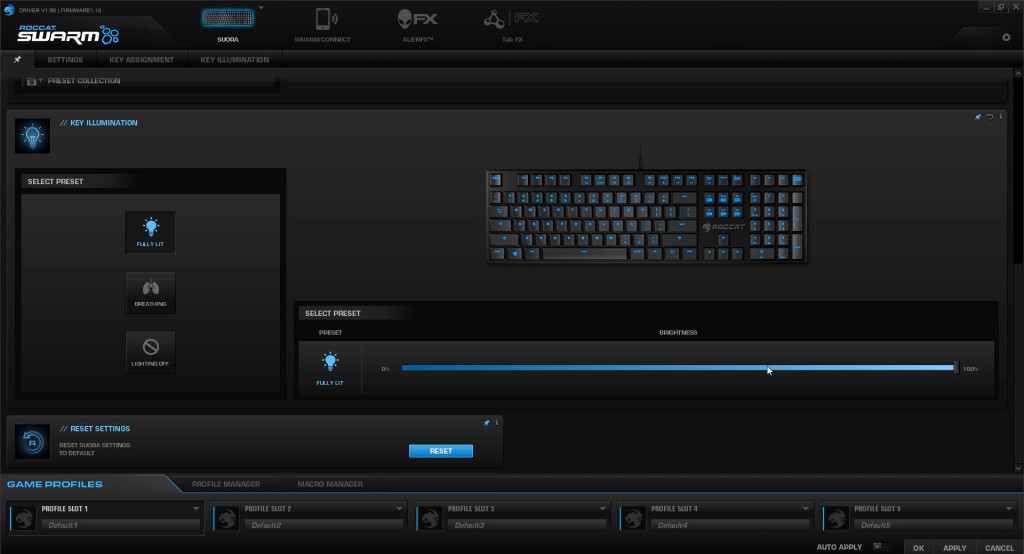 Verdict
My overall verdict on the Suora is that it is a very good mainstream price mechanical keyboard. It has a ton of extra features with the Swarm app that are definitely going to be welcomed and useful to any PC gamer, such as the game mode macro keys.
The finer control over the lighting is also welcome, with the welcome addition of not having to use the program to change the brightness or breathing mode on/off. The build quality is very good, and feels much sturdier than any of the keyboards I have used prior to this.
While the keystroke sound is a little loud, I would still say this is also a solid choice for Youtubers and streamers, as this is a solid keyboard which is going to hold up well to hours of use. For those looking to make the jump to mechanical without breaking the bank, I would definitely recommend the Roccat Suora as a solid option.
You can purchase the Roccat Suora in the UK here and from the US here.
Occasionally, we include links to Amazon. If you click on one and make a purchase we may receive a small commission. 
Other Articles You Might Like