The announcement from AMD of the R9 3xx series being worked on is hardly a surprising turn of events. But news AMD will have their cards on store shelves as soon as February, well that is cause for celebration.  AMD have recently held their annual even in Japan, during which they were only too happy to announce their plans to the attending journalists.
The R9 380X (based on the Pirate Islands architecture) is said to be aimed squarely at Nvidia's recently released Nvidia Maxwell GTX 970 and 980. The exact performance of the cards is of course a mystery, and AMD are being a little vague by saying both the GTX 980 and 970. It's possible they're still refining their final clock speeds, and therefore don't know. Or they don't want to let the cat out of the bag and give Nvidia a heads up.
The GPU is said to be using the 20nm process – TSMC have virtually perfected it at this point. We know Nvidia plans a die shrink for the Maxwell's (the so called revision b), but from AMD's point of view it'd be a feather in their cap to be the first 20 nm on the market. As you'd have probably gathered from the title, there are another two cards we need to talk about.
The bleeding edge R9 390X is next – and will be based on Bermuda. You can expect the GPU to be targeting both the 980 Ti and the Titan X. The R9 290X was a great competitor to Nvidia's high end Kepler's, but thermal throttling caused performance drops. AMD did manage to correct this by changing fan profiles, and third party vendors changed their coolers to help – but it still damaged the cards reputation.
AMD don't want a repeat of this, and despite the GPU using 20 nm, it's all but confirmed it will use the so called "Hydra" cooling solution. This is the hybrid cooler was developed by Asetek, and we'd discussed it previously. Why yes, it those prior rumors were real. AMD are keen to have no repeats of the complaints consumers had with the R9 290x.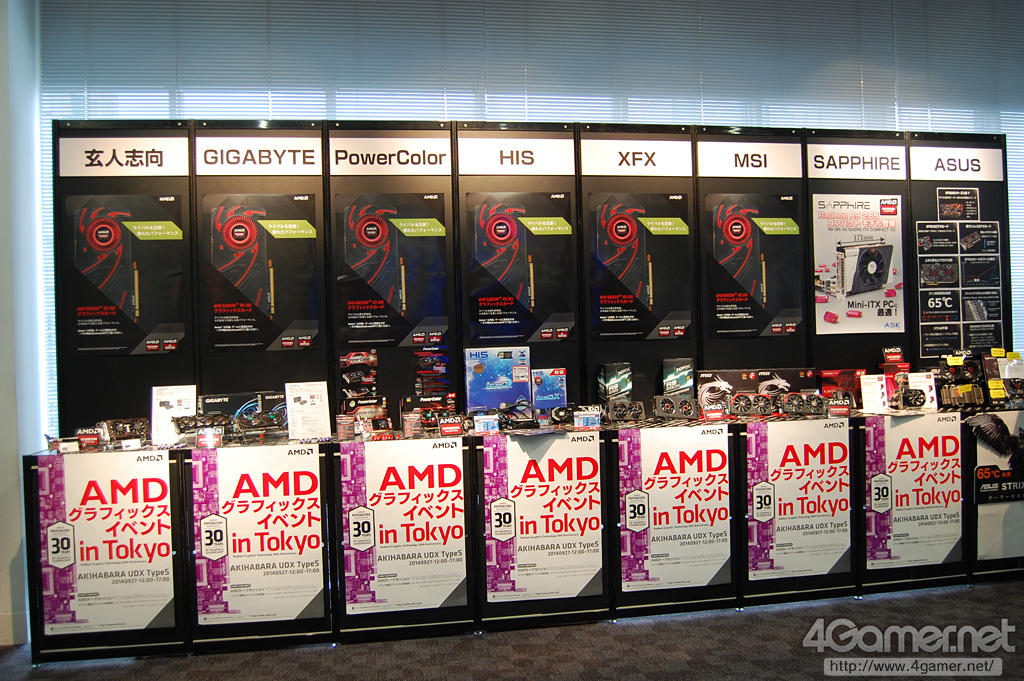 Finally we have the R9 370X, and no prizes for guessing it's going to be hitting the same market segment as Nvidia's GTX 960. The 370X is based on Treasure Island – and hopefully will offer great price and performance ratio. Aside from the news the cards will feature 20 nm, AMD are also planning on using 3D stacked HBM (High Bandwidth Memory). With the growing need for not only larger amounts of video memory (both Shadow of Mordor and the Evil Within want more than 4GB ideally) and a growing need for higher levels of bandwidth, this makes sense.
Thanks to the Playstation 4 and Xbox One, developers are free to push the boundaries, and PC ports should blossom as a result (they'd blossom a bloody sight more if they remembered we'd like an FOV slider). That – plus higher resolution displays (and dare I mention VR) highlights the growing need for RAM. Currently we're in a fairly odd time in the GPU market. While the GTX 980 is a great card, it's hard to justify the price. 4GB of RAM feels limiting, especially as we're already seeing games saying "more please".
Reminds me of when Doom 3 was released. It asked for RAM requirements which were hard for any card to answer (if you wanted to play with uncompressed textures). But both AMD and Nvidia rose to the challenge. There are reports we'll be seeing 8GB models of Maxwell, and so the best thing to do might be to wait and see if those are released at a good price. Naturally, the argument against this is that you can always wait for the next thing. But for those who're in a pretty good situation GPU wise, it might just be the best option.
Thanks to TechGadgetNews
Other Articles You Might Like