Brad Wardell has once again taken to Twitter and has been answering various questions users have regarding DirectX 12 for both the PC and the Xbox One, and some of his answers will likely make you rather excited, to say the least.
Mr. Wardell has been rather vocal in his support for low level APIs (both AMD's Mantle and Microsoft's DX12); offering tantalizing glimpses at the performance and visual fidelity the new APIs provide. Firstly, he's pointed out StarDock are indeed working on another project, one which looks so real, some of StarDock's own partners didn't believe it was running in real time and insisted in viewing it live.
The unnamed title is running at the juicy 4K resolution and will be targeted towards PC initially, but Brad isn't above the idea of releasing the project on Microsoft's console in the future. The game is said to be running on a currently available consumer GPU (but, for all we know that could be something like an R9 295X2, which has a lot of horse power), so this means it doesn't have some of the new and shiny DX12 features we know future GPU's will support.
"Plus, we are announcing a new game that will be demoed live at the Microsoft booth, AMD booth and elsewhere. The DX12 claims Made true. Ironically, some of our partners insisted on seeing it live bc they didn't believe the video we sent was real," says Brad Wardell over a series of tweets.
For those who're doubting his claims he says this, "Seen so many people saying that dx12 couldn't do the things I've tweeted. But I was referring to things I've been witnessing." impressive stuff to say the least.
As you may well know, GDC 2015 has gotten underway (it finishes the 6th of this month, March), but it's possible in the next day or two we'll be spotting the first glimpse of the Xbox One running DirectX 12 code. "we don't have anything for the X1 yet," says Brad about his own company, StarDock. "But yes, there will be X1 content there using dx12 last I heard."
Pretty cool right? If that's accurate, we'll be getting a glimpse in to what the Xbox One is really capable of with the new API. We know with the PC, it'll launch with Windows 10 (later this year, assuming there's no delays), but just what it means to the Xbox One has been the subject of a lot of debates.
While we know there are certainly some customization in the Xbox One's GPU (for example, the number of GCP's has been increased to two, but that's likely to handle rendering the OS stuff too), Brad Wardell himself has been vocal of his concerns of the Xbox One's performance with DX12. While it's a bit of an old chestnut, it would appear his concerns lie in the memory designs of the console, more specifically DDR3 RAM's "Crumby Bandwidth" (his words) and a relatively small amount of eSRAM (32MB).
For those who're regular views on the YouTube channel (and if you are, the RGT team thanks you deeply) you'll know I've been reviewing an AMD Radeon R9 290X. Part of that testing naturally extends to trying out Mantle, which is AMD's low level API (in fact, it was the first released… unless you're going count say Glide, from the defunct 3DFX). While Mantle is a very different beast to DX12, Thief (as a tiny example) went from a minimum frame rate of 32FPS using DX11 to 69FPS with Mantle. Average frame rate went up to 96.4 with Mantle, while DX11 manages a paltry 58.4 FPS.
Remember, Thief's engine wasn't created from the ground up with Mantle, and neither is Mantle the same API as DX12. My point is though it shows a small hint of what low level APi's can actually do. And there's also the fact DX12 maxed out an Intel 5960X CPU (that's 12 threads… for those who're wondering).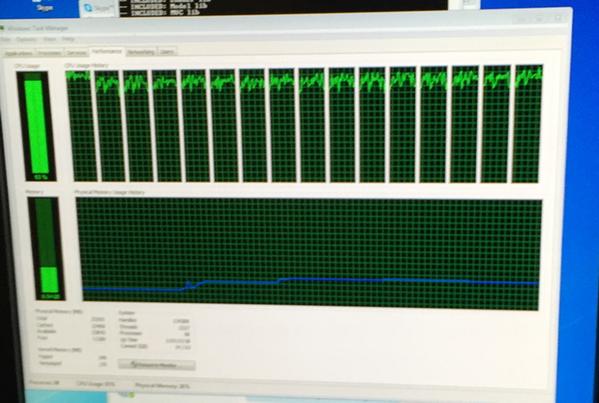 As I've written several times now, we need additional draw calls and detail (which DX12 / Mantle will take care of). But we also need higher frame rates at better resolutions too. With Virtual Reality headsets becoming a 'thing' (there's both the Rift, and recent news Valve are getting in on the VR headset action), 4K displays are dropping in price pretty quickly… plus 120 or 144HZ monitors, Free / Gsync, and surround monitor setups…
Hold on to your butts ladies and gentle, the future is here (well, okay it's just over that hill…)
Are we there yet? Are we there yet? Are we there yet? Are we there yet?
Source – Brad Wardell's Twitter.
Other Articles You Might Like