MSI, along with Intel's other motherboard partners are readying the launch of the 200-series boards at CES 2017, and images of the MSI X270 Gaming M7 and Z270 Tomahawk have leaked into the wild, showing an impressive set of specifications for the new devices, including 3 M.2 ports.
This leak originates from EXPReviews and frankly, we're quite the fan of MSI's design aesthetics for both motherboards.
Starting out with the MSI Z270 Gaming M7 and it features the companies traditional black and red bold color scheme, and judging from the images the board looks to be of a high build quality. Perhaps most notable is the 12 phase PWM supply, and it along with the rear I/O ports are shielded. The VRM's are cooled off with pretty beefy looking heatsinks linked up to a heatpipe, so in theory, at least, the board should be very overclocking friendly.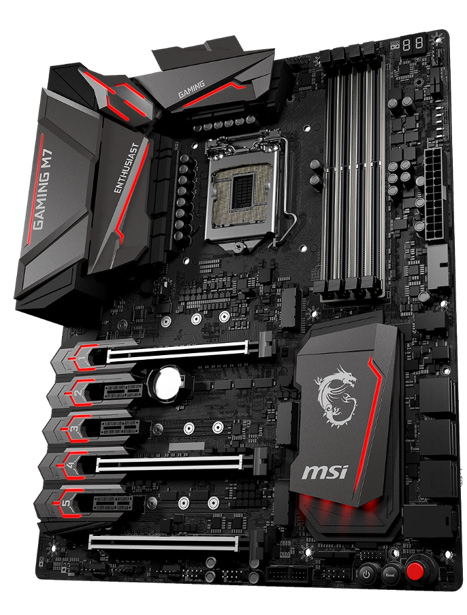 Naturally, there are also four DDR4 DIMM slots, supporting memory speeds over 4000 Mhz. For folks worried about expansion ports, there are three PCIE 3.0 x16 slots (which you'll notice are also shielded), three PCIE x1 slots and also three M.2 slots.
Finally, there are the usual plethora of storage ports, including 6 traditional SATA 3 ports and a U.2 port for the increasingly popular NVMe breed of SSDs.
In terms of CPU support, the Intel 200-series will fully support both the 6th generation (Skylake) and 7th generation (Kaby Lake) range of processors.
Moving onto the MSI Z270 Tomahawk, and we have a motherboard with a similar color-scheme to its brother, but with a few notable differences due to it being a more budget orientated board. Chiefly, there appears to be a 10 phase PWM design. One will notice the familiar dual channel DDR4 RAM slots are kept from the Gaming M7, with a limitation in capacity, of up to 64 GB.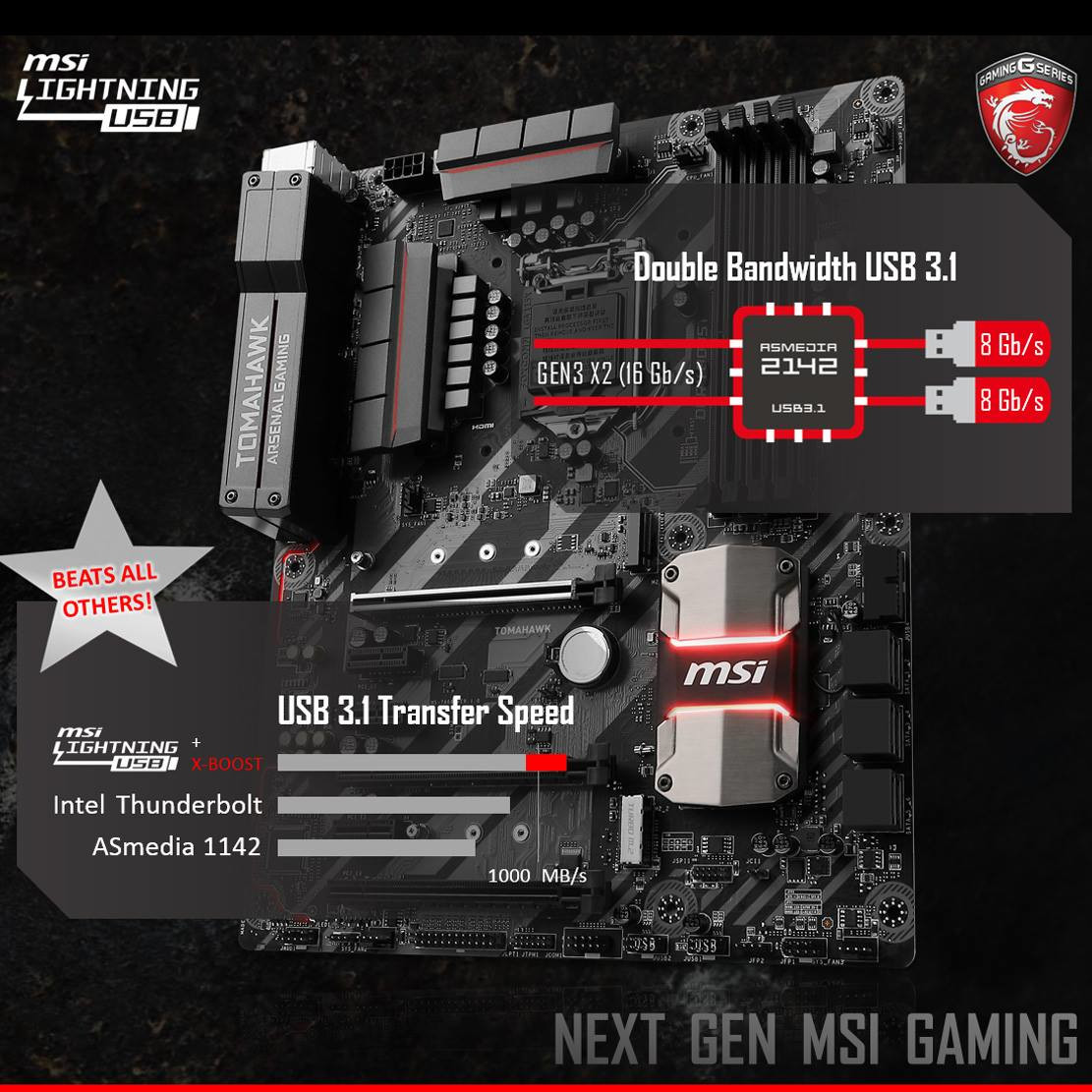 There's the same number of PCIE slots as its brother (three PCIE 3.0 x16, three PCIE x1 ports) but M.2 ports are cut from three down to two (one can argue that's more than enough for most gamer's). Once again there are six SATA 3 ports, and MSI is also touting their Lightning USB X-Boost, providing an ample 1 GB/s of data over a USB 3.1 connection.
So we won't have long to wait until Kaby Lake is released to the world – it will be interesting what MSI and other board partners reveal for their various Summit Ridge lineup of boards for Zen, particularly with the New Horizon event now just being a few days away.
Other Articles You Might Like