Nvidia's Siggraph 2018 was one of the most important events the company has put in years, and in the companies own words, Turing is the biggest advancement since the release of the Tesla architecture – the dawn of CUDA and the unified GPU architecture as we know it today. Turing will improve what had made Volta impressive, by tweaking the underlying architecture (including CUDA cores and Tensor cores) and the important bit – adding in Ray Tracing cores, which will allow real time ray tracing.
If you'd like a full analysis of the Turing Architecturedetails so far,  plus leaks concerning benchmarks for the RTX 2080 you can check our analysis here.
Over the past several hours though, quite a number of details have come to light regarding the form Nvidia's Turing will come in for the GeForce lineup, and the answer is – very similar to the Quadro RTX 5000 it would seem, but with a few snips and tucks here and there.
Several leaks (from Baidu and TechPowerUp) seem to indicate that the RTX 2080 will indeed be snipped from the 16GB of 14gbps RAM of the Quadro RTX 5000 to just 8GB. It's clearly a cost saving measure from Nvidia, given DRAM of this capacity is much cheaper. It'll be interesting how Ray Tracing and other techniques affect VRAM and frame buffer requirements – something for us to certainly investigate in the future. The TDP is listed as 210W for the RTX 2080 as well, confirming our theories from yesterday's video that indeed we'll be seeing the part well under 250W.
Regardless, according to WhyCry over at VideoCardz.com, who'd also managed to grab a chart – there's a few different device IDs which are prefaced with "Direct (only)" and "virtual". Direct means reference design (think Founders Edition cards) and Virtual means just simply the reference board itself.
While none of that raises an eyebrow in and of itself, WhyCry correctly points out that the fact a Titan class card is already listed so early is rather strange. Perhaps we'll see a sooner than later launch for Nvidia's higher end SKUs then? These GPUs will have 12GB RAM with a 384-bit memory bus.
The RTX 2080 Ti is also listed, and it seems Nvidia are cutting its RAM to the same amount as the GTX 1080 ti, 11GB on a 384 bit bus – although using GDDR6 RAM of course, rather than GDDR5X.
According to a series of TechPowerUp database entry leaks, we also have some information regarding the processor name, the CUDA core and ROP count, and many other specifications of the GeForce RTX 2080 and 2080 Ti.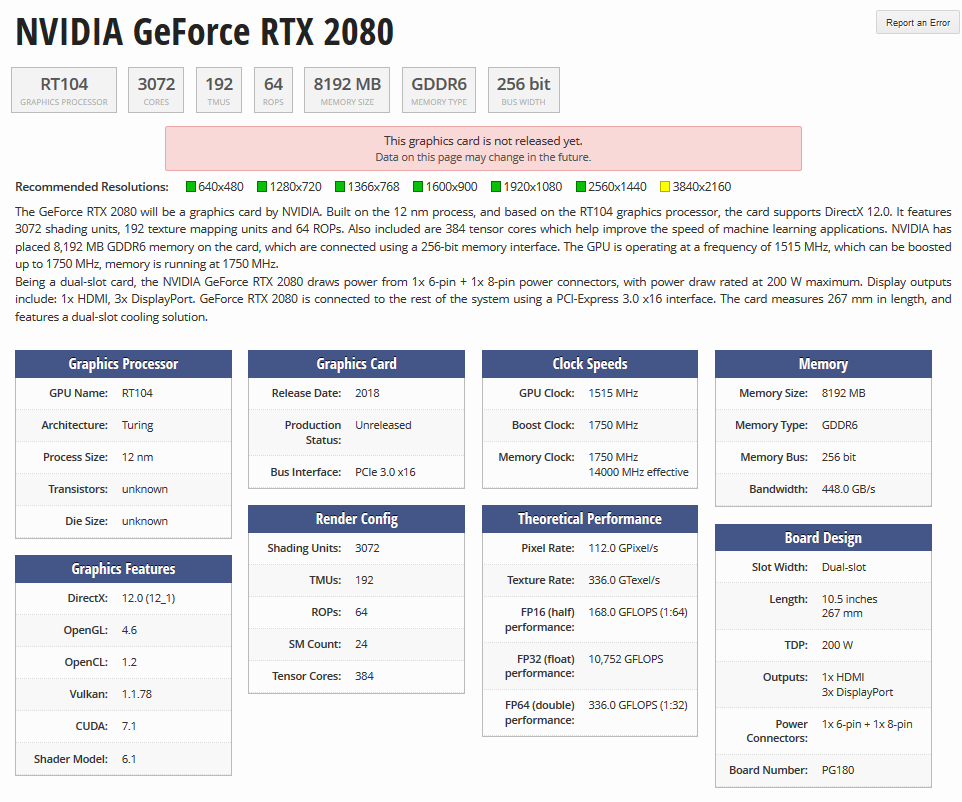 Of course none of this is confirmed by Nvidia – but assuming its true, the RTX 2080 Ti in particular will be a monster. Its using the RT102 core, with 4352 CUDA cores, 88 ROPS and 11 GB of GDDR6 VRAM on a 352 bit bus – meaning about 616GB/s memory bandwidth, assuming the RAM is clocked at 14gbps (which it most certainly is) and finally 272 Texture Mapping Units.
The RT104 is the heart of the GeForce RTX 2080, and has 2944 CUDA cores, a slight cut of the 3072 CUDA cores found in the Nvidia Quadro RTX 5000. With 128 CUDA cores disabled, most likely we have 1 or 2 fewer SM block Volta has 64 CUDA cores per SM, although its possible it might be 128 CUDA cores per SM with this architecture). Other than that, we see 184 TMU, 64 ROPS, 8GB GDDR6 RAM on a 256 bit bus running at 14gbps, so 448GB/s bandwidth.
Of course – there's a few obvious issues here – we don't know if these leaks are accurate being the most obvious, but even if they are; we're still in the dark regarding the number of Tensor cores and how / if the Ray Tracing cores have been adjusted for the GeForce RTX products. We know that according to Jensen Huang, the Tensor cores in the full fat Quadro RTX 8000 are capable of 125 TFLOPS of FP32 performance (full precision), 250 TOPS with INT8, and 500 TOPS with INT4.
The number of rays was also cut, from 10 GigaRays a second down to 6 GigaRays – or to be more exact, 10 GigaRays for the Quadro 8000 was cut down to the 6 GigaRays of the Quadro 5000.
Rumors also peg the RTX 2080 to run at at least 1920 MHZ, and can overclock to 2500 MHZ plus. Turing is used on the same TSMC 12nm processor Nvidia use for Volta, so they obviously can't clock the GPU to the stratosphere, but these types of speeds might make sense, and do align with rumors Nvidia were making adjustments for improving clock speed further still for their next architecture.
The leaks also claim that the RTX 2080 will cost 649 USD, and will be slightly faster than the Titan V. Which might make sense given the recent Ashes of the Singularity benchmark leaks – although what card was using in  the benchmarks isn't listed – so for all we know, it was not the RTX 2080, or had been overclocked to insane numbers by using the vacuum of space for cooling.
Rather amusingly, these rumors also conflict with the ones above, telling us that we'll have 3072 CUDA cores as opposed to the 2944 listed on TechPowerUp's database.
"Eyes Glare at all things" says a tease from Gainward, a clear tease for the companies upcoming custom variants of the RTX 2080 cards. I've stuck it at the end of this story because there's not much we can learn, other than Gainward (along with Nvidia themselves and of course AIBs) are in full swing marketing efforts right now for the GeForce RTX 2080 cards.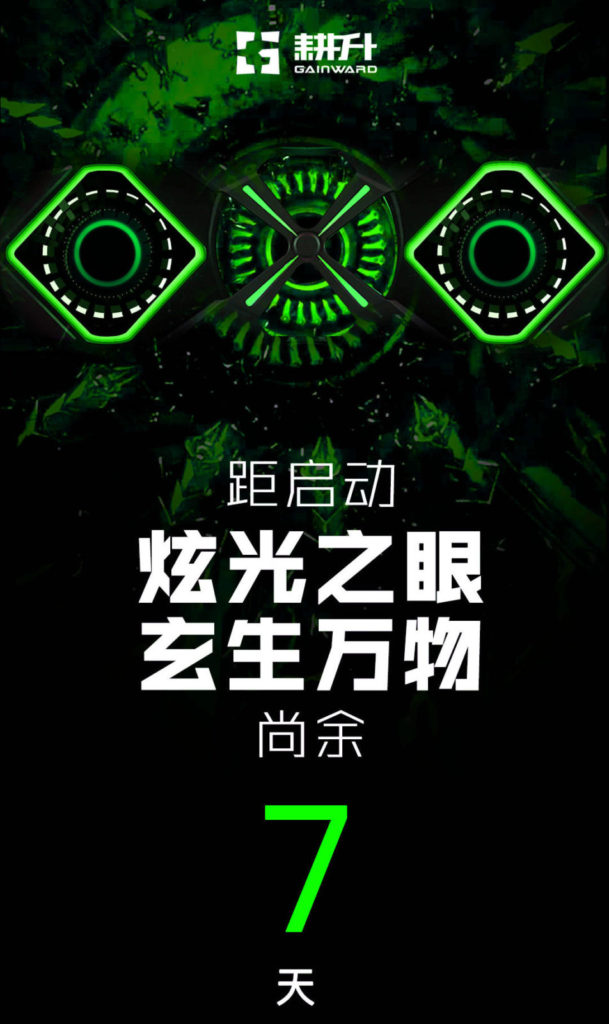 Other Articles You Might Like