There's been a lot of speculation as to the performance levels of Nvidia's Turing architecture, which is the follow on to both Pascal and Volta. The elevator pitch for GeForce Turing would be to imagine Volta, and tweak it for gaming, keeping the improvements in architecture such as Cache in place. Naturally, this is combined with a larger number of shaders too; along with the obligatory for next generation GPUs GDDR6 RAM.
Several days prior, Nvidia had released the infamous performance graph – detailing that according to the company, the RTX 2080 will be up to 50 percent faster than the GTX 1080, and other leaked slides show a similarly matched performance level with Turing's shaders.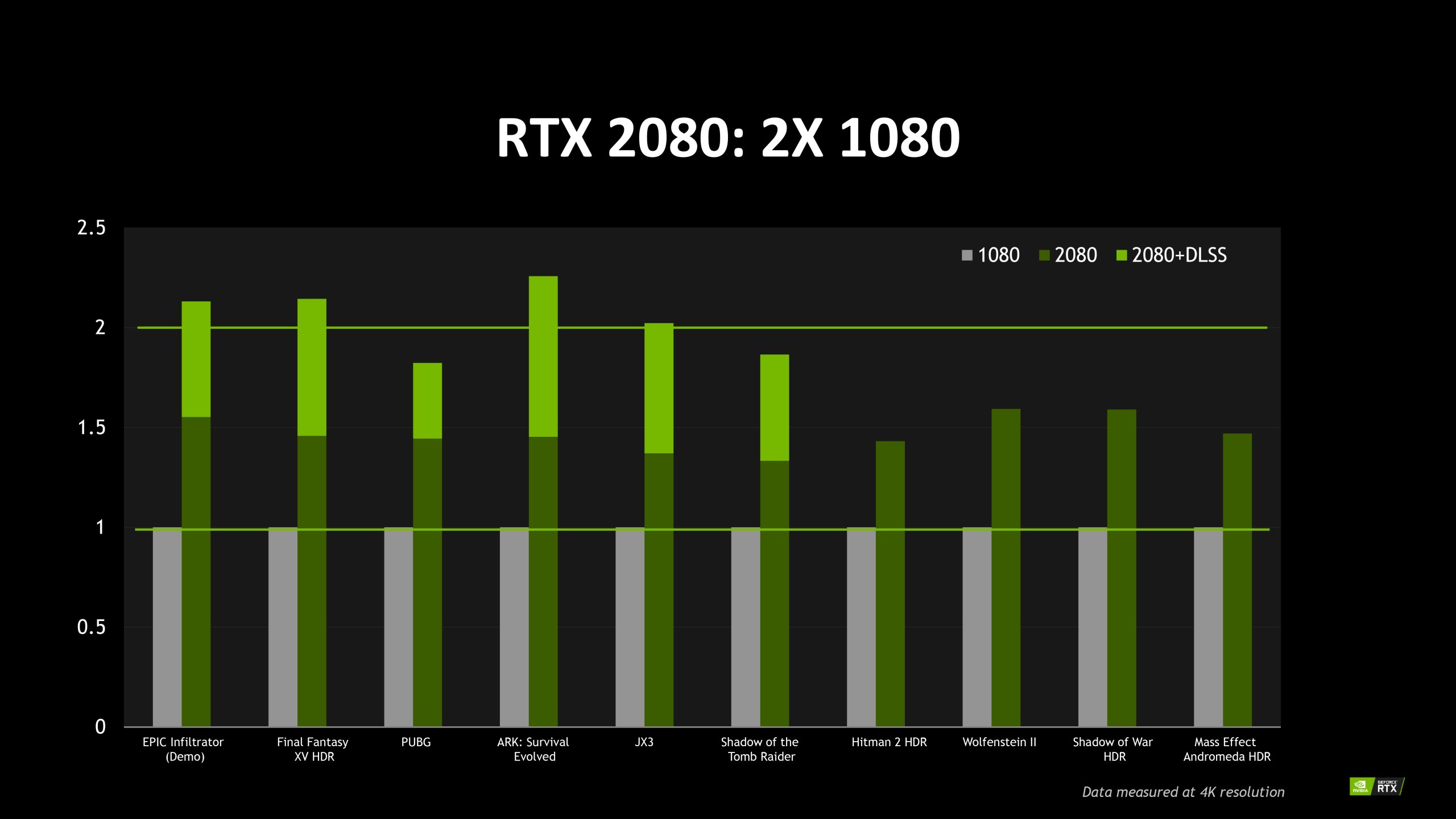 But, what's rather interesting is that the folks over at HotHardware recently had Tom Peterson from Nvidia on to discuss performance results, and he happily pointed out that Nvidia were aiming for a 35 to 45 jump over the GTX 1080 Ti. This certainly fits in with the leaks we've heard so far, including the Time Spy results telling us that the GTX 1080 Ti will be beaten (just about) by the RTX 2080  and also the information from TechRadar who'd reported they'd seen games run up to 100 FPS on the RTX 2080 Ti.
So, if we take the 40 percent (which is the half way house between the two quoted figures), and compared that against what we can grab from a GTX 1080 Ti, we have the following results of our (in theory) RTX 2080 Ti graphics card.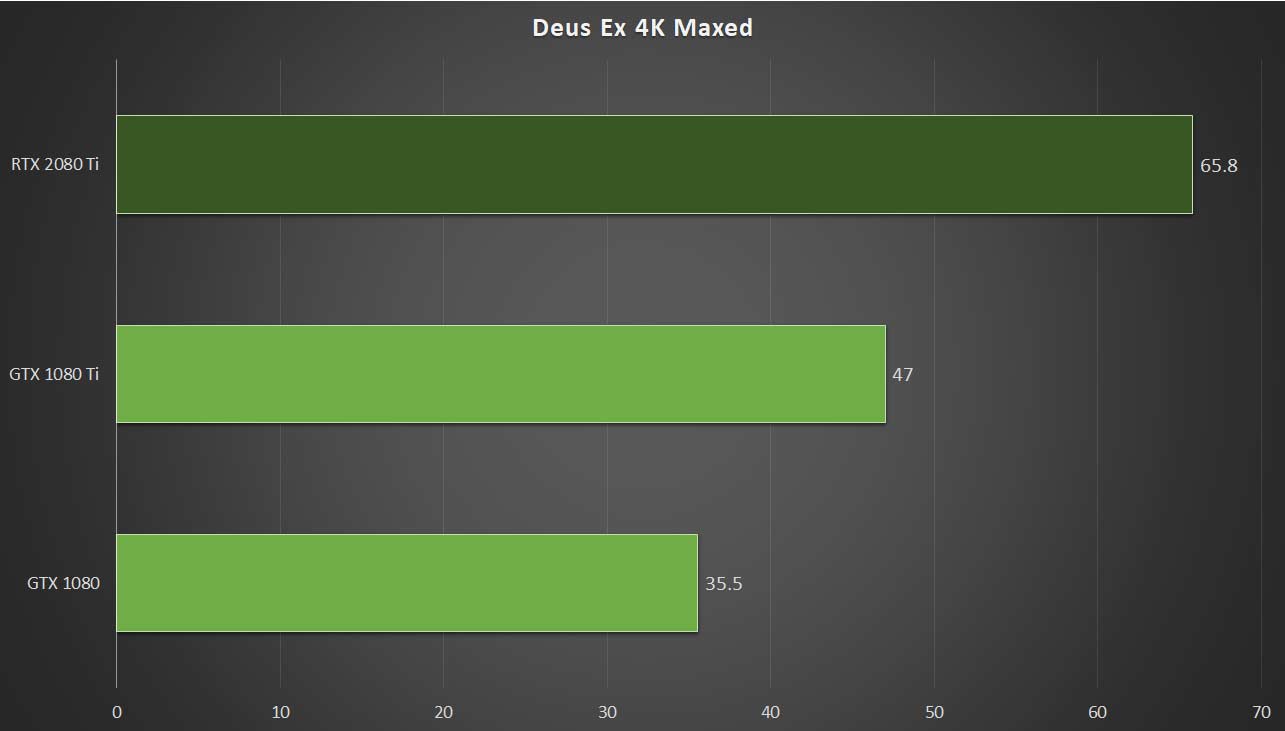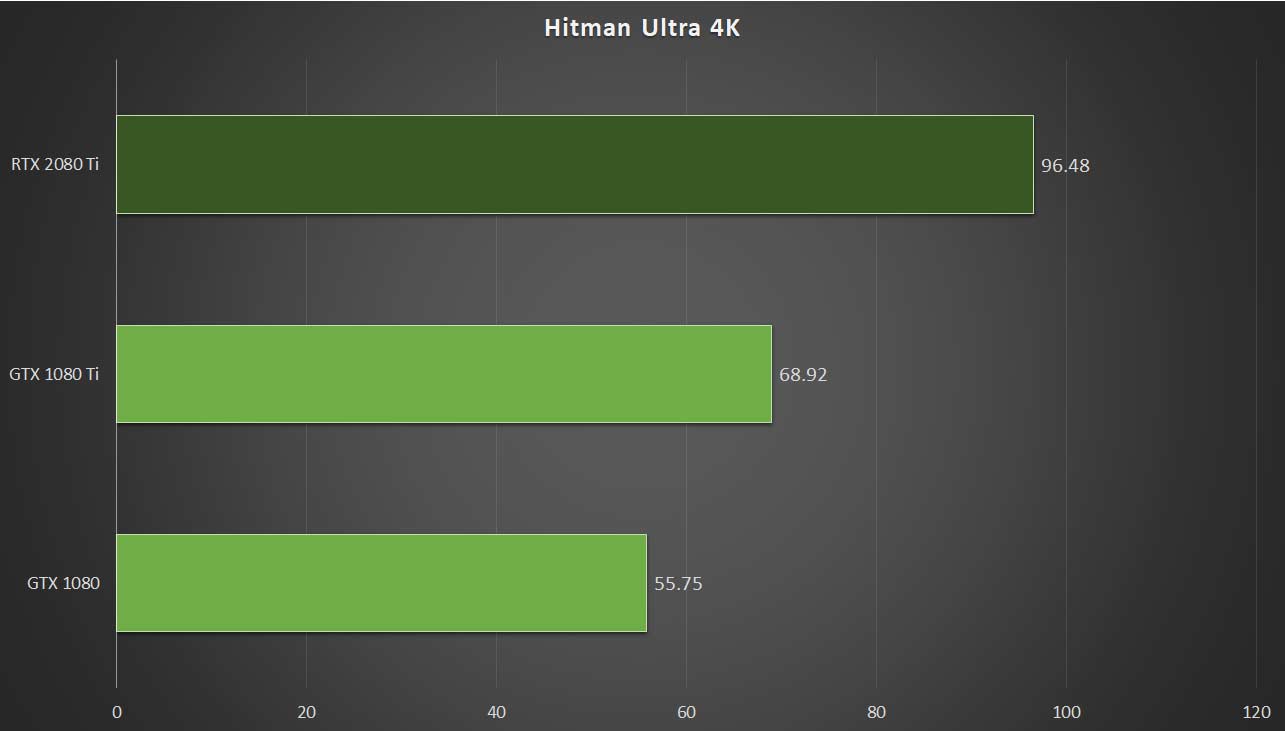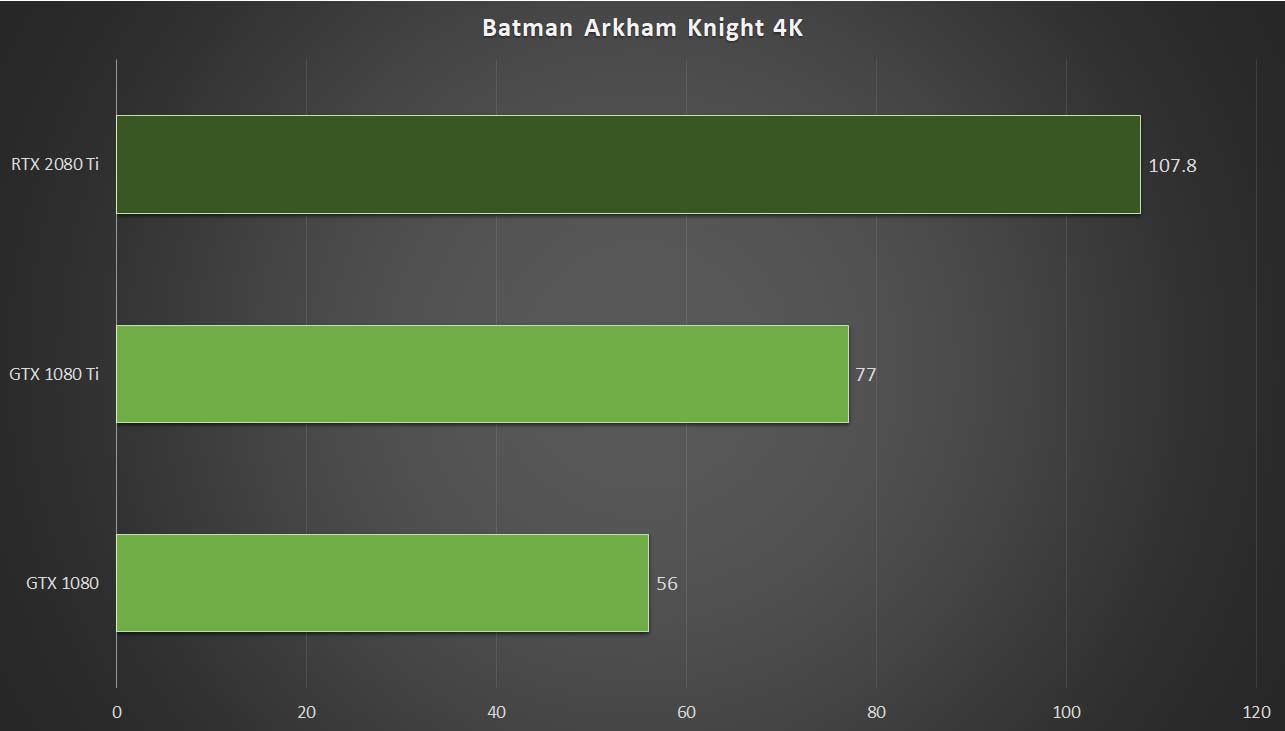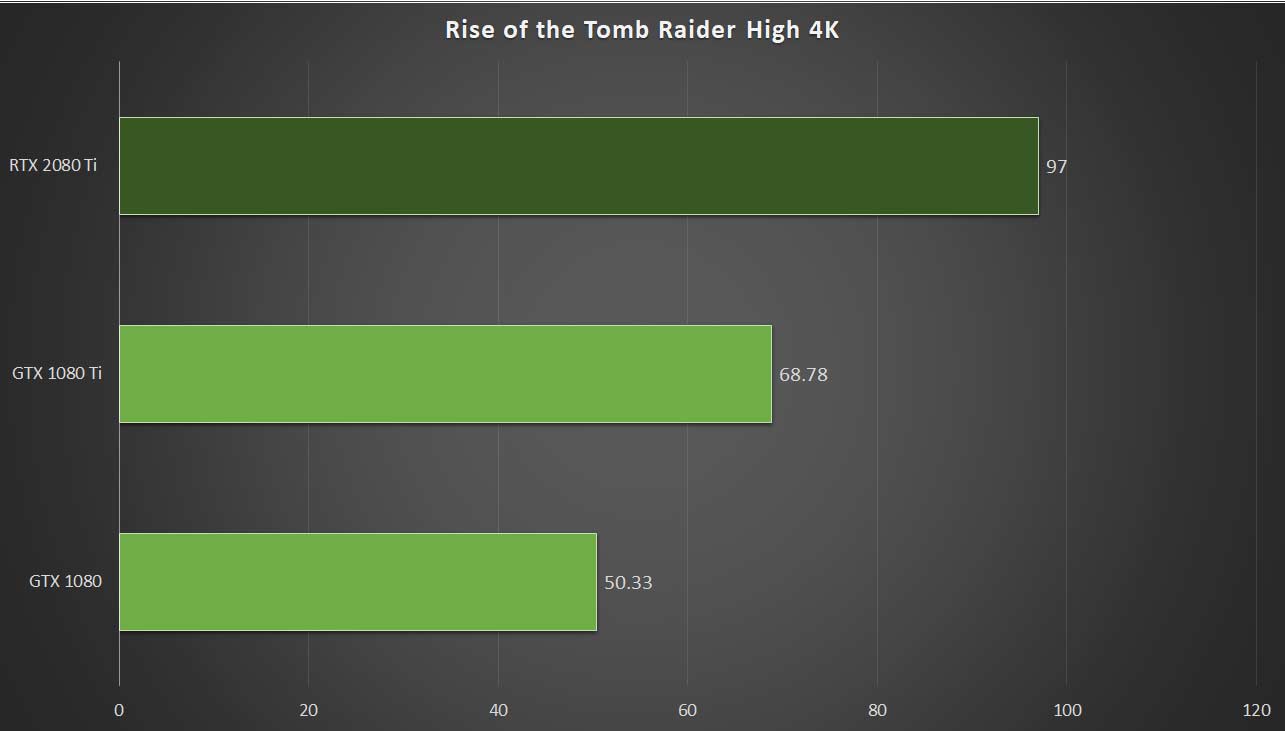 So, what we can see is that certain games will be rather happily skating on the edge of 100 FPS at 4K with all the settings at their highest. We can pretty much say that currently the GeForce GTX 1080 Ti can generally achieve between 55 and 70 FPS on the more demanding titles at 4K, so we can certainly say that for owners looking to grab a single graphics card… it's not bad at all.
Of course, others will point out that this is a much smaller leap made by Pascal. Pascal had obtained a 50 – 80 percent leap in performance, with the GTX 1070 beating the Maxwell based Titan card… and the GeForce GTX 980 Ti comfortably sitting at a 60 – 70 percent disadvantage compared to the GTX 1080 Ti. But, ultimately this isn't typical. We've seen much smaller jumps in the past from graphics cards, with GPUs such as the GTX 580 providing just around 10 percent over the previous generation, even the highly regarded GeForce GTX 680 couldn't really do much better than 20 to 25 percent compared to the previous generation card.
Maxwell to Pascal was the combination of faster memory speeds (GDDR5X), a new process, a new architecture and several other factors which meant that Pascal simply was astounding in terms of the performance it offered. Currently, you can pick up a GeForce GTX 1080 Ti graphics card for 650 USD. That's about 200 USD cheaper than the AIB models of the RTX 2080, with cards such as the Gigabyte WindForce RTX 2080 retailing at around $750 USD. So for many, paying the cheaper price does make sense… but then you're losing out on Ray Tracing technology and Tensor Cores.
There's also the fact that Nvidia have room left in the Turing tank to optimize drivers, and who knows how much performance will improve over the next several months after launch. To clarify our stance here – the price of these cards is high – yes. But given the new technology of both Tensor Cores and Ray Tracing – it is understandable I suppose.
For Pascal, we saw the GPU version of Sandy Bridge or the AMD Athlon 64. People who bought an Intel I7-2600K and run with a heavy overclock (particularly with fast DDR3 RAM) are generally speaking very happy today with many games. I suspect a lot may even hold out until next year and see what Intel and AMD smack each other with when they release their new processor architectures.
Other Articles You Might Like