AMD's Mark Papermaster has just confirmed that the companies engineers are currently in the design phase of the Zen 5 CPU architecture.
Details were scarce on what we'll see on the Zen 5 design, but during the EPYC Horizon executive event, AMD confirmed their leapfrog approach for chip design was paying off, and that their long term roadmap was looking extremely healthy.
Earlier this year, an engineer at AMD accidentally confirmed Zen 5's existence by listing it as an accomplishment on LinkedIn.
From what little we know about Zen 5, it will be produced on TSMC's 5nm process. Aside from that, we can gather it will support next-generation memory, as we know that Zen 3 will be the final series of processors supporting the older DDr4 standards, and also mark the end of the legacy/backwards compatibility promise AMD made back in 2017 for both the server and mainstream line up (AM4).
From my own sources, Zen 3 will be quite the send-off, as I've been told that the CPU will have over an 8 percent IPC gain over the Zen 2 architecture, and a clock frequency improvement too (so far, Zen 3 Engineering Samples are about 100-200MHz higher than Zen 2). AMD has also officially given some details to the changes of the Zen 3 CPUs too.
Oh, and speaking of the EPYC Horizon event, AMD wheeled out TSMC's Godfrey Cheng (who serves as TSMC's head of Global Marketing) in an effort to assure customers that TSMC could handle the capacity demands of AMD.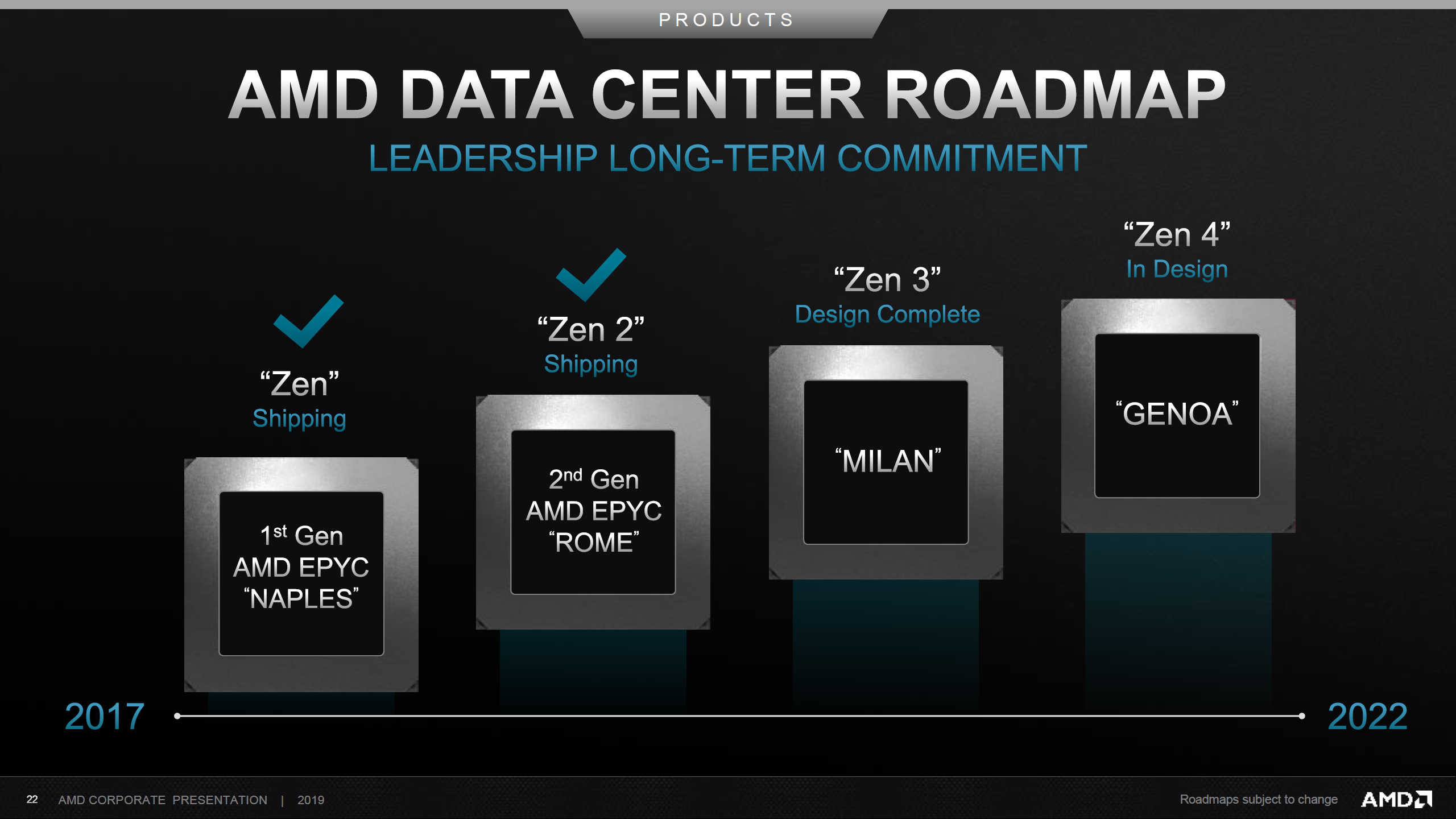 "In raw aggregate capacity, we're actually three times the capacity of our next nearest foundry competitor. This means that we have approximately 12,000,000 12-inch equivalent wafers in terms of raw capacity."
He then went on to state that their "N7 node has actually been very successful." and that they'd been able to ramp up production quickly, the fastest in any node on TSMC's own history.
Now, moving on to AMD's CPUs themselves – November is shaping up to be a big launch for the company (and also Intel and Nvidia too). We'll see the launch of the Ryzen 9 3950X (which had been delayed from the original September launch) and also the launch of the third-gen Threadripper parts.
VideoCardz.com has gotten their hands on confidential documents which layout AMD's launch plans out.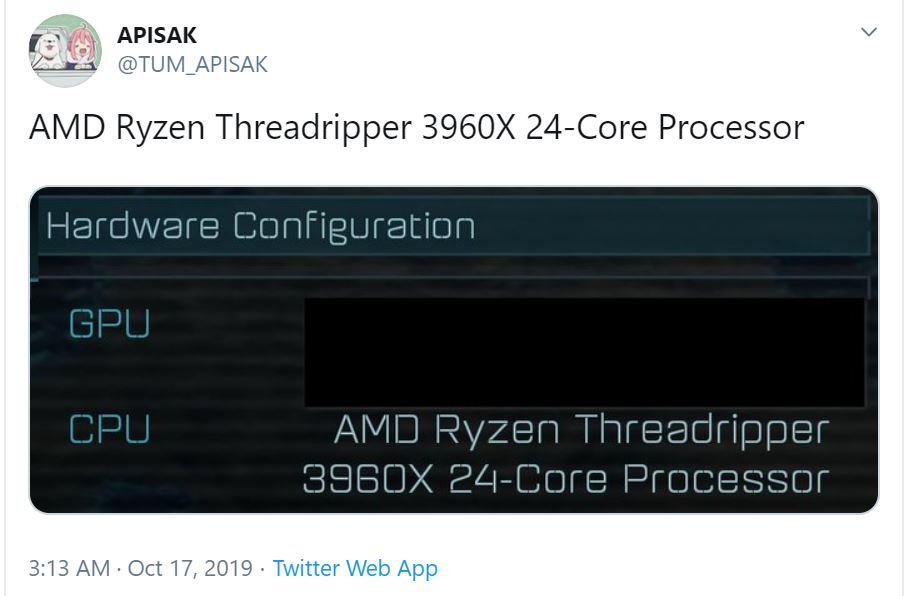 Starting in November, we'll see both the Threadripper 3960X and Threadripper 3970X be revealed on the 5th, but both reviews and sales will not go live until the 19th of November.
We've actually seen the name Threadripper 3960X confirmed by an Ashes of the Singularity benchmark entry too, and it seemed to be the 24-core model. We can logically guess that the 3970X will be a 32-core SKU (as we've seen several 32-core leaks on the Sharktooth platform), but it's also possible it's a different core count.
These dates also correspond to the announcements and release of motherboards featuring the trx40 chipsets too. These boards we've seen lots of leaks for, so it'll be interesting to see what's changed from the older X399 boards.

So, what about the Threadripper 3990X then? Well, it is revealed in November, but purely core counts and the name of the CPU. Essentially, it'll be teased only. It'll not go on sale until January of next year, so if you want the higher core count SKU, you'll need to be patient.
You'll also notice that there's a jump from a Threadripper 3970X to the Threadripper 3990X, so where is the 3980X? Well, it's apparently not mentioned in these documents, so we can only guess it'll come later (possibly?).
We've also seen leaks of the TrX80 platform in the past, but these aren't mentioned in these documents. So it's possible that this platform might not exist, AMD have changed their mind in launching it, or it'll come later. From what I've learnt, AMD is planning to do a 'Pro' version of Threadripper, aimed at workstation folks… so perhaps we'll learn more about this in January, along with the Threadripper 3990X?
And finally, we have some leaks for the performance of the AMD Ryzen 9 3950X – and shockingly, it's a monster.
The first results come from WCCFTech, who claims to have been sent results of the CPU running at 'stock' (without any overclocking or tweaking was done to the CPU). In Cinebench r20 benchmark, the Ryzen 9 3950X scores 8789 points, which is… frankly, insanity.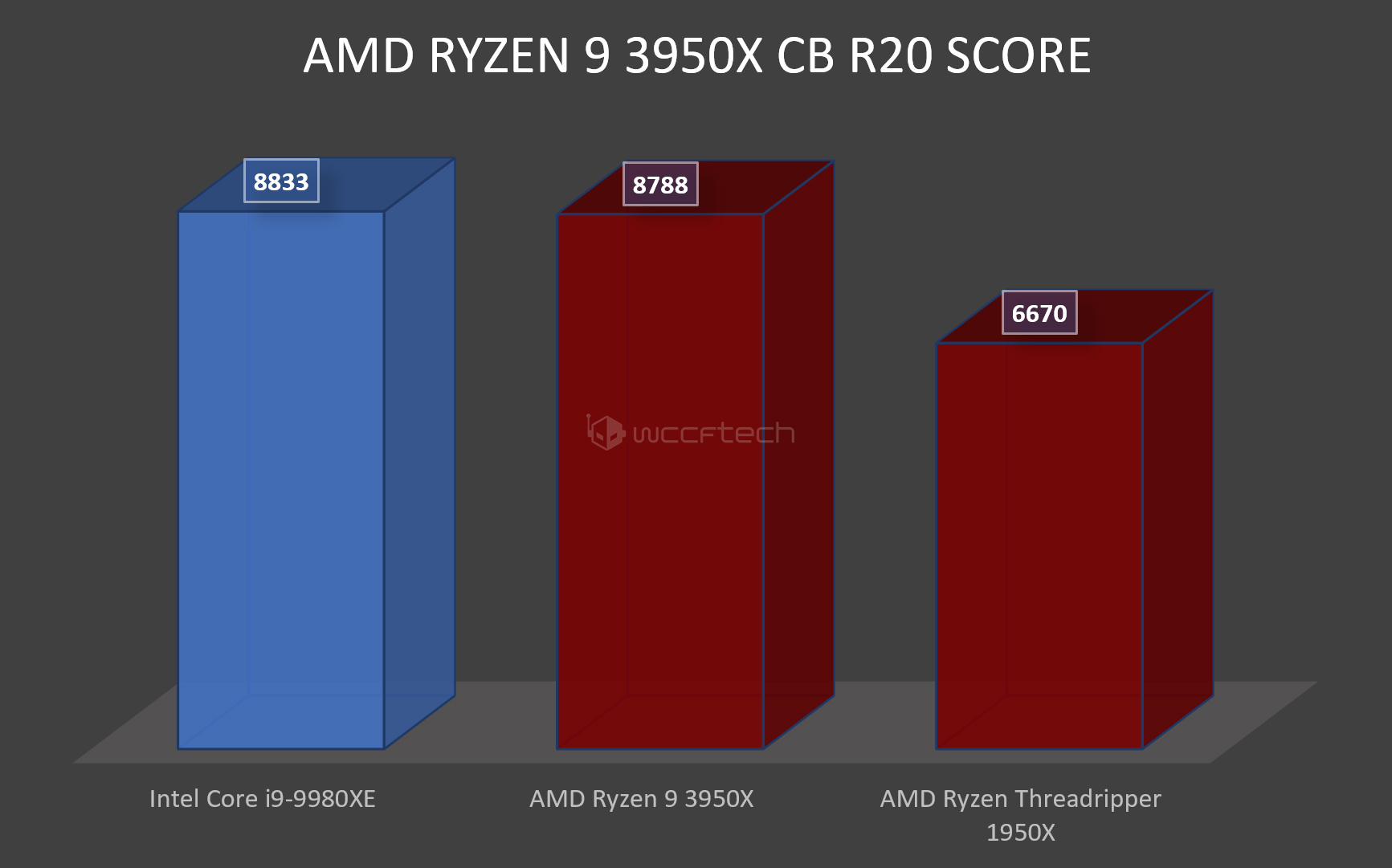 Apparently, the all-core turbo on a Wraith cooler was about 3.9GHz, though did turbo single core up to 4.7 GHz (this is a stock chip, apparently).
This stomps the Threadripper 1950X, with the first-gen flagship scoring only 6670 points. The Ryzen 9 3950X in Cinebench basically is neck-and-neck with an Intel I9-9980XE at stock.
There have also been a few leaks thanks to the GeekBench database (found by Tum-Apisak), although there's quite a bit of a difference in score here. The first result comes to us via an ASUS Prime X570-P motherboard, and with memory running at 3600MHz.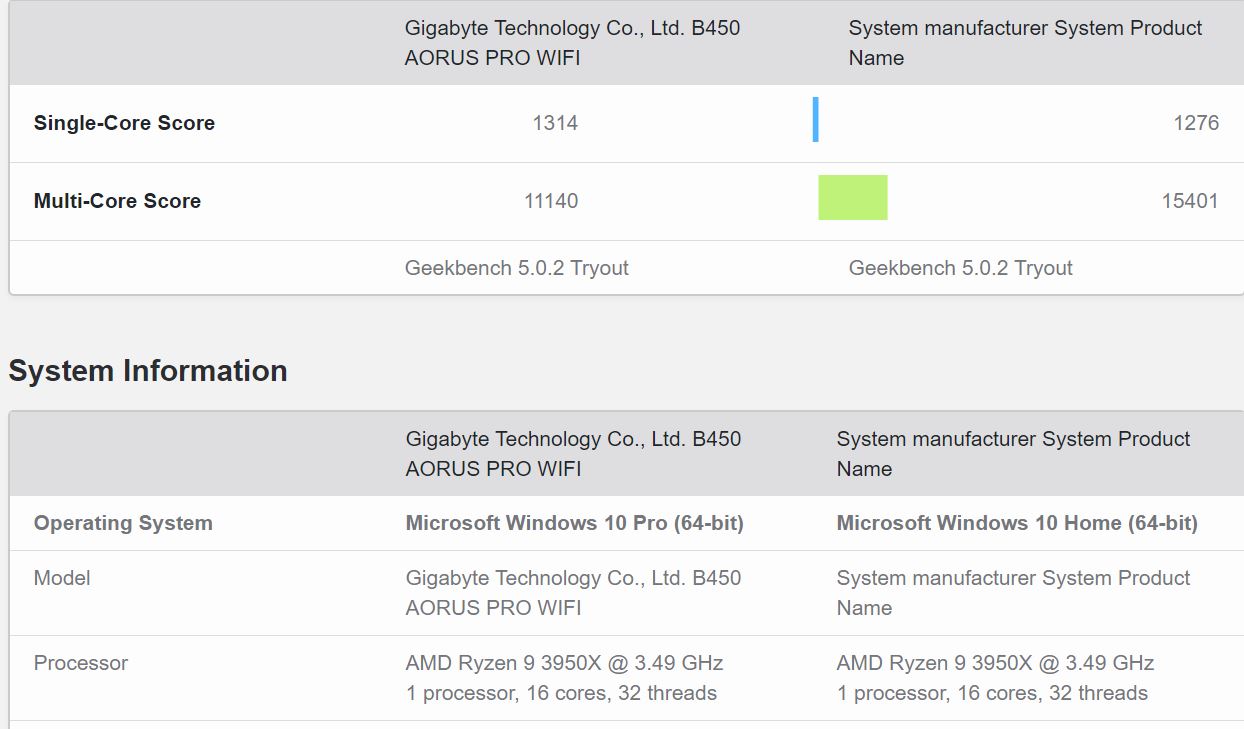 The single-core performance was 1276 and multi-core performance of the Ryzen 9 3950X in this benchmark was 15401.
Then, we have a benchmark on a B450 board from Gigabyte. The amount of memory here is only 16GB (compared to 64GB of the X570 result). But, the speed is the important thing – and it's still reporting 3600MHZ.
However, here the Ryzen 9 3950X scores just 11140 for multi-core, but the single-core is 1314.
The difference is pretty big in multi-core performance, but given this is only a single result, we don't have enough data to draw any full conclusions yet.
In the final AMD thing for the day, we see a very odd CPU listed in a master product list that was available on AMD's own website. Komachi on Twitter made the discovery of the Ryzen 7 3750X, which is thought to be a 105W TDP processor. This CPU is a bit weird, because of the existence of both the Ryzen 7 3700X and also the Ryzen 7 3800X, and given there's not exactly a huge gap between those processors already, the Ryzen 7 3750X's existence is a bit of a mystery.
It's possible that AMD has decided to not launch the CPU, or it will be specifically for a market like say China – or maybe just for OEMs. One rumor is that it has two chiplets (CCXs), so that means 64MB of Level 3 cache, compared to just 32MB of Level 3 cache on the Ryzen 7 3700X or Ryzen 7 3800X. In theory, this would mean four CPU cores would be enabled in each of the two chiplets.
Though how much of a performance difference this would make, and also how AMD would price the Ryzen 7 3700X is certainly going to be interesting.
Other Articles You Might Like
Tagged with
3750x
,
AMD
,
amd news
,
benchmakr
,
ryzen 9
,
ryzen 9 3950x
,
sharktooth
,
threadipper
,
zen 2
,
zen 3
,
zen 5
.