News is coming thick and fast over the coming hours from AMD, as the company holds its live analysts webcast. So far, the webcast has indeed confirmed much of the speculation regarding the fiji R9 390X GPU, it will indeed be using High Bandwidth Memory and will also be 'Virtual Reality Enablement'.
The great news is that Lisa Su, AMD's CEO, confirmed that the product launch would happen at a big event within the next few weeks. There's only one big event (that I can think of anyway) and that's E3 PC Gaming event, which is mid-June. This also coincides with rumors from a few days ago that OEM's will be releasing PC's with an R9 380 option, also in June.
Much of AMD's presentation was focused on the usage of High Bandwidth Memory, and how it will play a key role in the future of AMD's GPU's, particularly Fiji (though it was hinted other GPU's may also benefit from the technology too). Dr Lisa Su, also confirmed yet another rumor, that the cards would be available in a far smaller form factor due to not needing the extra PCB space for the GDDR5 chips.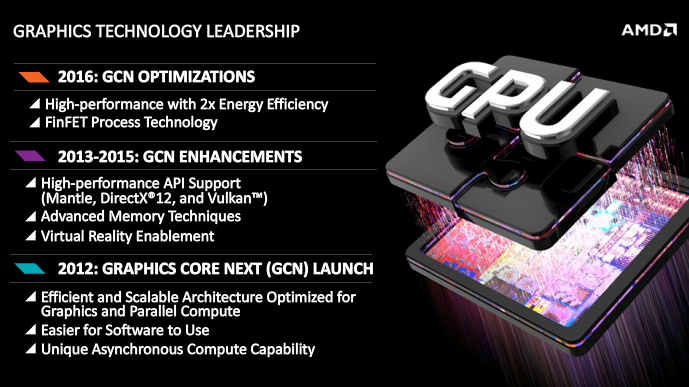 AMD's slide points out that the company will be first on the market with HBM, and be using a 3D HBM DRAM Die Stack on an interposer. Basically, the GPU will sit next to the HBM (High Bandwidth Memory) stack, and the interposer (think Wires) will connect the two together. AMD claims this will provide over 3x the Performance/Watt when compared to conventional GDDR5 RAM, while also providing over a 50 percent power saving too.
For those who like technical details, 2x 4-Hi HBM1 features a 1024 bit interface, and thus can 128GB per pin. This will allow low clock speeds to be used while pushing high bandwidth. AMD are said to be bypassing the HBM1 specification limit of 4GB by having SK Hynix utilize a Dual Link design, stacking 4x Dual 1GB HBM modules.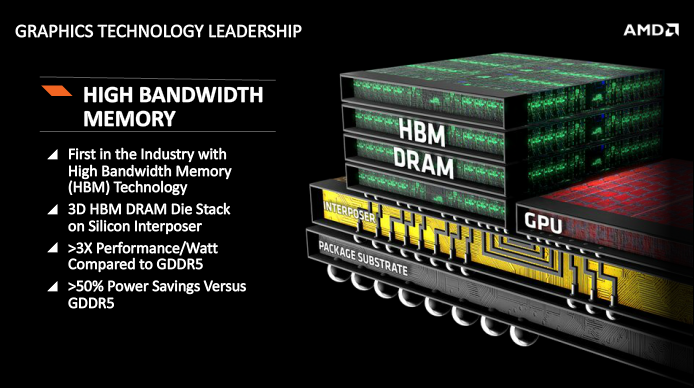 The aim for the GPU will be power effiency, with AMD touting the Radeon 300 as being built for DirectX 12, and also pushing the LiquidVR (their technology to reduce latency for Virtual Reality displays) and also high resolution gaming (4K).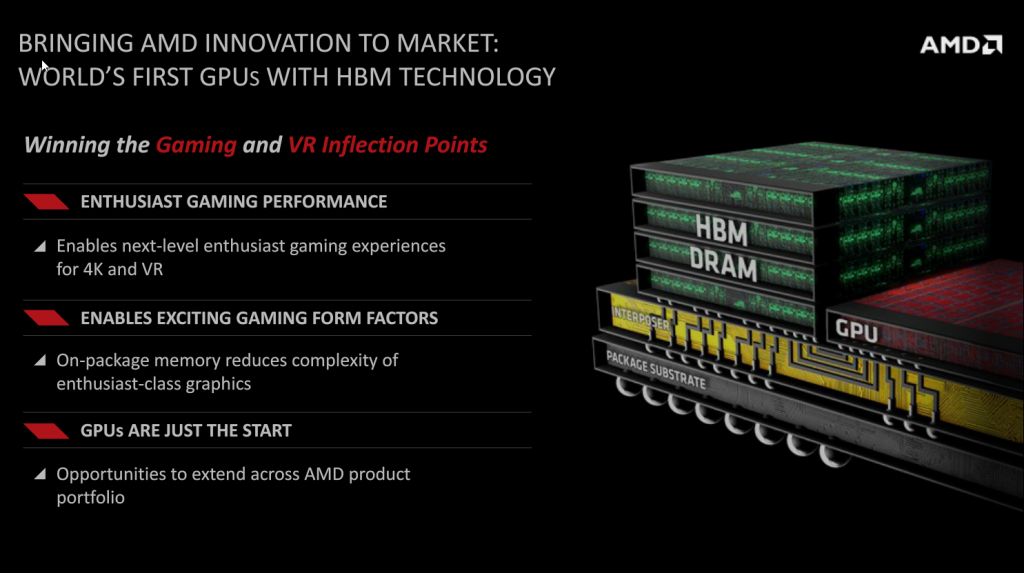 In the future, AMD's Mark Papermaster revealed that Fiji's successor (the Radeon 400 series) will be twice as power efficient. Supposedly Greenland (part of the Arctic Island GPU architecture) will owe its efficiency to switching to a new FinFet process technology.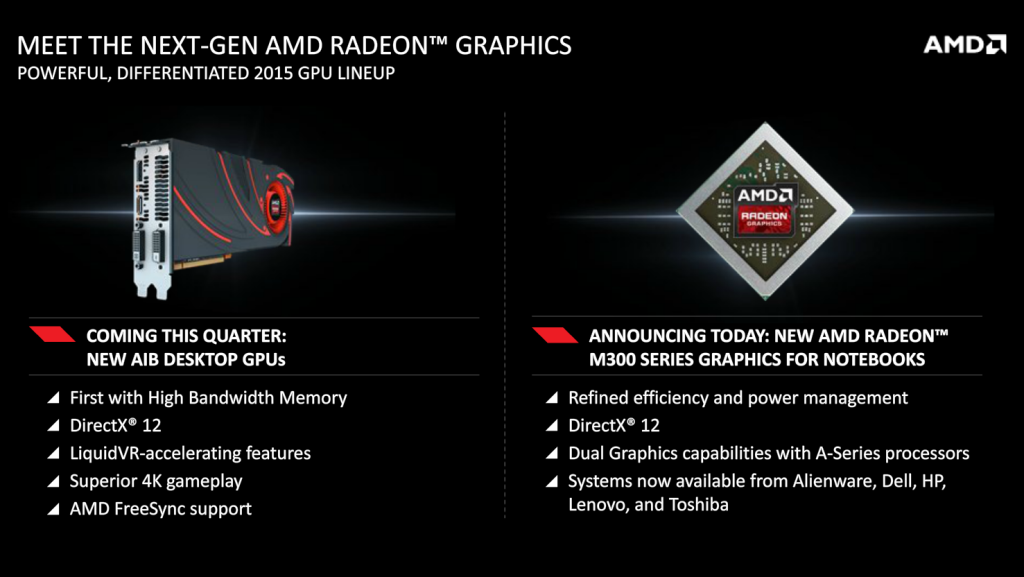 Dr Lisa Su also confirmed that while HBM1 will be used in Radeon 300, the companies Radeon 4xx GPU's will indeed shift to the even faster High Bandwidth Memory 2.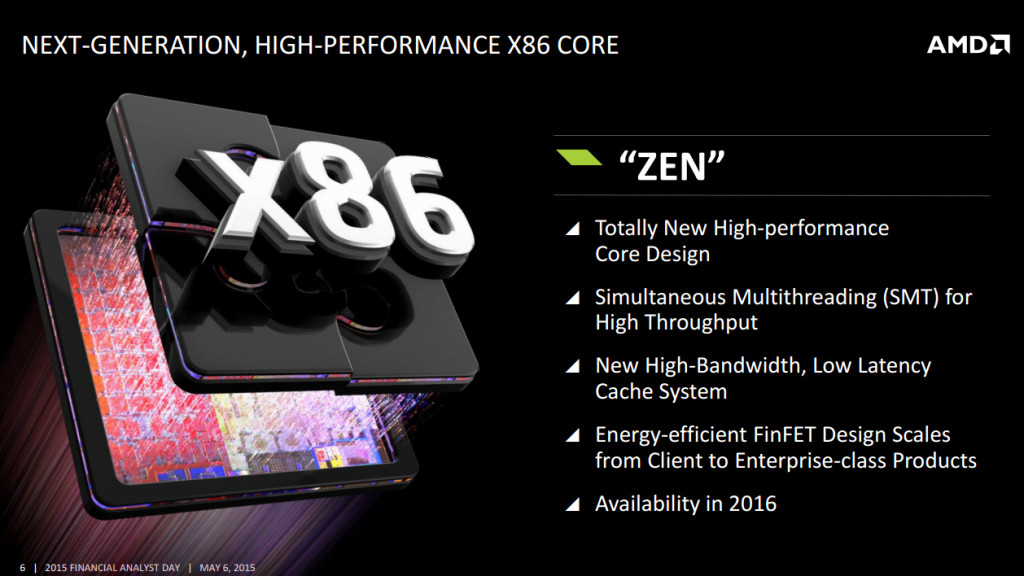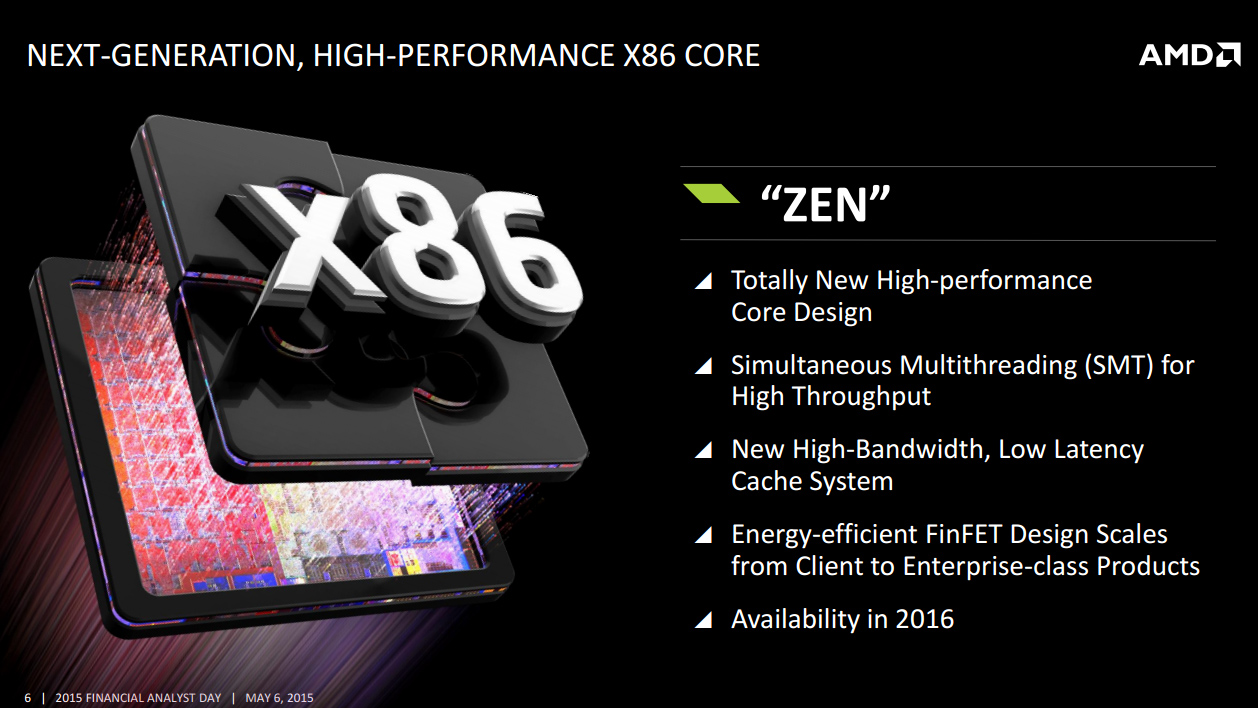 Shifting attention to AMD's FX CPU's, it was confirmed that the companies Zen line of X86-64 CPU's will indeed be using a high core count (though a specific number wasn't mentioned, but it's likely 8 or more, given leaks) and will indeed feature Multi-Threading. It goes without saying AM4 will use DDR4, and it is also confirmed AMD's 7th generation APU's will also use the AM4 socket too.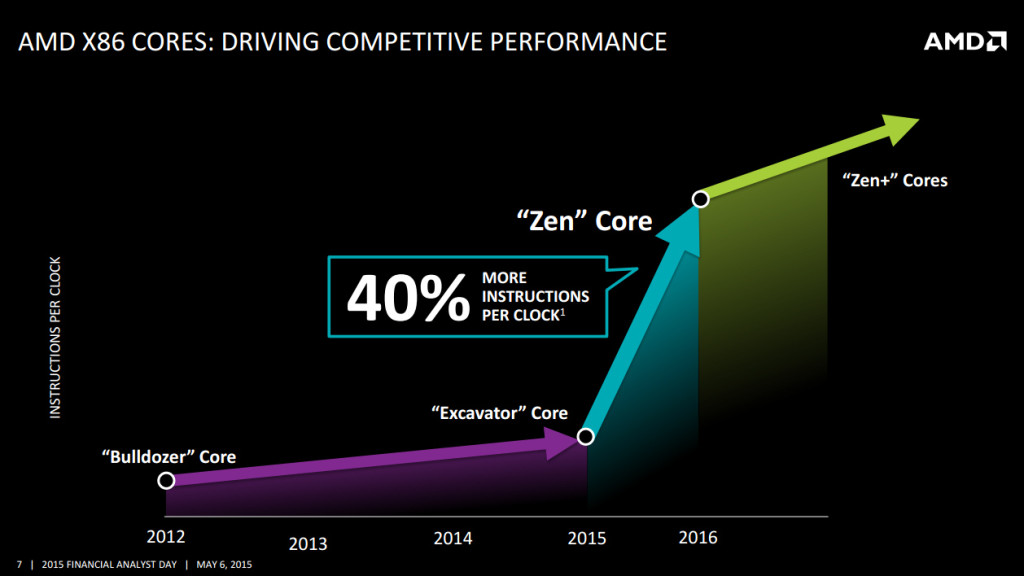 AMD also point out that their shift to Simultanous Multithreading (SMT) will provide a high throughput – it's likely this technology will work more similarly to how Intel handle their multithreading – in other words, Hyper Threading. AMD have also introduced a new cache system, designed to improve bandwidth and improve latency. We've heard this touched on with leaks, but I am hoping for more information over the coming few days. There will supposedly be 512KB of level 2 cache per core, and four cores (which make a Zen unit) will share 8MB of level 3 cache.
AMD promise up to 40 percent more instructions per clock compared to Zen, and in the above graph you can see that the company are also planning out their Zen+ strategies too.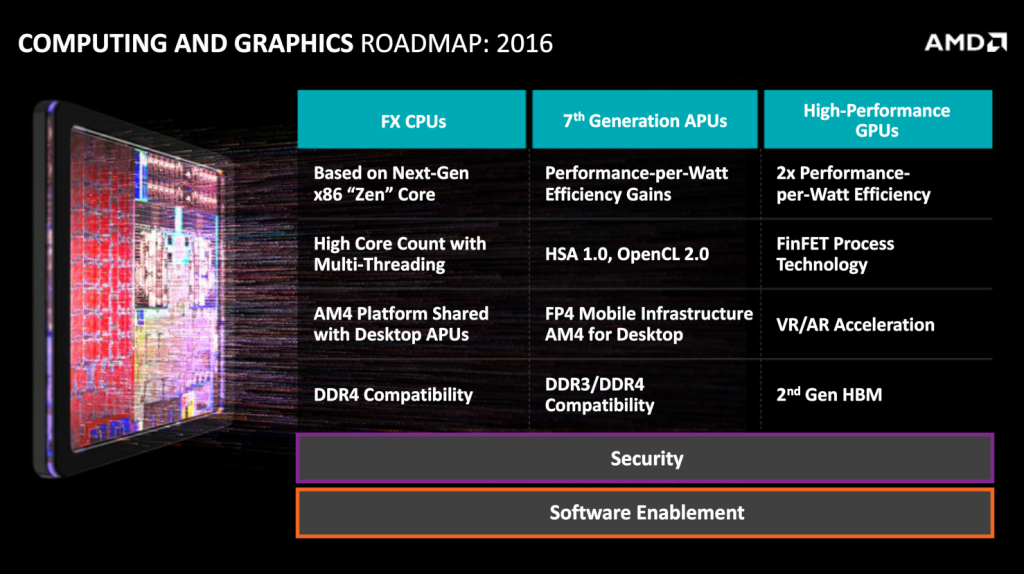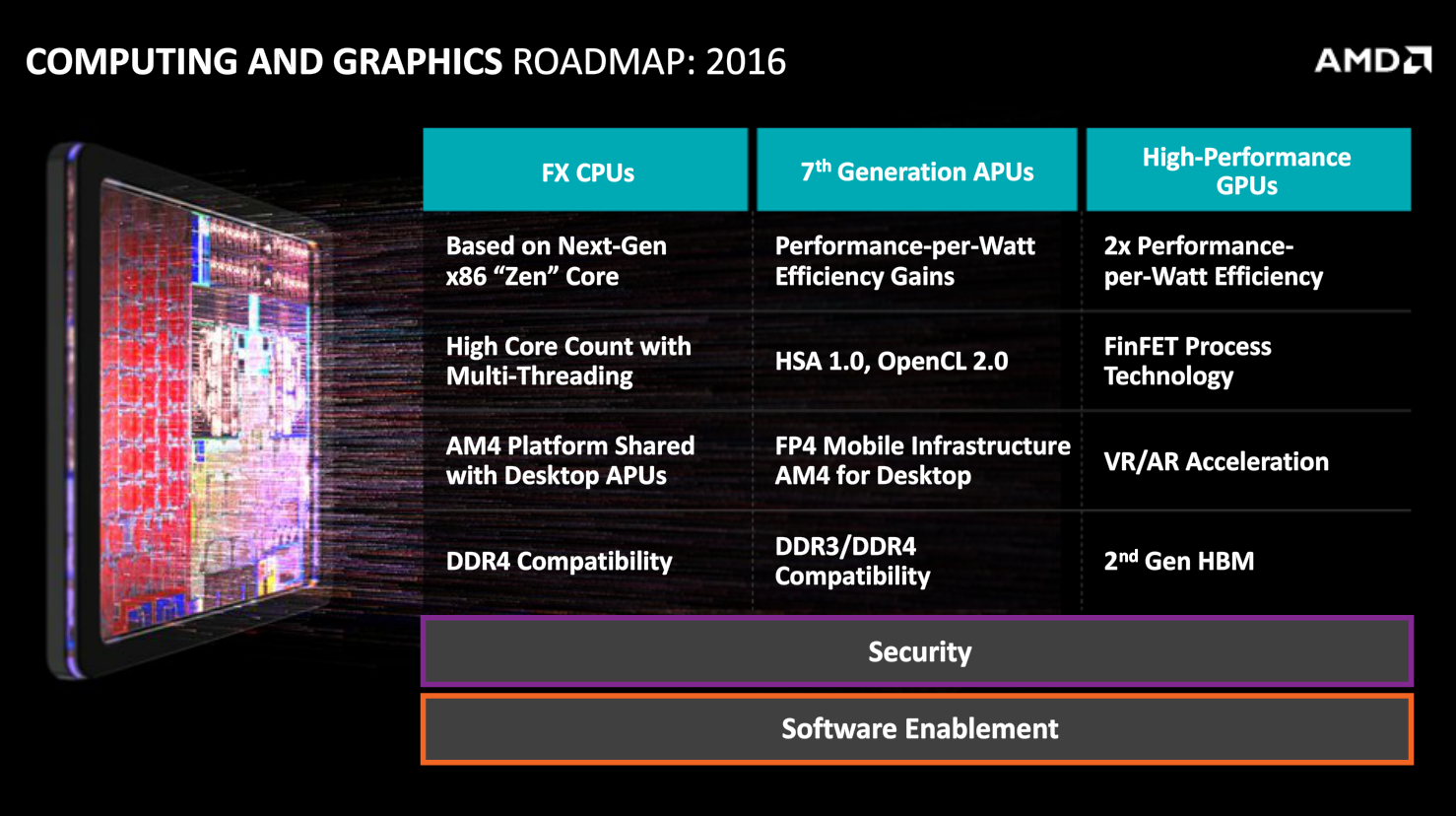 There are still a lot of questions, and the exact specs of the Fiji (or indeed, any of the 300 series) GPUs still remains a mystery. So too does the ARM based APU's AMD are planning to produce, but there's one thing for sure, if they can deliver this technology, it will be very interesting how their competitors (Intel next year, when Zen is released, and Nvidia with Maxwell) respond.
Perhaps the biggest 'plus' with the Radeon 300 series will be lower power consumption and a better form factor. Early R9 290X cards were notoriously hot and noisy, and spoiled a lot of AMD's progress (combined with customers being priced gouged thanks to BitMiners). A sleeker and more powerful design is a tantalizing proposition, providing the cards are priced aggressively and we don't witness a paper launch.
Other Articles You Might Like